Photos and Article Written by Holli Fourniquet
It's that time of year when Texans start to see the light at the end of the hot, humid tunnel of summer. The time of year that Texans can almost taste the fall, but the relentless sun says, "not today." These are what they call the dog days of summer. But lucky for us there are plenty of spots in the area to find a cold treat to get us through these last few days of heat before we glide into pumpkin spice and hoodie season. In East Texas, you can find anything from gelato to ice cream, sno cones, and frozen drinks to cool off your taste buds. These are just a few suggestions from around the area.

Ice Cream/Custard/Gelato/Frozen Yogurt
We'll start with the biggie: ice cream and ice cream-like treats. There are lots of places to find ice cream, shakes, blizzards, custard, and the like, but these are a few of our favorites. 
Andy's Frozen Custard is a local favorite because of the seasonal flavors and fun atmosphere. Plus, they have pup cones for the doggies! Whether you choose and cup or a cone (or a pint to take home), Andy's is a great choice for a hot summer day. Andy's recently opened a fun new location right on the square in Downtown Tyler.
Marble Slab Creamery is always a fun place to get a custom ice cream made right in front of you mixed on a marble slab. With infinite ice cream possibilities, this small-batch ice cream shop offers a variety of flavors, hand-rolled waffle cones, toppings, cakes, shakes, and more.
New to the area is Jojo's Rock Hard Ice Cream located at The Cannery in Lindale. Packed with Texas charm, The Cannery celebrates Lindale's industrial past and has become a destination for entertainment, shopping, and dining in East Texas. Jojo's Rock Hard Ice Cream is just one of the new businesses to open in this area, and just in time for summer! This one-of-a-kind ice cream parlor offers 32 flavors of hard ice cream, frozen custard, Hawaiian ice, old-fashioned milkshakes, coke floats, and brownie sundaes.
Another classic cold treat is Dippin' Dots. Kids love Dippin' Dots because its beaded ice cream is irresistibly fun to eat. In Tyler, you can find Dippin' Dots at the Caldwell Zoo or Broadway Square Mall.
Gelato is an Italian frozen dessert with a base of butterfat whole milk and sugar. Gelato is churned at a slower speed than ice cream, which creates a denser consistency since less air is whipped in the mixture. Just a couple of places to get gelato include FRESH by Brookshires, Rotolo's Pizza, and Paciugo.
And then there's frozen yogurt or "fro-yo" as the cool people say. Menchie's Frozen Yogurt located at Village at Cumberland park is a great place to grab a fro-yo with friends. Here you can customize your own frozen yogurt treat with a variety of flavors as well as a huge assortment of toppings. Menchie's also offers nonfat, gluten-free, no sugar added, dairy-free, low carb, and 100% plant-based (vegan) frozen yogurt flavors. You can even share flavor ideas with their team for consideration for future flavors.

Snow Cones
Ice cream is one thing, but snow cones are a whole different experience, and everyone has their favorite kind of ice. A longtime East Texas favorite is Shivers Natural Snow located in Longview, Hallsville, and White Oak. The syrup for these snow cones are made from scratch using all natural, real ingredients; no dyes and no corn syrup. Everything is made in small batches and includes fresh flavors such as "Sweet Clementine" made with oranges and sweet cream, "The Honeymoon" made with juiced pineapple and cream of coconut, "Fresh & Sweet" made with seasonal watermelon and fresh cucumber, and more. These are unique flavors you won't find at any other snow cone stop. Grab the whole family and a picnic blanket and hang out on the lawn with your favorite flavor.
Or get your snow cones to go at newly opened Peace of Ice in Tyler or the O.G. location in Palestine. Peace of Ice offers shaved ice, ice blended coffees, and smoothies. Both locations are drive-through only and offer classic flavors such as Tiger's Blood, Tutti Frutti, Piña Colada, Green Apple, and more. If you're feeling adventurous, you can also try the Pickle Juice or Frog in a Blender flavors.
Smoothies & Frozen Coffee
While there are a lot of classic smoothie places around town such as Smoothie King, Nektar, and more, there are a few that you might not have tried just yet. Latin and cultural frozen treats are becoming more and more popular. 
At Paleteria Polar you can find yummy and Instagram-able treats such as a Chamoyada, Raspado de Durazno, Diablito, and the Piña Loca that is an assortment of fruits and candies served in a pineapple that you just have to see to believe. 
Also check out the newly opened Fresh Juice Bar & Smoothies. Since its opening, it's been getting rave reviews by customers. It's most popular treat, the Mangonada, is a Mexican mango smoothie that combines sweet, tart, and savory into one unique drinking experience. It's primarily made of mangos and chamoy, a salty-sweet-sour-spicy sauce that can be used on pretty much anything. Its bold sunset colors of orange and deep reds and refreshing taste make it the perfect summer treat. Other fun treats at Fresh Juice Bar & Smoothies includes slushies, ice cream with interesting toppings such as fruit loops and cotton candy, fresh fruit popsicles, and a Gansito ice cream sundae that can't be beat.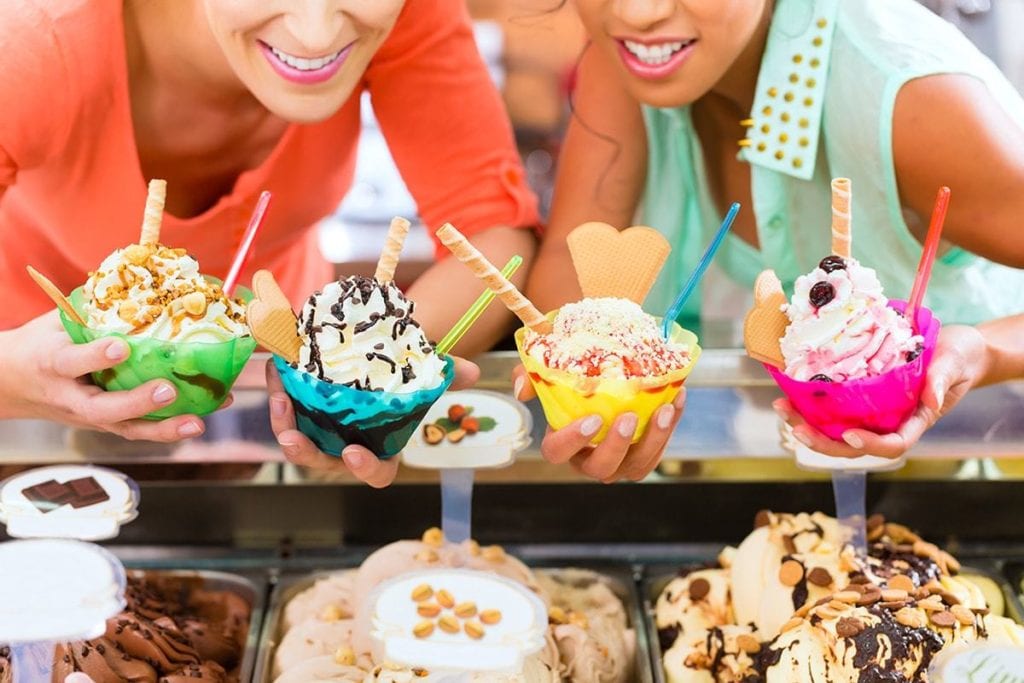 There are a couple of new businesses on the block that offer frozen coffee as well. I know there are people out there who won't drink cold coffee, and I think those people are crazy. Of course, I'm the one who gets iced coffees even in winter, so what do I know? Crema Coffee Co. is a coffee shop that recently opened its doors in South Tyler. All items are gluten free, and they also have vegan options available. Almost any coffee can be made iced or "frosted." As it was explained to me by one of their very friendly baristas, their frosted coffees are similar to the consistency of a Wendy's frosty.
When you're dying for your pumpkin spice, but it's 100° outside, grab a pumpkin spice java shake from Big Shot Coffee located in Gresham. This woman-owned business is getting a jump start on fall, practically willing colder weather to get here sooner. Big Shot Coffee's coffee is locally roasted at Coffee City USA and about as fresh as it gets. Both of these locally owned coffee shops have drive-throughs so you can grab your frozen coffee treat on the go.

On-the-Go
Speaking of on-the-go, food trucks selling cold treats are all over the place during summer! Kona Ice and Sno On The Go both serve shaved ice. New to the scene is Ice Box Italian Ice food truck. Italian ice is like a mix between a sorbet and a snow cone but differs from American-style sorbet because it doesn't contain dairy or egg ingredients. Flavors include mango, strawberry, coffee crunch, and more. This summer they even introduced a flavor called "Sweet Heat," in which they added hatch chili to their peach ice.
Pokey O's Cookies & Ice Cream dessert truck serves "custom" made-to-order ice cream sandwiches. So you get to choose a flavor of cookie, then add a flavor of ice cream for an ice cream sandwich that's large enough to be a whole meal. Flavors change daily but some of the favorite cookie flavors include snickerdoodle, vanilla sugar, chocolate chip, and more served with a variety of Texas-made Blue Bell ice cream. They also offer gluten-free options.

Must Be 21 Years or Older
Let's be honest, any smoothie can be made into an alcoholic beverage especially when you're hanging out by the pool all day long. But if you want an expertly mixed alcoholic smoothie try Flavors Daiquiri Café or New Orleans Flavors Daiquiris. Both of these locations offer a variety of daiquiris to be enjoyed there or to go. Get an individual size just for you or buy larger sizes to share with everyone at the pool party. You'll be the most popular person at the party when you show up with a gallon of one of these brightly colored drinks.
While this list is in no way a complete list, we think it's a good start. Beat the heat this summer by trying a new frozen dessert or business in the area. It looks like the summer heat will be sticking around for a few more weeks so enjoy something cold while it lasts.