By Derrick White
(#tylertexas #tylertx #eguidemagazine)

"Making the beginning is one third of the work." – Irish Proverb
I believe I have the greatest day job in the world as an art professor at Tyler Junior College. A big part of what makes it such a great gig is my colleagues. We are good friends, a family, and working professional artists sharing ideas and insights with students and each other daily. Chris Stewart and I conversed recently about what it takes to be prolific in art, the answer we arrived at is hard work. Chris Stewart is our art department chairperson and he leads us by example. He simply gets the job done, taking care of business not only at school, but as an artist in his studio and as a summer study abroad chaperon.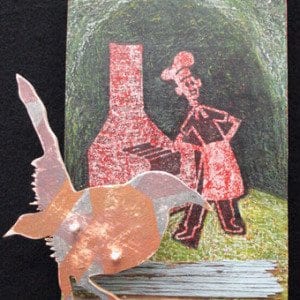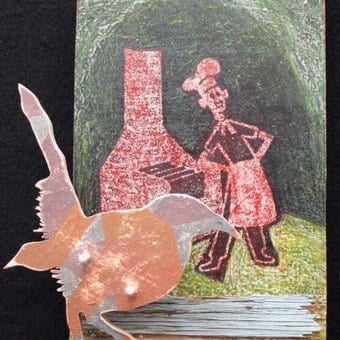 Chris Stewart is a remarkable and accomplished artist and a patient, edifying professor. Don't let his Scots-Irish demeanor fool you, this guy loves his job and loves sharing art history and the techniques of printmaking with his students. Chris received a BFA degree in painting from Texas Tech University and his MFA degree in printmaking from the University of Nebraska, Lincoln.
"I work primarily in prints and images on paper. Recently I have been making linoleum block prints. I draw, work with collage and found objects," says Stewart. When I asked what inspired him to become an artist, he replied, "I was always interested in creating, and expressing visual ideas. I thought I'd end up in a graphic design career, I began my education in design and worked in the field, but I was lured more towards the fine arts and decided it was my real passion and interest." When discussing the importance of visual art to the human condition Chris states, "I think the never-ending opportunity to develop and explore ideas and materials is important. Artists want to convey their views of the world. People have the need to create and connect. I think it's a noble and challenging endeavor. I also think we have an obligation to communicate something to viewers at whatever level we can. As artists we express ideas, arrange materials in a visual manner and invite the observer to pause for a moment."
Chris and I discussed some of the frustrations that come with a creative life; it's not all wine and cheese, patchouli oil, and rubbing elbows with the wealthy who throw money at you because you're brilliant. Stewart affirms, "In many ways the frustrations can be the same as the rewards. The frustrating aspects of being an artist continue to feed my need to make art. I get motivation from the self-imposed guilt I feel when I'm not making enough. One is never done artistically. There is always something to investigate and expand upon which ultimately is a good frustration."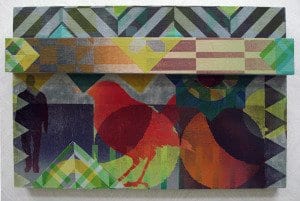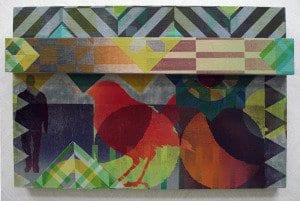 Who are the artists inspiring Chris Stewart's artwork? "Right now I'm looking at Leonard Baskin, (an American printmaker) his woodblock prints are incredible, and Joseph Cornell, (an American sculptor of assemblage – grouping found or unrelated objects) his work is engrossing. Cornell's pieces have a power and intimacy to them that few artists achieve. I wish I could make art like that! And Andy Goldsworthy, (British sculptor and environmentalist constructing site-specific land art) my work does not reflect his, but I think what he does is very significant."
Chris also looks at art from the past and teaches art history at TJC. The history of art provides an endless source of inspiration. Surfaces, colors, textures, patterns and imagery nourish his fascinations. Chris taps into these influences and attempts to create something new and personal. When you get the opportunity to view Chris Stewart's artwork make sure you seize it, you'll be glad you did. Chris Stewart currently has some of his art on view and for sale in a group show hosted by Cork Food and Drink (5201 S. Broadway Ave./Times Square Center, Tyler) through December 13th.
My family and I live with several of his art pieces in our home and we constantly find new surprises within his compositions. He is a master of the woodcut and linocut printmaking techniques. He uses powerful colors, patterns, configurations and symbols to enthrall the viewer from an initial interest to profound contemplation.
Each summer Chris Stewart takes a group of Tyler Junior College students on a tour through a real life art history book with a study abroad course in Italy. Students travel with Mr. Stewart and stay a month in Italy with access to an art studio and their own apartments in Florence. They receive studio and art history college credit while experiencing masterworks firsthand and creating art of their own. They tour around Florence, make day trips to Siena or Pisa and have an overnight stay in Rome. I asked him about the inspiration behind the annual TJC Italy trip. He answered, "I've always enjoyed travel, I believe traveling to new places and immersing yourself in different cultures is the best form of education and enrichment. Italy is an extraordinary place, obviously in art history, but it is also an incredibly rich culture in many other ways. Italy offers so much and in a relatively small geographical location. I believe many of the world's masterpieces are located in Italy, a center of the classical and Christian world, they had an illustrious medieval period, and the works of the renaissance and baroque periods, one must experience in person."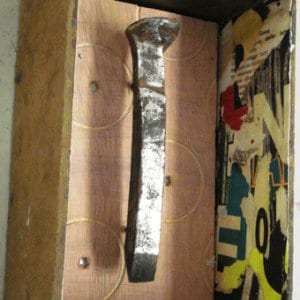 "I want to create the opportunity for students to encounter a different culture, participate in the opportunity of a lifetime, live in Italy for a month and study the art, history and culture of an amazing place. Other schools and universities do a traditional study abroad program like this, but we are really the only 2 year school that is able to do this for our students. The self-awareness that comes from an extended travel experience is truly unique." Chris Stewart's sacrifice and hard work are the students' reward.
Recruitment for the upcoming summer 2015 trip is wrapping up. For more info visit www.tjc.edu and search Italy study abroad or contact (903)510-2234. To see more of the wonderful prints and artwork of Chris Stewart visit christopher-stewart.com.