Inside the Artist Studio: Lindsay Boone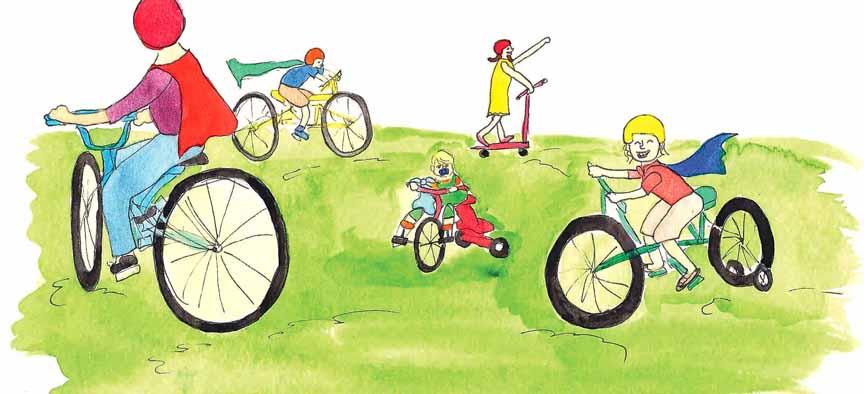 By A. C. Slaughter
"It's pronounced Lind-SAY, not 'Lindsee,'" says the red-headed beauty who is Lindsay Boone. Artist, illustrator, mother and wife, this woman is one hot ticket with a deep raspy singing voice to boot. Ms. Boone has been interested in art all of her life. "My dad started taking me to museums when I was six. We went to Dallas as a family growing up." She started studying art and getting really into art her junior year of college. She had the opportunity to study abroad in Paris and, an English major at the time, it struck her "I don't need to study literature in Paris, I need to study art." And so she did. Lindsay spent a solid year studying in Paris. "I learned to paint at the museums, in front of the paintings. Also, the professors were all working artists and would instruct the students in the professor's studios. We would visit local artist's studios and learn to paint and sculpt there. There was no formal classroom." Among Lindsay's instructors is American figure artist Kathy Burke who has been teaching art in Paris for 30 years. "It was a small intimate class of about twelve so we got a lot of one-on-one attention." Once Lindsay returned to the states she continued her education at William and Mary in Virginia. "I was working as a journalist for a while after college and I just did art on the side. So when I got the opportunity to teach, I was like, that's what I need to do. I need to teach art. And I loved it."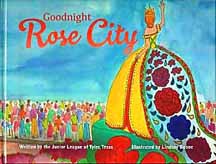 Living with her husband Daniel in Dallas, Lindsay took on her new adventure as art teacher at a charter school and began to fulfill her calling. The couple decided to move back to Tyler and when a position became available at Brook Hill, Lindsay took it and taught there for three years.
"There wasn't much of a program when I got there so I was able to help build on what was there. I loved teaching at Brook Hill. They are so encouraging, so supportive and they are so very encouraging of the fine arts. The first year, I wanted to paint the retaining wall on the Loop and they said go for it!" Lindsay invited six schools and together they repainted the wall with Tyler roses. Today, that mural can be seen by thousands of drivers every day.
After Lindsay had her second son she decided to stay home and fulfill her role as mom. Now she takes care of her two boys and her husband and continues to teach private art lessons out of her home. When you are talking to Lindsay you get the sense that she knows exactly what she is doing and that brave confidence is part of what makes her a great teacher.
Lindsay continues to paint and draw. She has commissioned work lined up, continuing to paint portraits and pieces for private homes. Lindsay's work ranges from precise realism all the way to giddy, childlike illustration. Pleasant on the eye, her work is strong, inviting, yet gentle. The use of lights and darks in Lindsay's work shows her incredible knowledge of values and is reflective of her time spent studying the famous Paris light. Having one of her pieces in your home is like having a piece of Paris right there in your living room.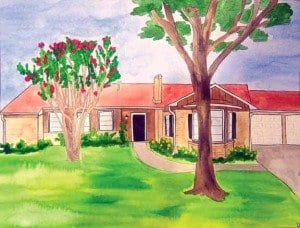 Lindsay has illustrated three children's books. She also paints large scale murals for nurseries and children's rooms. She has painted murals in each of her boy's rooms. She has also made a large scale image of the face of Botticelli's Venus, in carpet tacks no less, on the wall of her own bedroom. There is no end to Lindsay's abilities. She can do it all. "She is the most amazing, beautiful artist in the world," says husband Daniel. One can tell from only five minutes in their home that laughter and smiles accompany each day, and isn't that what you want from an artist? When you hang work from someone still alive you are inviting their energy into your home, and don't you want sincere, honest goodness in your home? I know I do. I know I would be proud to have a Lindsay Boone painting in my home.
One of the children's books Lindsay illustrated is "Goodnight Rose City." Written by the Junior League of Tyler, this fun and sweet children's book will make a great addition to any child's collection. Something that hardly happens is the chance to see the original illustrations to a book. But right now, at the Tyler Museum of Art, on display through October, you can see Lindsay's original illustrations for "Goodnight Rose City." All the proceeds from this wonderful little book go back into the community. Many artists submitted for the book but Ms. Boone ended up with the job and what an honor to be asked by the Junior League of Tyler to create such an important book. Way to go Lindsay!
To see Lindsay's work go to lindsayboone.com. For more information on the museum visit:
www.tylermuseum.org. And to check out "Goodnight Rose City" visit: www.juniorleagueoftyler.org.
Right now would be the time to contact Ms. Boone for a portrait of your child or grandchild, and what a great Christmas gift that would make.
Well, that's all for now East Texas. Enjoy the fall weather, make a trip to the Museum, take your kids, and as always, stay classy and MAKE ART.

Tyler Museum of Art: "Texas Birds" and "Floating Life: Mississippi River"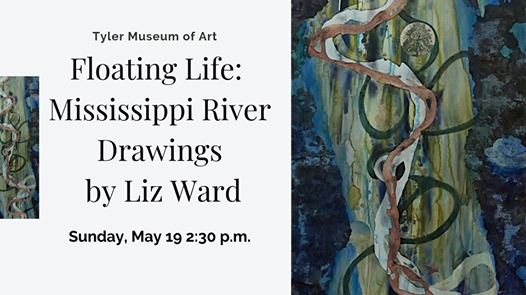 The Tyler Museum of Art (TMA) is located at 1300 S. Mahon Ave. on the Tyler Junior College main campus. Regular TMA hours are 10am-5pm Tuesday-Saturday, and 1-5pm Sunday. The Museum is closed Mondays. For more info call the museum at (903)595-1001, tylermuseum.org, or email info@tylermuseum.org.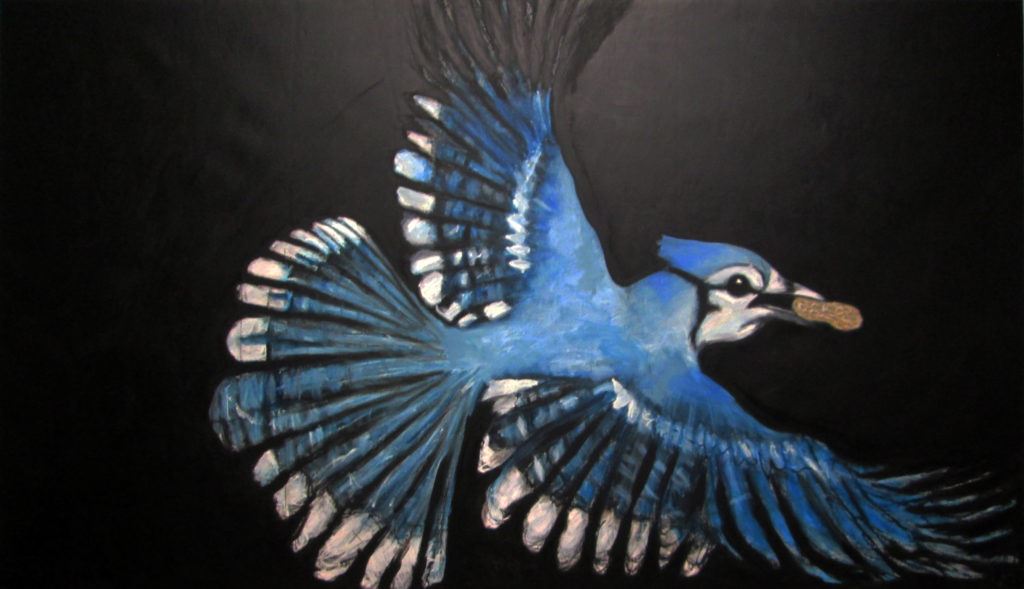 The Tyler Museum of Art ushers in the summer season with a visual celebration of the avian species that fly the skies over the Lone Star State in the new exhibition "Texas Birds: Works by Frank X. Tolbert 2." The show continues through August 4th in the TMA's Bell Gallery. Admission is free.
Organized by the TMA and curated by Caleb Bell, "Texas Birds" spotlights works from Tolbert's ongoing Texas Bird Project – including a recently finished piece that never has been seen by the public. Started in 2014, this body of work includes drawings, paintings, and prints that highlight a wide variety of the bird species that inhabit the state. The series largely was inspired by early childhood experiences with the Lone Star State's vast array of flora and fauna on trips the artist took with his father, Frank X. Tolbert Sr., as the elder Tolbert was writing his column "Tolbert's Texas" for the "Dallas Morning News." Work on the Texas Bird Project began when the artist was commissioned by Austin's Flatbed Press & Gallery to create eight bird etchings. After the initial exhibition at Flatbed, Tolbert said he decided to continue the project indefinitely.
"Texas Birds" marks the first time works from the Texas Bird Project have been organized into a major museum exhibition. Tolbert's work has been widely exhibited and is featured in numerous public collections, including the Blanton Museum of Art in Austin, Dallas Museum of Art, and the Museum of Fine Arts, Houston. He and his wife, artist Ann Stautberg, live and work in Houston.
Support for "Texas Birds" is provided by Collectors' Circle-Gold Sponsors June and Steve Hillis, and Myrtis D. Smith.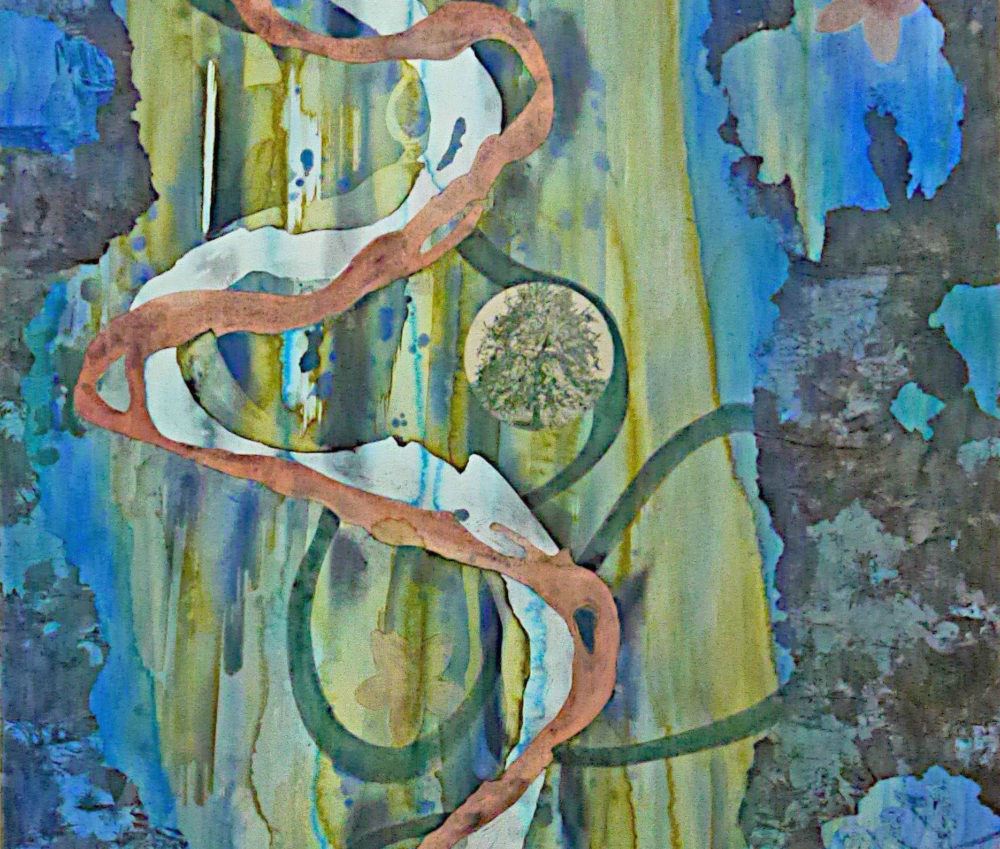 TMA Plots New Course with "Floating Life: Mississippi River Drawings by Liz Ward," Through August 25th
The Tyler Museum of Art explores the mystique of the South as seen through the eyes of a Texas talent with its next major exhibition, "Floating Life: Mississippi River Drawings by Liz Ward." The show continues through August 25th in the TMA's North Gallery.
Organized by the TMA and curated by Caleb Bell, "Floating Life" is the first large-scale museum exhibition of Mississippi River works by Ward, a San Antonio artist and professor of art and art history at Trinity University, whose work largely is informed by natural history and the environmental crisis.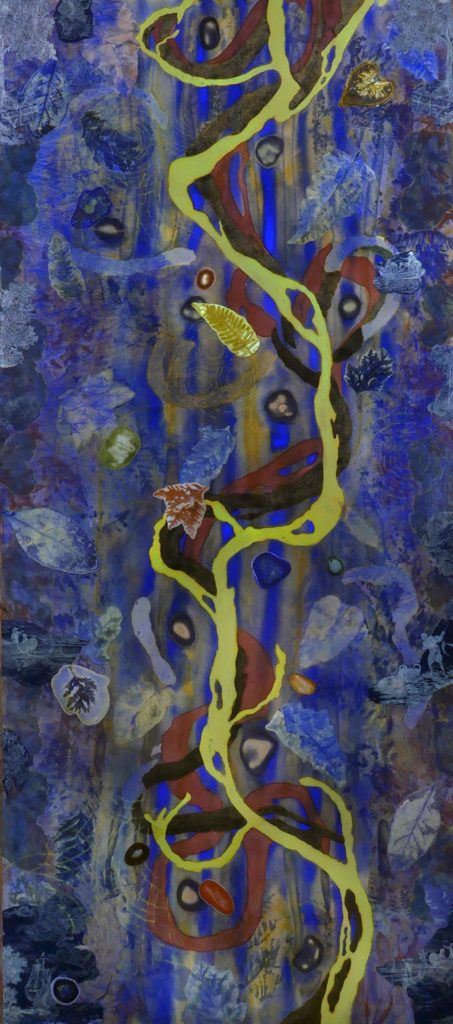 The exhibition spotlights pieces from two recent bodies of work: "Ghosts of the Old Mississippi" and "Veritas Caput." The works from "Ghosts of the Old Mississippi" are based on geological maps of the river's ancient courses and inspired by the artist's childhood memories from South Louisiana, where her great-grandfather spent a career as a riverboat captain. 
Pieces from "Veritas Caput" focus on the search for the source of the river by various explorers.
Ward's work has been widely exhibited and is featured in numerous public collections, including the Tyler Museum of Art, Museum of Fine Arts, Houston, and the Whitney Museum of American Art.
Support for "Floating Life" is provided by Collectors' Circle-Gold Sponsors Betty and Dick Summers.
Summer Lecture Series Programs
TMA's 2019 Summer Lecture Series will be held in the Museum's Education Gallery. A small reception will follow each lecture. Admission is free, but seating is limited. To RSVP, call (903)595-1001.
"Divide and Conquer: An Overview of the Mississippi River's Role in the Civil War" by Dr. James Newsom, Senior Lecturer in Political Science and History, The University of Texas at Tyler will be held at 2:30pm, Sunday, June 23rd

"I Knew Mark Twain" by Dr. Jim Richey, Professor and Department Chair of English, Tyler Junior College at 2:30pm on Sunday, July 21st
Special Events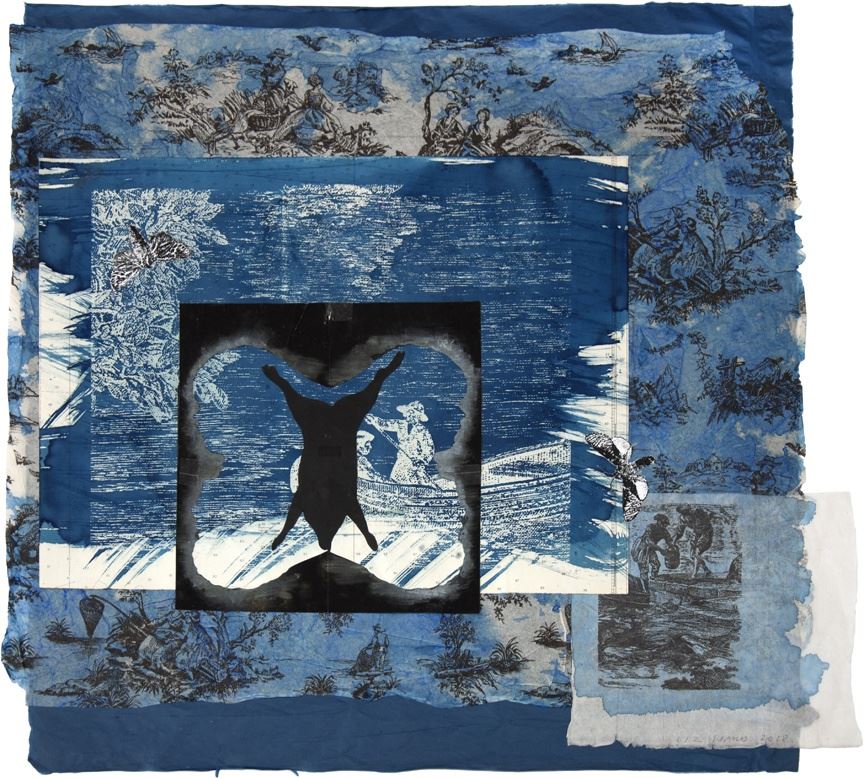 Special events in connection with current exhibitions include a free First Friday tour June 7th, July 5th and August 2nd.
The first Friday of each month, 11am-12:30pm, the TMA offers a full day of free admission plus guided tours of its spotlight exhibitions.
Family Days will be from 2-4pm Saturday, June 8th, July 13th and August 10th.
Free admission, interactive art projects, light snacks, and a festive atmosphere for all ages are on the menu for the second Saturday of each month with the Tyler Museum of Art's Family Day.

Bright Stars, Birds, & Beasts: Art on View This Summer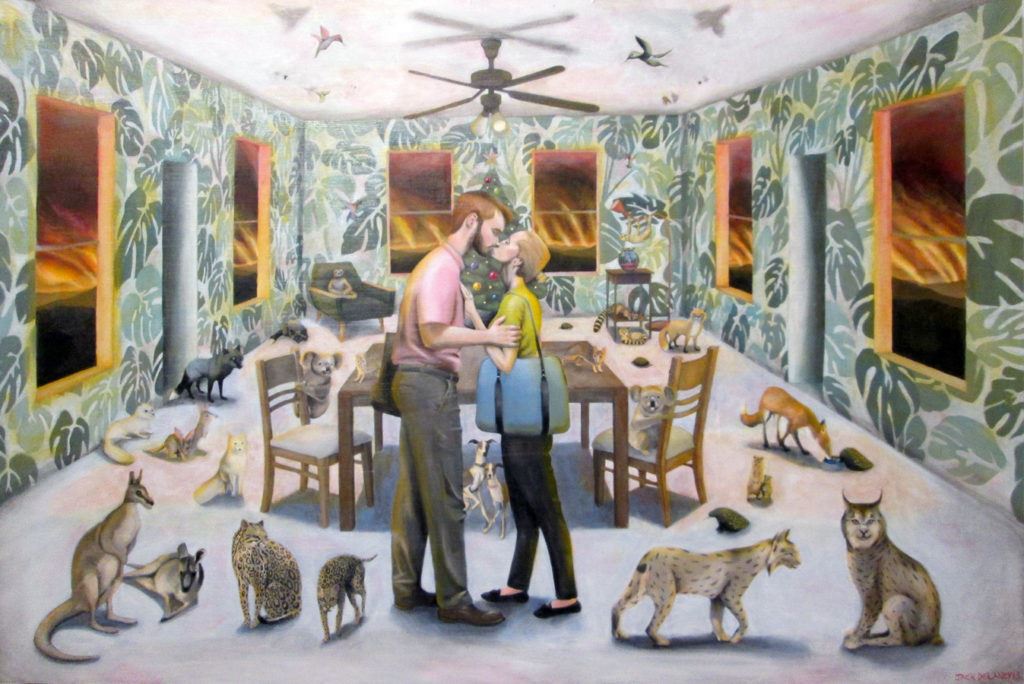 By Derrick White
Well, the heat has arrived. I'm sure you and yours need free, fun activities which will be stimulating to the senses and inside air-conditioned buildings, so check out these venues around town showcasing wonderful visual art.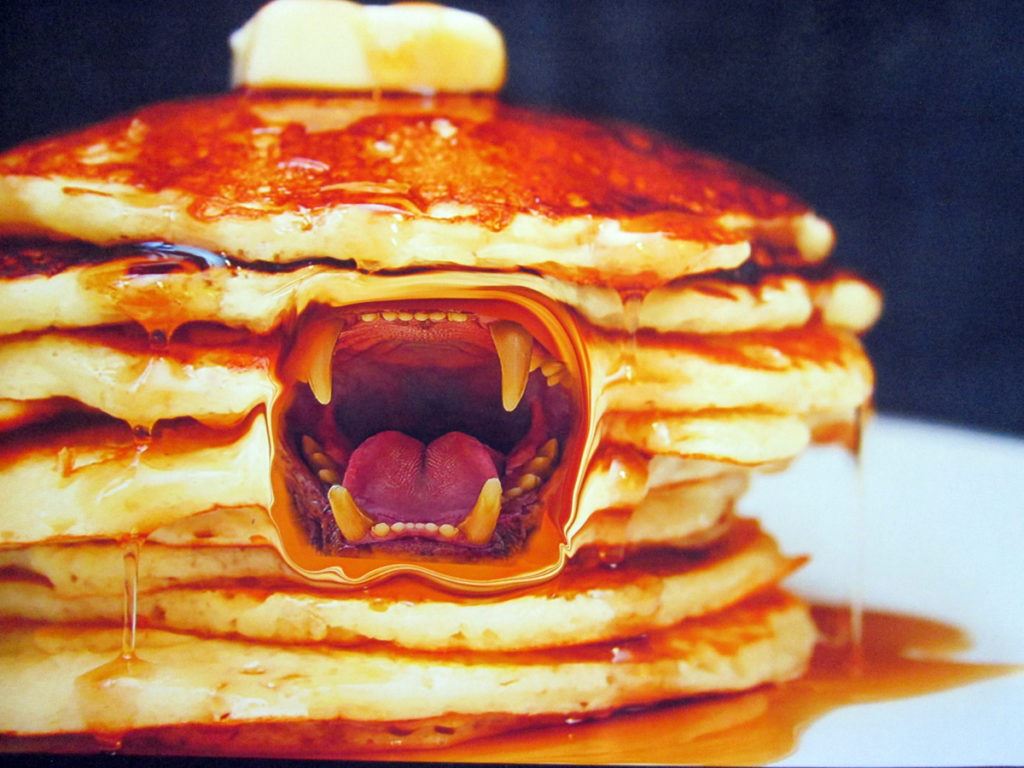 Gallery Main Street, located in Downtown Tyler at 110 W. Erwin St., kicked off the summer by displaying the Caldwell Arts Academy Exhibit. The exhibition (which closed May 21st) featured 46 artworks by 42 different artists from Caldwell Arts Academy ranging from first through sixth grade. This was a great opportunity for these young artists to have their creations exhibited at a professional level in a real contemporary art space. The pieces were strong and showcased these youthful bright Caldwell Stars.
Gallery Main Street has been celebrating serving our community for the last 10 years with the "110@110" Art Exhibition and Fundraising Art Sale. 110 (10" x 10") art pieces created by a select group of local artists will be available for affordable purchase at the grand opening on June 8th at 6pm. This runs through July 7th.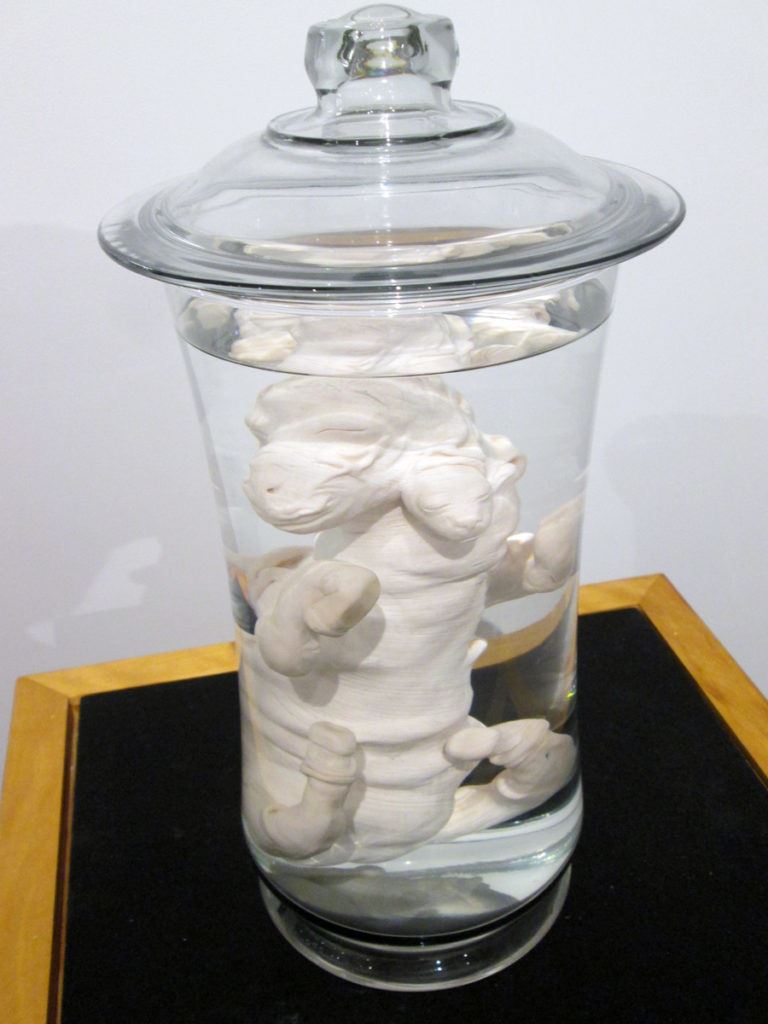 While you are Downtown, stop by ArtFix Cultured Studios around the corner at 112 S. Broadway Ave., where among the full walls of a variety of works by 13 gallery artists (including local talents Nyle Reams, Darby Blaise, and Cassie Bartley) you will find weekly workshops, classes, and events, now including a new recording studio booth in an old bank vault.
The Tyler Museum of Art exhibits "Texas Birds: Works by Frank X. Tolbert II" through August 4th containing artwork by the well-known Texas contemporary artist created for his ongoing Texas Bird Project. The exhibition contains drawings, paintings, and prints highlighting a variety of Texas bird species. The artist shows a range of his works and thought processes, from small-scale to large-scale, with colorful blasts, textured surfaces, exaggerated forms, complex compositions, and expressive lines.
Also on view is "Floating Life: Mississippi River Drawings by Liz Ward" through August 25th. This solo show by the artist and art professor at Trinity University in San Antonio spotlights pieces from two bodies of work – "Ghosts of the Old Mississippi" and "Veritas Caput" based on geological maps, river courses and sources, and childhood memories. The Tyler Museum of Art (TMA) is located at 1300 S. Mahon Ave. on the Tyler Junior College main campus. Regular TMA hours are 10am-5pm Tuesday-Saturday, and 1-5pm Sunday. The Museum is closed Mondays.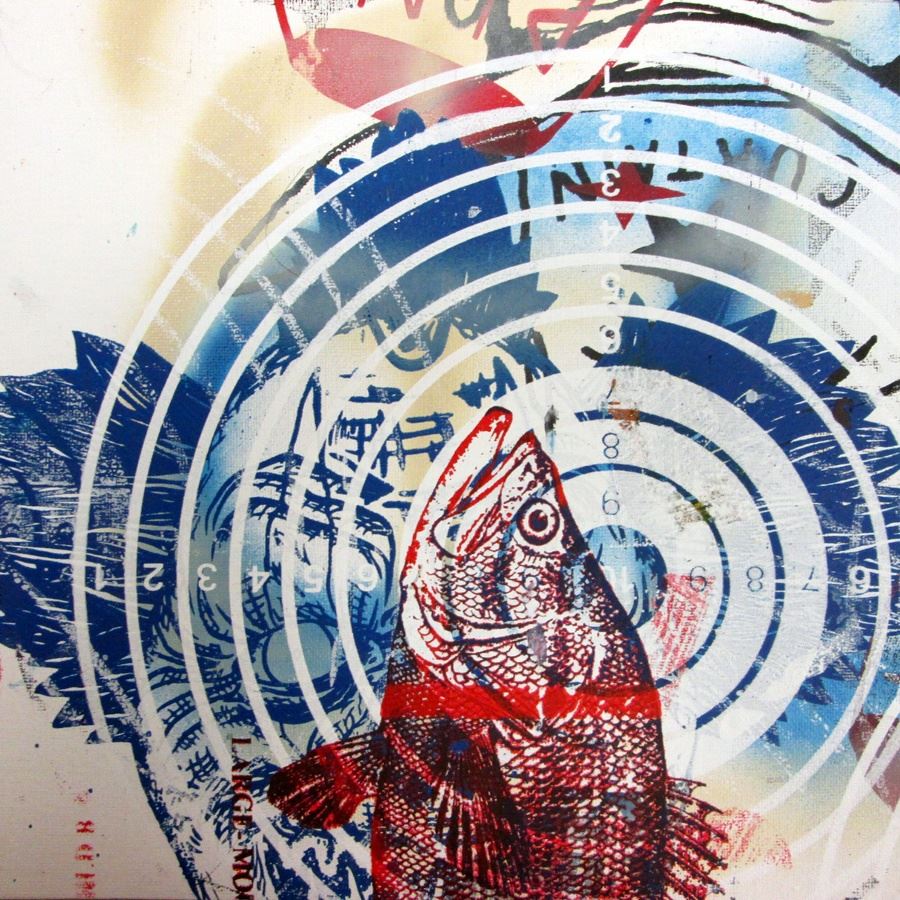 On view in the Meadows Gallery at the University of Texas at Tyler's Cowan Center,located at 3900 University Blvd, Tyler, is the 2019 "Juried Student Exhibition." The show is on display through August 9th and is free and open to the public Monday-Friday 9am-5pm.
This year's juror is Kate Borcherding (Sam Houston State University art professor and mixed media artist focusing on psychological narratives with the human figure). Her selections are impressive and engaging. The professional skill level, appeal, and powerful content coming from these emerging Texas contemporary artists is remarkable and speaks volumes about our East Texas art scene. We have powerful artistic voices here.
Some of the excellent eye catchers included in the exhibition are Laminda Miller's "New Life" (aluminum and epoxy clay), a small and powerful sculpture of a dead mouse hanging on the wall. The piece speaks to the fragility of life and the meekness of the small, and its form casts some incredible shadows.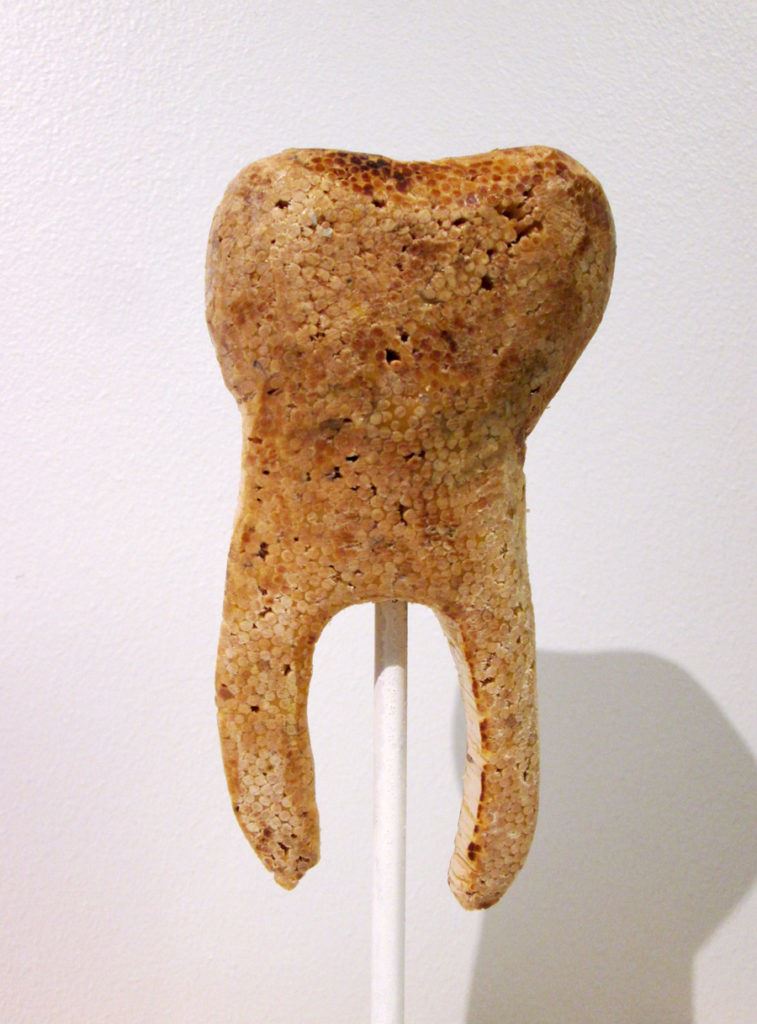 Jessica Sanders' "Fold, Cover, Fold" (porcelain, stoneware and wire) is a colorful, quilted tapestry of tiny, individual, geometric ceramic tiles sewn together with copper wire. The result is an intricate colorful blend of patterns where rigid, hard forms become billowy with fabric-like pleats.
Stephanie Nickel has an interesting triptych of old, rustic typewriters (ink and acrylic on paper) entitled "Shift from the 'Story' Series." The images are faded and fleeting, and speak to the seasons of life and passage of time.
Brittany Taylor has a showstopper with her small painting "Stroller" (acrylic on panel). This one draws the viewer in close to examine the exquisite detail. It provides one with the sense of happening upon a hole in the wall of time and space and getting to peek through to another world, similar in appearance but eerily unlike our own.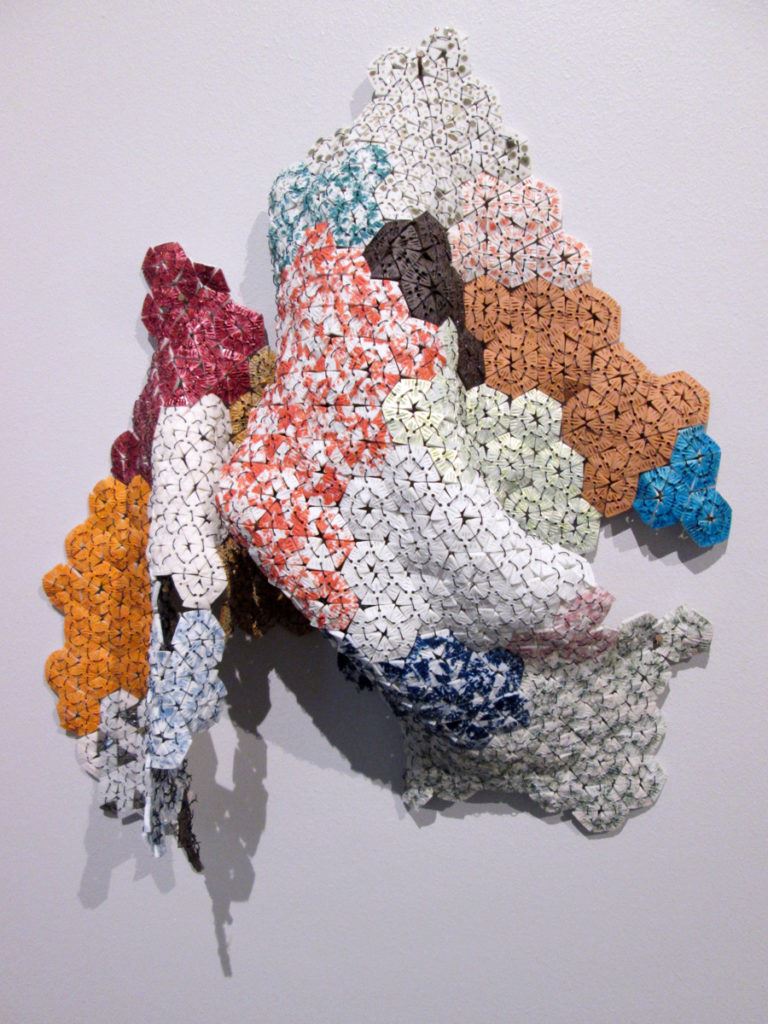 The exhibit also features strong porcelain works from Willow Lanchester; well-crafted and intimate relief and monoprint works from Maggie Pierce and Kelly Waller; a mixed media video installation (and perhaps the funniest title in the show) from Nora Schreiber, "Am I Turning Myself Into a House Plant;" quality, large-scale paintings by Lilah Shepherd, John Miranda, and Erick Rodriguez; a beautiful charcoal drawing by Lorianne Hubbard; and a bright and colorful organic form watercolor, monoprint, and collage piece by Katherine Finch. I enjoyed Jack Delaney's (oil on canvas) painting "Paradise Suite," wherein a couple greet each other with a kiss inside an implied linear perspective interior, oblivious to both the fiery sky outside and the wildcats and other critters clustered around the home. The piece is technically proficient while maintaining a head-scratching woolly juxtaposition leaving one guessing. Leon Campbell has a solid piece in "Tetris Line Pattern," a linocut on marbled paper creating a disorienting optic effect of layers with geometric line work atop fluid, unforced, subtle colors.
Two of the works visually hitting me the hardest, with a "creepy in a good way" sense of wonder, are "A Bone to Pick" by Joshua Crockett and "Unwanted/Prized" by Katie Dawn Dukes. Crockett's work is a meticulously sculpted tooth made from 2,399 toothpicks. The tooth is textured, weathered, and brown like it's been pulled from an old, craggy smoker. Crockett committed to forming this piece the hard way, and all the nuances of surface really paid off.
And then there's Katie Dukes' equestrian-esque fetus beast distorted by the clear liquid inside its specimen jar (oven clay, aluminum, glass, and water). This work is beautifully crafted and hauntingly indistinct. It stands in both worlds, of being either some believable fantasy or a freakish reality. Regardless, it is a job well done.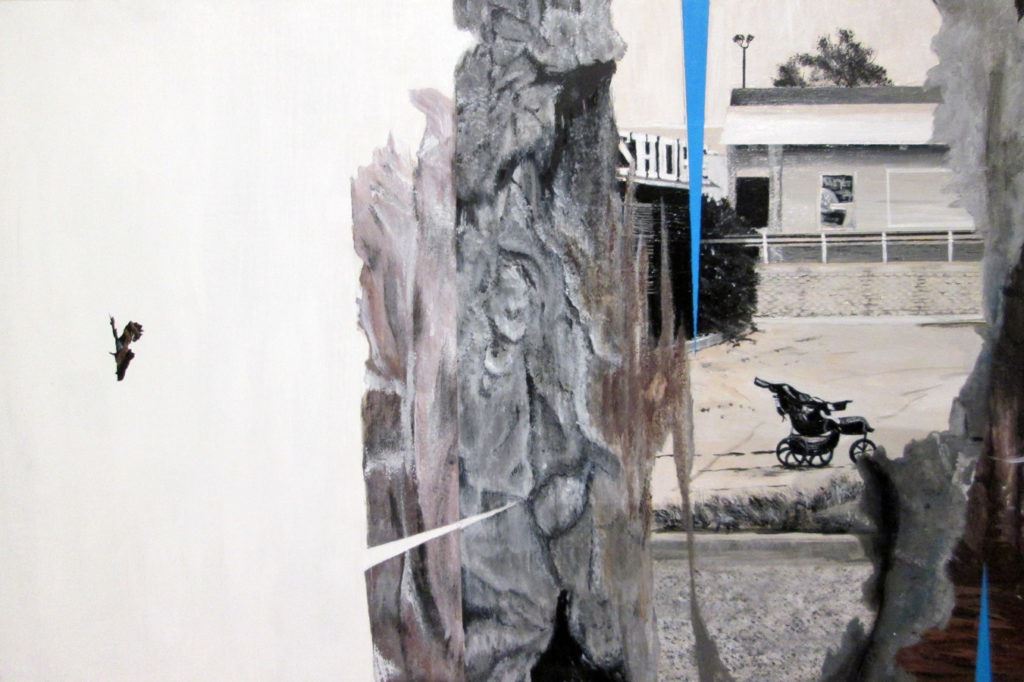 The exhibition also showcases quality pieces from Lidia Alvidrez, Rachel Lynn Anthony, Megan Brewer, Brady Collings, Coy Lothrop, Mike Ohara, Mary Ann Post, Jamin Shepherd, and Jacque Yost.
I wish I had room to discuss them all, but I don't so you will have to go see the art yourselves. Summer is a great to do and as usual, art is a part of East Texas.  So be sure to see as much as you can while you are out seeking any cool air conditioning.

Art of Peace: Call for Entries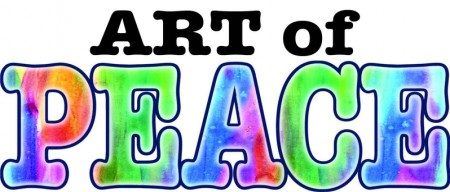 Entries now are being accepted for the Living Peace Visual Art Exhibit as part of the Art of Peace – Tyler celebration, a citywide commemoration of the United Nations International Day of Peace, September 21st.
"Art of Peace – Tyler is happy once again to partner with the Tyler Museum of Art to invite regional artists to offer their creative responses to the idea of peace and to our 2019 theme, 'Living Peace,'" said Anne McCrady, co-founder and co-director of the peace event.
The visual art show will be presented as a juried exhibit from September 15th-22nd in the Education Classroom at the Tyler Museum of Art, 1300 S. Mahon Ave. on the Tyler Junior College main campus. The exhibit will be open to the public and admission is free.
The jury for selection will consist of members of the Art of Peace – Tyler committee and TMA representatives. The jury has the option to select up to two works per artist for inclusion in the show. Past exhibits have included the work of artists from Austin, Dallas, Lubbock, and the East Texas area.
"We are privileged that the Art of Peace – Tyler committee once again has asked us to be the host venue for this exhibition," TMA Executive Director Chris Leahy said. "The work we have seen over the past four years of our partnership has grown increasingly more dynamic and accomplished, and we are proud to have the opportunity to participate in such a great community event."
Entry deadline for the visual art show is July 31st. Works in all media are eligible, provided they can be juried by digital image. These include painting, drawing, printmaking, photography/digital media, sculpture, mixed media and fine craft (wood, metal, clay, fiber, glass). Artists should e-mail digital images, descriptions of work, CV and artist information to artofpeaceart@gmail.com or mail a CD with information packet to: Art of Peace – Tyler Exhibit Committee, Tyler Museum of Art, 1300 S. Mahon Ave, Tyler, TX 75701.
"Since jury selection uses images of the artwork, artists should send high-quality images that represent their pieces as accurately and professionally as possible," Ms. McCrady said. Artists must submit images as JPEG files. Art of Peace – Tyler reserves the right to reproduce artwork images of accepted entries for promotion of the exhibition in the media.
The TMA does not allow art sales on the premises. However, given artist permission, guests will be provided with names of artists and selected contact information, McCrady said. Visitors who wish to purchase artwork may contact the artist directly regarding a sale after the close of the show.
Sunday, September 22nd, there will be an Artist Reception at 3pm with a program starting at 3:30pm.
For more information about Art of Peace – Tyler events, visit tylerpeace.com. For questions about the art exhibition, e-mail artofpeaceart@gmail.com or call Ms. McCrady at (903)658-5645.
The Art of Peace – Tyler will be held September 15th-22nd.