By A. C. Slaughter
"It's pronounced Lind-SAY, not 'Lindsee,'" says the red-headed beauty who is Lindsay Boone. Artist, illustrator, mother and wife, this woman is one hot ticket with a deep raspy singing voice to boot. Ms. Boone has been interested in art all of her life. "My dad started taking me to museums when I was six. We went to Dallas as a family growing up." She started studying art and getting really into art her junior year of college. She had the opportunity to study abroad in Paris and, an English major at the time, it struck her "I don't need to study literature in Paris, I need to study art." And so she did. Lindsay spent a solid year studying in Paris. "I learned to paint at the museums, in front of the paintings. Also, the professors were all working artists and would instruct the students in the professor's studios. We would visit local artist's studios and learn to paint and sculpt there. There was no formal classroom." Among Lindsay's instructors is American figure artist Kathy Burke who has been teaching art in Paris for 30 years. "It was a small intimate class of about twelve so we got a lot of one-on-one attention." Once Lindsay returned to the states she continued her education at William and Mary in Virginia. "I was working as a journalist for a while after college and I just did art on the side. So when I got the opportunity to teach, I was like, that's what I need to do. I need to teach art. And I loved it."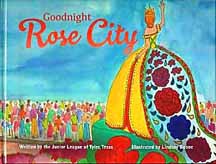 Living with her husband Daniel in Dallas, Lindsay took on her new adventure as art teacher at a charter school and began to fulfill her calling. The couple decided to move back to Tyler and when a position became available at Brook Hill, Lindsay took it and taught there for three years.
"There wasn't much of a program when I got there so I was able to help build on what was there. I loved teaching at Brook Hill. They are so encouraging, so supportive and they are so very encouraging of the fine arts. The first year, I wanted to paint the retaining wall on the Loop and they said go for it!" Lindsay invited six schools and together they repainted the wall with Tyler roses. Today, that mural can be seen by thousands of drivers every day.
After Lindsay had her second son she decided to stay home and fulfill her role as mom. Now she takes care of her two boys and her husband and continues to teach private art lessons out of her home. When you are talking to Lindsay you get the sense that she knows exactly what she is doing and that brave confidence is part of what makes her a great teacher.
Lindsay continues to paint and draw. She has commissioned work lined up, continuing to paint portraits and pieces for private homes. Lindsay's work ranges from precise realism all the way to giddy, childlike illustration. Pleasant on the eye, her work is strong, inviting, yet gentle. The use of lights and darks in Lindsay's work shows her incredible knowledge of values and is reflective of her time spent studying the famous Paris light. Having one of her pieces in your home is like having a piece of Paris right there in your living room.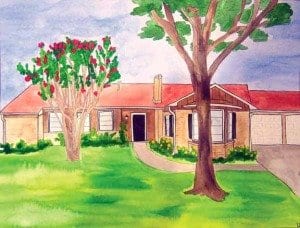 Lindsay has illustrated three children's books. She also paints large scale murals for nurseries and children's rooms. She has painted murals in each of her boy's rooms. She has also made a large scale image of the face of Botticelli's Venus, in carpet tacks no less, on the wall of her own bedroom. There is no end to Lindsay's abilities. She can do it all. "She is the most amazing, beautiful artist in the world," says husband Daniel. One can tell from only five minutes in their home that laughter and smiles accompany each day, and isn't that what you want from an artist? When you hang work from someone still alive you are inviting their energy into your home, and don't you want sincere, honest goodness in your home? I know I do. I know I would be proud to have a Lindsay Boone painting in my home.
One of the children's books Lindsay illustrated is "Goodnight Rose City." Written by the Junior League of Tyler, this fun and sweet children's book will make a great addition to any child's collection. Something that hardly happens is the chance to see the original illustrations to a book. But right now, at the Tyler Museum of Art, on display through October, you can see Lindsay's original illustrations for "Goodnight Rose City." All the proceeds from this wonderful little book go back into the community. Many artists submitted for the book but Ms. Boone ended up with the job and what an honor to be asked by the Junior League of Tyler to create such an important book. Way to go Lindsay!
To see Lindsay's work go to lindsayboone.com. For more information on the museum visit:
www.tylermuseum.org. And to check out "Goodnight Rose City" visit: www.juniorleagueoftyler.org.
Right now would be the time to contact Ms. Boone for a portrait of your child or grandchild, and what a great Christmas gift that would make.
Well, that's all for now East Texas. Enjoy the fall weather, make a trip to the Museum, take your kids, and as always, stay classy and MAKE ART.