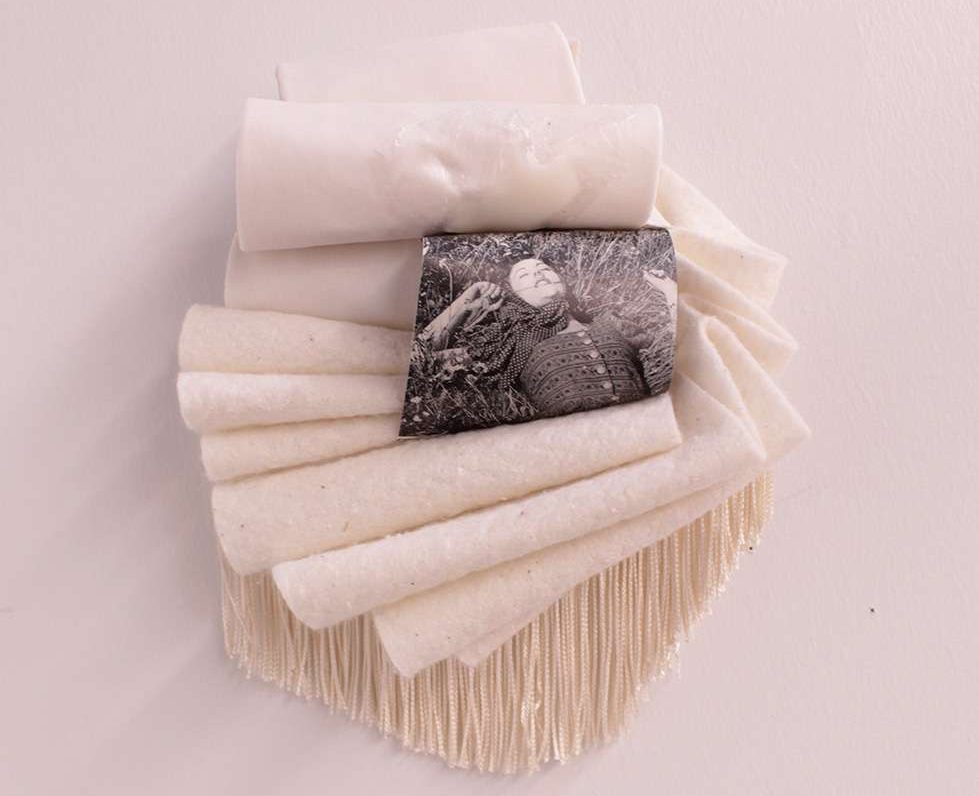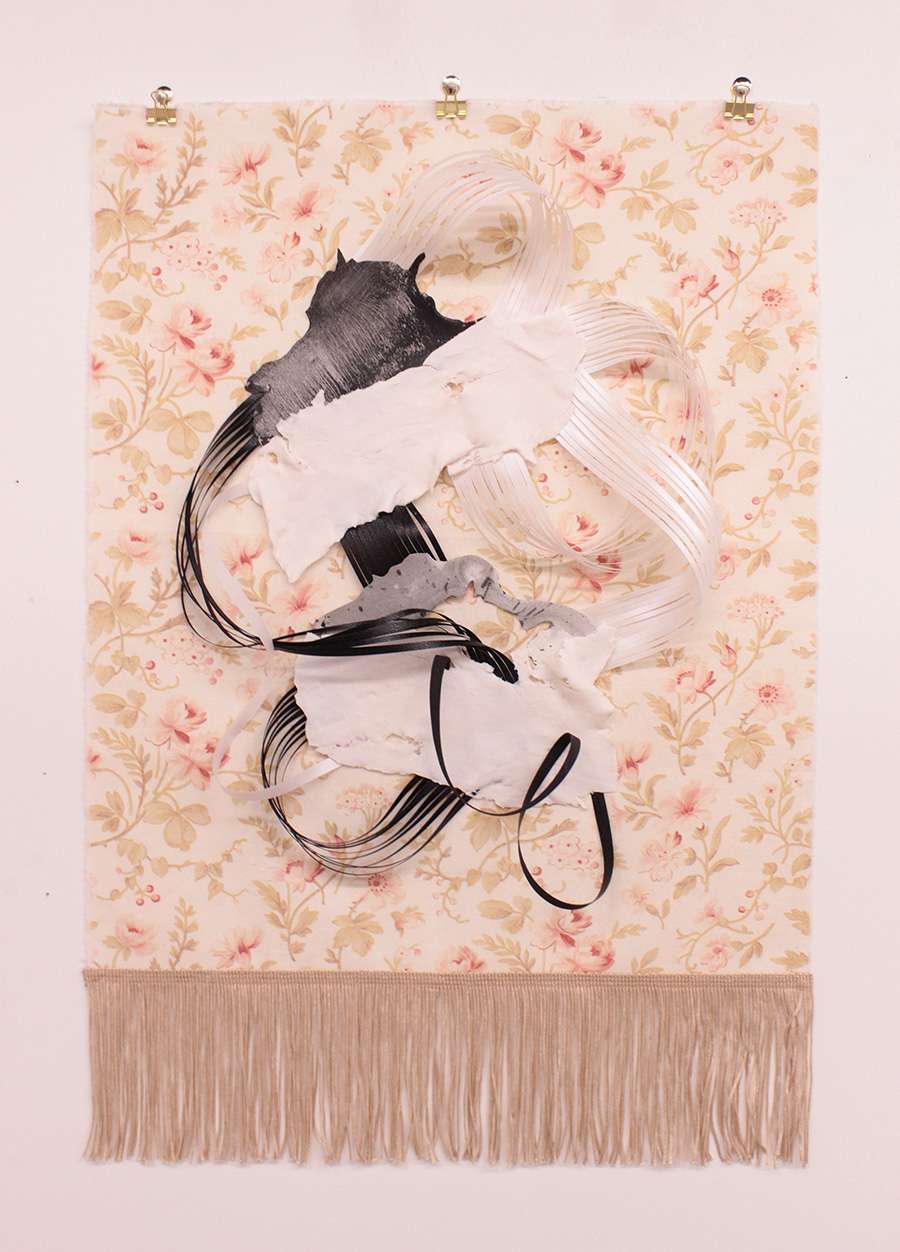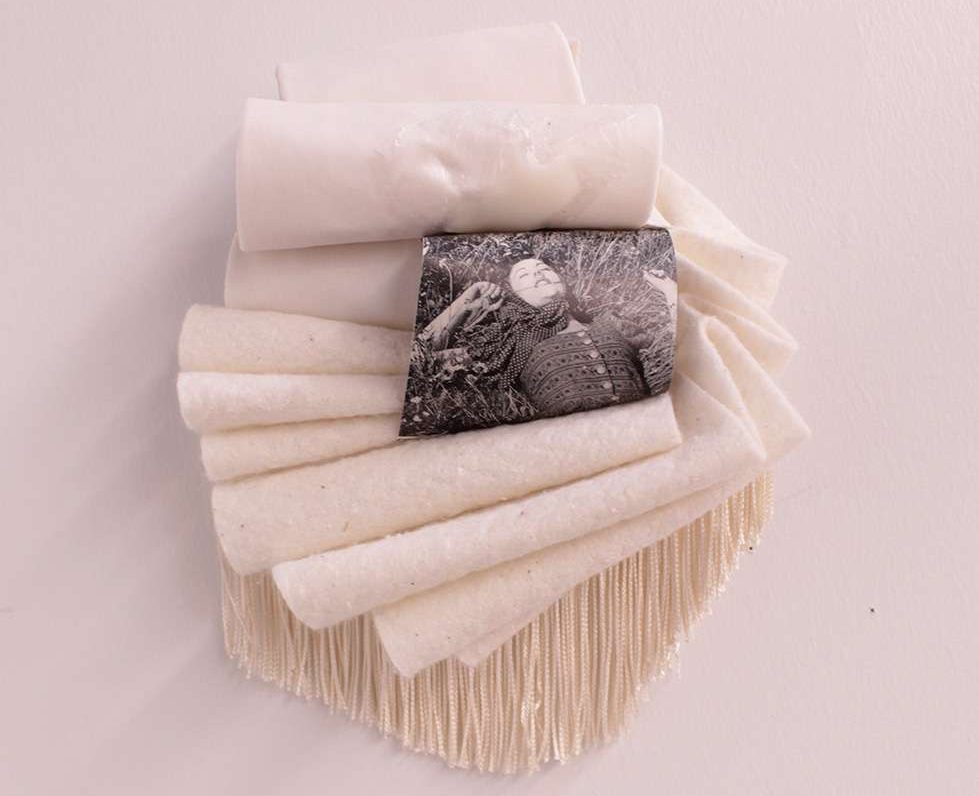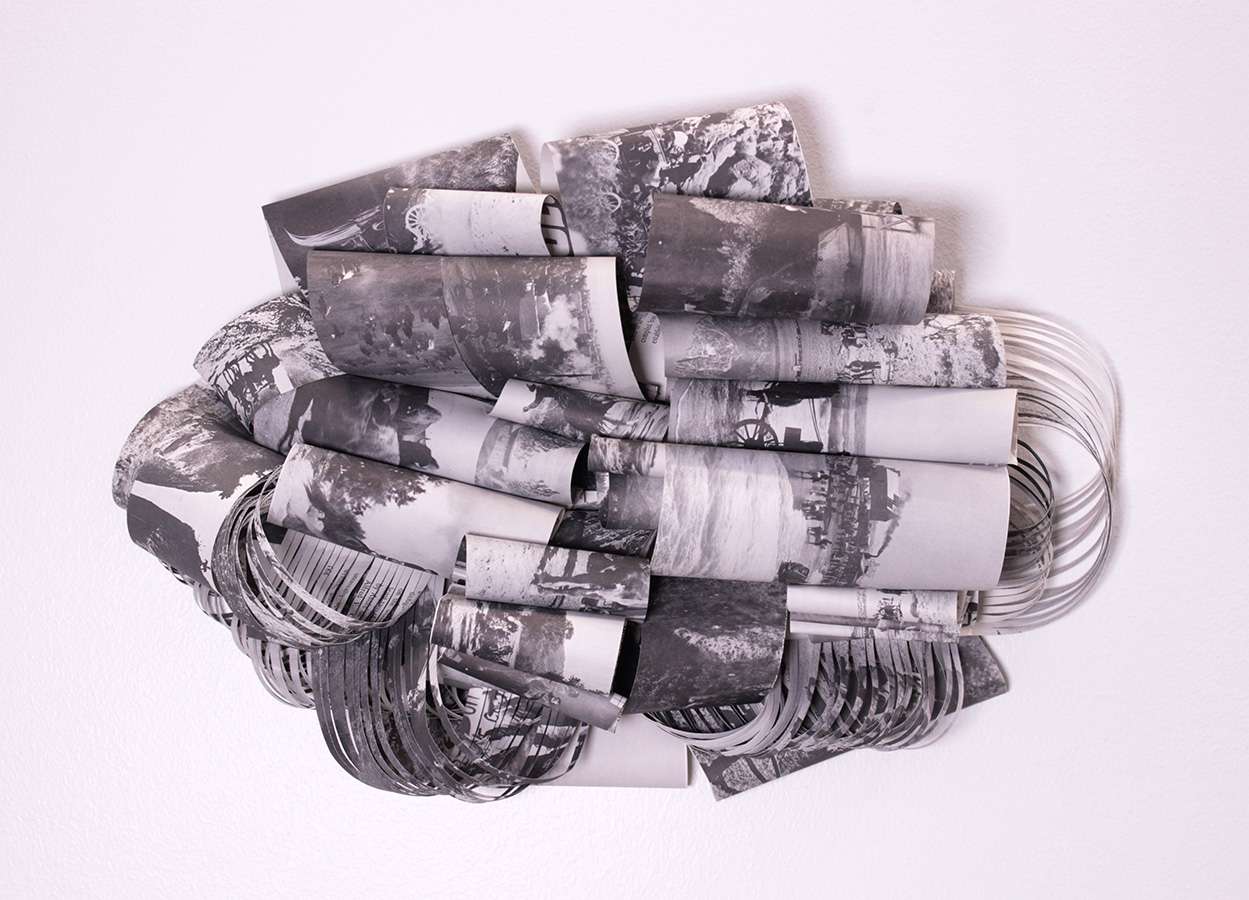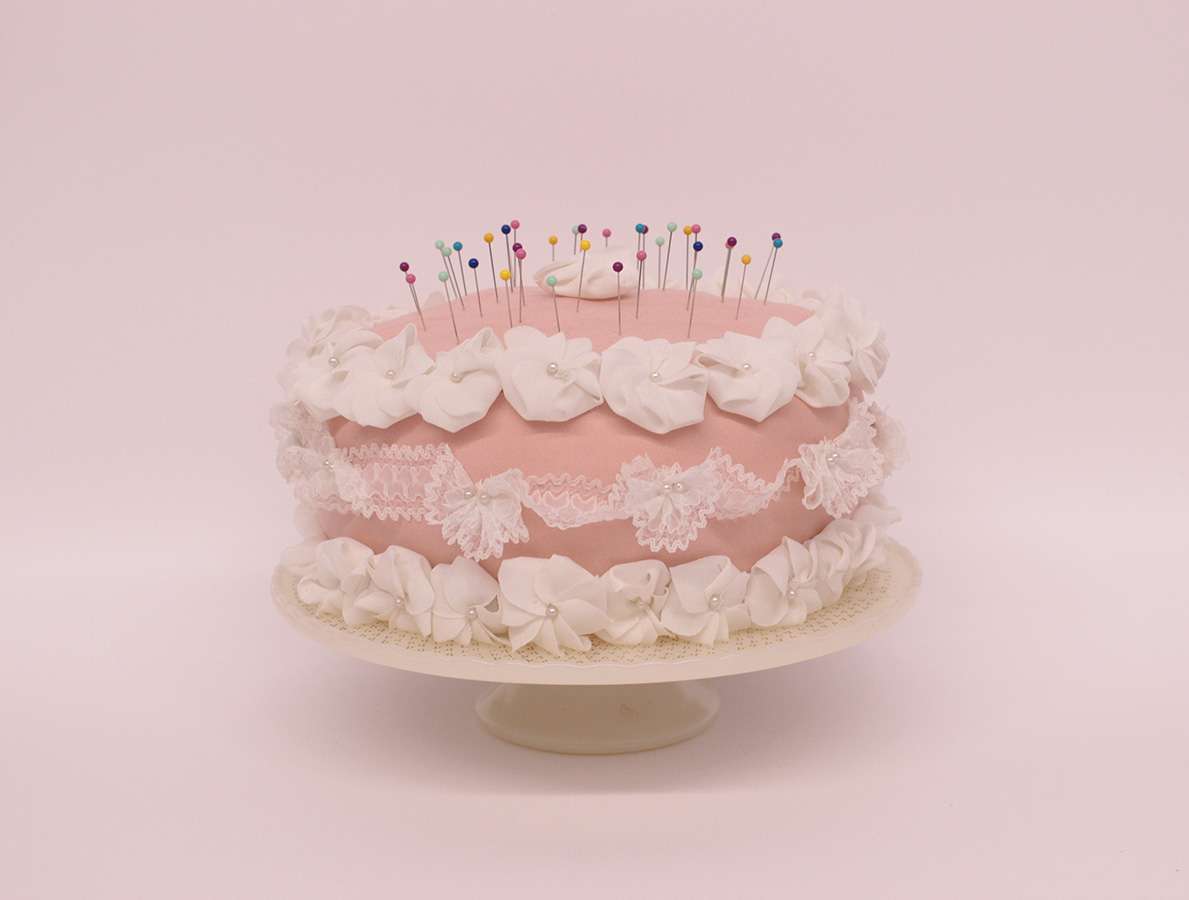 Inside the Artist's Studio
Wild at Heart and Weird on Top: Kelly Waller
Derrick White
"Without obsession, life is nothing." –  John Waters.
"I am interested in the re-contextualization, distortion, and combination of materials and appropriated information. I want there to be a sense of familiarity in the forms and the intersection of materials, but also want there to be a sense of unpredictability. Fragments of materials are taken out of context and are arranged by intuitive thought processes and formal associations. Some of my current work uses fragments of materials, images, and symbols relating to my hometown. It explores the notions of not belonging to a place but ultimately being tied to it. I am also exploring notions of craft and femininity and their relationship to structured space, more specifically home space," states artist, Kelly Waller. Waller is currently exhibiting her work at Tyler Junior College's Glass Case Gallery through September 28, 2023, inside TJC's Jenkins Hall, on the first floor, northeast corner of the building, in the art department—Kelly's old stomping ground.
Kelly Waller earned her associate degree in art at TJC in 2017. She then attended the University of Texas at Tyler and received her Bachelor of Fine Arts degree two years later. She is now completing a Master of Fine Arts degree at Texas Woman's University, Denton, and plans to graduate in the Spring of 2024. Waller recently had a solo show at Arts Fort Worth and featured her artwork in the Cimarron National Works on Paper Exhibition and the 36th Annual Materials Hard + Soft International Contemporary Craft Exhibition. 
Kelly's work is intriguing and inviting, well crafted, hauntingly familiar, and lends itself well to contemplation, memory, and a certain amount of comfort in disappointment or misery. Her art explores textiles and materials and then she switches the context of how we interpret these provisions we thought we knew and understood. The artist explains, "I use a variety of materials that are often combined including paper collage, fibers, printmaking, and a recent acquisition of ceramics (or more specifically nylon fiber porcelain). A big part of the materials I use is appropriated from antique or resale shops from places I have lived or traveled to. A big portion of these materials includes a small archive of found family photographs that I then give new life. I put a lot of emphasis on the handmade quality of works and most of my prints and fibers works are hand carved and hand sewn respectively." 
"Life is very, very complicated, and so films should be allowed to be, too." – David Lynch.
Waller discusses how she came to pursue art, remembering, "I started like a lot of other young people going to college not knowing exactly what I wanted to do. I went to the University of Arkansas to pursue a marketing degree and soon realized it was not for me, but I took a foundations art class there and it pushed me into the direction of art and inspired me to move back home. Ultimately, the overall love for art and welcoming sense of community the Tyler Junior College art department had truly finalized my desire to become an artist." She adds, "Art has brought many amazing things to my life, but one of the most important is the amazingly talented and creative individuals gracing me with their presence and inspiration every day. I could not be where I am today without the professors, friends, coworkers, artists, and colleagues, pushing me and each other to think, to love, and to make art."

"I don't like rules of any kind. And I seek people who break rules with happiness – and not bringing pain to themselves." – John Waters.

Kelly finds inspiration from a variety of sources. "I don't necessarily have a favorite artist, but one I am interested in at the moment is Eva Hesse (1960's sculptor known for her innovative work with plastics, latex, and fiberglass). I enjoy her experiments with materials and combinations of pieces, as well as her interest in their associations. Another artist I have always had an interest in is Christian Boltanski (conceptual sculptor, filmmaker, photographer, and painter). He is best known for his photography installations. He distorts found photography in a way that creates a sense of universality which I find helpful in my craft. I also consider cinema to be a significant influence in my work (and in my life in general), and two filmmakers heavily influenced me, David Lynch (surrealist filmmaker of Eraserhead, Twin Peaks, and Blue Velvet to name a few), and John Waters (cult filmmaker of Hairspray, Cry-Baby, and Pink Flamingos to name a few). I enjoy Lynch's use of juxtaposing the mundane and macabre as well as the dreamlike imagery used throughout his work. John Waters is particularly interesting in that he often critiques certain social aspects but does it to the absolute extreme, as well as the overall campy nature of his work. 
Kelly concludes with a quality recommendation stating, "One of the most frustrating parts of being an artist is probably overcoming the personal anxieties that come with making art. Setting too many limitations and expectations on yourself will get you in a rut and cause you to self-doubt. Finally, realize that not all the art you make is going to be good art, and not everyone is going to get your art or even like your art, you don't even have to like your art sometimes! A great book that helped me (and probably a lot of artists) is Art and Fear by David Bayles and Ted Orland." I suggest this particular book to all my studio art students. If you are wanting to start or begin making art again but have too many excuses not to do so, go, get this book it will take every excuse away and inspire you to start creating. It is a great read and is easily digestible. Trust yourself.
"Intuition is the key to everything, in painting, filmmaking, business – everything. I think you could have an intellectual ability, but if you can sharpen your intuition, which they say is emotion and intellect joining together, then a knowingness occurs." – David Lynch.