By Johnny Griffith
Lauren Alexander is breaking your rules. Just listen to her latest album "Smoke Signals," and she'll tell you. Obsessed with music from an early age, Lauren was surrounded by opportunities to explore, educate, and express herself in a myriad of genres. Once the Bullard native had a taste of the stage she never looked back, but don't call her a Country artist; she's much more than that box can hold. Crossing her "twangy country roots" with "soul driving classic rock," she sprinkles on a healthy dose of folksy Americana for a unique, expressive, soul-bearing blend of original music and lyrics that invites you to break the rules along with her.
In between traveling and her latest project, a new song release "Sleeptalking," Lauren caught her breath long enough to answer some questions about where she's been, what she's doing now, and where she's headed.
Johnny: When did you first develop an interest in music?
Lauren: I was always around music growing up. My dad is a sound engineer and plays guitar so there were instruments and equipment lying around all the time, and my parents were cool about letting me be super loud. Having that freedom early on led me to be very comfortable in a creative mindset.
Johnny: Do you remember when and where you first performed in public?
Lauren: My very first performance was at church when I was just six years old. From there I performed at fairs and festivals around Texas, pretty much anywhere I could. I remember being so nervous early on. I wanted to be up there singing, but I didn't want anyone to look at me!
Johnny: How integral was your family in helping you develop that early interest?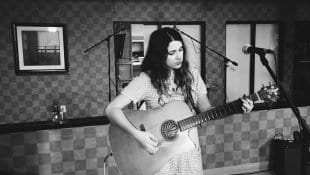 Lauren: I think I would have found music at some point no matter what, but my family is the reason I was able to get started so young. They drove me all over Texas to play at festivals and dive bars, and every other Sunday we would drive to Fort Worth for yodeling lessons. I knew very early on that music wasn't just a hobby for me. It is a blessing that I've been able to focus primarily on my music, and I have to credit so much of my success to my parents and the family of people that have been so supportive of my vision.
Johnny: When did you make the decision to start writing your own music?
Lauren: I've always been a little shy, which has led me to feel misunderstood a lot. Songwriting was the best way I found to communicate without having to say a word. It's easier to express your feelings when they're tied up with a melody that carries half of the weight. Writing songs is like another part of my language now that helps me to organize all of my thoughts and feelings. I have to write for my world to make sense.
Johnny: Has the writing process evolved as you've become more experienced in the craft?
Lauren: My process is different every time, so I can't say that it has changed. My creative headspace is definitely different than it used to be, but I think that mostly just comes from gaining new experiences and being comfortable with who I am and what I have to say.
Johnny: Your sound is quite a unique tapestry that has threads of several different styles and artists weaved into it. How do you describe it, and who are the artists you looked to for inspiration in the evolution of your sound?
Lauren: The evolution of my sound has been very organic. I grew up singing country music, but as I got older and began to develop my own musical appetite, I didn't limit myself to being just one kind of artist. As I've transitioned into the sound that I have now, and writing for "Smoke Signals," I've listened a lot to The Black Keys, Grace Potter, and Lana del Rey, as well as Fleetwood Mac, Tom Petty, and The Beatles. I think you will always be able to hear whispers of my country music upbringing in everything I do.

Johnny: You grew up in Bullard and have played all over East Texas, but you've spent a lot of time in Nashville as well. How much of the time is split between the two these days, and what kind of professional challenges does a move like that bring?
Lauren: I lived in Nashville for about a year and a half. There's music going on all the time, and I found a really great community of people that were really into what I was doing. But I missed having the freedom to travel. I missed my band. At one point I was working three part time jobs, playing shows at night, and still paying for groceries with spare change and calling home for money. I got into a really dark place being stuck there. I had to make the best decision for my career and myself, which was to move back home to East Texas and have more freedom to go and play shows wherever I want. I've been lucky to find cool music communities all around Texas, Colorado, and California. I joke a lot that I basically live in my car; it feels like it sometimes!
Johnny: Your debut album "Smoke Signals" is a great release, and the production value is out of this world for a debut from an independent artist. Who did you work with on this, and what has the response to the album been so far?
Lauren: Thanks! "Smoke Signals" is one of my greatest accomplishments. I'm so incredibly proud of that record and all the great people who were involved with it. I worked with Rosewood Studios in Tyler where I've been recording since I was 12. They're the best, and people seem to really love it. I've gotten some radio play on several songs from that album, which is one of the coolest feelings in the world.
Johnny: Behind every successful singer at some point is a solid band. Do you have a regular cast of musicians taking the stage with you?
Lauren: I've been touring with my guitar player (and husband) Richie and my drummer Jeff for about six years. My bass player Stacy has been with us for about two years. We've all got a really good thing going on. I feel comfortable knowing that they've got my back on stage, and I think that's really important.
Johnny: What do you feel has been your biggest milestone to this point in your career?
Lauren: Releasing "Smoke Signals" was huge for me because I worked so hard on it, but I've also gotten to play a lot of cool stages and travel to so many beautiful places; so it's hard for me to pick just one big moment.
Johnny: Where does Lauren Alexander go from here?
Lauren: My plan is to keep doing what I'm doing: playing shows, writing songs, and putting out music. I've got another album in the works that I'm very proud of, which will be released in 2018. I'll also be having a baby in February, and I can't wait for the new adventure and challenge of touring with a kiddo.
Upcoming Shows:
October 13th and November 17th: Eagles Bluff – Bullard

October 14th: The Grove – Tyler
For more info about Lauren Alexander go to: