By Johnny Griffith
A lot of times the word "leftovers" can have a negative feel to it. Sure, leftover pizza is almost better than fresh when you eat it cold for breakfast the next day, but if you're one of the leftovers after the kids at school finish picking their sports teams, then you aren't feeling very good about the word. Local musicians Mike Hill, Stacy Shew, and Paul Shafer (no, not Paul Shaffer of David Letterman fame) are proving that leftovers are nothing to turn your nose up at, and to drive the point home, that's the name of their band: "The Leftovers."
Based out of Tyler, Hill (drums), Shew (bass), and Shafer (guitar/vocals) have all spent time in previous projects and in some cases, are still actively involved in other local acts but have more than enough chemistry to go around as The Leftovers have found something unique in their own right and are starting to wow audiences around the area several times a month. With each member bringing their unique perspective to the band, the musical combinations coming off the stage often result in different takes on classics and covers not being done by other bands in the area.
I reached out to Paul Shafer to get some more information for music lovers out there: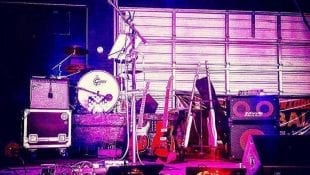 Johnny: Where are the band members from originally?
Paul: Mike grew up in Kilgore, Stacy grew up in Athens, and I was born in Houston but grew up most of my teen years in the Texarkana area. So we are pretty much native East Texas boys.
Johnny: What is the musical background of the band members?
Paul: Mike and Stacy have been a part of the music scene in East Texas for a while. Mike has been playing drums since he was six, and Stacy had his first gig at age 15. Those guys have played in really great bands and have traveled pretty much to every town around East Texas that had or has live music. I have been playing music for more than 20 years writing and covering music all during that time while playing live.
Johnny: So I'm assuming "The Leftovers" is a reference to you guys all being members of other bands at some point, how did you all meet?
Paul: We became friends from the music scene in Tyler really. We hit it off and really enjoyed seeing each other before we started playing together. We were busy doing our own projects at the time, and we joked about starting a band together. Mike came up with the name "The Leftovers" for that reason you mentioned, and it stuck after our first gig together.
Johnny: I've heard some tracks, and it seems to be pretty eclectic. Do you have a style you focus on, and are there any originals in the mix?
Paul: We don't play any of my originals in The Leftovers. When we started getting serious about playing together, we knew that we just wanted to be a fun cover band that plays songs people recognize, but not always pick the obvious ones. We wanted to make the songs our own with our individual styles. We all enjoy different kinds of music, and it just gels so incredibly well to what our sound has become. Mike is such a solid drummer with great fills and tempo; Stacy is a monster of a bass player with great creativity, and I've loved picking up my electric guitars with some reverb and 80's sounds to create something that is completely opposite from my acoustic guitar sound when I play solo.
Johnny: How has the response been to "The Leftovers" so far?
Paul: Really good! We usually make new friends at every gig and try to be as relational as we can before and after the set we are booked for. People are always kind to us after our set mentioning our sound or song choices, but the best compliment that I receive with this band is that people always say it looks like we are having so much fun on stage. In return, they have fun!
Johnny: How many shows are you currently doing a month on average?
Paul: We play on an average to 4-8 shows a month together.
Johnny: Are you primarily playing out of the Tyler area or have you done gigs out of the immediate area?
Paul: Tyler/Longview/Nacogdoches mostly, but we are in talks with several other venues a little farther out.
Johnny: With so many gig opportunities, do you guys have any side hobbies?
Paul: It's pretty crazy because music is such an important part to all of our lives, it's pretty much our main hobby even though we consider it more than that. Mike and Stacy both have families and have played with some amazing bands over the years, so it truly is an honor for me to share the stage with them when we get to. Mike does really great graphic design work, DJ's for weddings/parties/etc, and also currently plays with the amazing Kid Icarus Project. Stacy works for Kyser Capos and plays with a very talented local artist, Lauren Alexander. I continue to play solo a lot around town and occasionally have some musician friends of mine to back me up at certain gigs.
Johnny: What have been some, if any, of the challenges in maintaining "The Leftovers" with your other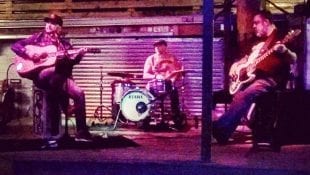 commitments?
Paul: Well the calendar is the biggest struggle! We love playing together so much, however, we are full supporters of each other's schedules and working around them.
Johnny: Do your bandmates from other projects ever moonlight with you guys?
Paul: We would love to see that happen! We've had some pretty cool experiences at certain gigs with people that we currently play with in other projects, have played with, or other local musicians/singers joining us on stage for a song.
Johnny: What's been the coolest memory from the stage with this band?
Paul: The chemistry! Personally, I remember the first gig we played booked as The Leftovers. After the first song, I looked at Stacy and Mike with a big smile on my face saying "THIS IS AWESOME!" What I love about this band is that I keep doing that somewhere during the set every gig we play together.
Johnny:What's coming up the rest of the year for The Leftovers
Paul: More shows. More venues. More friends. More fun!
Be sure to like The Leftovers on Facebook for news and upcoming events:
facebook.com/theleftoverstyler