---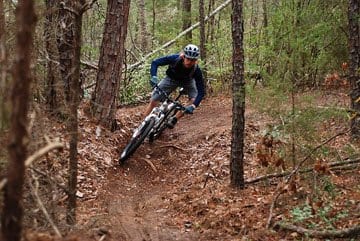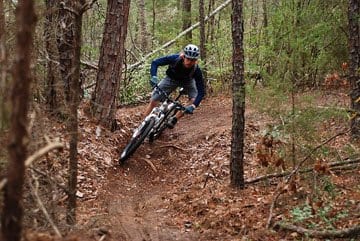 Written and Photographed by Lynn Dark
I once owned a truck, and I swore that I would never buy another one. When you have one, even the most casual acquaintance becomes your "best friend" every time they need to move. I only mention this because, for the most part, the streets of Tyler really are not very "bike friendly." To be fair, they are not "horse and buggy friendly" either, but I digress.
You will need a truck, or at least a vehicle capable of carrying a bicycle, to safely get to the off-road biking trails in the area. Once there, however, you will be rewarded with exceptionally maintained trails for your enjoyment, exercise, and experience with nature.
Tyler Simpson of Simpson's Fitness and Adventure Sports gives us the scoop on off road/mountain biking in the area, starting with the fact that the terms are synonymous. An avid cyclist, Simpson has ridden trails in Arkansas, Colorado, Alaska, and any number of other places. He plays an integral part in the upkeep of our local trails.
There are four biking trails in Smith County. The trail at Tyler State Park has been around for 25 years, and is maintained by the state. These trails have the most rugged terrain in the area. The trails at Faulkner and Lindsey Park are maintained by the city. The smaller trails at UT Tyler are maintained by the university.
Simpson calls the trails at Lindsey Park, "the jewel of the area." More time and money has been spent on these trails than any of the others. He explains that, "the state has more regulations than the city does about what you can and can't do with the trails. For example, boardwalks have been placed over wet areas, and wooden banking turns have been installed in some places. These trails are faster, with lots of elevation differences, and more physical ability is required."
Faulkner Park has the best trails for beginners. These trails have less elevation, and lots of turns. They are the best place to learn to handle a bike without any difficult, "technical" situations where a rider could sustain a serious injury.
UT Tyler is described as a short trail, with lots of up and downs through ditches. It has a few "fun" features that have been added to the natural terrain. These trails are located on the northwest corner of the campus next to the Frisbee golf area.
Maps of the city trails can be found at the City of Tyler's Parks and Recreation website on the Parks and Trails page. The city and university trails are free, while there is a $5 admission fee to Tyler State Park.
Many people come from out of town just to ride the local trails. "We have lots of Dallas riders because their trails are more clay based, and when they become wet, they are unrideable. Our [Tyler's] trails are sand based, and tend to drain a lot better. We also get quite a few riders from the Shreveport area too," Simpson states.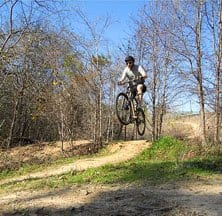 As for trail rules, the riding direction is mandated. Hikers and runners must travel in the opposite directions. Hoofed animals are not allowed, and dogs must be leashed. No one should use the trails when they are wet. The city parks are open until 12 midnight, but good lights are necessary for night riding. Simpson strongly recommends that, "all users of the trails only wear one earbud so that they can hear what is going on around them in order to avoid dangerous situations." He also advises riders to keep their cell phones with them, and to go with a riding partner.
You definitely want to consider your surroundings when you determine what you should have with you when you set out on your riding adventure. While riding in Alaska, Simpson and a friend carried air horns, bear spray, bells, water bottles, a first aid kit, a whistle, and a repair kit. When he showed me a photo from this trip, displaying a 38 magnum with bear load strapped to his chest, I was surprised to say the least.
To participate in this sport, you will need an off road/mountain bicycle. This type of bike typically has a fatter tire that can handle the natural tread bed of dirt, roots, and rocks in the area. You can purchase one of these bikes from a bicycle store for $350 and up. Simpson's current personal bike goes for $9,499!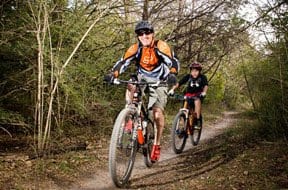 Mountain bikes can be found for less in department stores and at Wal-Mart, but those bikes will be heavier, and not as performance-oriented. There are several other advantages to purchasing your bike at a bicycle shop. For example, the bike will be assembled by a professional, and you will get much better service from professional mechanics. The staff at these specialty stores is better equipped to help you get started.
For riding the trails in East Texas, Simpson strongly recommends a helmet, gloves, and optional special shoes. Few riders in this area wear protective pads on their knees and elbows, or a full-face helmet. This is because the riding here is not that "technical." Other parts of the country have more rugged terrain, where people would wear what Simpson refers to as "full armor." That would also include more protective footwear that comes up higher on the legs.
Off-road biking is a full body workout. It seems obvious that it works your legs, but it also works your arms, upper body, and cardiovascular system. More than just exercise, mountain biking is also a sport in the Summer Olympics. In addition, competitive cyclists compete in world, national and state championship events.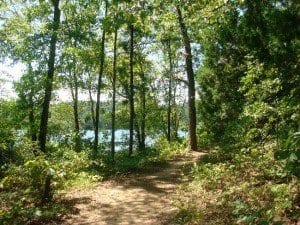 Simpson recently took part in the Ouachita Challenge in Arkansas. He describes it as, "an annual event that is more of a gathering. People come from all over the country to meet up with friends with whom they have ridden previously." This particular race is a 60-mile endurance event.
For an inexpensive camping trip, Arkansas is very accessible from East Texas, and Simpson describes it as, "an incredible mountain biking heaven. There are hundreds of miles of biking trails funded by the Walton Foundation. Both Walton grandsons are avid mountain bikers." In fact, Simpson says that the Arkansas trails are emerging as some of the best in the country.
Many participants incorporate off road biking into their vacations. For example, most ski resorts now convert the property into mountain bike ride centers during the summer. Riders use the lifts to go up the mountain, and then ride trails back down.
We have a fairly large biking community in East Texas. Anyone looking to make friends, find riding partners, or simply to see what is going on in the area should check out the Tyler Bicycle Club's Facebook page. There, you will find posts about the condition of the trails, club meetings, requests for riding companions, etc.
Mountain biking can be as simple as hitting the local trails for a brief workout, or something that becomes an outright obsession. Vacations can be planned around riding the next trail. Friendships can be forged both locally and across the country. It really seems to be a special community. Happy trails everyone!
---

‪ #‎eguidemagazine‬‬ ‪#‎tylertx‬‬‬ ‪#‎ilovetylertx‬‬‬ ‪#‎downtowntyler‬‬‬ ‪#‎VisitTyler‬‬‬ ‪#‎EastTX‬‬‬ #TylerArtsDistrict #tylerlivemusic ‬
‬‬‬‬‬‬