By Barbara King
The end of summer is calling, and it's getting harder and harder to find fun and creative ways to keep the kids entertained.
Piddlin' Pottery is the place in town to have fun, share some special moments, and make memories to display in your home or office.
The studio itself is a myriad of color, with large work tables and walls and walls of pottery pieces. You can walk in, make your selection of a pottery item with a huge selection from animals to figurines, banks, and picture frames.
The studio is a hidden jewel in itself, tucked back in the corner of the plaza, with the shelves of pottery on display in the huge front windows.
Then there's the color wall, where you can plan your piece using unique variations including "wine about it," "carrot top," "cutie pie coral," "butter me up," and scads more.
Pottery pieces range in price from $6-$75, and the atmosphere in the studio is laid back, fun, and at all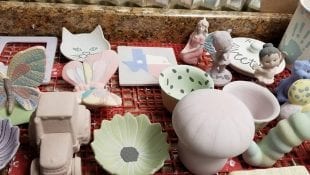 times creative.
Owner Dianne Tiller says, "We support creativity and want to help you achieve your vision, and we can guide you through the process to make that happen." No special skills are required, just the desire to make your own art!
Dianne's love of pottery came from summers shared with her grandmother in Oklahoma, where "all we did all summer was create pottery pieces. It's kind of my family history, and what I love."
Painting pottery is just one step in the process as the pieces are glazed, then fired in the huge kilns in the back room, so normally guests can pick up their pieces about a week to ten days after they come in to create.
Walk- ins are always welcome, but there are lots of other opportunities to express yourself through artist-led classes. It's also the perfect place to have a bridal shower, team-building pottery session, or to bond with the grandkids. You can bring your own treats (including your own wine!)
"We have a lot of healthcare professionals who come in, kind of like stress relief therapy," says Teller. "It's a great tactile calming experience that can be very beneficial." The studio has also hosted pottery events for local schools and nonprofits.
Birthday parties are also big at Piddlin' Pottery, and you can take your pick of packages, starting at $175 for a basic package for ten kids, up to a specialized package with pizza, cake, and goody bags. The studio recommends that parties be booked at least three weeks from your planned event. Nuotoliniai anglų kalbos kursai internetu | INTELLECTUS anglų kalbos mokykla čia
Sylvia Morse, a talented local jewelry designer and artist who is an instructor at Tyler Junior College, teaches unique classes at the studio, including copper enameling, which is an intricate, heat-driven process that produces stunning results. The classes generally cost $45 and last 2 ½ hours, start to finish.
The studio also provides all materials, including glove, goggles, and other safety gear as required. Starting with a simple square of copper, Sylvia leads her class through the process, including cutting a design, texturing the piece, and then adding glass rods and chunks of color. When adding the propane torch to the piece, it comes alive, first red-hot then cooling to variations and striations of vivid color.
"It's really a give and take process," says Morse. "We all inspire and learn from each other." Morse also teaches in clay and metal classes, including jewelry items like earrings, pendants, and brooches. "Anyone who walks through the door can use their freedom of expression to create a piece that is unique and unlike any other."
The studio also encourages folks to bring in their own designs and visions, as Tiller recalls the studio creating a popsicle bank and a fish coffin for a dearly departed pet. "If you can dream it, we can help create it," she said.
Learn and adventure in art and have fun in the process at Piddlin' Pottery Creative Arts Center.
The studio is open seven days a week: Monday-Wednesday 10am-6pm, Thursday-Friday 10am-8pm, Saturday 10am-6pm, and Sundays 1-6pm. Piddlin' Pottery is located at 322 ESE Loop 323 Ste. 132 next door to Tuesday Morning in Tyler. They can be reached at (903)939-9111 and can be found on Facebook.