Pumpjaxe: Unique Urban Axe Throwing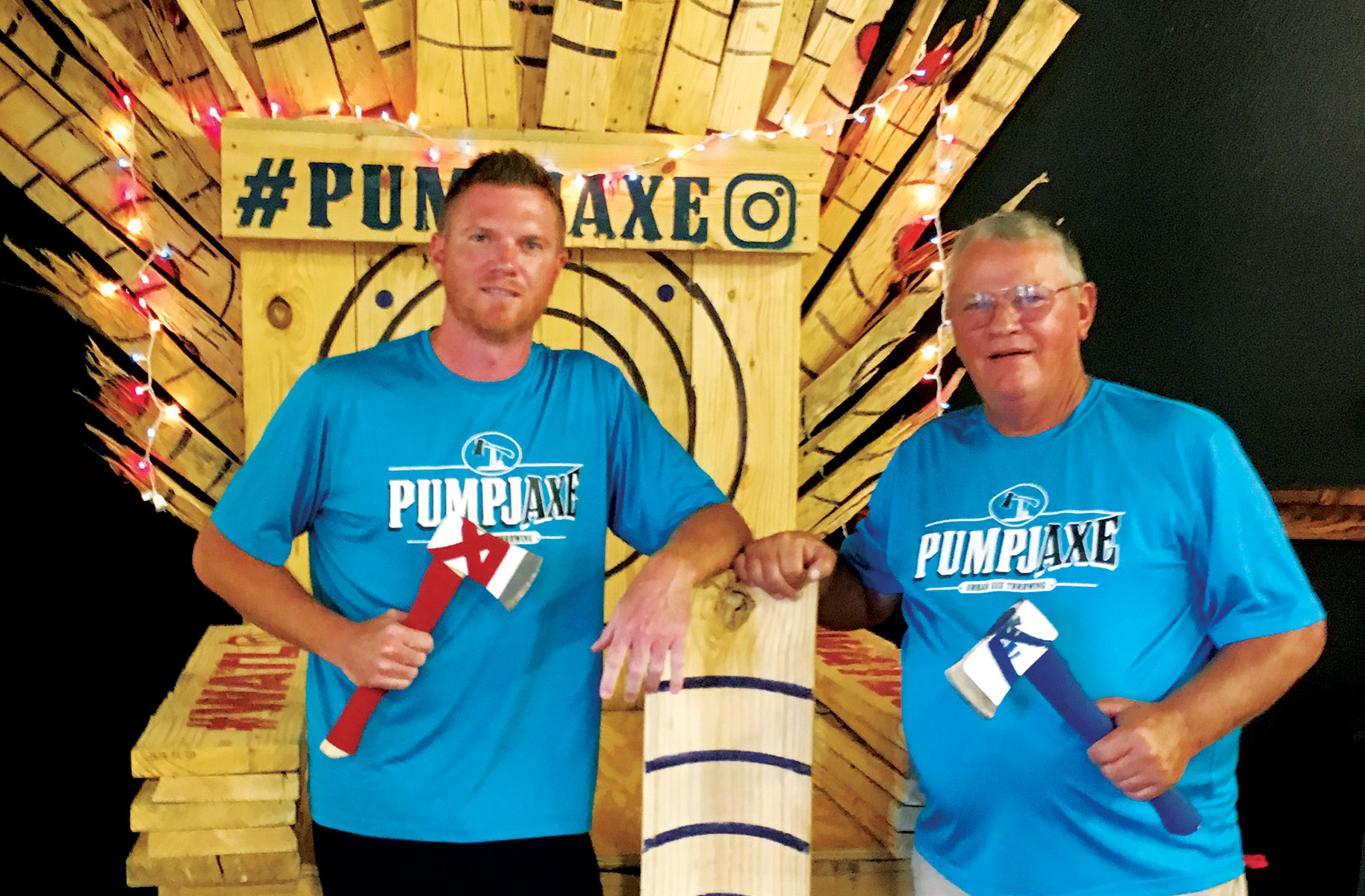 By Barbara Greenbauer
Get ready to throw down…your axe that is! Pumpjaxe is the new East Texas alternative to almost everything you can imagine for fun and sport. The only axe throwing venue of its kind in East Texas, you will be in for an adrenaline, axe-kicking time of competition and fun.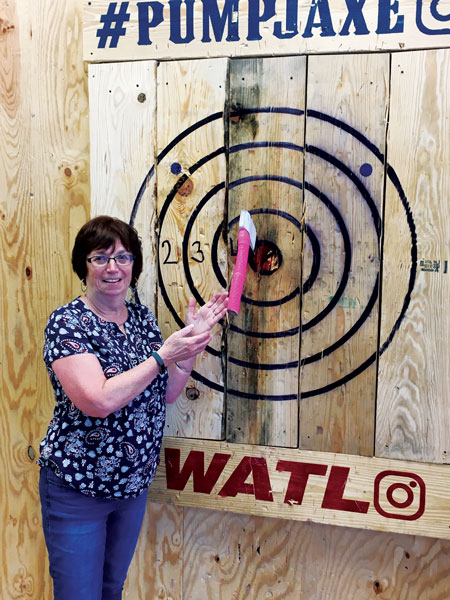 Pumpjaxe is locally owned by the father and son duo of Mike and Josh Wilson, themselves aficionados of the high energy urban axe-throwing culture. It's not a franchise, and Josh will tell you that they do everything from "janitorial, coaching to ax-grinding." Their proud claim to fame is that Pumpjaxe is an accredited member of the World Axe Throwing League (WATL) and featured on ESPN…and those axe throwing competitors mean business! The axe throwing craze has been around for a while, and has now spread worldwide, with the WATL established in 2017 with members around the globe: Canada, the United Kingdom, Denmark, Brazil, Turkey, Russia, Spain, Netherlands, Hungary, Poland, New Zealand, Slovenia, Indonesia and South Africa. 
Being part of the WATL means that you can rest assured that everything in the place is held up to the highest safety standards and regulations. The 3,000 square foot space is equipped with 6 lanes and 12 targets, everything handcrafted by the Wilsons to strict specifications. Safety is top of mind and every single person in the door is coached and guided by an "Axepert." Those instructions include the wearing of close-toed shoes, never leaving the throwing lane with an axe, and putting every axe back in the throwing box between turns. (No passing axes around…ever!)
Next comes throwing instructions and there are different ways to do it. The baseball grip is pretty important, with the grip firm, like you would hold a baseball bat. An important element to the grip is ensuring that the blade isn't rotated to the left or right, but straight so when released, the trajectory is straight on the target. Then you go ahead and bring the axe over your head, like throwing a soccer ball. You can choose whatever style you like, two-handed or single-handed. The axe itself really isn't heavy or awkward, and only weighs about one and a half pounds. 
It isn't as easy as it looks. The group up at the targets tonight is a mixed bag…men and women, friends and family out for a unique evening of competition and laughs. It's actually the women who are sticking more targets, and as Josh explains, "Anybody can come out and do well. You don't have to be a super athlete or have tremendous upper body strength." Pumpjaxe opened the beginning of June and Josh says "60% of our customers have been women and we have a 40% retention rate of folks who try it once and get hooked."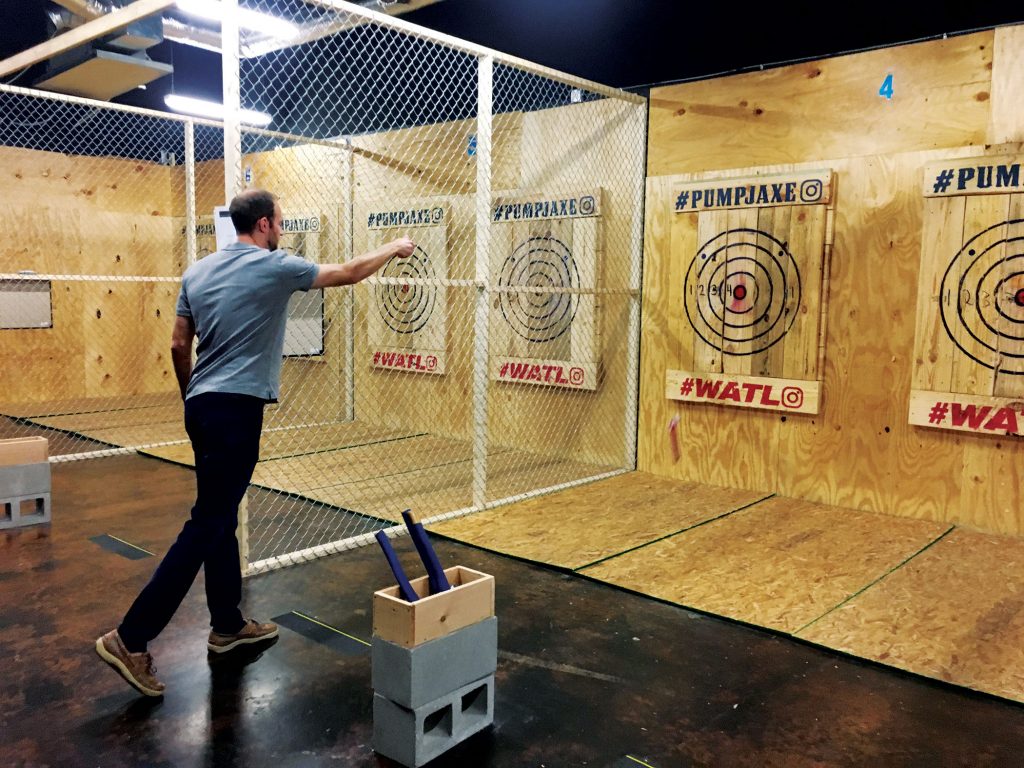 There are some kids hanging around to watch, and the Wilsons go by the rules that kids have to be 11 or older to throw with parent supervision. The actual throw areas are outlined in orange, and the high screens between lanes make it "safer than darts" said Josh. The Wilsons patrol the action constantly, changing outboards and keeping track of throw time.
It's a real adrenaline rush, especially when the axe hits the target and sticks. I gave it a try and it's a great feeling when you make it stick! Nick and Deanne Williams were throwing against each other, and the action was fierce and competitive. Deanna said, "It's really a challenge and we both want to practice and get better." The couple was there to "support local business in Tyler, and we love the easy, fun atmosphere in the place." 
It's a sport unlike any other, and Pumpjaxe is already making a name for itself, hosting every kind of gathering, from birthday parties to company events to bachelor/bachelorette parties. One group of guys hit the targets after gifting the "father to be" with a diaper party. You can BYOB, (just wine and beer and no glassware) and your own food as there are lots of tables and places to eat and watch the action. The Wilsons plan on building a bar countertop where folks can get a birdseye view of the throwing. You can buy Pumpjaxe t-shirts and koozies to remember your visit….and there are even Pumpjaxe specialty axes for $30 to be had!
Back to the axes…each player gets 10 throws per match. Players compete by throwing their axes at the same time, standing 12 feet behind the target. Participants throw their axes from a 3-foot wide box. The typical stance is a lead foot and a back foot. Both players retrieve their axes simultaneously and scoring commences. Throwers get 6 points for a bulls-eye, 4 points for the blue ring, 3 points for the red ring, 2 points for the green ring and one point for the black ring. Kill shots are the almost impossible to hit small spots on the target, worth 8 points, only on the final throw. If your axe falls out of the target, the throw generates 0 points. (There was a lot of that happening, with accompanying groans!)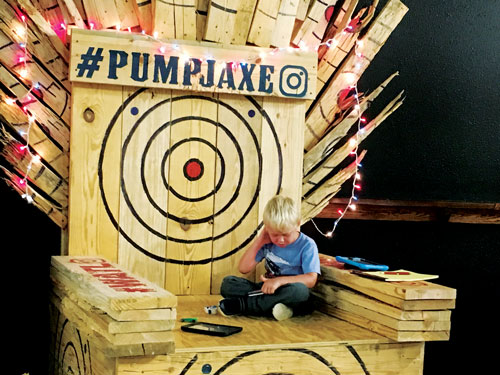 Walk-ins are encouraged, and everyone gets the same safety and game instruction. Reservations can be made online and a liability waiver is available too and saves time when you get there. Walk-ins are $20 for an hour of throwing and groups of six and more pay $35 for 2 hours of play which includes a private lane and personal coach. Pumpjaxe also has a corporate rate for 30 or more people at $30 per person for 2 hours. Pumpjaxe is all about giving back to the community too, so there is a great Heroes discount of 10% for military, first responder's doctors and nurses. What a super idea for a birthday, and if you bring 10 or more people, the birthday individual gets in free!
Take a closer look at the Pumpjaxe logo and you'll spot an axe adorning the top of a very well- known sight in these parts, a pump jack working an oil well. Josh said, "We want to be the spot for East Texans to relax, have an alternative to dinner and a movie, and enjoy some great competition." Plans are in place to begin fall league teams and even the opportunity to host a Fantasy Football Draft party including two hours of draft and axe throwing. Pumpjaxe also hosts Thursday night Ladies Nights with a 10% discount.
Bring out your inner lumberjack and throw down at Pumpjaxe! Pumpjaxe is located on Old Jacksonville Highway, at 15902 CR 165, Suite C, (just south of Bruno's Restaurant). You can call them at (903)630-6666 or make your reservation (usually two days notice in advance) at pumpjaxe.com. They can be found on Facebook at pumpjaxe. Walk-ins are welcome Monday-Thursday 3-9pm, Friday 3-11pm Saturday 12 noon-11pm, and Sunday 12 noon-7pm. Reservations are available Monday-Thursday from 3-9pm, Friday 3pm-12 midnight, Saturday 12 noon-12 midnight, and Sunday 12 noon-7pm. Groups of 6 or more can schedule anytime from 8am throughout the day. Check out their FB page for special promotions that are happening all the time!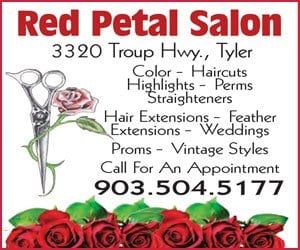 Think Outside the Box with "Beauty & The Box"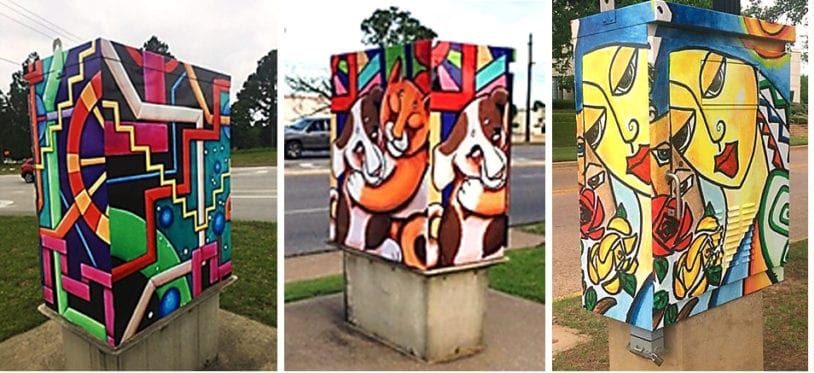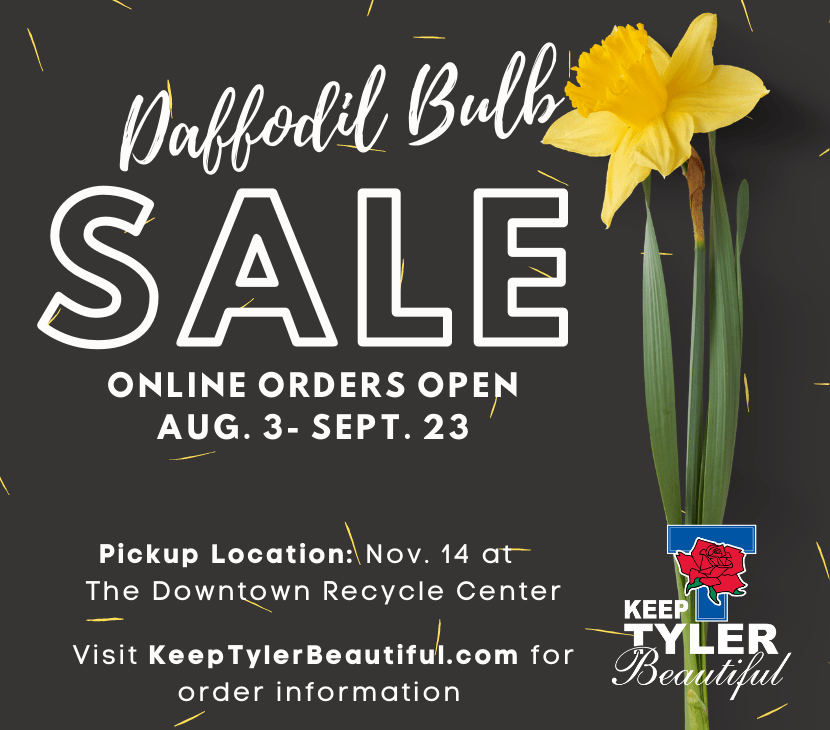 Keep Tyler Beautiful started the Beauty in the Box program in 2015 as a way to support local artists and bring artwork to all corners of Tyler. The Beauty and the Box program connects sponsors with local artists and transforms traffic signal boxes in Tyler into pieces of art. The artwork, submitted by local artists, is transformed into a vinyl wrap that covers the traffic signal box. If you are interested in sponsoring a box or submitting artwork for the program, please fill out the contact form or call (903)531-1335.
To add more boxes or additional info on any boxes, please email eguidemagazine@gmail.com.   #KeepTylerBeautiful  #BeautyandtheBox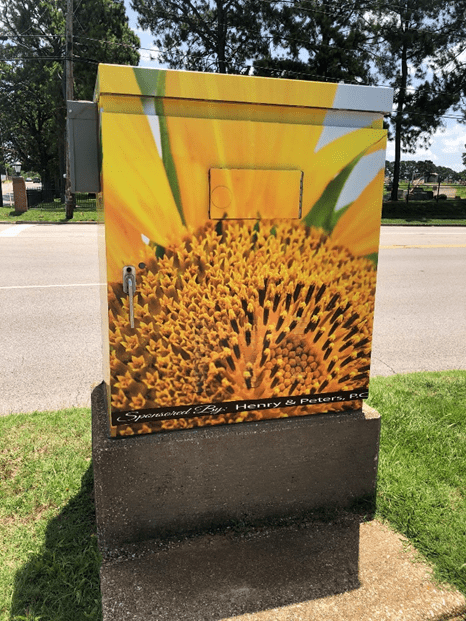 Located at Broadway Avenue and Old Troup Highway: Sponsored by Henry & Peters, P.C. Artwork by David Di Paolo.
---
Located at Troup Highway and Golden Road: Sponsored by Linda Davidson. Artwork by Linda Davidson.
---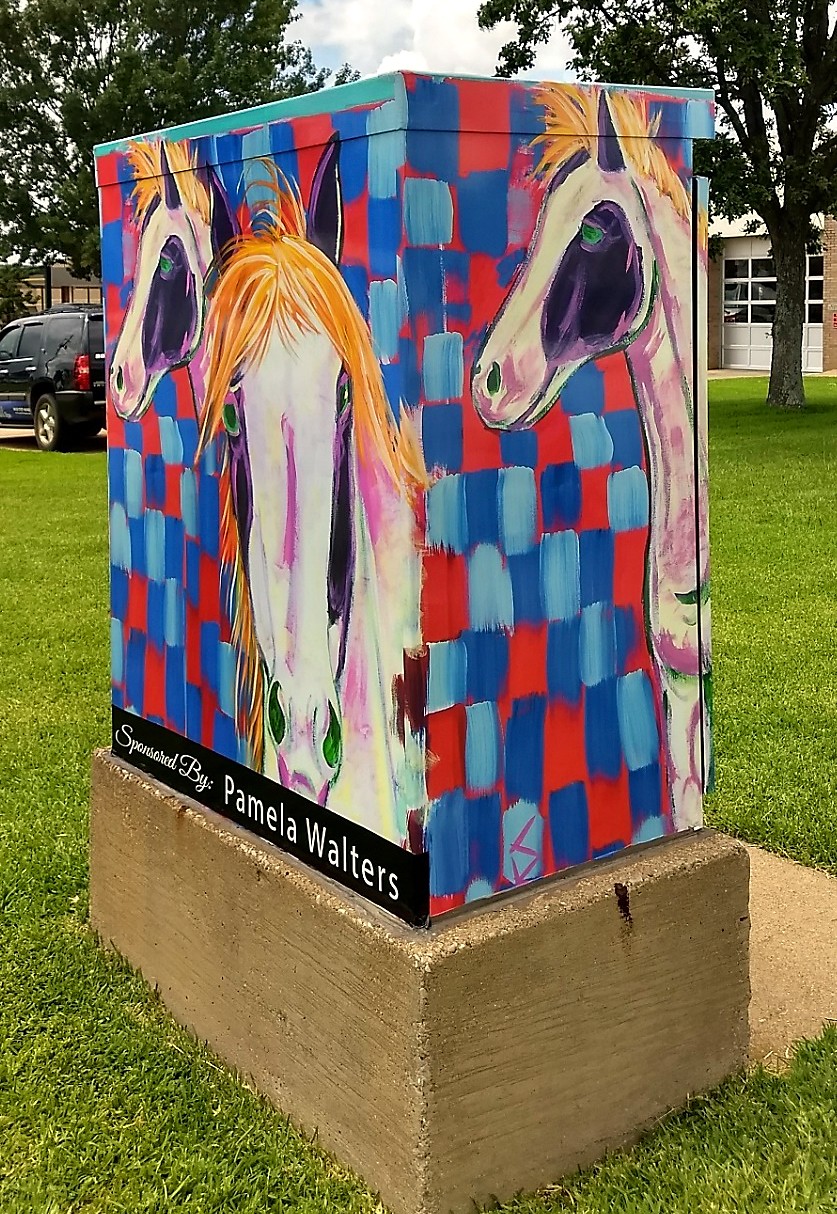 Located at Old Bullard Road and Rieck Road: Sponsored by Pamela Walters. Artwork by Sam Brown.
---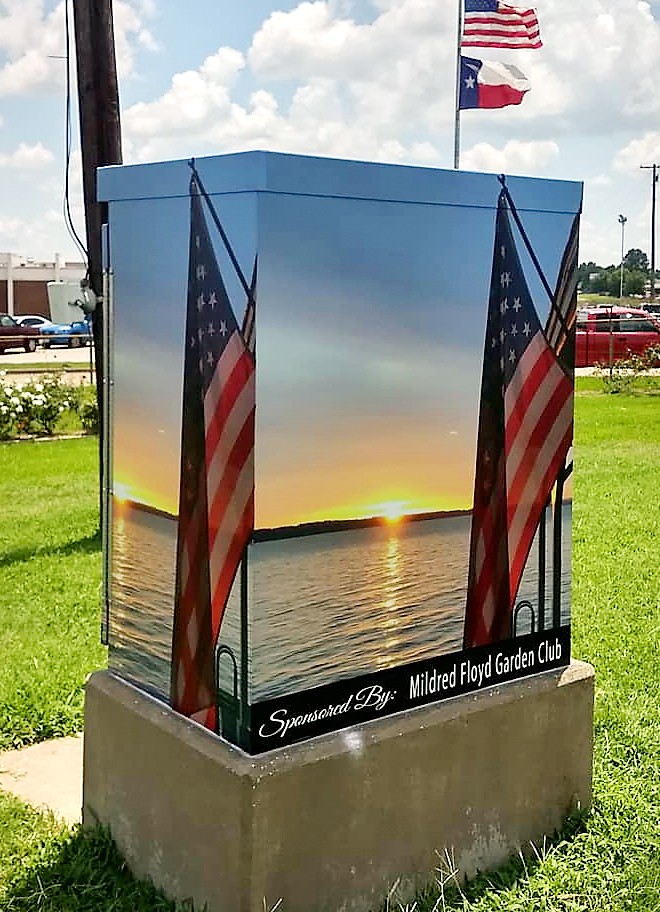 The traffic signal box at Old Jacksonville Highway and WSW Loop 323 has been sponsored by the Mildred Floyd Garden Club in memory of Marsha Harrison and other late members of the garden club.
Before her passing, Marsha presented the idea of sponsoring a box to her club and brought her original photograph to be considered as the image. The photograph is of the American flag flying over Marsha's family lake house on Lake Tyler. "The box is intended to serve as a loving memorial to Marsha and the other lovely ladies we have lost in the past years," a club spokesperson said.
Marsha Harrison had a strong presence in the Tyler community and is remembered for her involvement in many organizations. She participated in the Tyler Rose Festival, Tyler Chamber of Commerce, the Parks Board, the Transportation Board, the Tyler Symphony League and the Cattle Barons. She was also a member of the Tyler Literary Club, the Mildred Floyd Garden Club and was one of the original co-founders of the Discovery Science Place.
"The Beauty and the Box program has had a very positive impact on the community and has reached so many people," says Keep Tyler Beautiful Coordinator Angela Bennis. "We feel very privileged that the Mildred Floyd Garden Club has chosen to honor Marsha and others through this program."
---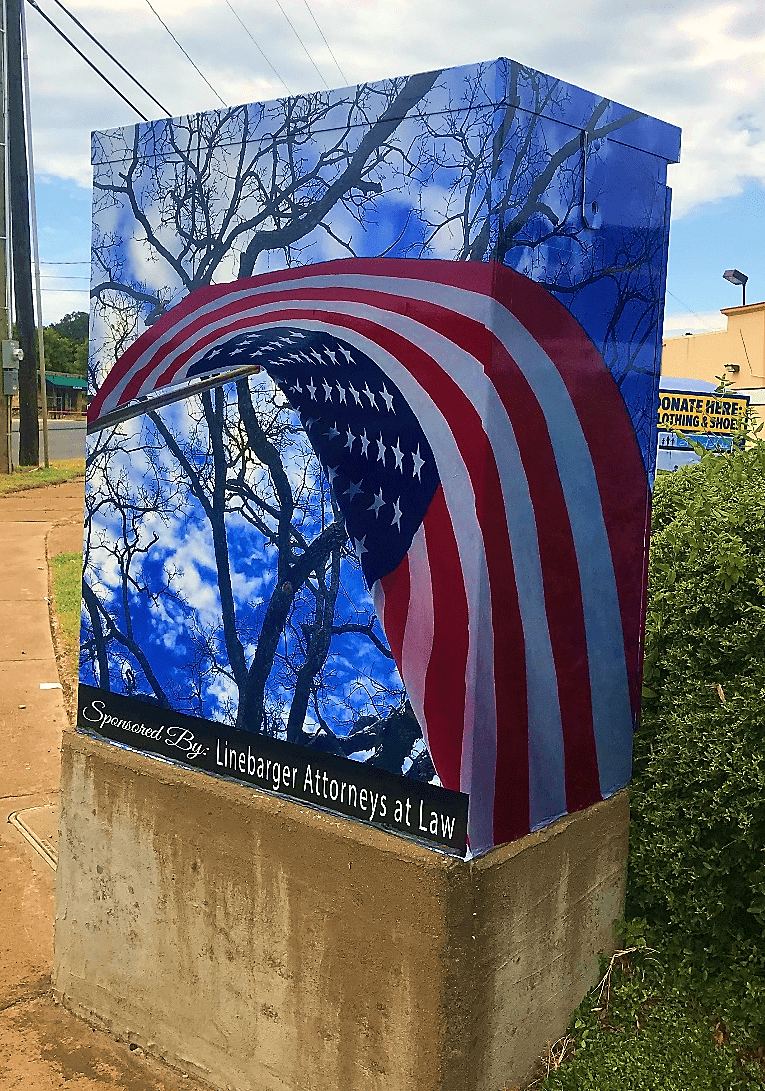 Located at Front Street and Glenwood Boulevard; Sponsored by Linebarger Attorneys at Law. Artwork, photograph of the American Flag, is by Dorothy Hersey.
---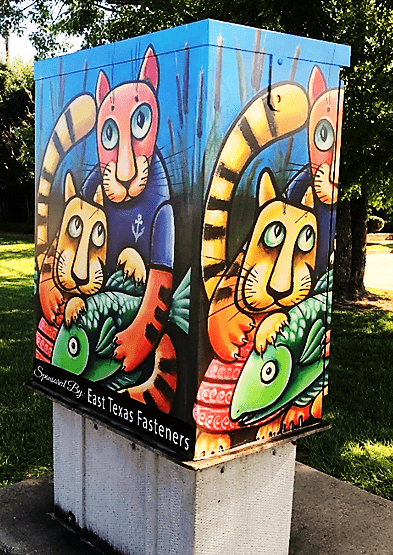 Located at South Broadway Avenue and East Heritage Drive: Sponsored by East Texas Fasteners. Artwork by Valeria Barnhill.
---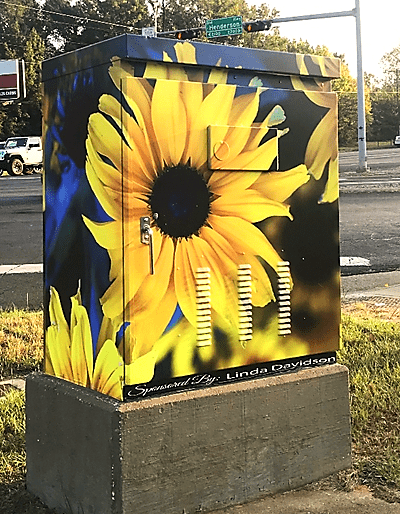 Located at East Front Street and Old Henderson Highway: Artwork and sponsored by Linda Davidson.
---
Located at South Beckham Avenue and East Houston Street: Sponsored by Tyler Museum of Art. Artwork by Courtney Wrenn.
---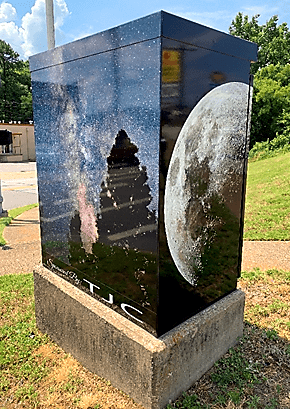 Located at East Fifth Street and South Fleishel Avenue: Sponsored by Tyler Junior College. Artwork by Tom Hooten.
---
Located at University Boulevard and Lazy Creek Drive: Sponsored by Ogle Constructions. Artwork by John York.
---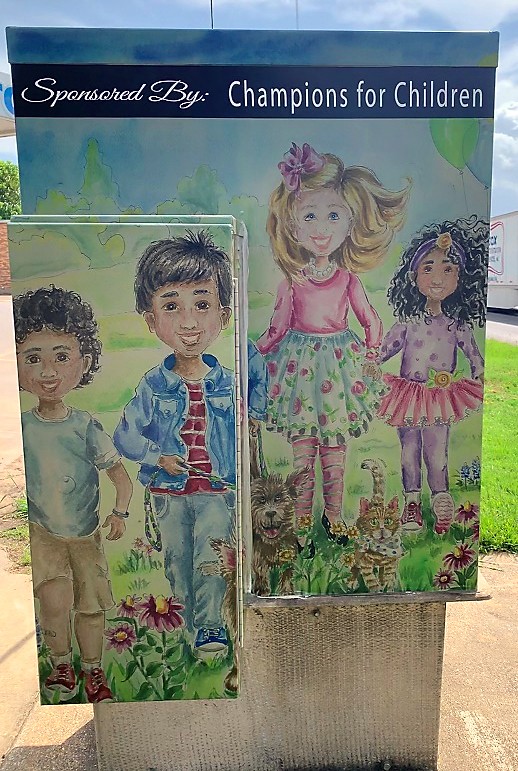 Located at Loop 323 and Paluxy Drive: Sponsored by Champions for Children. Artwork by Susan Sellars.
---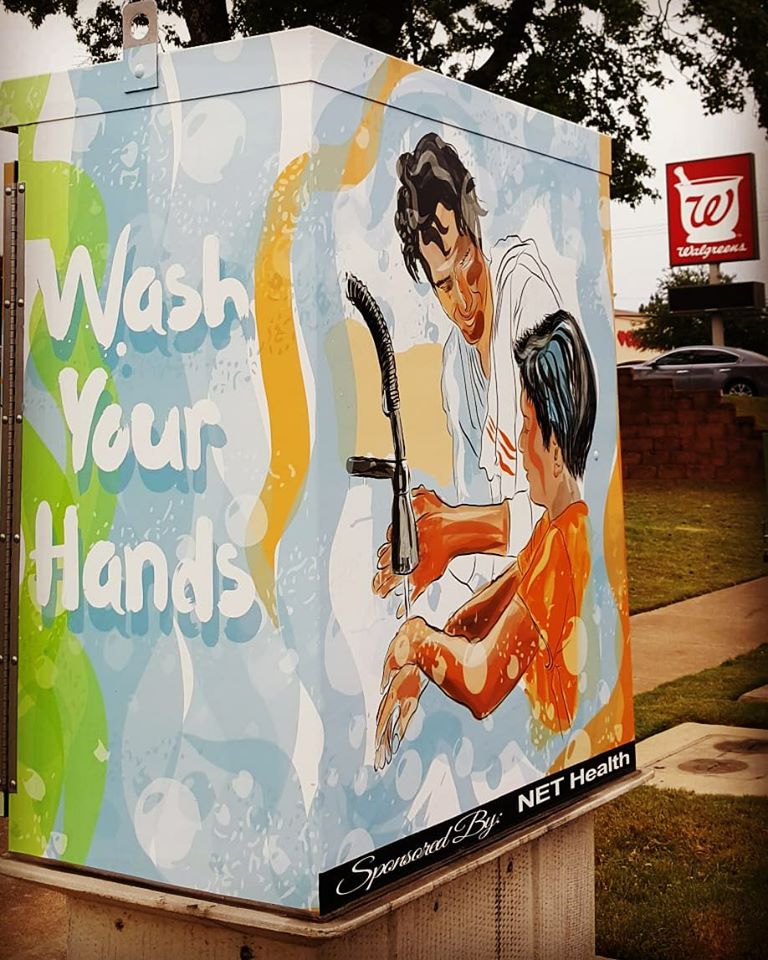 Located near Bergfeld Park on South Broadway in Tyler.
---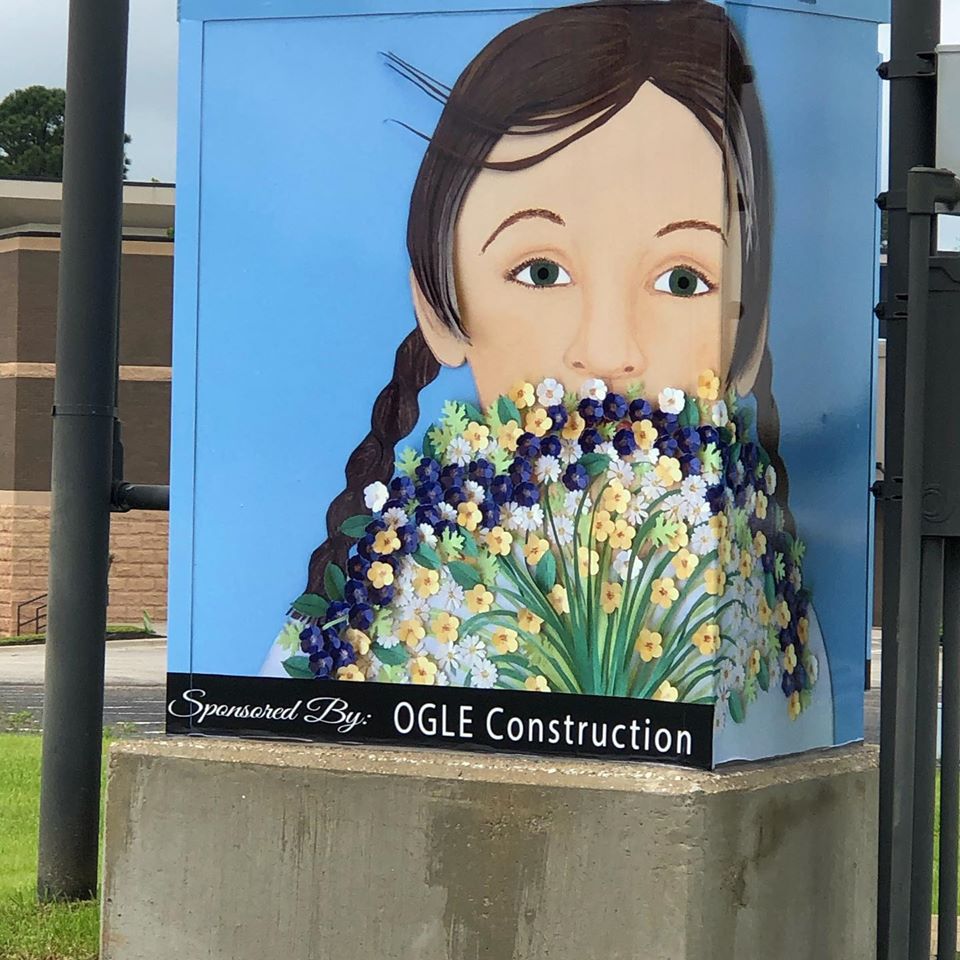 Located at 5th and Beckham St: 'Daisy"is sponsored by Ogle Construction. Artist unknown.
---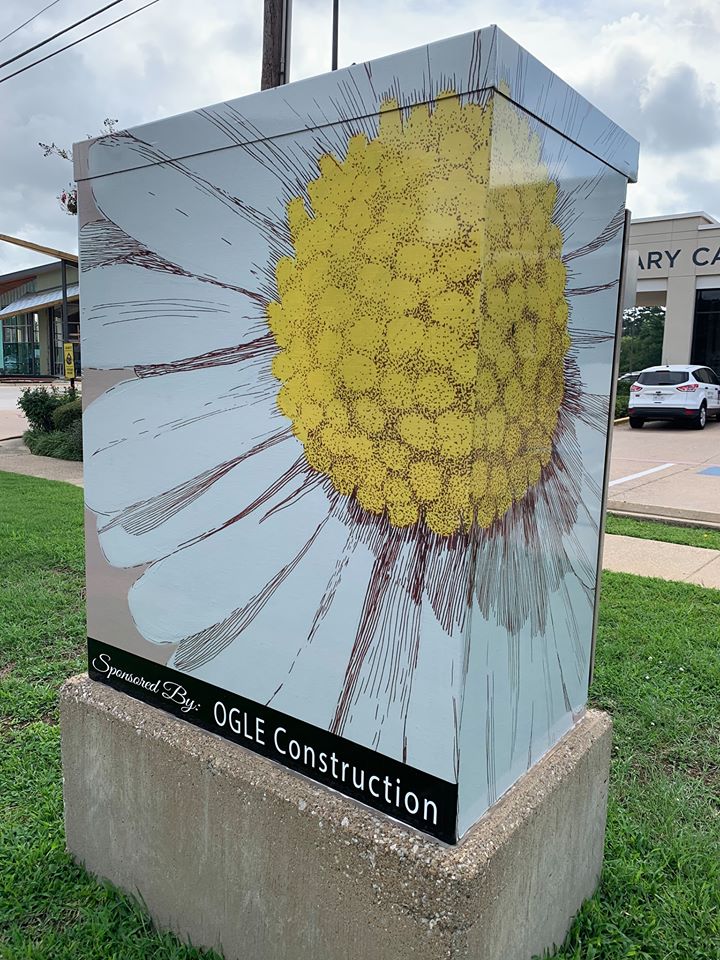 Located on Broadway and Old Grande: Sponsored by Ogle Construction. Artwork by Joel Joel Nichols.
---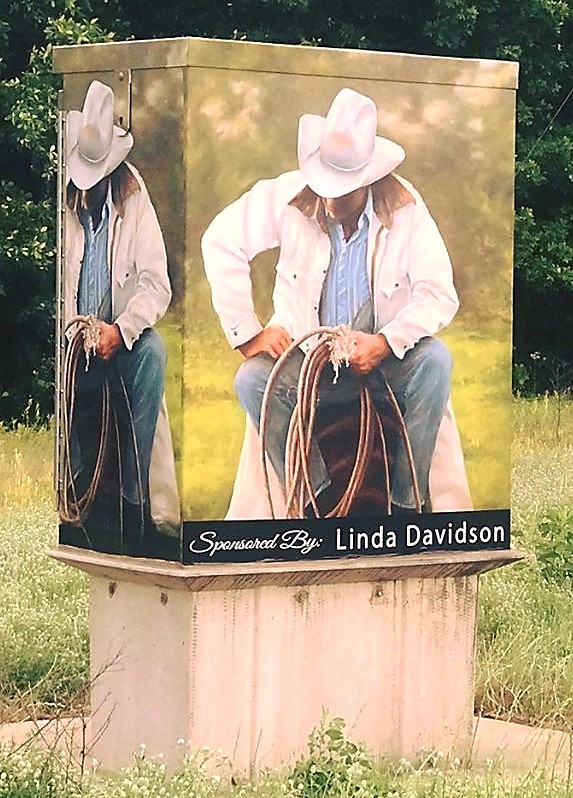 Location unknown. Sponsored by Linda Davidson. Artist is unknown.
---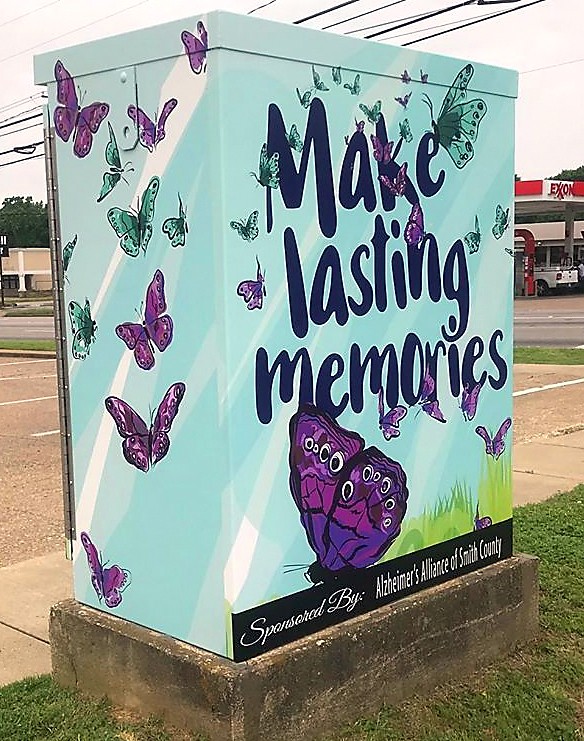 Located at Broadway and Amherst St. Sponsored by Alzheimer Alliance of Smith County. Artist is unknown.
---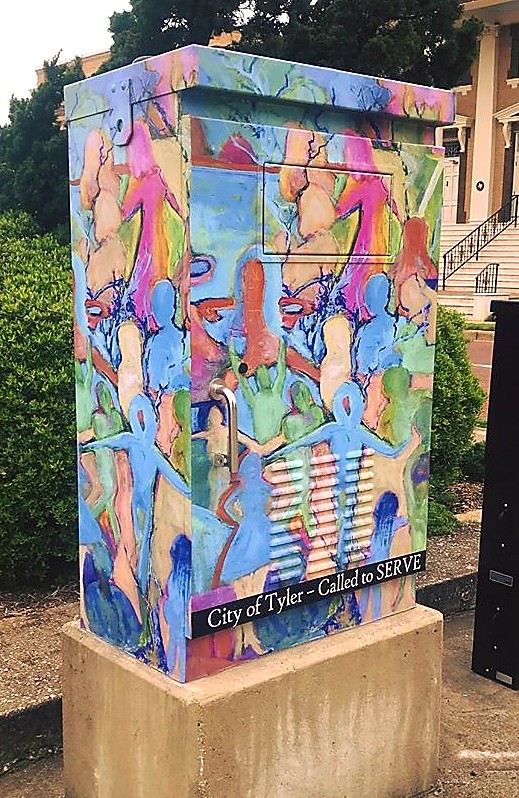 Location unknown. Sponsored by City of Tyler Call to Serve. Artist is unknown.
---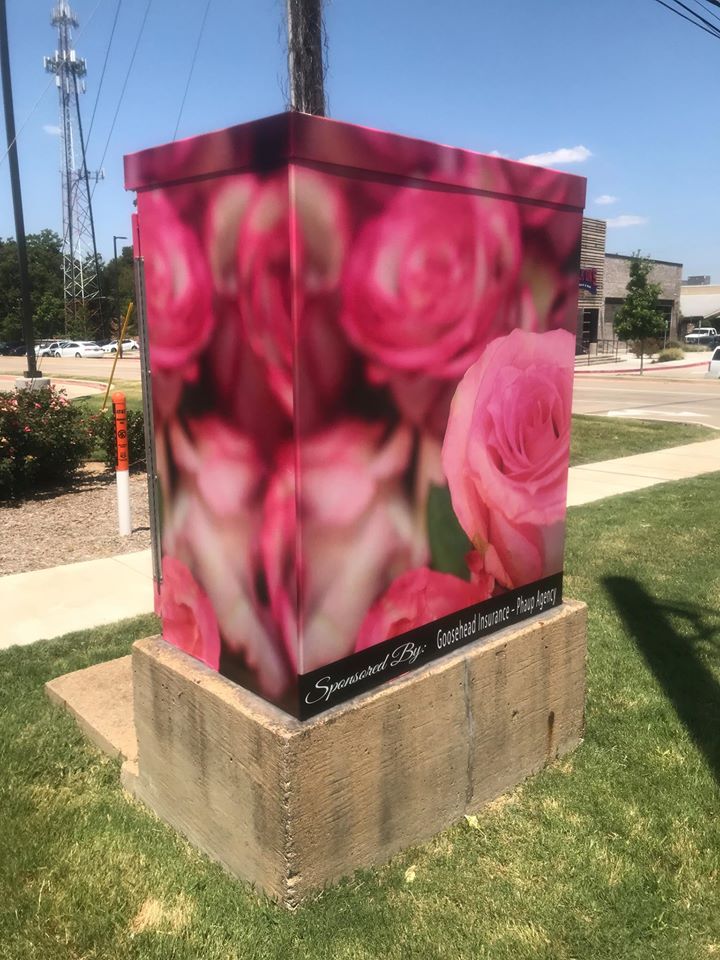 Location unknown. Sponsored by Goosehead Insurance – Phaup Agency. Artist unknown.
---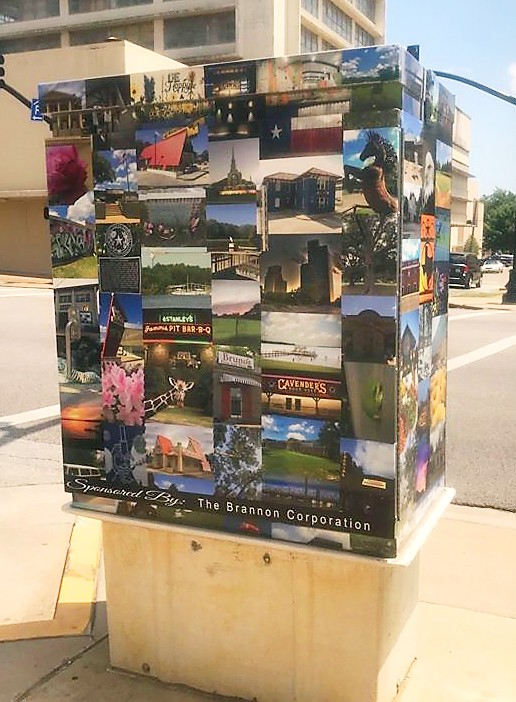 Located at Elm St. and Broadway, downtown Tyler in front of the FREE parking garage.
---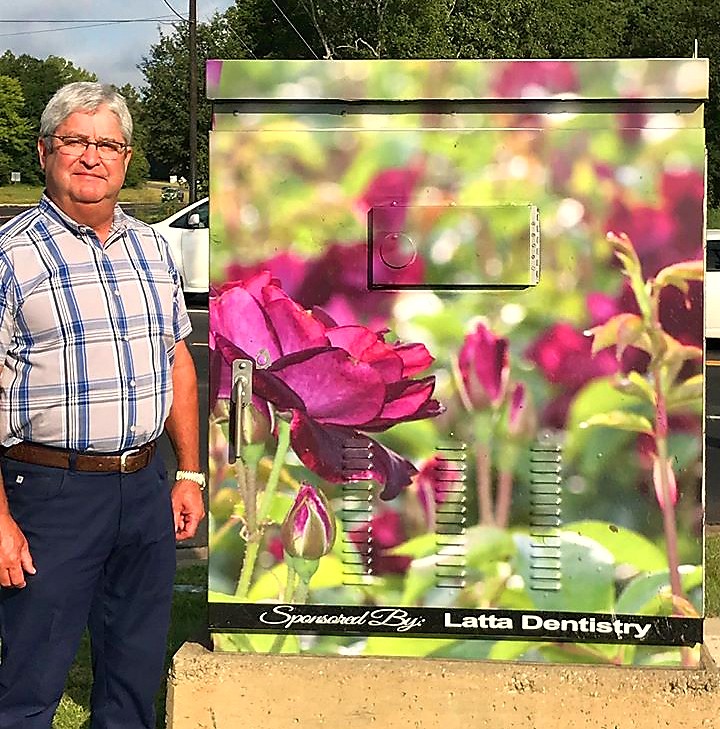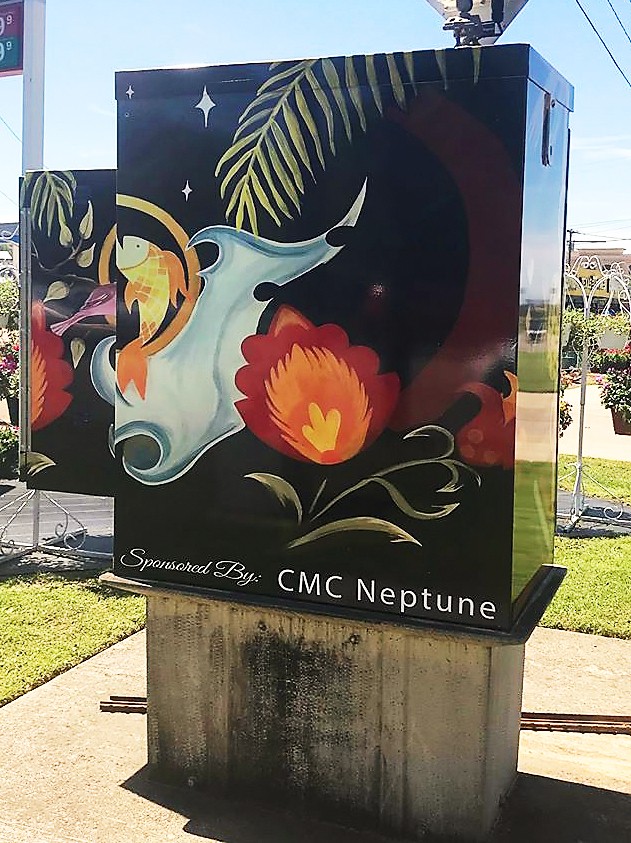 Location is unknown: Sponsored by CMC Neptune. Artist is unknown.
---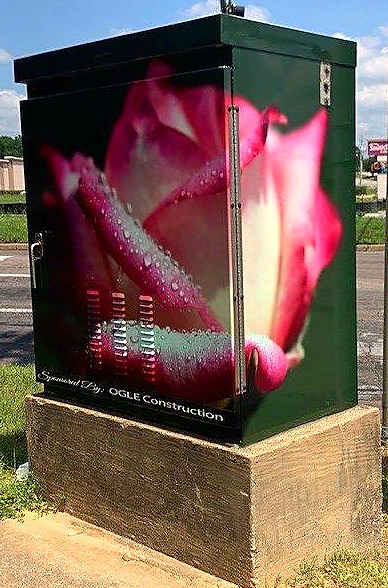 Location is unknown: Sponsored by Ogle Construction. Artist is unknown.
---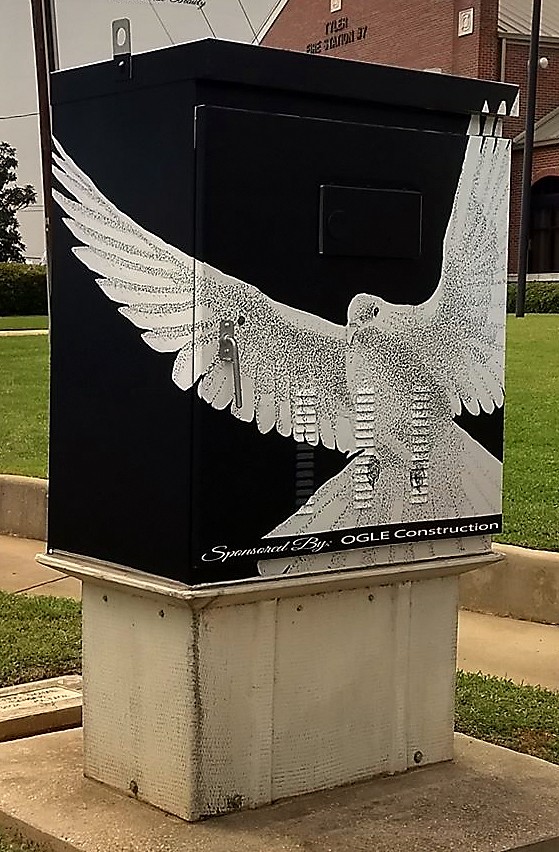 Located at Old Troup Hwy and Donnybrook in front of the Firestation: Sponsored by Ogle Construction. Artist is unknown.
---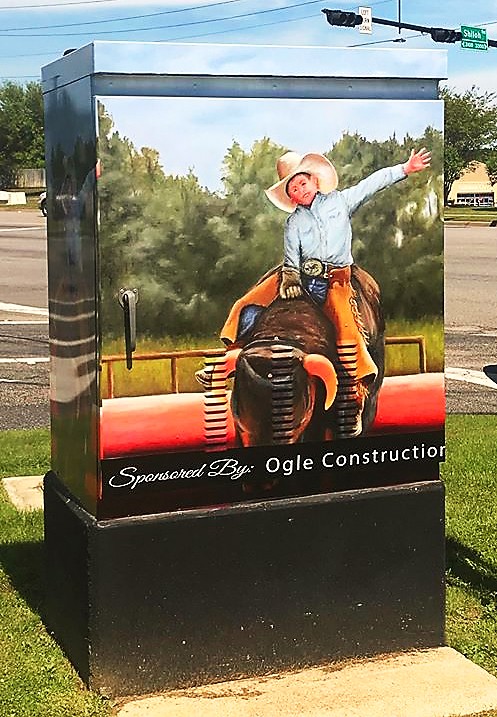 Location is unknown: Sponsored by Ogle Construction. Artist is unknown.
---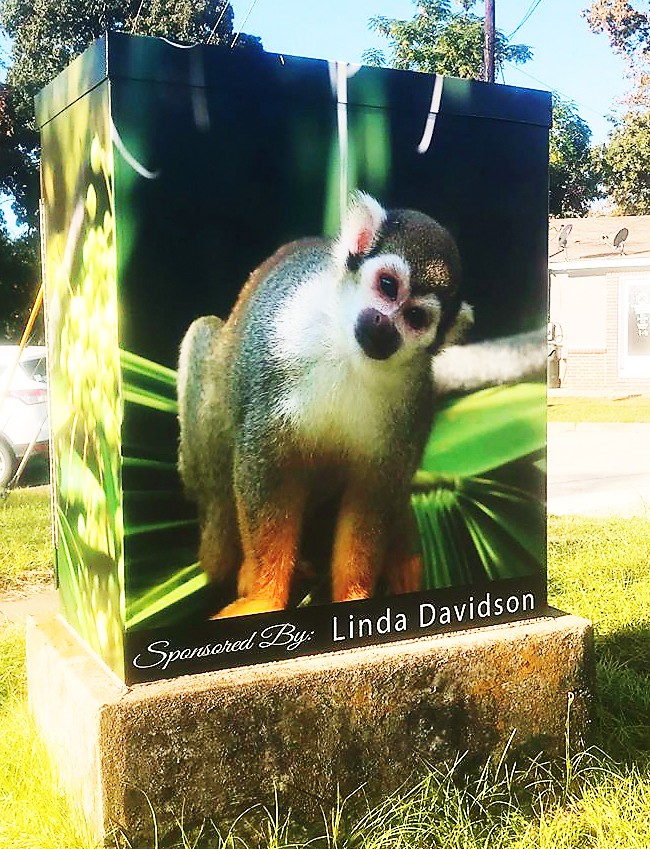 Located at Gentry Pkwy and MLK Jr. Blvd.: Sponsored by Linda Davidson. Artist is unknown.
---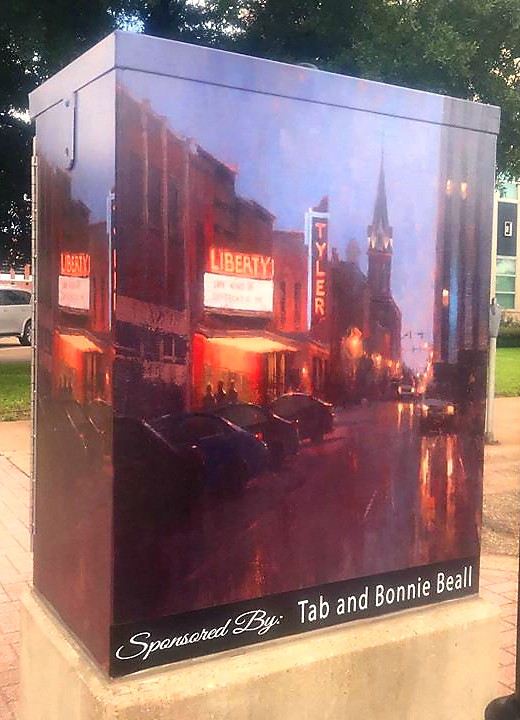 Located at N. Broadway and Erwin St., Downtown Tyler: Sponsored by Tab & Bonnie Beall. Artist is unknown.
---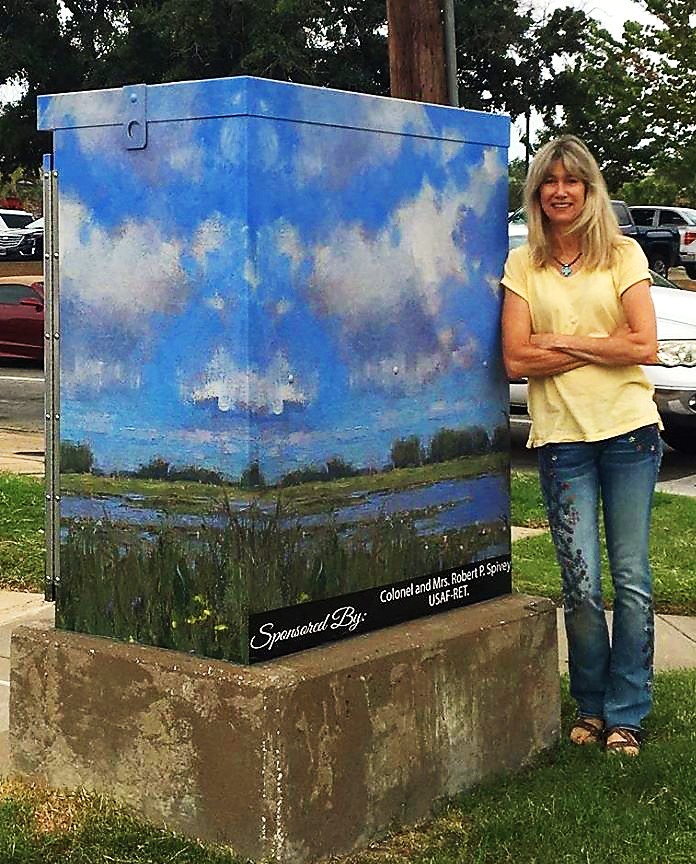 Located on the corner of S. Broadway & Chimney Rock: Sponsored by Col. & Mrs. Robert Spivey. Artist is Diane Ditzler Frossard.
---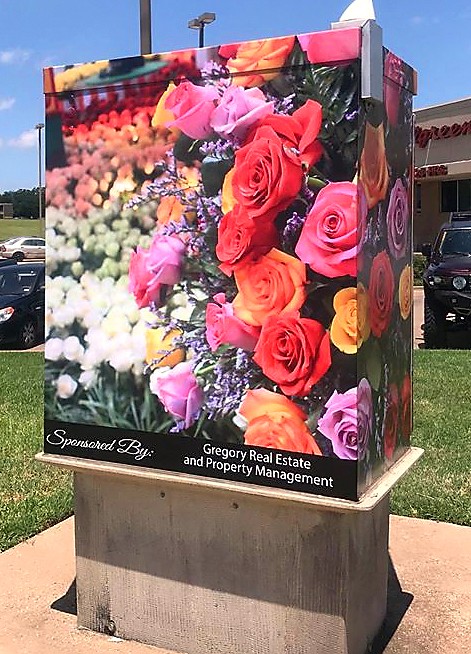 Location is unknown: Sponsored by Gregory Real Estate & Property Management. Artist is unknown.
---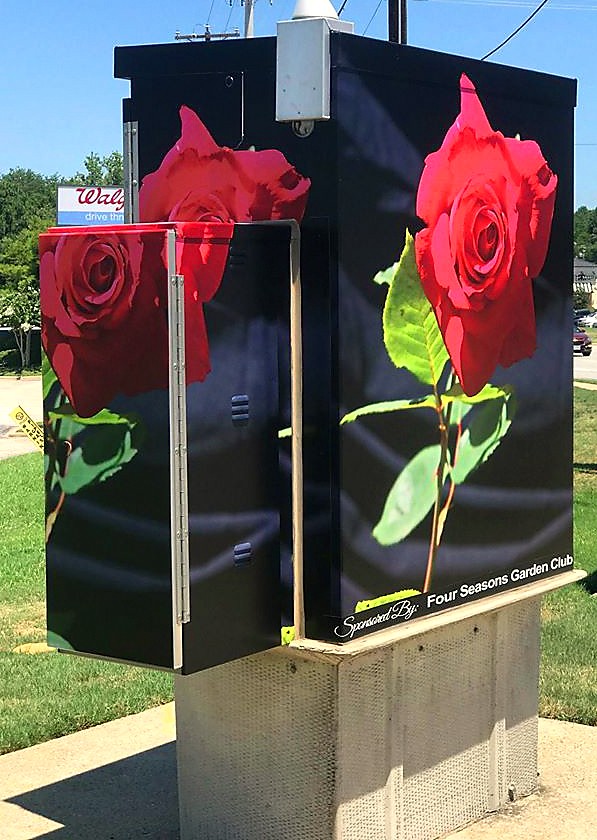 Location is unknown: Sponsored by Four Seasons Garden Club. Artist is unknown.
---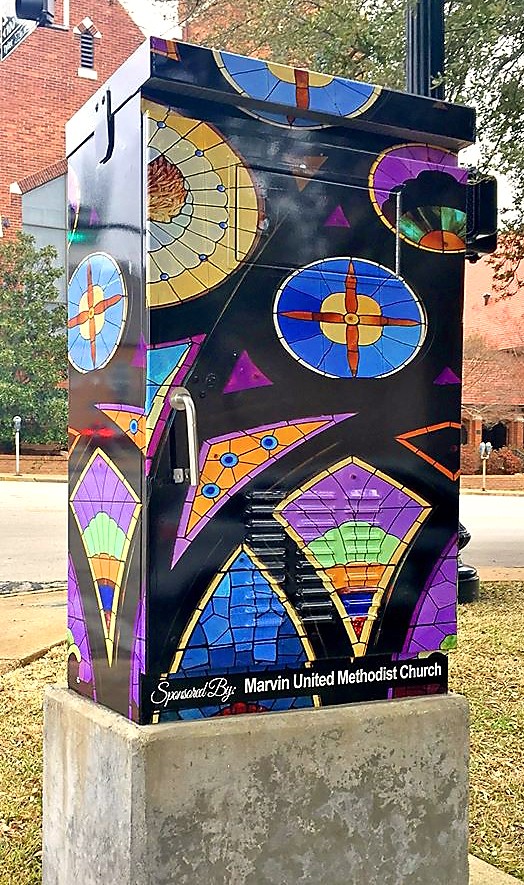 Location and sponsorship is in front of Marvin United Methodist Church: Artist is Artwork by Linda Davidson.
---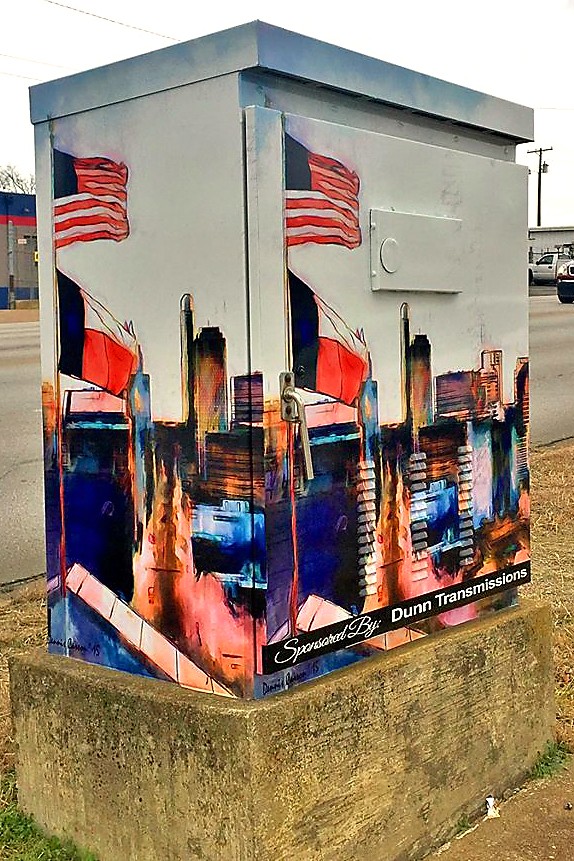 Location is unknown: Sponsored by Dunn Transmission. Artist is unknown.
---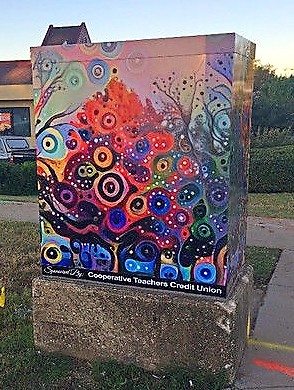 Located on the corner of Broadway Avenue and Southtown Drive: Sponsored by Cooperative Teachers Credit Union. Artist is William Wright.
---
Keep Tyler Beautiful is always looking for more sponsors to help expand this program. Fill out the form to become a sponsor HERE!
Sponsors receive:
Choice of one piece of artwork submitted to the Main Street Art Gallery for installation as a traffic box wrap.
Choice of installation locations from those available.
Logo and Sponsor name on the Keep Tyler Beautiful webpage.
City of Tyler issued press release with the Sponsors name and location of the sponsored box.
If you are interested in sponsoring a box or submitting artwork for the program, please fill out our contact form or call (903)531-1335.
Looking Arty: Murals Around Downtown Tyler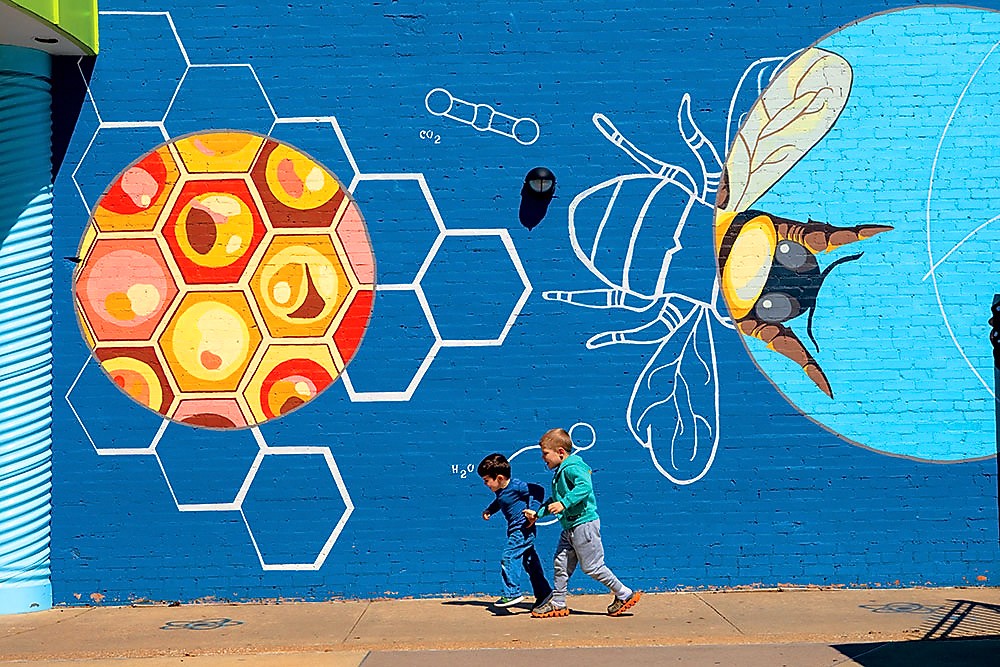 There is a lot going on in the art community around Tyler, TX. Here are some of the beautiful murals. Take your photo with one (or all) of them and tag #BeautifulTyler! To list more murals here, contact EGuide at eguidemagazine@gmail.com.
"Eyes of Tyler"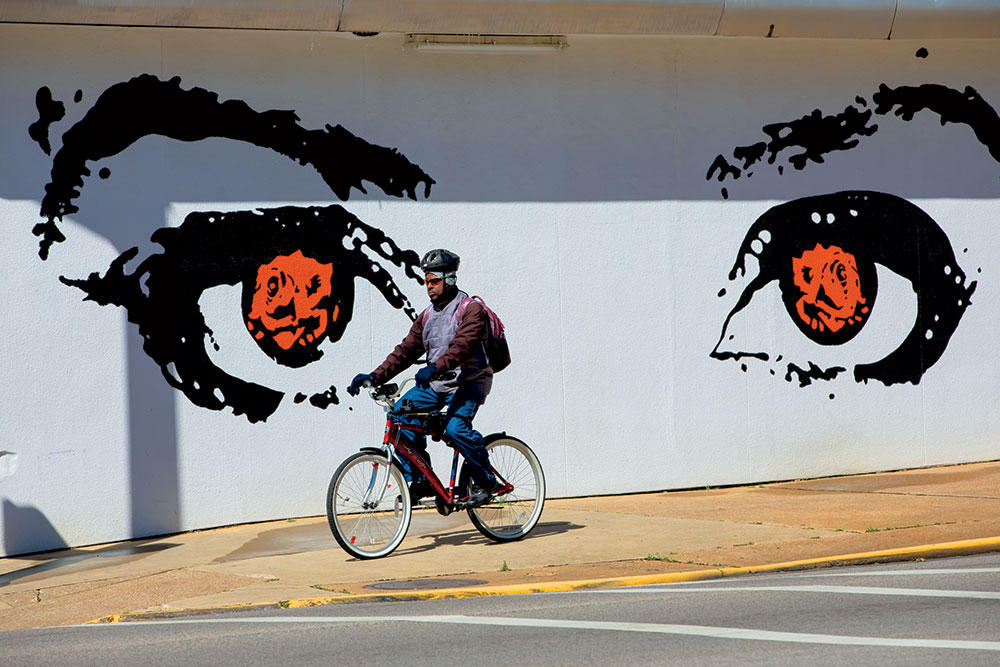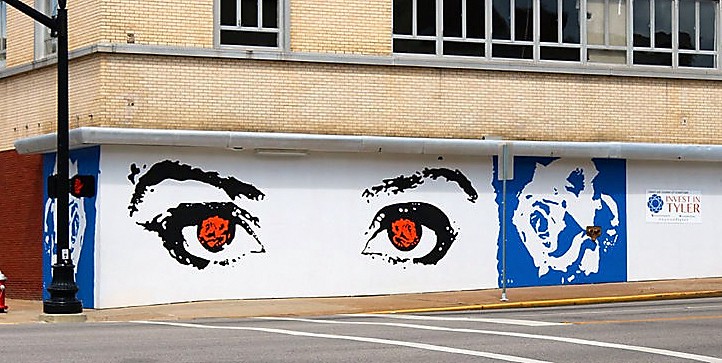 Located at the corner of Elm Street and Broadway Avenue just south of the Downtown Square, #tylertx alongside the Lindsey Building. Painted by Dace Lucia Kidd in 2017. Dace said, "My image, 'Eyes of Tyler,' is inspired by the concept of shared beauty. It is intended to communicate that there is beauty within all of us if you just look. My goal is to encourage everyone to create what is next in their life, to search for what is beautiful within everyone, while being aware of the beauty in Tyler, and particularly in the downtown area."
"Wings of Tyler: Welcome!"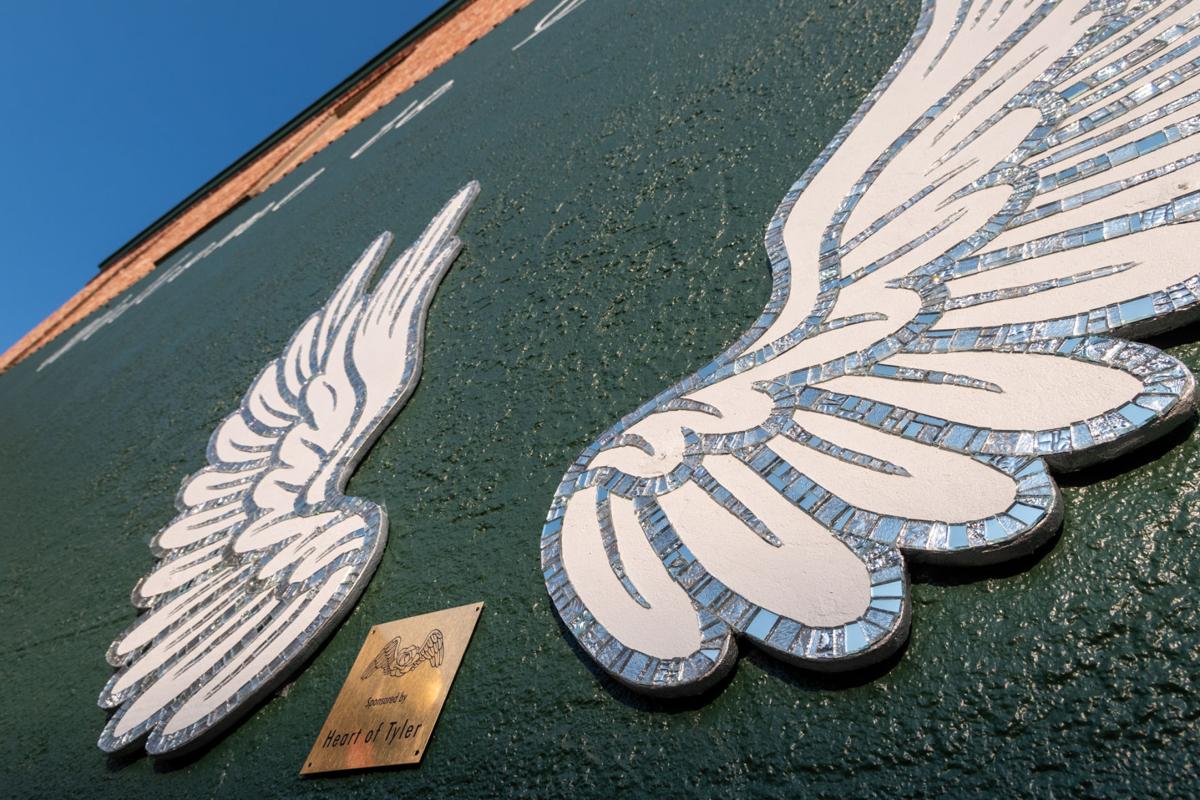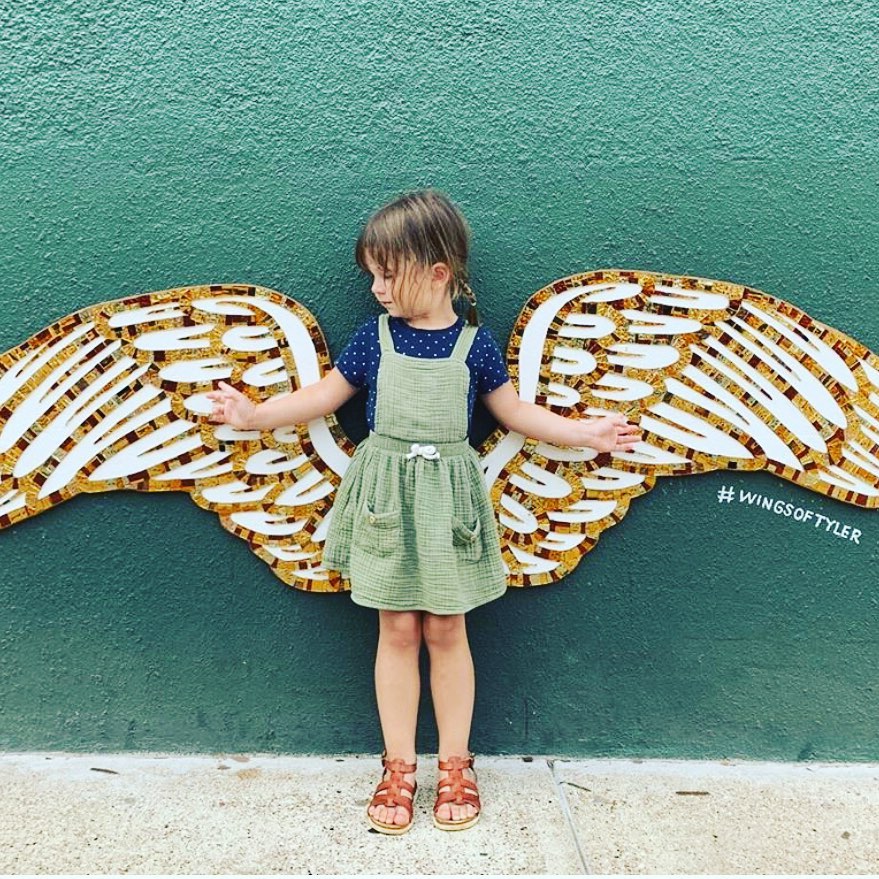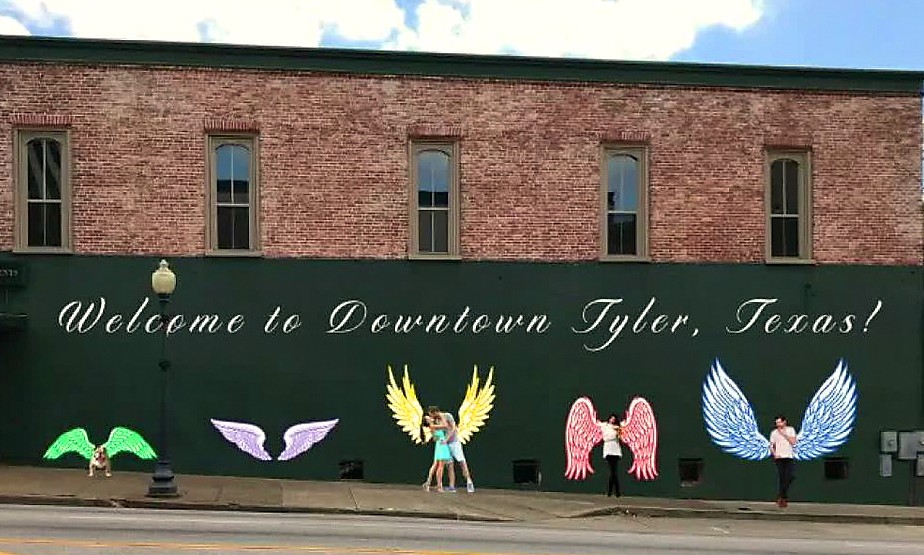 Wings of Tyler is a project by local artists Cassie Edmonds and Dace Kidd.
Wings of Tyler is a mural on the exterior wall of a building leased by Edward Jones Investments on the southeast corner of Broadway Avenue and Erwin Street. The art faces west, which is Broadway Ave., just a few feet south of the downtown square.
According to the artists' rendition, there is five sets of wings painted at various heights and lengths along the wall, allowing individual or group photo opportunities. The wings are finished in Venetian mirror-glass.
The idea is to make the wall "the most photographed" spot in all of East Texas, Dace Kidd explained. "Somebody can bring their pet, their kid, somebody disabled, groups of photos; two groups of people will be able to pose in front of the wings," said Kidd.
"Be Happy"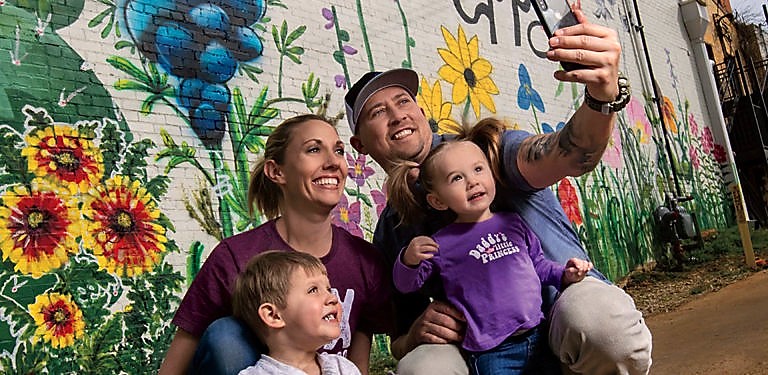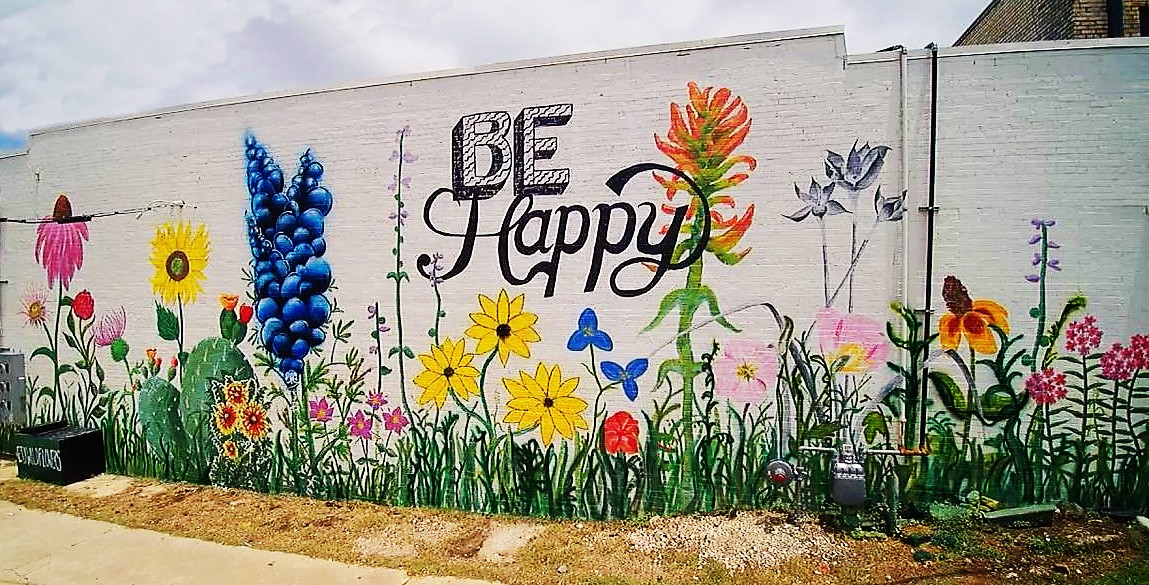 Tyler native Lindsay Boone led the project. She says there are at least eighteen different East Texas native wildflowers on the wall because she wanted people to "see something that looks familiar." In addition to the flowers, "Be Happy" is inscribed in the center.
Annie Gilstrap with the ETX Brewing Company says the tag line for East Texas Brewing company is 'Beer Happy,' so it was an easy decision to shorten the line to 'Be Happy.' "You can't look at the wildflowers and not be happy, they just bring a smile to your face because they're just joyful and bright," said Gilstrap.
The 13 artists involved include Lindsay Boone, Mikayla Willis, David Maldonado, Kate Googins, Tyler Shelton, Justin Fasulo, Rady Randall, Becky Martin, Maddi Travis, Jennifer Vaughn, Julianna Wynn and Chasity Erbaugh. The artists ask that if you take photos with or of the mural, that you use #ETXWildflower when sharing on social media.
"Peace Mural"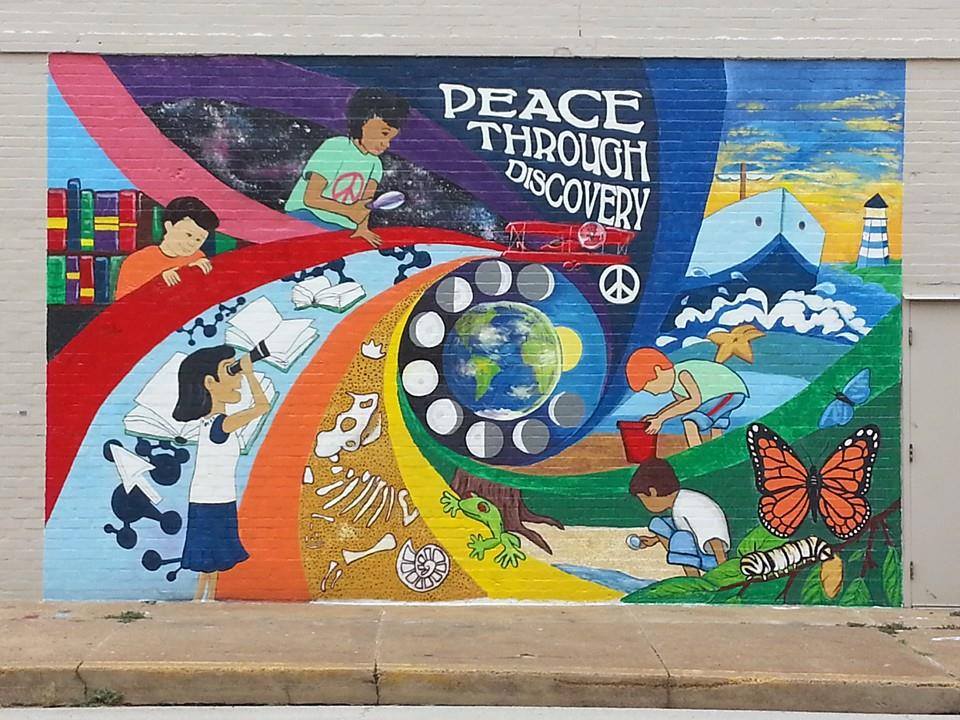 How do East Texans celebrate Peace? With art, film, poetry, conversation, joyful gatherings, worship, photography, meals, dance, shopping, community service, children's activities, and peace pole installations….and at the Peace Mural, located at 308 N. Broadway next to Discovery Science Place in #downtowntyler. Find out more at tylerpeace.com.
"Discover Art"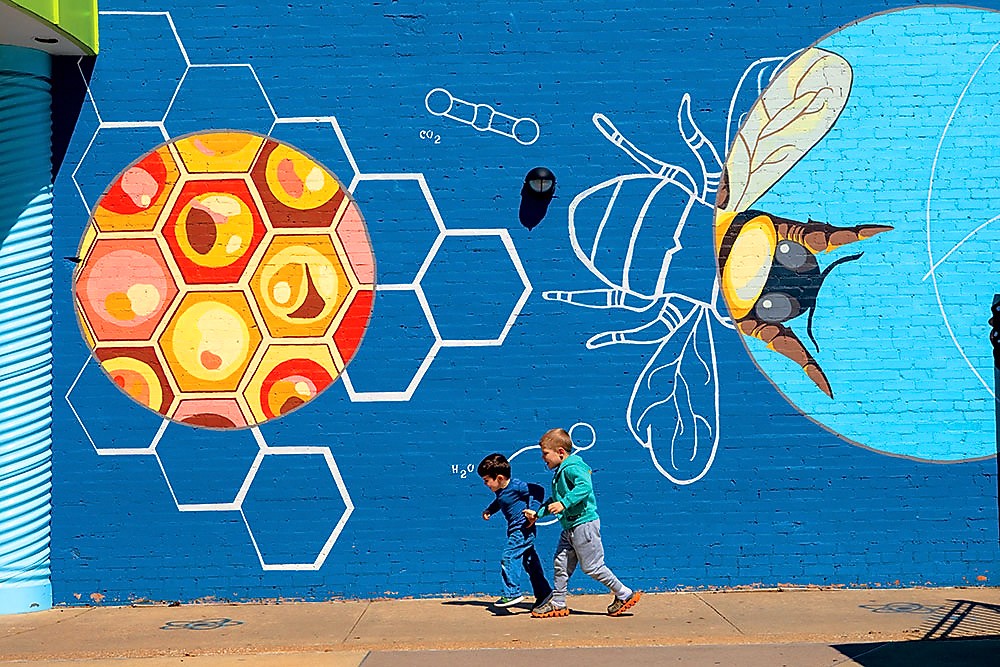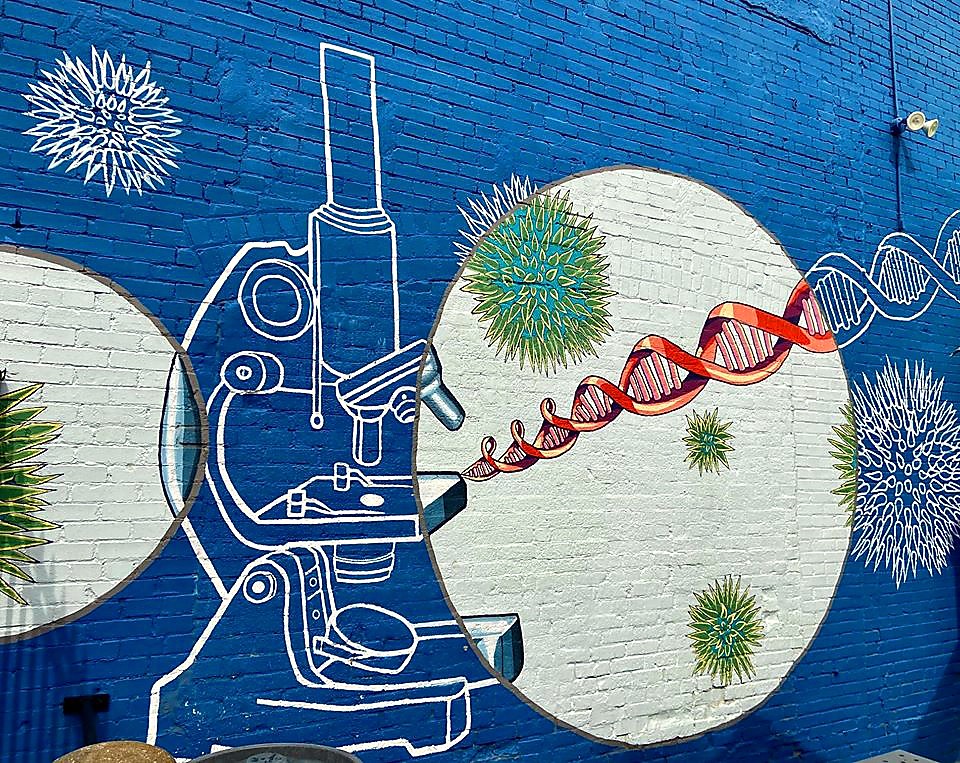 "Spread a Little Kindness…And Cake"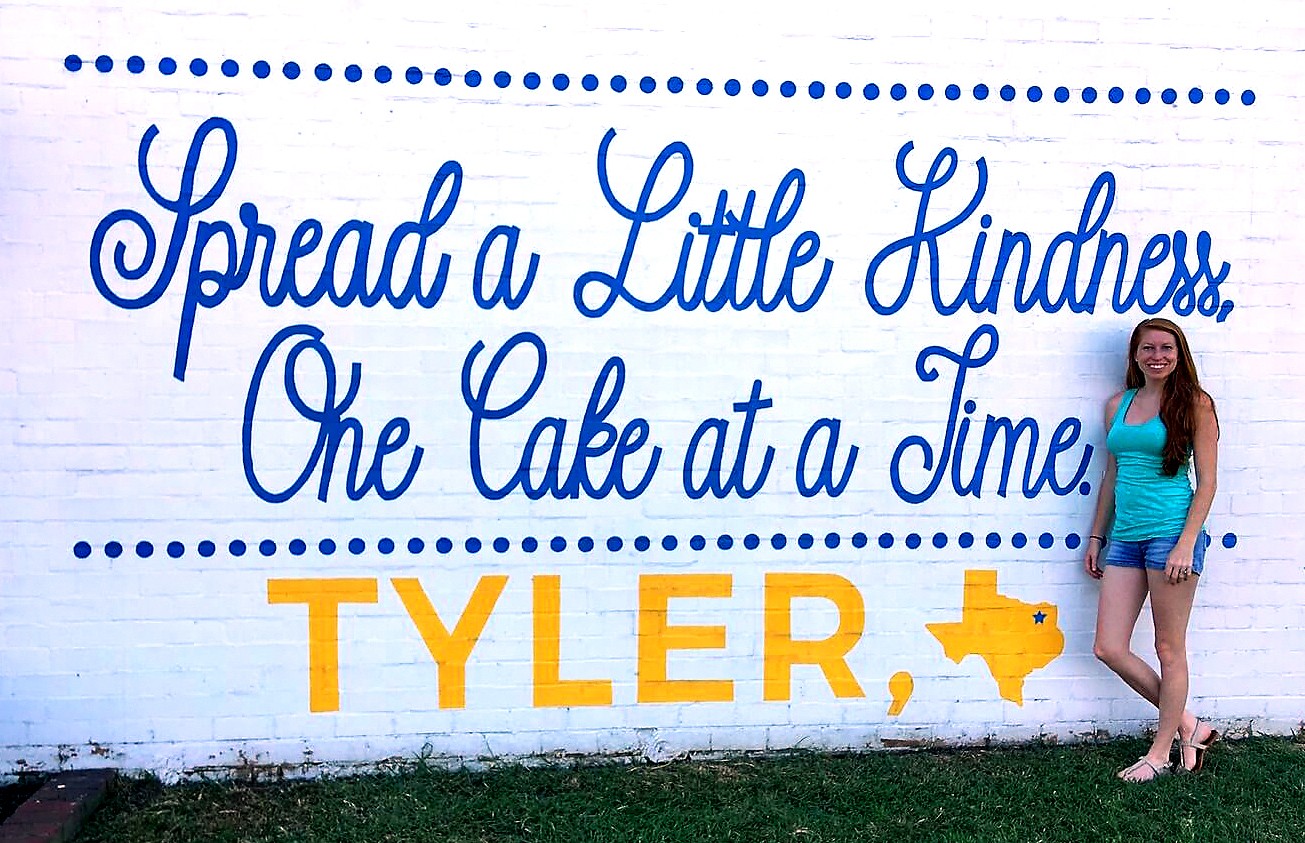 This cool mural is located on the east wall of Janie's Cakes, 308 E. Front St., Tyler.
"At Janie's Cakes, we make an old-fashioned pound cake. And the tagline that we use on a regular basis is that we want you to spread a little kindness one cake at a time. So it was a natural thing for us to paint this on a wall of our building," said Janie Clapp, owner.
"Like all good Southern girls, Janie learned baking and meal making from her great-grandmother. 'Papu,' as Janie called her, made every lick of her baked goods from scratch using plenty of real cream, real butter and real cane sugar. That little slip of a girl grew up to be quite a cook in her own right. After honing her skills at the Culinary Institute of America in Hyde Park, New York, Janie returned to Tyler, Texas, where she opened Janie's Cakes in 1987. Today, Janie makes every pound cake the same way she made her very first: from all-natural ingredients, farm-fresh eggs, real creamery butter and with a huge dollop of her great-grandmother's abiding love."
They make 26,000 pound cakes a year, in a variety of sizes with different fillings, enjoying busy seasons like the holidays and Mother's Day. Check out their unique story HERE.

Harvest Tours at Kiepersol Winery This Week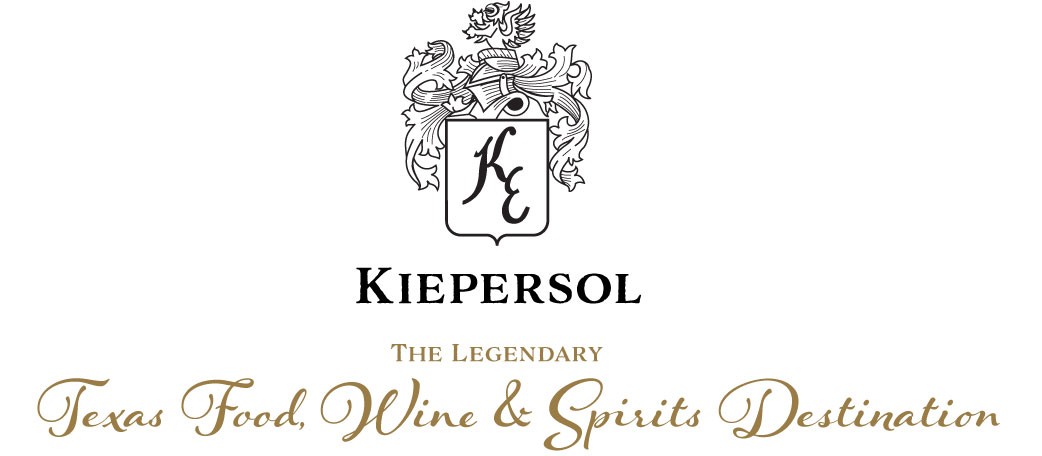 You now have a unique chance to join Kiepersol Winery for their first-ever behind-the-scenes harvest walking tour!
These tours are only happening on August 4th-8th. You can join Tuesday through Saturday at 10am or 12 noon.
Tours are limited to 10 people by reservation only. Please call (903)894-8995 for reservations.
The cost is $20 per person.
Kiepersol Winery advises that you wear sneakers or slip-resistant shoes as they are a working farm and want you to be safe. You don't have to be super-fashionable to join them in the grapes! During this walking tour, you will be both inside and outside. Kiepersol Winery does expect mask and social distancing guidelines to be respected.
"We can't wait to share with you exactly what it takes to make a great wine! The 2020 vintage is waiting for you!"
Kiepersol Winery is located at 3933 FM 344 E, Tyler, Texas 75703.
"In alignment with Governor Abbott's executive order today, our Grand Tasting Room and Club House are open only for pick up of wine and spirits to go. The Grand Tasting Room will be open from 11 am – 7 pm 7 days a week for to-go wine and spirits purchases (no spirits sales on Sunday). The Club House is open to members 11 am – 5 pm Monday through Saturday for wine and spirits to go. The Restaurant at Kiepersol Winery is open for reservation only dine-in service and to-go pick up orders. Call us at 903.894.3300 for reservations and to-go orders. In addition, our Wine Drive-Up location on FM 344 is still open Monday through Friday 8am – 5pm for wine pick up without leaving your vehicle."