Pumpjaxe: Unique Urban Axe Throwing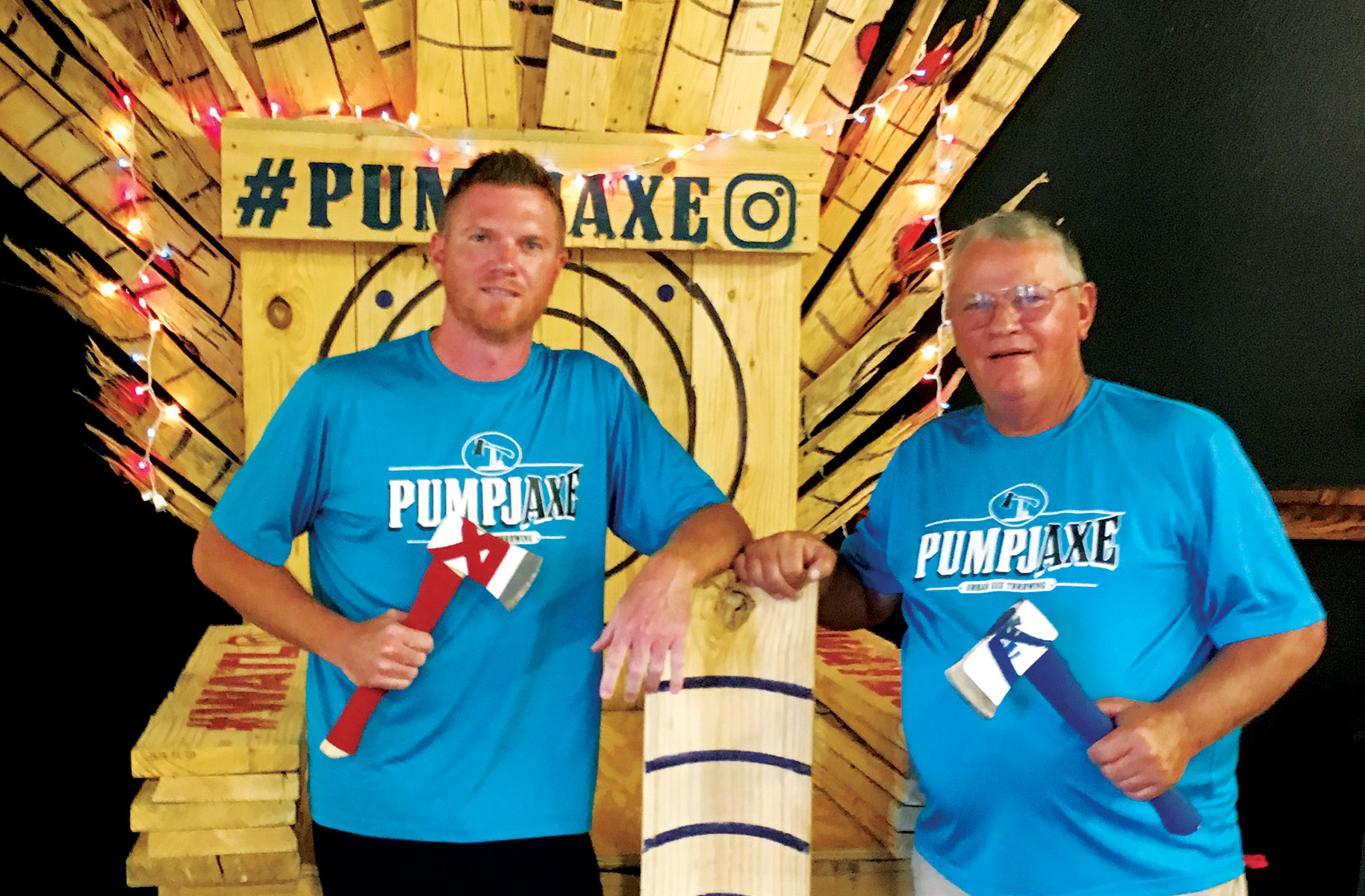 By Barbara Greenbauer
Get ready to throw down…your axe that is! Pumpjaxe is the new East Texas alternative to almost everything you can imagine for fun and sport. The only axe throwing venue of its kind in East Texas, you will be in for an adrenaline, axe-kicking time of competition and fun.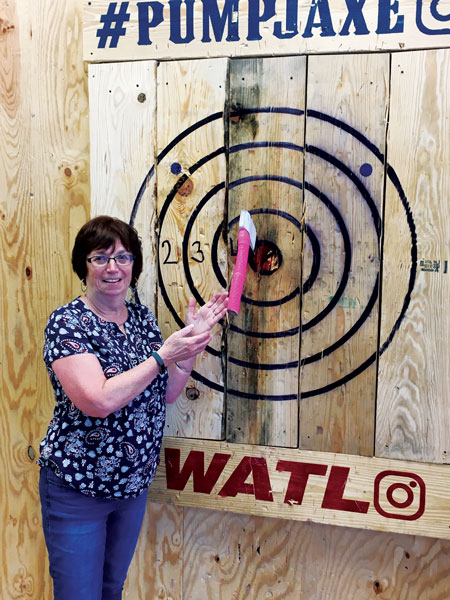 Pumpjaxe is locally owned by the father and son duo of Mike and Josh Wilson, themselves aficionados of the high energy urban axe-throwing culture. It's not a franchise, and Josh will tell you that they do everything from "janitorial, coaching to ax-grinding." Their proud claim to fame is that Pumpjaxe is an accredited member of the World Axe Throwing League (WATL) and featured on ESPN…and those axe throwing competitors mean business! The axe throwing craze has been around for a while, and has now spread worldwide, with the WATL established in 2017 with members around the globe: Canada, the United Kingdom, Denmark, Brazil, Turkey, Russia, Spain, Netherlands, Hungary, Poland, New Zealand, Slovenia, Indonesia and South Africa. 
Being part of the WATL means that you can rest assured that everything in the place is held up to the highest safety standards and regulations. The 3,000 square foot space is equipped with 6 lanes and 12 targets, everything handcrafted by the Wilsons to strict specifications. Safety is top of mind and every single person in the door is coached and guided by an "Axepert." Those instructions include the wearing of close-toed shoes, never leaving the throwing lane with an axe, and putting every axe back in the throwing box between turns. (No passing axes around…ever!)
Next comes throwing instructions and there are different ways to do it. The baseball grip is pretty important, with the grip firm, like you would hold a baseball bat. An important element to the grip is ensuring that the blade isn't rotated to the left or right, but straight so when released, the trajectory is straight on the target. Then you go ahead and bring the axe over your head, like throwing a soccer ball. You can choose whatever style you like, two-handed or single-handed. The axe itself really isn't heavy or awkward, and only weighs about one and a half pounds. 
It isn't as easy as it looks. The group up at the targets tonight is a mixed bag…men and women, friends and family out for a unique evening of competition and laughs. It's actually the women who are sticking more targets, and as Josh explains, "Anybody can come out and do well. You don't have to be a super athlete or have tremendous upper body strength." Pumpjaxe opened the beginning of June and Josh says "60% of our customers have been women and we have a 40% retention rate of folks who try it once and get hooked."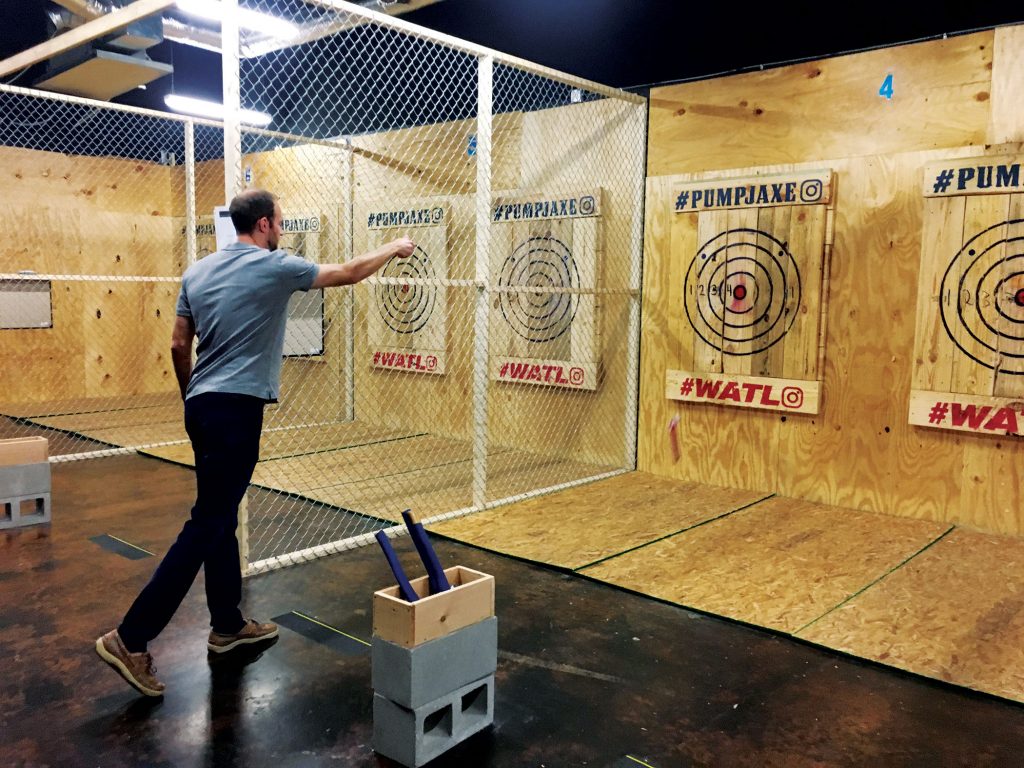 There are some kids hanging around to watch, and the Wilsons go by the rules that kids have to be 11 or older to throw with parent supervision. The actual throw areas are outlined in orange, and the high screens between lanes make it "safer than darts" said Josh. The Wilsons patrol the action constantly, changing outboards and keeping track of throw time.
It's a real adrenaline rush, especially when the axe hits the target and sticks. I gave it a try and it's a great feeling when you make it stick! Nick and Deanne Williams were throwing against each other, and the action was fierce and competitive. Deanna said, "It's really a challenge and we both want to practice and get better." The couple was there to "support local business in Tyler, and we love the easy, fun atmosphere in the place." 
It's a sport unlike any other, and Pumpjaxe is already making a name for itself, hosting every kind of gathering, from birthday parties to company events to bachelor/bachelorette parties. One group of guys hit the targets after gifting the "father to be" with a diaper party. You can BYOB, (just wine and beer and no glassware) and your own food as there are lots of tables and places to eat and watch the action. The Wilsons plan on building a bar countertop where folks can get a birdseye view of the throwing. You can buy Pumpjaxe t-shirts and koozies to remember your visit….and there are even Pumpjaxe specialty axes for $30 to be had!
Back to the axes…each player gets 10 throws per match. Players compete by throwing their axes at the same time, standing 12 feet behind the target. Participants throw their axes from a 3-foot wide box. The typical stance is a lead foot and a back foot. Both players retrieve their axes simultaneously and scoring commences. Throwers get 6 points for a bulls-eye, 4 points for the blue ring, 3 points for the red ring, 2 points for the green ring and one point for the black ring. Kill shots are the almost impossible to hit small spots on the target, worth 8 points, only on the final throw. If your axe falls out of the target, the throw generates 0 points. (There was a lot of that happening, with accompanying groans!)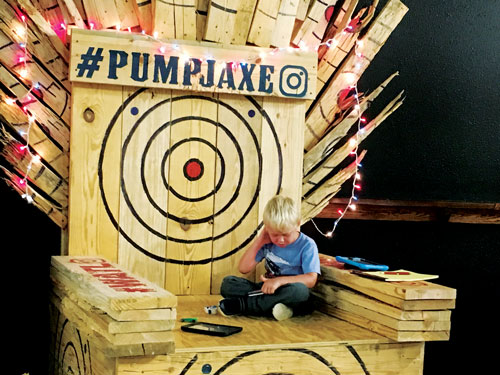 Walk-ins are encouraged, and everyone gets the same safety and game instruction. Reservations can be made online and a liability waiver is available too and saves time when you get there. Walk-ins are $20 for an hour of throwing and groups of six and more pay $35 for 2 hours of play which includes a private lane and personal coach. Pumpjaxe also has a corporate rate for 30 or more people at $30 per person for 2 hours. Pumpjaxe is all about giving back to the community too, so there is a great Heroes discount of 10% for military, first responder's doctors and nurses. What a super idea for a birthday, and if you bring 10 or more people, the birthday individual gets in free!
Take a closer look at the Pumpjaxe logo and you'll spot an axe adorning the top of a very well- known sight in these parts, a pump jack working an oil well. Josh said, "We want to be the spot for East Texans to relax, have an alternative to dinner and a movie, and enjoy some great competition." Plans are in place to begin fall league teams and even the opportunity to host a Fantasy Football Draft party including two hours of draft and axe throwing. Pumpjaxe also hosts Thursday night Ladies Nights with a 10% discount.
Bring out your inner lumberjack and throw down at Pumpjaxe! Pumpjaxe is located on Old Jacksonville Highway, at 15902 CR 165, Suite C, (just south of Bruno's Restaurant). You can call them at (903)630-6666 or make your reservation (usually two days notice in advance) at pumpjaxe.com. They can be found on Facebook at pumpjaxe. Walk-ins are welcome Monday-Thursday 3-9pm, Friday 3-11pm Saturday 12 noon-11pm, and Sunday 12 noon-7pm. Reservations are available Monday-Thursday from 3-9pm, Friday 3pm-12 midnight, Saturday 12 noon-12 midnight, and Sunday 12 noon-7pm. Groups of 6 or more can schedule anytime from 8am throughout the day. Check out their FB page for special promotions that are happening all the time!


Cowan Center: STOMP Feb. 1st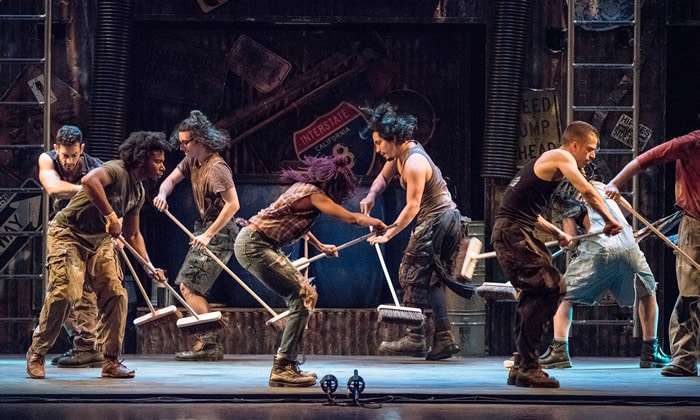 For more events, check out EGuideMagazine.com 's entire


Wondering what is showing at the Cowan Center? Check it out and purchase tickets online at cowancenter.org. All events are performed in the Cowan Center located on the campus of The University of Texas at Tyler, 3900 University Boulevard – FAC 1120, Tyler. More information about the new season can be found at CowanCenter.org. Upcoming acts are:

Donuts: My Favorite Food Group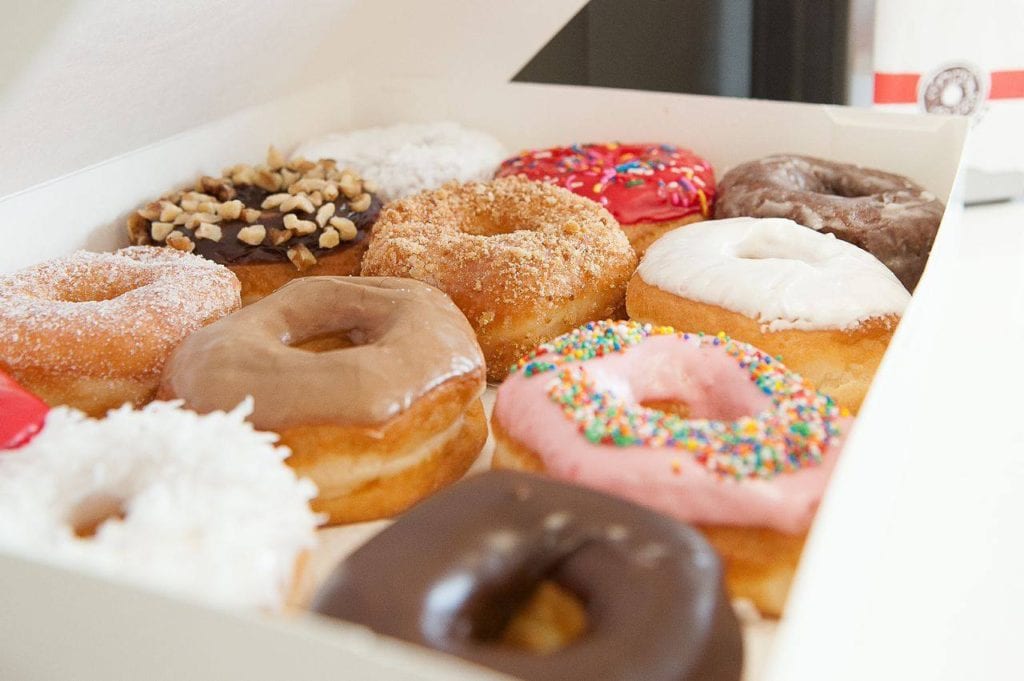 A Fork & Spoon Blog: Eating Donuts In Tyler TX
By Tena Jerger
I love breakfast. I love everything about breakfast, from donuts to  eggs to pastries – breakfast is, in my opinion, the most versatile meal and also the most tasty. I could eat "breakfast" twice a day with no problem.
One of my favorite breakfast foods is the All-American donut – glazed, creme filled, apple fritters, cake-style donuts – what's not to love.
Here are a few of my favorite haunts and my picks at each location.
The Donut Place, located right next to Green Acres Bowling Alley in Tyler, TX,  has the best glazed donuts I've had in a while. Their standard glazed donuts are slightly bigger than some other places too! Get a few dozen, trust me, you are going to want more than you'd normally eat.
Shipley's Do-Nuts, located ironically next door to Planet Fitness on the east Loop in Tyler, has a great selection but the Creme-filled donuts are pure heaven on earth. Stuffed full of thick marshmallow-style creme, then fried perfectly and glazed with a nice soft and slightly crunchy glaze, these "do-nuts" will make you happy. They also have a drive-thru but I try to walk there after my Planet Fitness workout. Two creme filled and a glazed is my Saturday morning reward for working out. It is total yummy in my tummy! 
While there, watch for the Devils Food Donut – if you are a chocolate lover, this is absolutely heavenly! Picture this: chocolate dough glazed donut filled abundantly with warm chocolate filling…it is every chocolate lovers "dream donut".
Apple Fitters are fantastic at Star Donuts, located on Broadway next to Bergfeld Park in Tyler. They are fresh, slightly crunchy on the outside yet doughy and soft on the inside, loaded with glaze and cinnamon. Oh, and they huge! What's not to like.
Sugared out? Star Donuts and Croissants, located at Troup Hwy. in Tyler has all the normal selections plus a unique boudin kolache. That's right, boudin sausage placed inside of the bread dough, then baked. It is a little spicy but not too much and the bread helps collect the, um, juices so that you never miss a bite of yumminess. These kolaches are big, served piping hot with a packet of yellow mustard.
Got a favorite? Comment below with your suggestions. I'd love to try it out….like, seriously, would LOVE too!
Texas De Brazil for Authentic Churrasco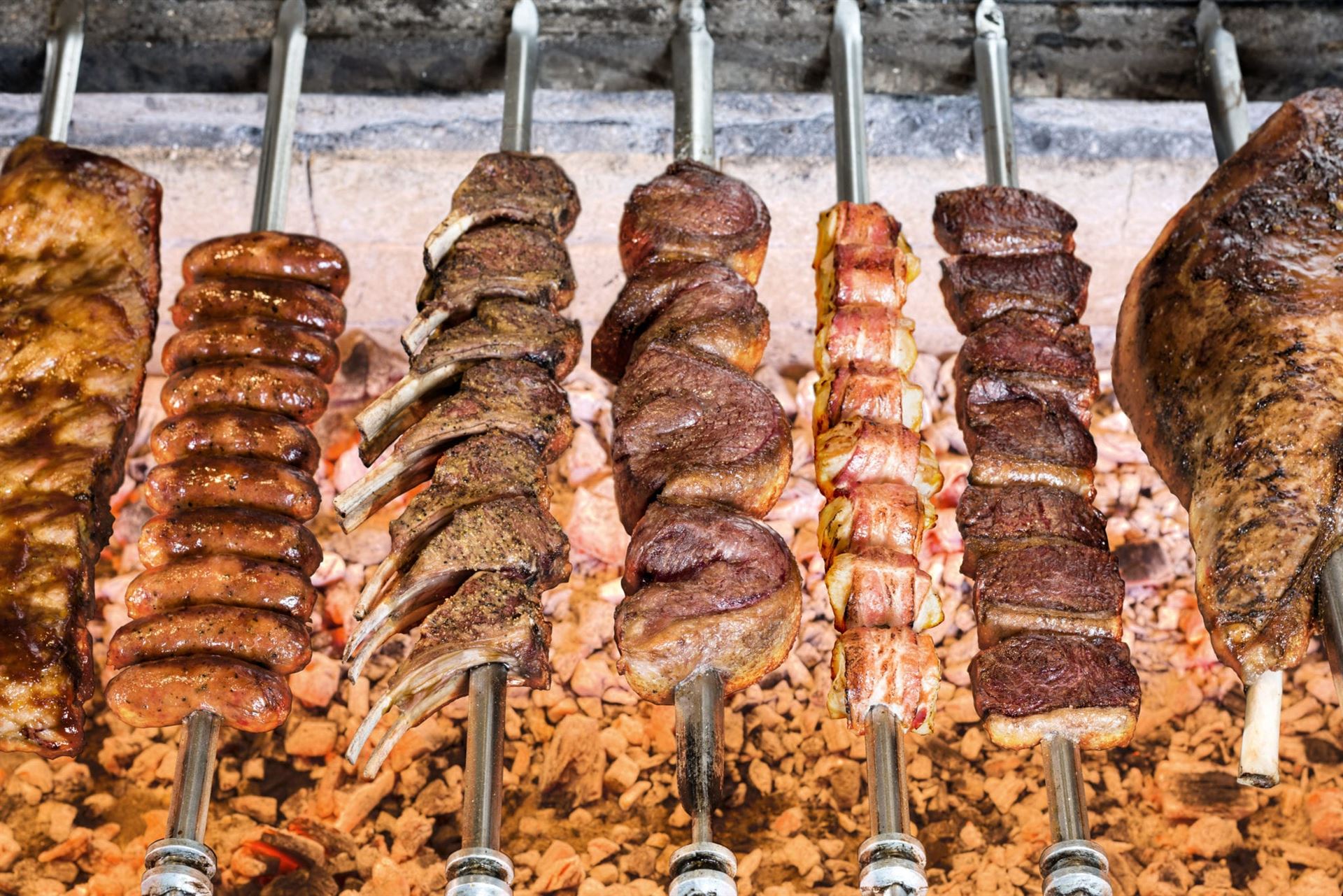 Texas de Brazil:
Bringing Authentic Churrasco to Tyler
By Holli Fourniquet
It seems like there is a new restaurant opening every week in Tyler. While each location offers its own unique flair, most of the new restaurants are similar to other restaurants here in town.
Not so with Texas de Brazil – there is nothing else like it in Tyler!
This continuous dining restaurant embraces the time-honored tradition of churrasco-style grilling and combines this with generous southern hospitality, superior service, and an inviting atmosphere. This restaurant is just as much about the experience as it is about the delicious food.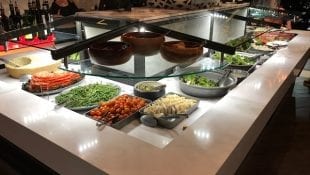 Here's how it works: There is two sections, the Salad section and the Meats. The menu offers 50-60 items on the seasonal salad area that includes appetizers, gourmet vegetables, charcuterie, imported cheeses, soups, salads, and more. Each person at the table is given a card; one side is green and the other red. After you have gotten your salad, turn your card to green and be greeted by a troop of carvers who will generously serve you various cuts of seasoned beef, lamb, pork, chicken, and Brazilian sausage accompanied with traditional side items and house-baked Brazilian cheese bread. My favorite cut of meat was the flank steak. It was juicy and cooked to perfection.
And, as I said before, this is a "continuous dining" restaurant. Dine endlessly on the best cuts of meat around, and when you're full (or need a break), just turn your card back to red. Repeat until you've had your fill.
Do you like your meat cooked a certain way? No problem! You can request certain cuts of meat as well as have the meat cooked to your liking.
In-house wine connoisseurs will help you select the perfect pairing for your meal, or you can sip on Texas de Brazil's freshly-made signature cocktail, the Caipirinha (pronounced Kai-PEE-Reen-Ya) is Brazil's national cocktail, made with cachaça (sugarcane rum), sugar, and lime. The drink is prepared by mixing the fruit and the sugar together and adding the liquor with the rum being the specialty cachaca where the sugar is usually raw or turbinado, and the limes are muddled and left in the drink).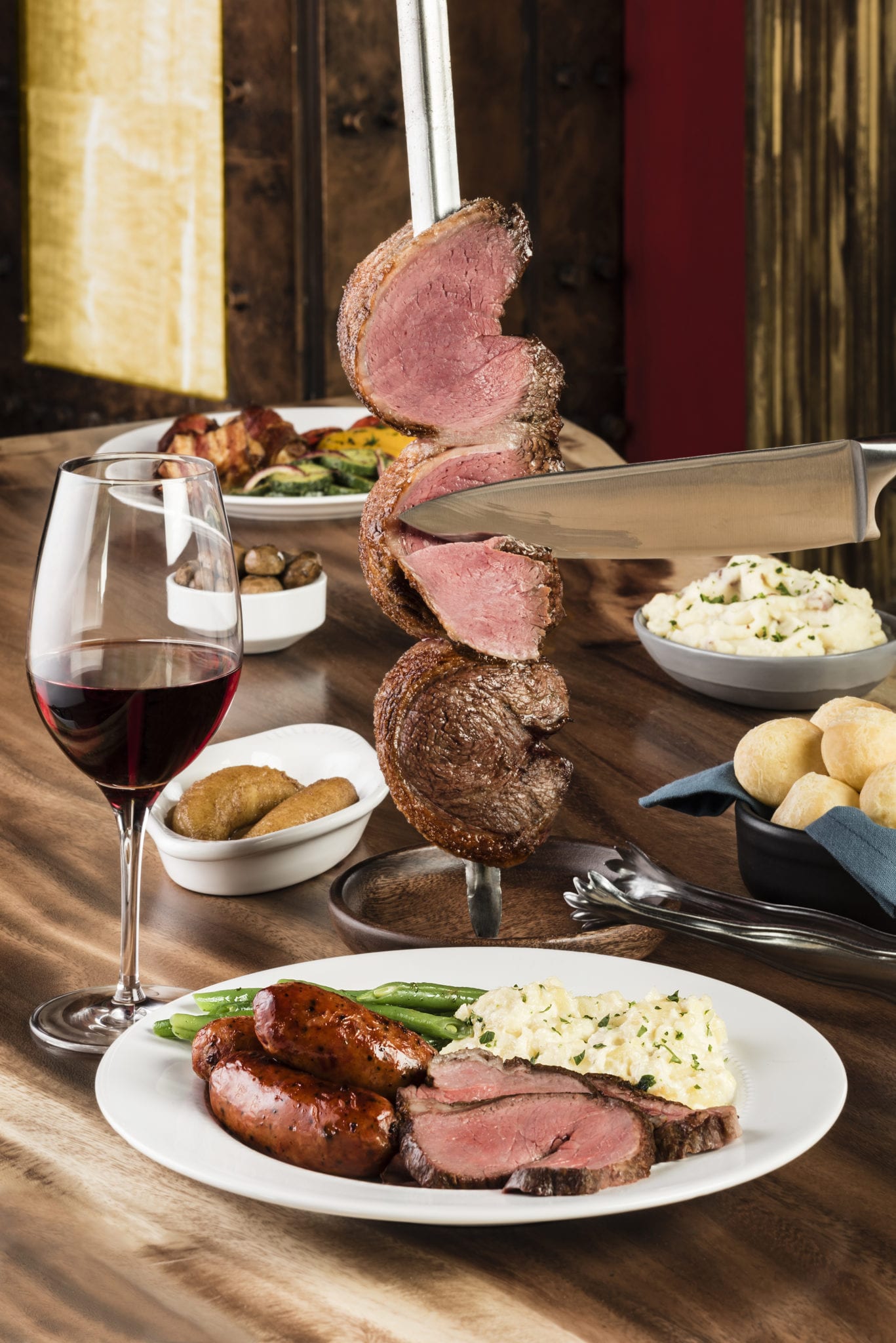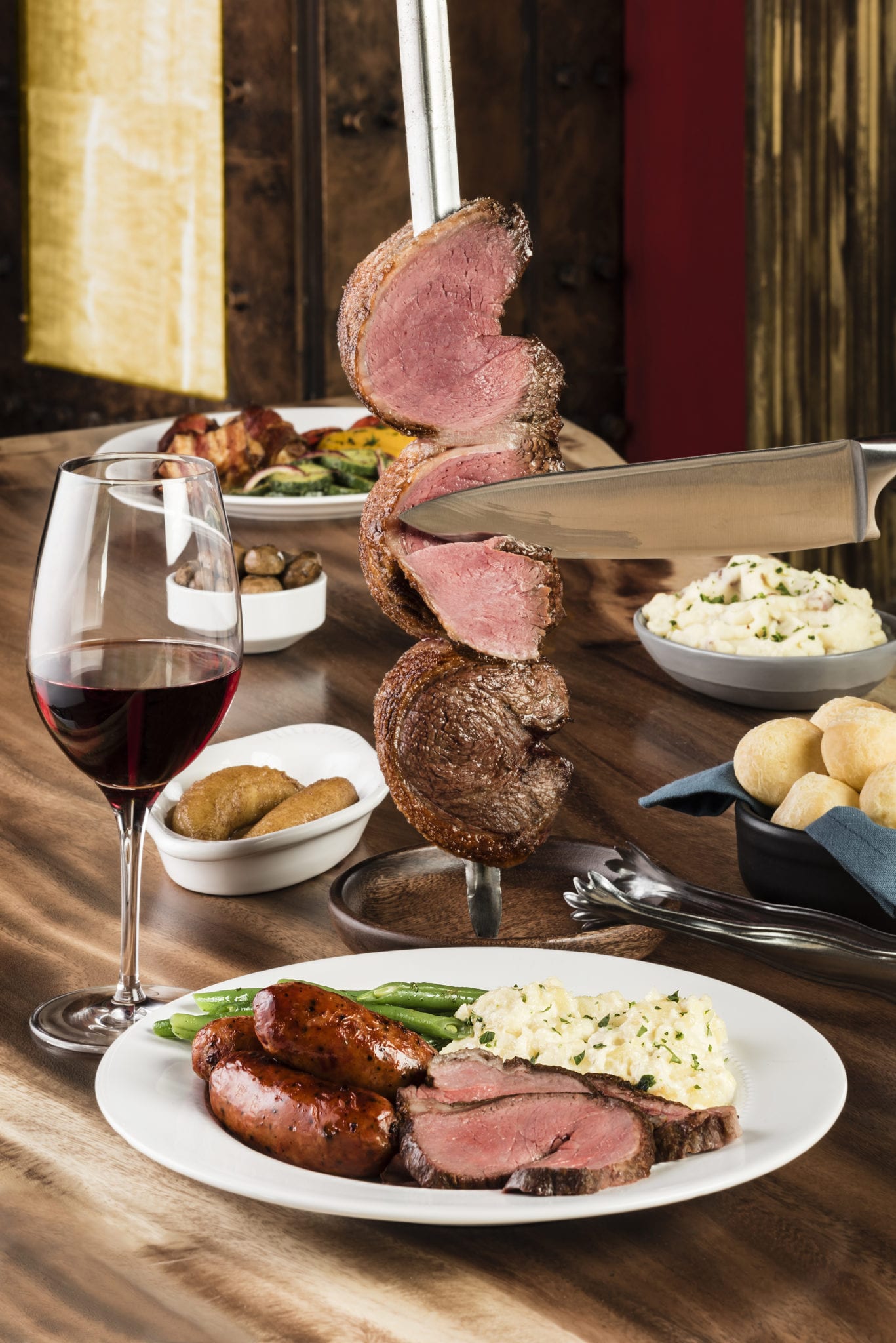 Texas De Brazil is open for lunch on Fridays only 11am-2pm with two dining options. Lunch is $22.99 and the Salad area only is $19.99.
Dinner is Monday-Thursday 5-9:30pm, Friday 5-10pm, Saturday 4-10pm, and Sunday 4-9pm. Dinner is $42.99 per person, and the salad area is $24.99 per person. Children 2 and under are complimentary, $5 for 3-5 years, and 50% off of the regular dinner price for children 6-12 years.
Texas de Brazil also offers happy hour specials Monday-Friday 4:30-6pm starting as low as $3. Patio and semi-private dining are available.
According to their website, Texas de Brazil opened the doors of their first restaurant on October 13th, 1998, in Addison, Texas. Texas de Brazil is family owned and operated and continues to expand both domestically and internationally.
Texas de Brazil is located at 2376 Dueling Oaks Dr., Ste. 100, Tyler. Their hours are Monday-Thursday, 5-9:30pm; Friday, 5-10pm; Saturday, 4-10pm; and Sunday, 4-9pm. For more information and to make reservations go to texasdebrazil.com.