Sticking To His Roots:  Wade Skinner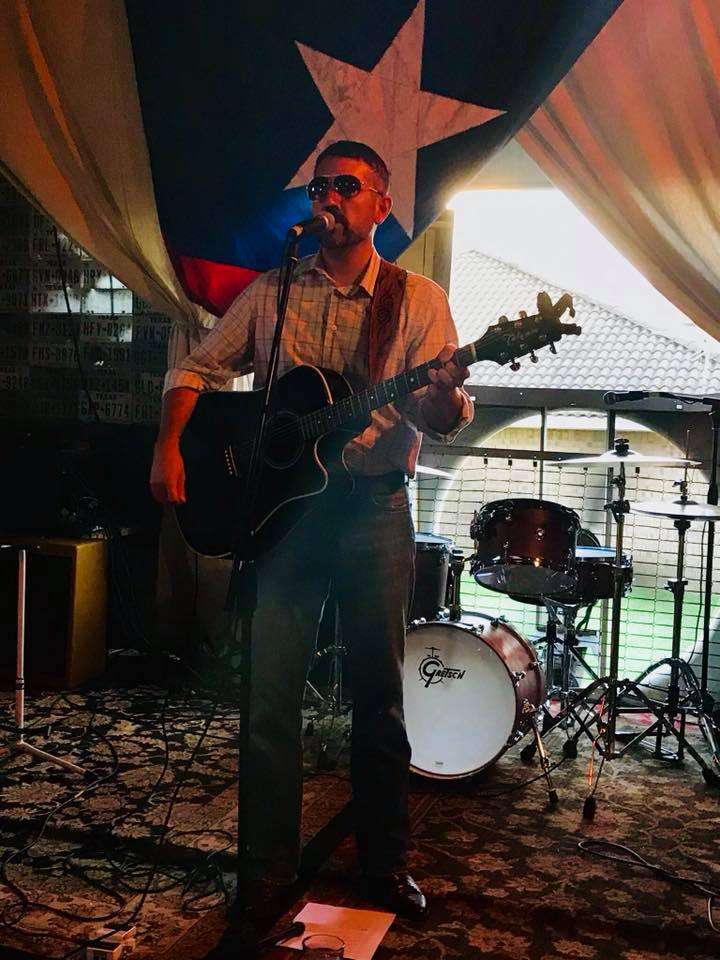 By Johnny Griffith
Country music has become a quickly evolving genre tree that has a lot more branches on it these days than it did just 20 years ago. Mainstream Country has become designed to appeal to a broader audience and capture more downloads or streams, often sacrificing substance along the way in an effort to capture that commercial appeal, losing sight of its "three chords and the truth" roots. Fortunately, here in East Texas, the roots of Country music are alive and in good hands with many local musicians who have their roots planted deep in the local soil. One of those musicians maintaining that connection is Longview singer/songwriter Wade Skinner.
With a musical background grounded in the bluegrass, gospel, and classic country music played by his family as a child, Skinner pours his heart and soul into the music he creates. His creative process is informed and shaped additionally by a period of service in the military and a love of poetry, which also led him to a career as a collegiate English teacher. I got a chance to visit with the modern day Renaissance man recently to find out more about his roots and his music.
Johnny: When did you first become interested in music?
Wade: I have been interested in music as long as I can remember and apparently even before that. My parents have pictures of me from when I was just old enough to walk carrying around a toy guitar. They tell me that I could sing almost every word of Gene Watson's "Fourteen Carat Mind" when I was three so I definitely think there is some genetics involved in my love for music. Of course, nature can only take you so far and my interest was definitely nurtured by the musical environment I grew up in. Impromptu jam sessions were a part of every family gathering on my dad's side. My grandfather on his side loved music, so he made sure that everyone who was able to brought an instrument to play anytime the Skinners got together. The music was mostly country and bluegrass; I fell in love with the lonesome and happy acoustic sounds of a mandolin, fiddle, banjo, standup-bass, dobro, and guitar as a child. Looking back, I think about how lucky I was to be exposed to such a rich musical environment. My dad fostered that love by taking us to bluegrass festivals as kids, teaching us how to play guitar, and encouraging us to play and sing at family gatherings. 
Johnny: What was the one thing in music that grabbed you early and wouldn't let go? 
Wade: I think it was harmonies of the voices and instruments melding together. From the time when I was a little boy, I just couldn't get enough of that. I think this is why I gravitated towards bluegrass. Bluegrass, probably more than any other genre of music, knows harmonies. This is probably also why I loved groups like the Beach Boys and the Eagles so much. 
Johnny: What were some of your early musical influences? 
Wade: My musical influences are all over the map. I love and appreciate all genres of music; I listen to everything from Vivaldi to Robert Johnson to Jimi Hendrix to Hank Williams Jr. Most of the music that I listened to growing up was on tape or record. CD's didn't really hit the market until I was in my teens so when I was a boy, the tapes that I wore out were by the Stanley Brothers, the Beach Boys, Creedence Clearwater Revival, The Eagles, George Strait, and Chuck Berry. When I went to my grandfather's house, he played records by Marty Robbins, Hank Williams, Ernest Tubb, the Stanley Brothers, Bill Monroe and other classic country singers. My dad and my Uncle Alvin played a lot of country music from the 50's, 60's and 70's when the family got together which meant I heard plenty of Merle Haggard, Johnny Cash, Willie Nelson, Waylon Jennings, and others from that era. I was a teenager in the 90's and I loved the 90's grunge scene: Alice 'n Chains, Stone Temple Pilots, Soundgarden, Pearl Jam, and Nirvana. Sometimes I like to surprise people at shows by playing a bunch of old country songs and then hit them with an Alice n' Chains song or a something by Seven Mary Three. 
Johnny: When did you start writing music? 
Wade: I started writing music in my teens but it was just terrible. I just didn't have the well of experience to draw from back then like I do today, so I tried to write songs that were "deep," and they ended up being incomprehensible and just plain bad. 
Johnny: When did you figure out this music life was for you? 
Wade: I don't know if there was one moment or a series of moments in my life that led me to figure out that music was for me, but I do know that it has been there all along and I cannot imagine my life without music. I feel like my soul was hard-wired for music but I'm not really an entertainer, like some folks in this business. They love the stage and they love to be the center of attention, taking lots of selfies and videos; always on social media. I'm not trying to put anyone down who does that. It's just not my personality. I'm not, nor have I ever been, a flashy person. If I had a choice, I would rather not be on social media. I perform shows for one primary reason: so that people can hear me perform songs I have written. 
Johnny: What's the current lineup of the Wade Skinner Band?
Wade: At the moment, the band consists of four people that play with me consistently for full band shows: Ronnie Godfrey plays drums, Chase Barrett plays bass, guitar, mandolin, Chuck Spears plays steel guitar and electric guitar, and Nina Gonzalez plays bass from time to time. I've tried more complicated band setups, but I find that a four piece band works very well for what we are doing. I've been very lucky to play with some amazing musicians who know how to make the songs I write sound good. 
Johnny: About how many shows a month are you playing these days? 
Wade: It depends on the month, but in 2019, we have averaged about one show a week, so about four shows a month. 2020 is looking to shape up about the same or more. Since I've hired a booking agent, I've been able to book a lot more shows than in the past when I was doing it all myself. 
Johnny: How much of your set list is original versus cover? What is the favorite cover you do? 
Wade: It depends on the show, but I would say that the set lists at honky tonks with the full band tend to be more covers because the shows are longer. Most of the time we try to play about half of the show as covers and half with originals. I'm not a karaoke singer and the Wade Skinner Band is not a cover band. There are some professional singers out there who just sing songs other people write and there are some great cover bands out there. I'm not knocking those folks and I respect what they do but frankly, I don't know how they do that all the time. What motivates me to keep pursuing music is creating and performing original music. Once I figured out that I could write and perform my own original music, and people were enjoying the songs I had written as much as the ones I hadn't, I think that was when I knew I would be doing this for a long time. 
Johnny: How would you describe your original music stylistically?

Wade: I suppose I would call it roots country. I'm not up on all the hip terminology people use to describe different genres of music these days, and I'm certainly no musicologist. Some of the songs I write sound like what people call classic or traditional country: George Jones, Merle Haggard, Waylon Jennings, etc. but just as many don't. Whatever style you would call it, I want my music to transform people's souls for the better. We try to stay away from the clap-track/snap-track driven mainstream stuff people hear on your average modern country radio station that I call "canned country." I don't use pre-made lyrics or canned chord progressions for my songs. I just don't find the kind of stuff that passes for music on mainstream country radio stations very meaningful; unfortunately, they tend to recycle tired phrases like "red dirt," "solo cup," "mason jar," "pickup truck," "girl in tight shorts," etc. and rework them into predictable chord progressions. I just don't listen to that kind of music, and the people who enjoy my music don't tend to either. Thank God for people like Tyler Childers, Tennessee Jet, Cody Jinks, Sunny Sweeney, Ward Davis, and Sturgill Simpson who are recovering the roots of country music without slavishly copying one person. I'll throw my hat in the ring with those folks any day.
Johnny: What has been your best memory so far in your musical journey? 
Wade: I think it would have to be the Downtown Live Show in Longview we played a few weeks ago on October 4th. The weather was beautiful and it was an outdoor stage, so we had quite a few folks that came out to see the show. One of my favorite local singer/songwriters, Heather Little, opened the show for us; then we took the stage and played for two hours straight in front of a large audience of people from my hometown. Fifteen of the twenty-five songs we played that night were originals. We got great feedback from the audience and the event organizer, and the band had a great time. It was a family-friendly atmosphere with lots of kids and families running around in front of the stage with shaped balloons on their heads and riding scooters. My wife captured a picture of me talking to my daughter at the foot of the stage that I will cherish forever from that night. That was also one of the first nights that I was able to thank my wife, Kylene, publicly for all that she has done for our family and to encourage my music career. Unfortunately, my wife does not get to come to as many shows as she would like because she is at home with our daughter. Looking down from the stage and watching her as the band played all these songs that she had only heard me play in our living room made for a fantastic night for me. Altogether, it was a great evening because it was one of the first shows we have played where the majority of the songs on the set list were originals. I had someone come up to me after the show was over and tell me how far I'd come since she last saw me perform a few years back. That meant a lot to me. If there is anything that I strive to do, it is to make every show a little bit better than the last one. I also want every song to be a little bit better than the previous one. 
Johnny: Where can people find you performing over the next couple of months? 
Wade: We have a busy couple of months lined up, thanks to my booking agent Sheryl Oney. I think we have about twelve shows before the end of the year. I'll be opening for Zane Williams at a Benefit for Camp Gilmont on November 2 in Longview but we have shows in Dallas, Fort Worth, Tyler, Longview, Natchitoches, Shreveport, Paris, Jefferson, Bossier City, and Gladewater on the books before the end of the year. I encourage people to follow me on social media to find out about future shows and to check out our website calendar: http://www.wadeskinner.com/gig/.
Johnny: What is on your radar for the rest of 2019 and into 2020 that has you excited? 
Wade: I am definitely excited about recording my first full album. We have already started that project with the recording of my single "Highway Going Down" earlier this year; I received such good feedback from that song that we have decided to add that song along with nine more originals to our full album. We hope to finish that project early in 2020 in time to promote it for our summer 2020, multi-state tour. 
Follow Wade Skinner at wadeskinner.com and facebook.com/wadeskinnermusic/.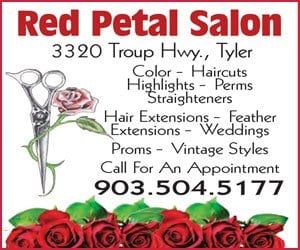 Rose City Strong: Buy Cool Swag & #supportlocal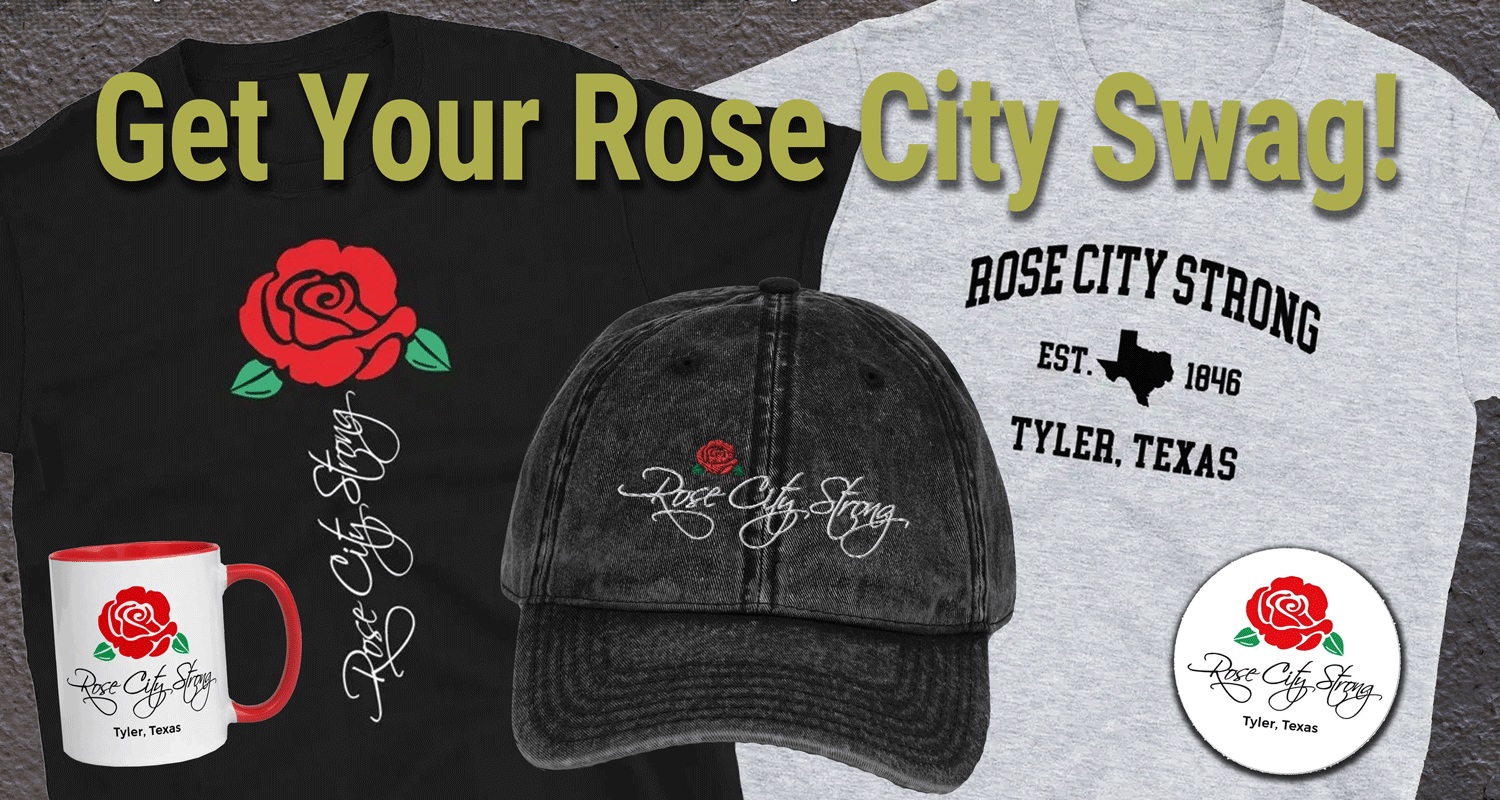 In these trying times, everyone wants to help and do their part. One way is to support local businesses. You can do so and get a cool t-shirt in the process!
VisitTyler and EGuideMagazine.com have teamed up and created a cool line of t-shirts, mugs, stickers, caps, and more!
Check out this cool swag and #supportlocal by being #rosecitystrong!

Live Music Guide, Tyler TX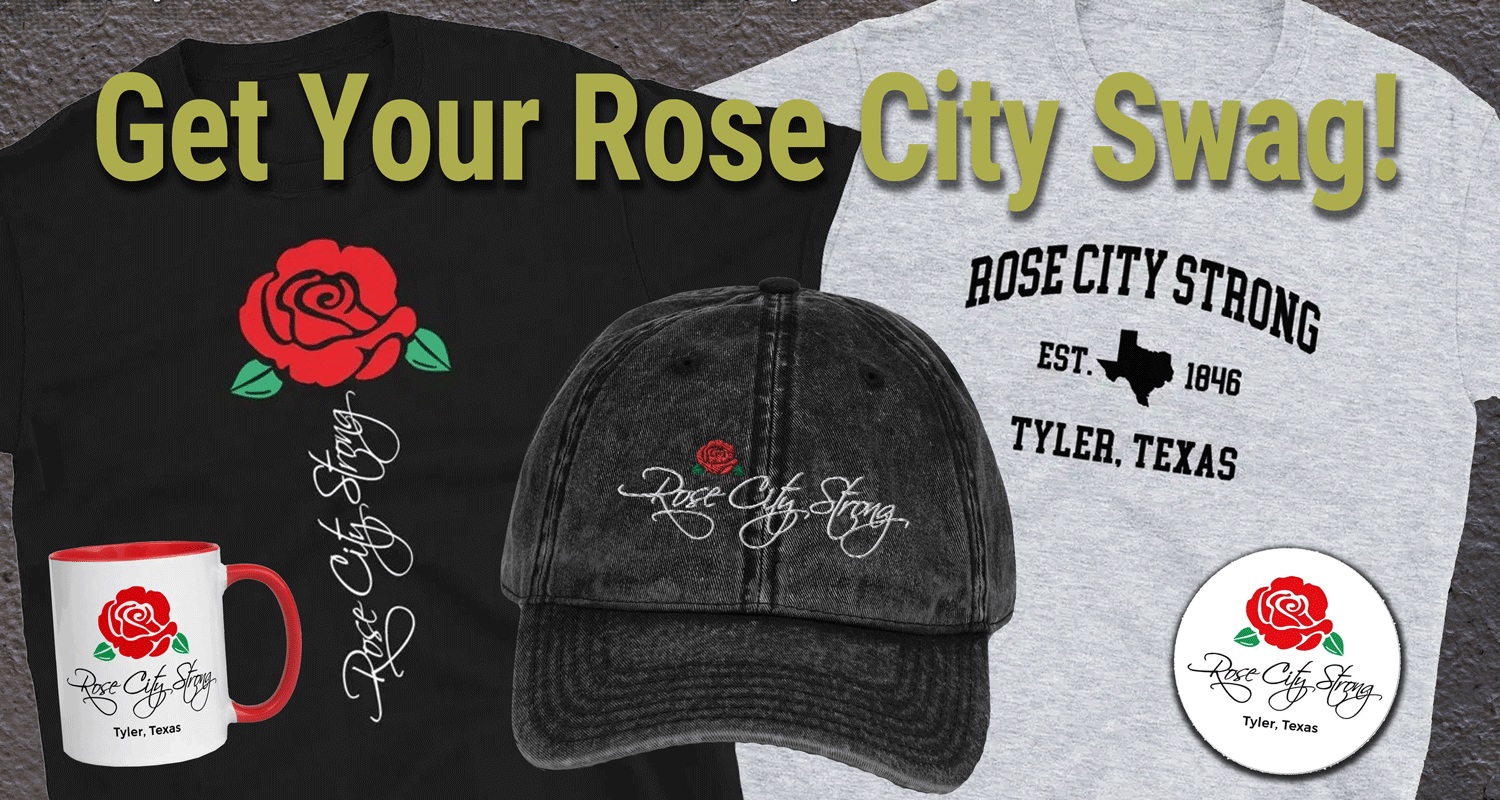 In the constantly changing world of Covid-19 pandemic, we at EGuideMagazine.com are making every attempt to keep our Big Calendar updated. However, we suggest that you still double-check with the businesses to confirm that the events are still happening.
To list or make any changes to this Live Music Gig Guide for #tylertx, please e-mail to eguidemagazine@gmail.com or text 903-530-2041.



---
XL'N on Fifth: We're Back & Rockin'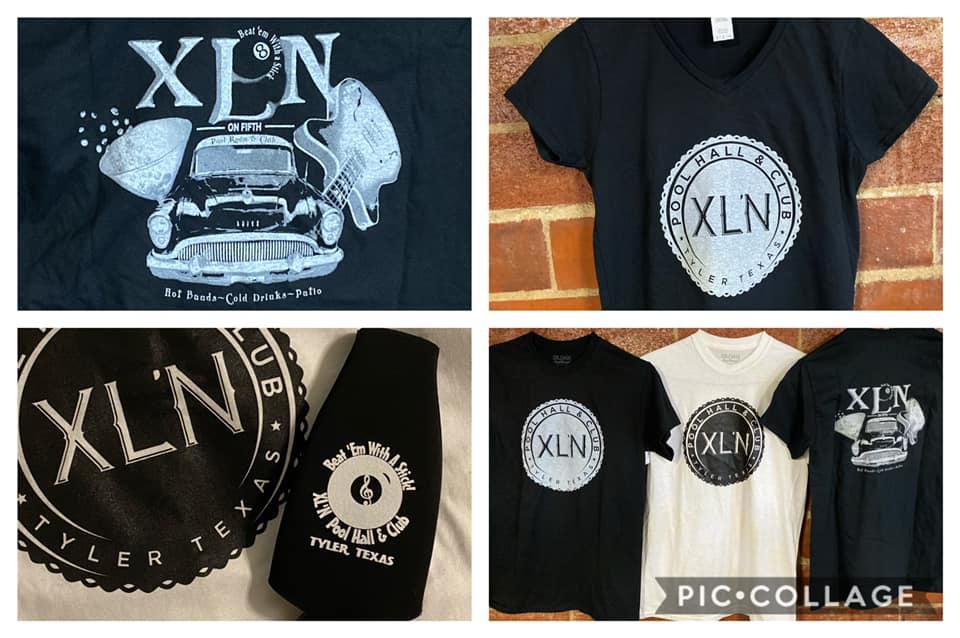 Order T-shirts, Koozies & More HERE!
---
XL'N Events & More:
---
By Amanda Main
Some patrons have dubbed XL'N On Fifth the "Cheers" of Tyler. The club started out of a love for billiards, but out of necessity grew to include a members-only bar and live music venue.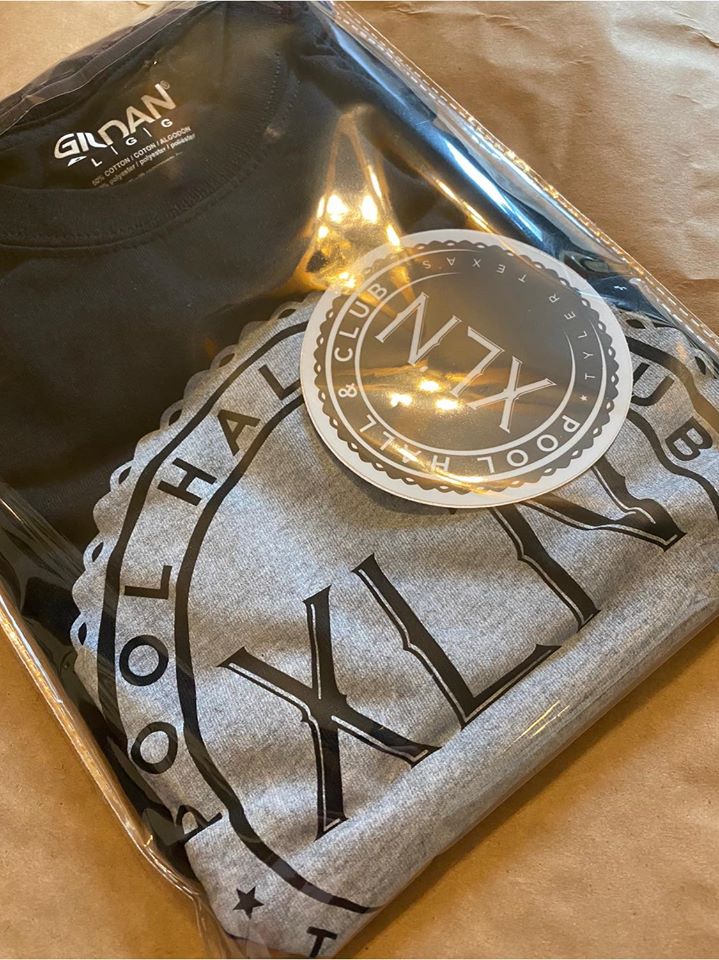 Owners Donald Griffith and his wife, Robin, opened the club and pool hall in January 2006.
"Neither of us have backgrounds in running a bar. This was our first rodeo," Robin says. "He's big into pool — he plays in a pool league, but the pool hall is not the main business, it's the club."
Donald chose the name XL'N, which stands for 'Excellin'.
"We didn't want a cute little name like 'Corner Pockets' or 'Side Pockets' or 'Rack 'Em,' or anything like that," Donald says. "I told her that it doesn't matter what the name is, if you have a good place, then the name won't matter."
Robin chimes in with sarcasm: "I think it proved it, didn't it? 'XL'N.' Yeah, I think you proved that theory."
Robin says the business was a huge undertaking for the couple to open. In the beginning, the only thing she liked about the building when Donald first showed it to her was the painted wall, where musicians now play. That's because the wall is the original, outside wall of an old lumber yard from, she estimates, the 1950's. When they purchased the building she says, "there was a pile of lumber with nails in it and there were no lights. There was an extension cord with light bulbs on it, but somebody had come in and taken all the copper out to sell. They just stripped all the wiring out of the place. It was just a gutted mess of a place, and we spent three months working on it before we opened."
But that was many years ago and the business has come together nicely. What makes the establishment truly special, the Griffiths says, is the people — the people who work there and the people who frequent there.
"It's a family of friends," Robin says. The business' motto is "Where Good Friends and Good Times Come Together." Robin says they consider their regular customers like family, as well. "We're a comfortable, laid-back place. Anybody can come here. A woman can come in by herself and not feel weird."
On another note, she also adds, "I don't like to be called a mom and pop joint, but I guess we really are. We are about the people, our customers, our friends. As with any business or club, if you don't like the people that hang out there, you're not going go there but that's not the case for us. We have lots of great regulars. And we don't allow any craziness. Our regulars know that if you cause any problems you will be banned from here. I'm like the mama hen when it comes to keeping XL'N fun for everyone."
Never a Cover
"Always free" meaning there is never a cover charge, except on one night of the year: New Year's Eve, when Robin will fix up a big feast including shrimp, black-eyed peas, and cabbage, among other foods. But even that night, the cover is only $10, and she says it's well worth it since it includes her home-cooked delicious (and legendary) food.
The Pool and Drinks
Happy hour starts early at XL'N from 12 noon to 5pm.
XL'N is home to six custom, 8-foot Olhausen pool tables. The playing rates are a super deal from 12 noon to 5pm. Two people can play unlimited games for a total of $5 between those hours. After 5pm the pool rate is $6 per hour for two players.
Robin and Donald are proud to host amateur American Poolplayers Association (APA) Leagues at their bar. They meet to play at 2pm on Sundays and about 7:30pm on Monday and Tuesday evenings. XL'N has been featured in the APA Magazine as the best place to play pool in East Texas.
The league players play "8-ball and 9-ball," Robin says. "There are always teams that are looking for someone to play. They need all skill levels, from beginners to put-your-kid-through-college kinds. They rank them because a team can not have too many high-rankers."
More Info
XL'N is located at 2109 E. Fifth St., Tyler, (903)535-7956. You can
follow them on Facebook at facebook.com/XLN.Pool.Hall.
XL'N is open 12 noon to 12 midnight Sundays – Fridays and 12 noon to 1am on Saturdays. All ages are allowed before 7pm; 21 and older only after 7pm.