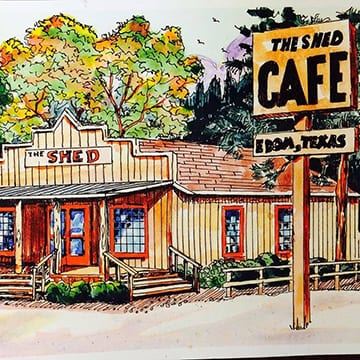 By Barbara King
Just a scant 20 miles outside of Tyler lies a quaint, flourishing artisan community where you will find an eclectic mix of modern funky design and old-time Southern hospitality.
Edom, a one-stoplight town, is chock full of things to see and makes a great getaway just a stone's throw from everywhere.
The one main street is lined with shops and restaurants, in quaint, old refurbished stores that encourage you to amble around, take your time, and browse a myriad of wares from antiques to pottery to apple pies.
Coming around the bend into Edom, the first thing you'll see is the infamous The Shed Restaurant, renowned for their all day breakfasts, 7 days a week. No stop at The Shed ("Get Fed at the Shed" is their motto) is complete without tasting the chicken-fried steak, finishing up with the decadent coconut cream pie, showcasing the graham cracker crust, and topped with shredded coconut. The menu appeals to every taste, ranging from appetizers like jalapeño poppers, Shed's signature hand-dipped onion rings (a meal in themselves), mozzarella cheese sticks, or Texas Toothpicks. Pancakes, build your own omelets, burritos, sandwiches, burgers, and fresh hand cut steaks complete the choice options. There is a kids menu too, so if traveling with the family, the kids can choose from chicken tenders, corny dogs, hamburgers, cheeseburgers, or grilled cheese sandwiches. The atmosphere inside The Shed is laid-back and friendly, with a huge sit-down counter and lots of seating for larger parties.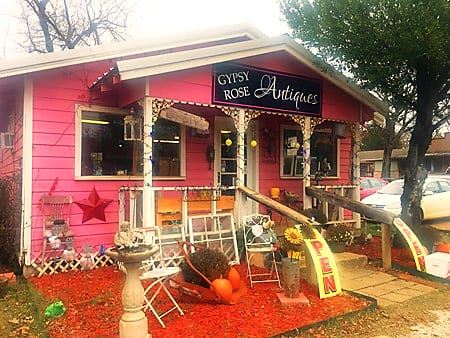 Meander next door to Gypsy Rose Antiques, the brightly painted pink antique and vintage store, owned and lovingly operated by Emily and John Parker. This haven of vintage antiques and collectibles is a must-see, with troves of treasures displayed throughout the store. You will find carnival glass pieces mixed with vintage memorabilia, including newspapers, birdcages, oil cans, lamps, and jewelry. "We are not a thrift store," explained owner Parker. "We travel around the country, looking for interesting finds and special pieces." It is truly a trip back in time, and folks come in and spend hours, finding memories in every corner.
You can't visit Edom without a visit to the whimsical world of Arbor Castle Birdhouses. Step inside and be whisked away to a fairytale world of yore, filled with fairy castles, bird castles, chimes, hummingbird feeders, and walking sticks. The birdhouses are breathtaking and almost surreal; each a sculpture on its own, fashioned from Red Heart Cedar with elaborate details including metal roofs, turrets and bells, hand set stones, leaves, vines, sconces, and finials. Each birdhouse has its own unique character and is signed and dated by the artist, Joseph Hopps.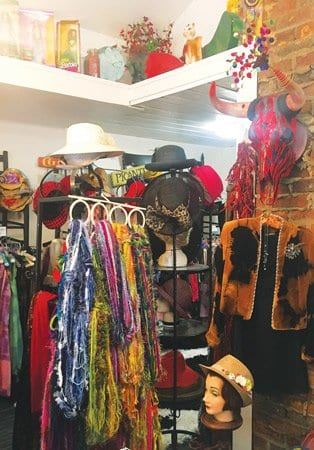 A new and funky fresh recent addition to Edom is Buffalo Clover, "a combination of fun and fine art" – all the creative genius of Kelli Holmes. The name is derived from the fusion of Texas and Celtic roots and is the Indian name for the bluebell. The store is an in-your-face fusion of color and style, and the walls are adorned with Holmes' original artwork and award-winning art. Anyone familiar with Holmes has seen her line of Frilly Pepper repurposed lingerie and outerwear, glitzed up and ready for anyone to rock. You can also find one-of-a-kind hats, rings, headbands, and all sorts of fun and funky apparel too. "I am so blessed to be here in Edom," said Holmes, "and to be able to be a part of and support local artists and this unique community."
Potters Barn is one of the cornerstones of the Edom community, with artist Don Brown arriving in 1971, joined by wife Beth in 1992. The partners in life and art produce stoneware pottery, with clays from Missouri, Tennessee, Georgia, and North Dakota. After years of trial and error and hard work, they have created the beautiful jewel tone pottery that is the trademark of the studio. The front of the store displays the glazed pieces that range from kitchen sinks to butter-keepers, egg cookers, custard dishes, and yarn bowls. In the back, you will find the studio with Don and Beth hard at work putting the finishing touches on their one-of-a-kind creations.
Zeke & Marty Studio is on the same side of the street and is yet another pillar of the art community in Edom, establishing their studio in 1976. Zeke and Marty's handmade jewelry are a stunning combination of found objects, natural materials, and some rare stones. Their pieces are infused with love and spirit and as Marty explains, "We use the freedom to explore and be influenced by our materials and incorporate the joy and excitement of each new and different creation."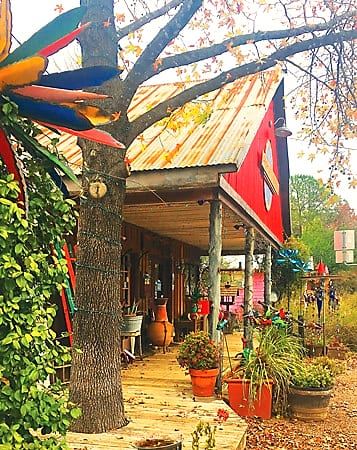 Zeke and Marty's studio behind the storefront is a beehive of activity with Katy the shop cat lounging on the worktable as the couple grinds and solders their sterling silver into magnificent works of jeweled art. Their travels around the world bring back rare finds that they transform including wooly mammoth teeth, onyx, amber, and gemsbok. Their collaboration and partnership make for an exquisite mix of spirit, passion, and love for their art, which is truly apparent in their unique jewelry.
Ready to take a break, relax, and regroup for the rest of your Edom experience? Yesy's Café is a great place to feast on just about anything you can imagine. Breakfasts are supreme, with omelets, burritos, tortas (egg, cheese, and refried bean sandwiches), migas (fried tortilla strips topped with two eggs), pancakes, and French toast. Lunch includes chicken fried steak, hamburgers, sandwiches, and new Mexican food entrees, including street tacos and tortas. Fridays and Saturdays Yesy's
Lunch includes chicken fried steak, hamburgers, sandwiches, and new Mexican food entrees, including street tacos and tortas. Fridays and Saturdays Yesy's features barbecue meat sandwiches, brisket nachos, loaded potatoes, and pizza by the slice. The kids are welcome here too and can have grilled cheese or chickens strips or a small plate (meat with two sides.) New manager Yesy Bazdan says, "We are thrilled to be able to offer some new menu items along with a friendly and welcoming place to come, sit, and stay."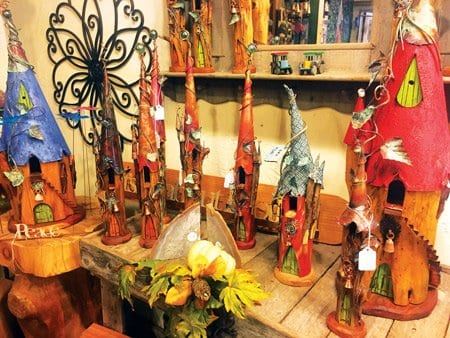 The Firehouse Gallery, the dream of Jeff & Judy Gottesman, is an eclectic mix of art, photography, custom framing, and a coffeehouse that features local musicians in a small, intimate setting. The transformed firehouse is a concert venue for original acoustic folk music as well as a venue for the showing of first-run independent films. See our article about upcoming concerts on page  11.
The Vintage Edom Coffee shop is also home to live music concerts every Saturday from 12 noon-3pm featuring local singer/songwriters. From 3-6pm, it is turned over to the Songwriters Circle for more original tunes. You can enjoy wonderful barista coffee drinks, bakery treats, and lots of great shopping too.
Edom is a haven for art, music, food, and special events throughout the year, including Saturday night "Cruise Nights" for vintage car enthusiasts, an April Street Fair, and a Fine Arts Festival in October.
As the sign in front of Zeke & Marty's studio attests, "Open Most Days, Closed Others," the schedules of shops fluctuate according to season and patronage.
For more info go to edomtexas.com.