By A. C. Slaughter
It's official – The Grace Project is going public! Do you have a blank wall that desires art? A public space outside your house or business? Outside your church or school? The Grace Project is geared up, brushes drawn, ready for action.
You may be asking yourself, what is The Grace Project? I am glad you asked and I am delighted to tell you about it.
The Grace Project is a lively group of energetic persons who love life, laughter and aren't scared to get down and dirty when it comes to painting. Set up as a non-profit 501(c)3, The Grace Project is designed to enrich the lives of anyone with intellectual or cognitive disabilities. Their most recent projects include painting in the park, and other various places, but the activities are many as this fun group will take on almost any task.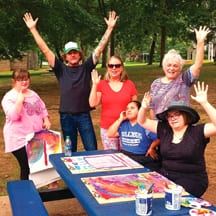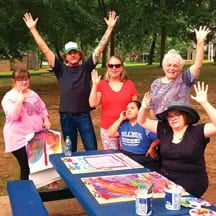 Started five years ago by founder Grace Ram of Whole Health, the group has put its energies towards the fulfillment of life for those with special needs. Parks, movies, museums, theater, concerts, putt-putt, birthdays, holidays, swimming, running, jumping and of course, art – this is what they do.
Enrollment is easy, you just show up. Bring a friend or relative with special needs who loves being active and come join this fun crew. Family members are encouraged to attend and participate as each activity is a bonding and growing experience for all.
Grace's daughter Christina can tell you how much fun they have as she has been an integral part of this project since the beginning. Also pictured are Anna and Avery who have also been aboard The Grace Project for some time now.
Originally the group began to fill the shortage of day programs here in Tyler but budded into its own – blessing the lives of East Texans for half a decade. It may be difficult to find after school programs for special need students but look no further as The Grace Project is ready to grow and is always accepting new students.
Right now The Grace Project is painting murals and they want to paint your space!
Summer is here and they are looking for ANY public space where they can leave their mark. Public walls, old cars, trashcans, windows – anything that can be painted, they'll do it. Have you been staring out the window at a dirty old wall for years wishing someone would come along and make it pretty? How about that rusty old car outside that your husband won't get rid of? Have it painted! Now is your chance to make that happen and The Grace Project wants to be involved.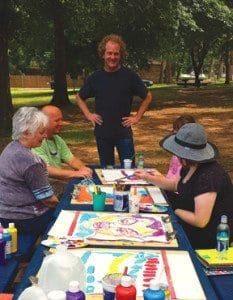 Under the direction of Tyler's own Russell Belue, The Grace Project students will create a beautiful new world for you and your's to enjoy for years to come and all you have to do is make a phone call. The group has been practicing mural painting for months and now it is time to make their presence known. Some of the group's murals can be seen inside Whole Health located in the Bergfeld Center.
Currently the Grace Project is meeting on Mondays from 2:30-4:30pm at Bergfeld Park for Painting in the Park. This class is under the direction of local artist Russell Belue. Belue is an abstract expressionist with a BFA in painting who has traveled and painted from New Mexico to Argentina but has rejoined his hometown sharing his love of painting with those eager and willing to learn.
Right now the Painting in the Park class will meet at said time, weather permitting, but as the summer rolls on, time and location are subject to change. The Grace Project is currently looking for an indoor space so if you have or know someone who has a place for them to use, please let them know.
Future projects include making and selling art, commissioned work and who knows what else this fun-loving crew has in store. The Grace Project has big plans and is set up ready to make them happen.
Donations are accepted. Any art supplies, such as paper, paint, brushes, etc… are graciously accepted.
Monetary donations are also needed to expand and grow this ambitious program.
If you or anyone you know is interested in joining The Grace Project you can contact Russell Belue at (903)570-8882 or at beluesky@me.com. Check out Russell's work at Russellbelue.blogspot.com.
Interested parties can also contact Grace at (903)530-3453.
Come join the fun and create some awesome art work for yourself or as a gift for someone else.
The Grace Project – creating memories one painting at a time.