Written and Photographed By A. C. Slaughter
Awesome doesn't even begin to describe artist Derrick White. Crazy, cool, fun, excited, motivated, inspired and dedicated might get us started but there are so many words, yet none, that capture the essence of a man so committed to his art, his students, his community and his family that he is hailed as 'The man who does it all', everywhere he goes.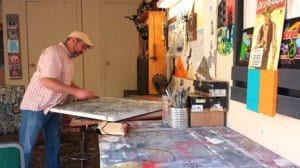 Derrick has been a full time Professor of Art at Tyler Junior College for 13 years, the TJC Art Club faculty sponsor for 11 years and the Gallery Director for the Wise Auditorium Gallery for 13 years. His work can be seen at Soju Sushi Bar and Asian Bistro here in Tyler, Grande Hill Estates Apartments, Tyler Junior College West Campus and One Realtor on the East Loop, also found here in Tyler.
And now, a little about why his students and the art community love him so much.
Every year the TJC Art Club, under Derrick's leadership, makes cash donations to the "Make A Wish" foundation. The Art Club also provides food for "Tyler Aids Services" by hosting a school-wide can food drive every semester right inside the art department. The Art Club paints murals for local businesses and has helped the TJC Dance Studio earn $15,000 by donating paintings for a fundraising auction. Also under Derrick's brave and never ending encouragement, TJC students were awarded scholarship money from paintings that they donated, made possible by Jim and Margaret Perkins via Citizens State Bank.
It just doesn't stop.
Derrick's commitment to the greater Tyler area has been more than well received. He is one of the funniest and youthful artists we have here. Just ask his students. The Art Club has an annual event called the "Annual Art Club Thunderdome" held the last Wednesday of April right behind Jenkins Hall. Students participate by bringing one of their pieces to be judged by the cheering crowd who decides the one winner of the day. There is only one winner but the catch is that if you lose, as all but one do, you agree to have your work destroyed by a Mexican wrestling style sword drawn devastator who kicks, punches, mutilates student's art work right before their eyes. As the crowd looks on, student artists are encouraged to remember that no one piece is sacred in the art world and once that lesson is learned, artists can actually start making art.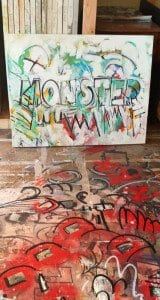 So when does Derrick White have time to make his own art?
That's a great question. The answer is: always.
"There are so many college professor burnouts who stop producing once they start teaching but I found the opposite to be true. I find I gain energy from the students and being an art professor makes me a better artist which makes me a better professor."
Many times artists fall into day jobs that take away much needed time and energy. The key to any successful artist is to find the balance. Part of that balance is having a support group and Derrick's support group is his family. Married to his beautiful wife, Alicia, for 20 years they have two children, 13 and 16 who are both budding artists. When you first meet the Whites, you get a sense, instantly instinctually, how wonderful their lives must be. Engaged and talkative the family tells stories of each other growing up, all funny and all laughing; they are a real treat to meet. Support group? Check! Studio? Check! Art? Check!
Having a family who backs him, Derrick is free to sling paint around all hours of the night. Having a studio at home makes him one of the lucky ones who can run out at a given moment and make marks. Derrick's work is process based. "The painting tells me what it wants to be." With the use of text, lyrics and poems Derrick's work is loose and free but decisive and specific.
"Word is interesting in the sense that it's playful but can be menacing too. Words get caught in your head and lose meaning once it's in your head so it has to come out but it's sometimes my subconscious that does it, as I am listening to music as I work. Using words out of context allows the viewer to make up their own mind."
Graffiti-esk at first sight, the cartoon like gestures in his work want to be something that you can't quite make out yet sometimes you will get a pearl and can recognize something. Our brains tend to WANT to make out a recognizable object and Derrick's work teeters on the verge of image and non-image. Challenging and rewarding, one must take the time (and you will want to take time) getting to know his pieces.
I could write on and on about Derrick's expressive, bright, inspired work but you are better off seeing it for yourself. Go to
www.flickr.com/people/canvashead/ but be aware. You may be so inspired that you have to throw some paint around after viewing.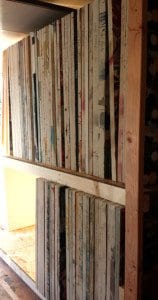 Anytime I see Derrick's work I run home to my studio and blurt out a new piece. It can't be helped. His work has a way of getting inside you, filling you up, until you explode creatively. This is what he does. This is why he is such a great professor and this is why he has such a following.
Participation in recent shows includes "500X Gallery: Hot and Sweaty: The Open Show" in Dallas, Texas, as well as the "56th Annual Delta Exhibition" at the Arkansas Arts Center in Little Rock, Arkansas.
A couple of years ago Derrick was one of the top 100 finalists for the Hunting Art Prize out of Houston. The Hunting Art Prize is the Cadillac of Art Shows. Every year the show awards one Texas resident $50,000. Yes, that's right, fifty grand and its open to working artists, living in Texas who paint or draw. Out of the thousands who enter, to end up as one of the finalists in the top 100, is pretty awesome.
And Derrick's accomplishments don't stop there.
It is success stories like Derrick White's that make East Texas a great place to live.
Each month I will bring you "Inside the Artist's Studio," a personal look at artists right here in our own backyard. It may shock and surprise you how many fabulous, creative beasts we have living amongst us but I think it will fill your heart and soul to see what each one of these great people do for our community.
And isn't that really what's important at the end of the day?
How we treat each other and ourselves?
If you know of a great artist, a gentle gem who shines in our piney woods, please let me know. Send an email to eguidemagazine@gmail.com, attention: "Inside the Artist's Studio" and we will be delighted to read your suggestions.
Check out canvashead.net, facebook.com/TJCArtclub, look him up on YouTube, or email Derrick at derrick@canvashead.net with any questions or comments.
Until next month, stay classy East Texas and MAKE ART.