TJC Professor, Students Bring Art Class to Disciple Place Village Seniors
It is the third Thursday of the month and residents of Disciple Place Village in Tyler are ready for art class. For more than eight years, TJC Art Department Chair Derrick White has been bringing art students to the senior-living apartment complex with the purpose of teaching more than just art.
"I love to share my passion for art with those who are interested," said White. "I also hope to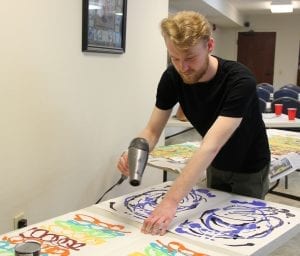 spark a desire for community service in my students," he added. According to White, students are often more comfortable serving with other students because it is less daunting, and those who begin serving in groups are more likely to continue community service later.
Cooper Adams of Troup said this was his first time to participate in the Disciple Place Village art activity and he definitely plans to return. "It is enjoyable making art alongside the residents," he said. "It's like an art community."
Shannon Rooney of Tyler said she enjoys doing something different outside the classroom. "I like having fun with the ladies, and volunteering is part of my nature," she said.
"This is the highlight of my week," said Julie DePue as she spread paint across her canvas. "It's playtime."
LaJuana Goff has been participating in White's student art activity since 2011. "I have no talent and Derrick always finds something good," she said.
Projects vary from month to month and may include painting, ceramics or woodworking. White typically demonstrates how to complete the project and students work alongside the residents and assist as needed. Some of the participating students are art majors while others are taking art classes as an elective.
Several pieces of art produced in the monthly classes decorate the walls and shelves of the facility's library and computer room.
"We come here to spend time with the residents and have conversations, and art gets made in the process," said White.
TJC offers an Associate of Arts degree which provides the first two years of a liberal arts education that prepares the graduate to successfully pursue a career in the fine arts, or an art degree at the university level. For information on TJC art programs, go to www.tjc.edu/art.