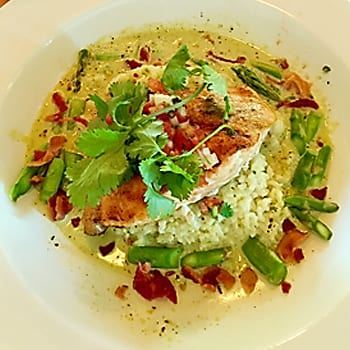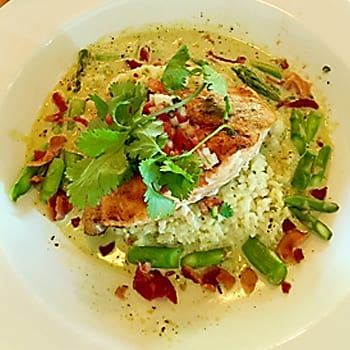 By Anne Payne
Dear friends, I am writing to share something incredible and edible with you. When it is a special occasion, my hubby always knows what I want for a surprise dinner, Villa Montez.
Villa Montez is owned and operated by Carlos and Mundo Villapuda – two local guys who have their family right here in Tyler. It is in a beautiful old mansion located in East Tyler on Old Omen Road, off of east Loop 323. They have amazing Latin flavors and grow many of the herbs and spices right on the property – very farm to table style!
There is one dish in particular – the Salmon Special – or as I refer to it as, Salmon Crack!
Why do I call this dish salmon crack? I've had people ask, "Is that really the name?" No, I call it that because it is so delicious that I crave it! I dream about it! It is amazing.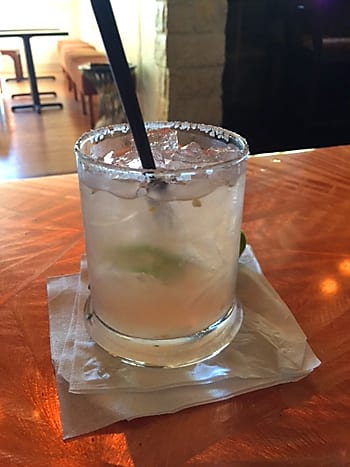 I am not a huge salmon fan, sometimes it can be a bit fishy, but not this fish. The salmon is grilled and placed on a bed of Verde (crack) rice. Carlos tells me it has Truffle oil in it and I truly think that is the secret to why it tastes so special. But it's also the bacon. I mean everything is better with bacon, right? The bacon gives the whole dish a smoky, salty flavor that I cannot get enough of. There is also asparagus in the rice which gives it a really nice crunch, plus you are getting a vegetable in there so it makes you think that surely this must be healthy on some level.
This dish used to be considered a special and not on the actual menu, but it is now, so just ask for the "salmon crack." The wait staff will give you a big laugh! They know me well.
As I said when I started this column a few months back, I will be sharing something about the drinks too at the restaurants that I visit.
Villa Montez is no exception. They have a spicy watermelon margarita that will blow your doors off. Now I am kind of a baby when it comes to heat, so when I get my margarita I take out all but one of the peppers, but the combination of the sweet watermelon (they use real watermelon juice) and the heat of the peppers makes this the best drink to pair with your dinner.
This dinner, drink and the ambiance will make you think, "Toto, I don't think we're in Tyler anymore." Yum!
Villa Montez is located at 3324 Old Henderson Hwy, Tyler, TX 75707, (903) 592-9696, www.villamontez.com.