Diego Loya: Inside the Artist's Studio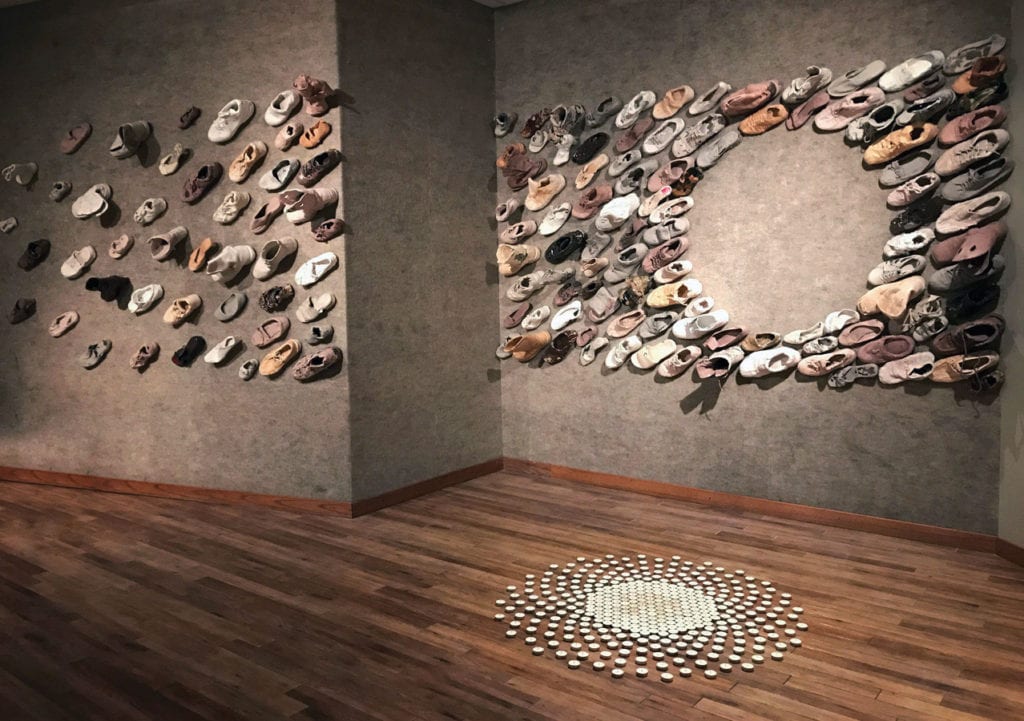 We Don't Choose Where We're Born
By Derrick White
Before the beginning of World War II, many immigrants sought to escape from countries under authoritarian control. Between 1933 and 1939, German and Austrian immigrants fled to neighboring countries (France, Belgium, the Netherlands, Denmark, Czechoslovakia, and Switzerland). Later, escape became much more difficult. However, there were fewer countries willing to accept refugees and war conditions hindered escape. It became literally a matter of life and death. Most non-migrants neither aided nor hindered people's escape. But some people sympathetic and motivated by their opposition to fascism, moral and religious principles, or human compassion provided assistance to immigrants, sometimes at tremendous personal risk. This opening statement is paraphrased from the United States Holocaust Memorial Museum's website.
Perhaps you and your family have lived in the same country for multiple generations or perhaps not. But try walking hundreds of miles in someone else's shoes. Try to understand the situation of someone attempting to better the lives of their family as if it were your own. Reflect back on your own family's genealogy and be thankful for how you got here. Joshua Adams points out in his blog from "The Huffington Post," "The phrase 'We are all immigrants' intention is to recognize how the immigrant experience is deeply woven into the fabric of our country's creation and how our diversity makes us unique. However, we really need to stop using it as a rebuttal to anti-immigrant sentiment because it erases the particular histories of two groups of Americans who did not immigrate: African-Americans descending from slavery and Native Americans. The general 'coming to America for a better life' narrative does not apply."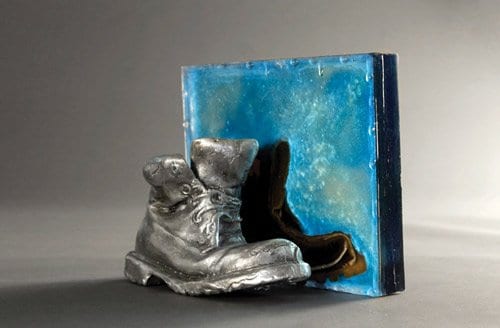 Local artist Diego Loya tackles the barbed issue of Mexican immigration with powerful and poignant sculptures and installations relating to his own heritage and family. Diego earned his Bachelors of Fine Arts degree from The University of Texas at Tyler and an Associate's degree in graphic design and photography from Tyler Junior College.
His recent exhibition "invisible boundaries" at the Wise Auditorium Art Gallery at TJC included installations and mixed media pieces confronting the modern day issue of immigration and all those seeking a better life. The intention of the exhibition was to allow the viewer to understand deep down that we are all human, connected by the aspects of the human condition, and deserving of the same opportunities.
"We don't choose where we're born. We don't choose in what pocket or form, but we can learn to know ourselves on this globe in the void. Take this mind; take this pen; take this dream of a better land. Take your time; build a home. Build a place where we all can belong," – José González's song "Every Age."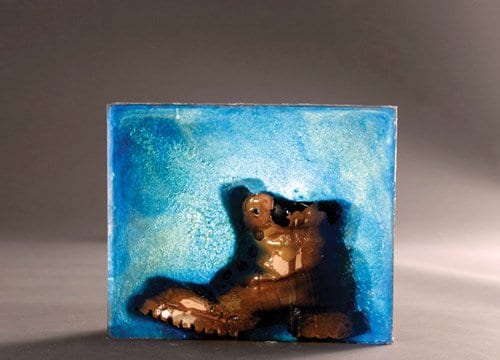 "I enjoy working with several different types of materials and sometimes a combination of them in one piece," Diego said. "My most recent body of work contains several shoes and the exploration of materials such as clay, plaster, soil, and resin."
His recent installation of over a hundred shoes attached to the wall has the ability to transport the viewer psychologically into a migrant trek, sensing the mud, the dust, and the hot, unending desert of a long and dangerous walk in the hope of arriving somewhere better. The shoes are weathered, worn, and come in a wide variety of big, heavy work boots, women's shoes, sneakers, and the ones hitting my gut the hardest, baby shoes. The work is formidable and unflinching.
Diego recounts, "Ever since I was a little kid, I enjoyed using my hands to create things, even with sticks and pinecones. My interest in art was always present, but it was not until my undergraduate career that I decided to fully commit to my passion. There have been several positive things art has brought to my life. I have made many great friends and connections and had amazing opportunities and trips. Overall, I would have to say the knowledge gained and my wonderful experiences, especially from impacting other people in positive ways."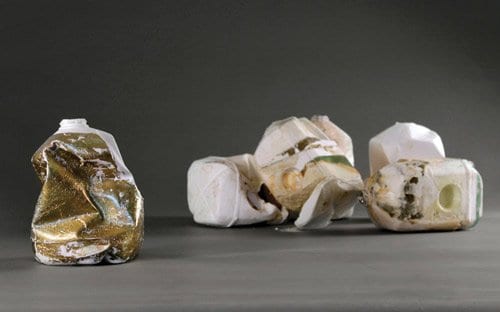 Influencing people in constructive ways is something the artist takes seriously. In conjunction with his latest exhibition Diego also conducted a shoe drive. He installed a 'Give and/or Take' pile of shoes encouraging viewers to donate old or gently worn shoes or if people were in need of footwear to take what they needed from the pile for themselves or their loved ones. At Diego's standing room only artist talk, one of the students was so moved she immediately removed her shoes and donated them to the cause. Loya raised more than 60 pairs of shoes during the run of the show. He transforms the useless worn out ones into artwork, and he donates the good condition shoes to local charities.
Being an artist, like all professions, comes with frustrations like a lack of time, space, and money. However, Diego affirms, "I believe when someone tries very hard at what they want, they will get it. Nothing is impossible if you have the will and the courage."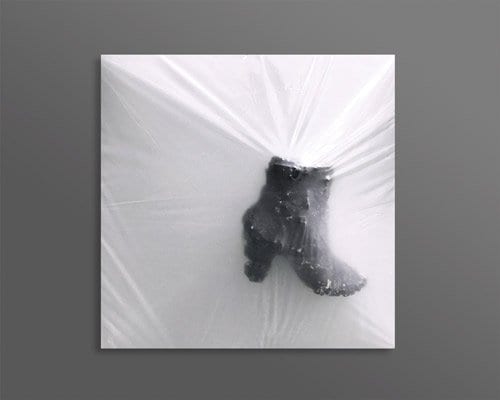 Diego Loya admires many of the dedicated and courageous artists of the past like Pablo Picasso (famous Spanish painter, sculptor, printmaker, and ceramicist), Vincent van Gogh (famous Dutch Post-Impressionist painter and one of the most influential figures in the history of Western art), Frida Kahlo (Mexican surrealist painter known for her self-portraits) as well as contemporary artists like Kara Walker (African American painter using silhouettes to explore race, gender, violence, and identity in her work), and Andy Goldsworthy (British sculptor, photographer, and environmentalist producing site-specific sculpture).
Hard hitting, personal, heart-wrenching artwork like Diego Loya's may be difficult for some. It is a challenging time to be a visual artist, with even greater challenges ahead, but it is one of the most important times to be a visual artist, questioning, and speaking up.
This arts article will not likely change your political views, but if it were your mud covered baby's shoes attached to a wall, it sure should.
Diego Loya is still accepting shoe donations. If you would like to donate shoes to this cause contact Diego at diegoloya7@yahoo.com or find Diego E. Loya on Facebook.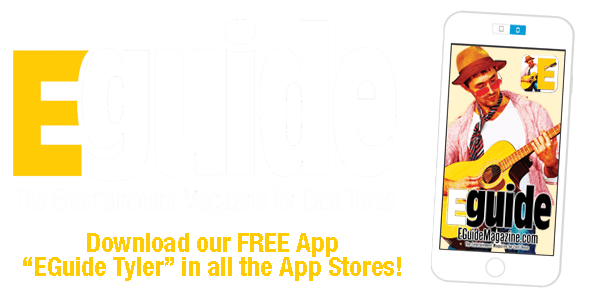 "David Bates: Selected Works from Texas Collections" on Exhibit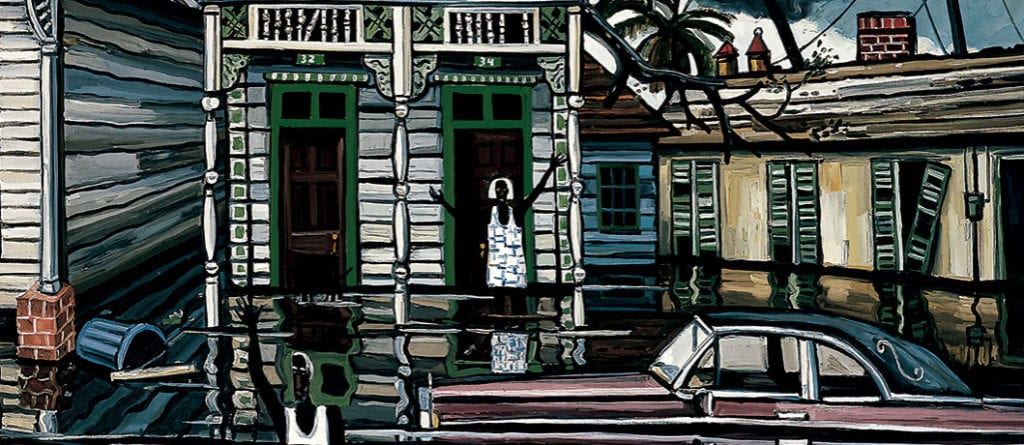 This Month at Tyler Museum of Art:
The Tyler Museum of Art (TMA) is located at 1300 S. Mahon Ave. on the Tyler Junior College main campus. Regular TMA hours are 10am-5pm Tuesday-Saturday, and 1-5pm Sunday. The Museum is closed Mondays and most major holidays. The Museum is supported by its members, Tyler Junior College, and the City of Tyler. For more info call the museum at (903)595-1001, tylermuseum.org, or email info@tylermuseum.org.
David Bates, one of the most acclaimed artists in Dallas, is the focus of Tyler Museum of Art's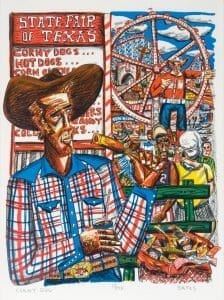 summer exhibition, "David Bates: Selected Works from Texas Collections" on view through September 9th.
Curated by the museum's Caleb Bell, the exhibition features close to 30 works surveying the prolific career of Bates, one of the most versatile and widely collected contemporary Texas artists. Spanning art from 1982 to 2016, works in the show highlight several of Bates' most celebrated series and include a wide array of media: oil painting, lithographs, woodcuts, screenprints and bronze sculpture. The show was assembled from art in public and private collections throughout the state, including the museum's own permanent collection. Bates' work is widely exhibited and included in several museum and corporate art collections.
Admission is $6 for adults and $4 for seniors. Museum members, students, TJC faculty/staff and city of Tyler employees are admitted free. Support for exhibit is provided by The Byars Foundation.
Creativity Camps
Through August, close to 70 kids ages 7-13 and older dive into hands-on art experiences in a series of half-day and full-day camps. Each session is supervised by degreed artists and educators, and culminates with a small exhibition of campers' work and a community reception.
Camps are held Monday-Friday (9am-4pm) for ages 6-12. Cost is $40 per day or $175 per week. To register online, fill out a form available at tylermuseum.org/creativity-camps-2018.
July 9th-13th: Upside-down and Backward –

Everything looks different from a fresh perspective. Drawing underwater, painting with spaghetti, there's no telling what will happen when you change the way you make art. This camp is all about real creativity, and young artists will help brainstorm up new, exciting projects all week long.

July 16th-20th: Beachcombers' Paradise –

Love the seashore but hate sunburns and foot-scorching sand? Come explore marine environments through art. Biology, art, and fun merge into one great experience as you learn about the weird, wonderful world of sea life and environments, and express new knowledge through art.

July 23rd-27th: 5 Days Away from Rose City –

Some of the country's greatest artists call the Lone Star State home. At this camp, you will explore the geographical regions of Texas and the artists who gain inspiration in them, ending up right here in East Texas.
Family Days
Free admission, interactive art projects, light snacks and a festive atmosphere for all ages are on the menu from 2-4pm the second Saturday of each month with the Tyler Museum of Art's Family Day. This popular program focuses on fostering a deeper understanding of the Museum's spotlight exhibitions – and, above all, having fun! To RSVP for groups of 10 or more, please call (903)595-1001 or e-mail info@tylermuseum.org.
First Friday
The first Friday of each month, the TMA offers a full day of free admission plus guided tours of its spotlight exhibitions at 11am. From contemporary Texas art to Hudson River School to Andy Warhol, each tour is unique.
Art Events Warming Up For Summer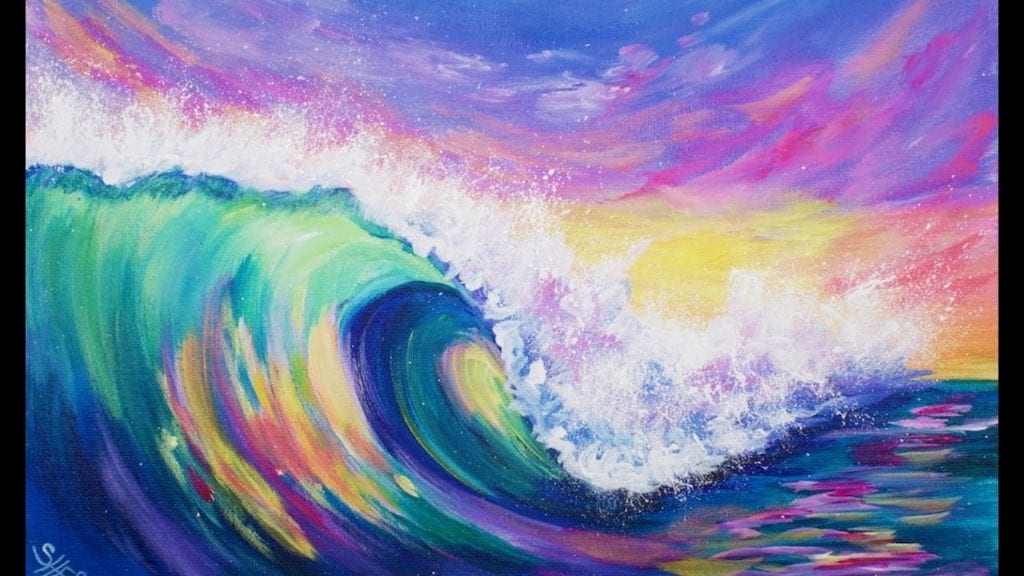 Events & Classes
Every Wednesday (6-8pm) and Sunday (1-3pm) – Acrylic Painting Classes
will be held at Michael's, 5839 S. Broadway, Tyler. Cost is $15. Topics include landscapes, life, and floral. To RSVP go to michaels.com and select the Tyler location. This class features master classic painting techniques while completing an image selected by the Instructor. Supplies are not included.
First Saturday of every Month (10am-2pm) – Eastside Fiber ARTist Meeting –
The monthly meeting will be held at the Tyler Public Library, 301 S. College Ave, Downtown Tyler on July 7th. Please join the monthly meetings and participate in a variety of fiber arts from quilting, weaving, embroidery, knitting, crocheting, jewelry making, and mixed media and tons more. Guests and visitors are always welcomed. For more info go to facebook.com/Eastside.Fiber.ARTists. It is free to attend.
July 10th and 24th (both days 3-5pm and 6-8pm) – Painting on the Patio at Rotolo's –
Lauren O Neill has created a one of a kind painting and is hosting a painting session at Rotolo's! Invite your friends, sip your favorite beverage, and enjoy step-by-step instruction with Lauren an experienced and enthusiastic local artist. You'll leave with a one-of-a-kind creation and a new found talent you'll want to explore. All painting supplies are included. Tickets are $35. Rotolo's is located at 8970 S. Broadway, Tyler. For more info go to eventbrite.com.
July 12th (10am-1pm) – John Randall York Watercolor Workshop –
Come out for this fun workshop! Bring your paper, brushes, paint and ambition to capture some downtown, iconic scenes in watercolor. To register, email Arojas@tylertexas.com or call (903)593-6905.
Inside the Artist's Studio: I Think I'm Goin' to Katmandu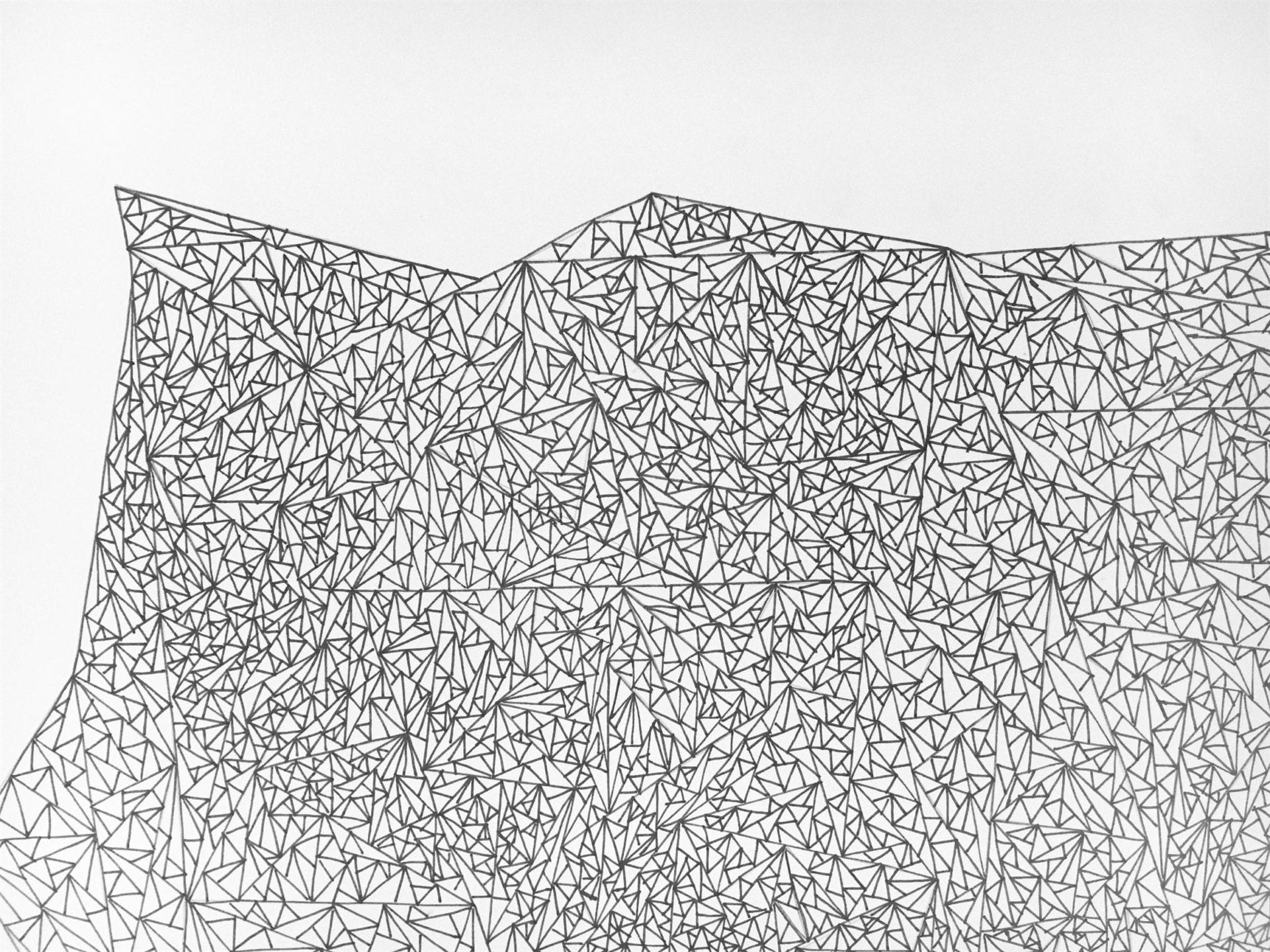 The Therapeutic Creations of Stephanie Smith
By Derrick White
"Art as therapy demonstrates the profound healing potential of using the creative process. Art as therapy appears to be as old and continuous as human culture with decorated artifacts existing from prehistoric civilizations to now. It manifests in active form through the artist's opportunity for self-expression and in receptive form through the response of the viewing audience. The artist's experience of creating a meaningful work of art and the audience's capacity for recognizing its meaning can lead to a multitude of healing responses including increased positive influence, relaxation, catharsis, social cohesion, and strengthened spirituality. The creative process can also act as an analgesic for artists who experience a lessening of physical pain while making art. Creating art can be a largely unconscious process providing a window into the mind of the creator. Through an analysis of visual elements such as the placement of an image on the page, the colors, type of lines created, the use of space, the number and integration of drawn items, and the apparent movement of the image, a psychologist, art therapist, or other trained professional can assess the emotional state of a person, provide counseling, and monitor the progress of the person through analyses of subsequent works produced." – from an article by Tobi Zausner, PhD, on a web site dedicated to the Society for the Psychology of Aesthetics, Creativity, and the Arts.
When I experience the artwork of local artist Stephanie Smith (aka Steph Renea), I physically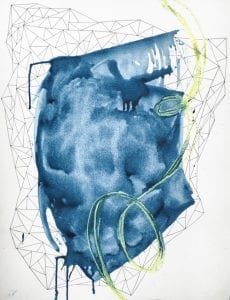 feel a release of tension, and I am metaphysically transported into her rich and subtle, seemingly simplistic, yet intricately complex, abstract compositions of color, shape, and line with their geometric elements. They are powerful and understated. It is a mental remedy for the chaos of the world. I would encourage you to experience this sensation as well. You can find Stephanie and her art popping up here and there around town at different art and Downtown Tyler community events from True Vine Brewing Company, 903 Handmade, and The Foundry Coffee House.
Stephanie graduated from the University of North Texas with a Bachelor's Degree in Visual Art Studies. "I took a wide range of studio classes such as fibers, screen printing, watercolor, figure drawing, and sculpture. I learned a lot of skills in those studio classes I still use today," states the artist. Smith works with a variety of different materials from acrylic paints, pens, pencils, watercolors, and occasionally embroidery thread. Most pieces are on watercolor or mixed media paper but the artist enjoys painting on canvas as well. Stephanie says, "The media I use is not always the same for each piece. I typically start with the material I feel will best represent the idea I have in my mind and then I add to the piece from there."
Some of Stephanie's artistic inspirations include: Heather Day (California-based artist making abstract interpretations between what is known and how it is felt. This artist seems to have the strongest direct influence on Smith's own work), Chuck Close (painter, famed as a photorealist through his massive-scale portraits), Ron Mueck (amazing, hyper-realistic, super detailed sculptor), Georgia O'Keeffe (painter of enlarged flowers, skyscrapers, and Southwest landscapes, recognized as the "Mother of American modernism"), and Ben Sasso (hip, photographer and educator who lives with his lady in a van down by the river).
"I have always enjoyed the arts. I grew up dancing and was always interested in photography. I would draw and paint occasionally as well. It was after spending time in Nepal I discovered my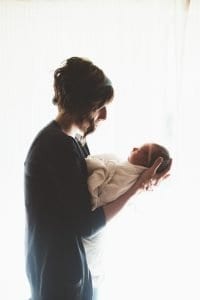 love for teaching. So I decided to combine these two loves, art and teaching. After starting at the University of North Texas I learned I really loved exploring in my studio classes and staying late into the night painting or screen printing. After college I took a short break from creating physical pieces and started work as a wedding photographer and started a family. I still painted whenever possible and was asked for a commissioned piece for an album my church was putting out. I had a small art show at a friend's house. But still at this point, I never really considered myself an artist. I just really enjoyed making art and hoped people liked it. In 2016, my life changed drastically and I moved back to Tyler. It was then I rediscovered my love for making art and really pursued being a full time artist. Since then, I have been in art shows, and artist markets (or pop ups), and I have started selling my work on a professional level," enlightens Smith.
She continues, "Art has been my therapy. It has easily been the best way for me to decompress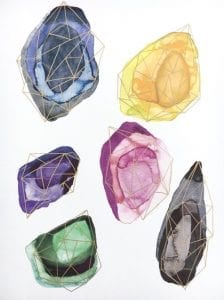 and really process my emotions. Since most of my work is repetitive shapes and loose brush strokes it is easy for me to find a rhythm. It is in this rhythm I am able to find clarity and peace of mind. Many times I have broken down crying as I recall certain events in my life during this process. It is in these moments I find myself releasing the pain and replacing it with joy and healing. I am so thankful for art and how it has played a large role in my healing."
Stephanie has some advice for those daunted by the impulse to pursue a creative, artistic life. "The most frustrating thing about being an artist I think would be with me. I have been working on moving past my own insecurities and doubts when it comes to my art. Working through those things is not always easy but most times it leads to my best work. So although it is frustrating at times it is well worth it," avows Stephanie. I could not agree more. Find yourself a creative outlet. Use art as therapy and a remedy for all life throws at you. Let your imagination and creative processes allow you to overcome your own insecurities and self-doubt. Enjoy the ride and have some fun or just go spend a little time in Nepal and report back.
To find some original art work, art prints and cards, check out the following:
Stephanie will also take custom orders so if you see something you like and want to personalize it, shoot her a message and collaborate.