King Richard & the Bayou Boys: "Our Gigs are like Private Parties For Our Fans"
By Amanda Main
Tyler-based blues and rock 'n' roll band King Richard & the Bayou Boys first stepped onto the East Texas music scene in 2010. Founded by "King" Richard Doredant, who sings and plays the guitar and harmonica, the retro band also includes drummer Robie Morgan, bass-player Ben Carter, and tenor and alto saxophone-player Sean Fuller.
Richard, 50, began life in a New Orleans neighborhood near the home of "Blueberry Hill" singer-songwriter Fats Domino. He brings with him a respect for deep musical history.
He and his wife, Laurie, evacuated New Orleans after Hurricane Katrina hit in 2005. The move brought them to Tyler, and he says they had no trouble adapting to East Texas life. "It was seamless; there was no real problem at all," he says. "Texas was very welcoming, and it was a wonderful place to make a home and raise a family." Their 8-year-old daughter, Becky, was born soon after making Tyler their home.
Richard recently spoke with EGuide about his band and love for writing and playing blues and rock 'n' roll music.
EGuide: How did you get your start in music?
Richard: I've been playing music since I was a kid; a lot of people at my age had a guitar. I was a big rock 'n' roll fan and (of) blues music, and being that I lived in New Orleans, there was a lot of blues music around, and a lot of concerts, so I kind of always wanted to play the guitar. And that was the thing, so that was the generation for it – the rock 'n' roll generation.
EGuide: What do you see in the East Texas music scene compared to the New Orleans music scene?
Richard: Well, it's apples and oranges; it's really two different things, but the best thing I see about East Texas is, it's growing, especially since we started the band. We've been going at it for four years here, and I see a lot more venues and a lot more artists, and people coming up and different groups, and it's really exciting. I think it's a good time to come along. I feel like the world is kind of wide open to us right now.
EGuide: What do you miss about New Orleans?
Richard: The food! But you know, you guys eat in Texas, too; they have food here, too, in case you didn't know. I miss some of the music, the history of some of that. … You're not gonna see artists like that here; you don't have the history for that, but it's gonna take off – it's an incredible growing music scene here. And Texas has such a huge style of different music. Gospel music – I see a lot of these praise bands, people working with churches. … Jazz. There's a Mexican influence, so you get the Tejano music, and country – country's really big here. … and I'm just a big blues fan, and I'm just interested in preserving and performing the history.
EGuide: What did you do in your time in Tyler before forming your band with the Bayou Boys?
Richard: Well, we were actually the praise band for the Pleasant Retreat United Methodist Church. That's how we met. I went to church there, and we started playing music there. (Richard says the band later found their saxophone-player, Sean, online.). I've been writing songs since I was a kid and decided to start a group here. I had 15 songs that I had recorded in a recording studio in New Orleans that has yet to be released. And I guess I just got that itch to do it again, so we got it started, and we've been really happy. We've had a lot of highlights with the band since we have started.
EGuide: What kinds of highlights?
Richard: Well, although we've got a lot of original music, there's a certain kind of retro aspect of it. So I was really pleased when we got to play with The Coasters, which was a really iconic '50s doo-wop group (their hits include 1950s songs "Yakety Yak" and "Charlie Brown"). We came to Hideaway Lake and got to perform for them and be the backing band and open up for them. It was totally fun!
EGuide: How would you describe your collaboration process with your band?
Richard: Well, of course, it's a benevolent dictatorship. I'm the king, after all (he laughs). No, seriously, you take everybody's contributions and their experiences into consideration of course. Somebody has something to bring to the table, and you listen and work together on it. That's probably the thing we've really been lucky with – everybody's mature and stable, and we're listening to each other and we're working with each other, so the collaboration process is good. I come with this general idea, and they kind of help me hammer it out. The general idea is a real aficionado for the history of blues and rock 'n' roll music. And it's comedy. Comedy is a huge part of this. In addition to T-Bone Walker and ZZ Top and Stevie Ray Vaughan, I count The Three Stooges among my inspiration.
EGuide: What types of subjects inspire the songs you write?
Richard: The lyrics usually come from a place of desperation. I think the characters in the songs, people are usually at a point where they're desperate and pleading. … The subject matter for the songs can be anything from the comical – I've got a song about crawfish, for example – to, like I said, desperation. Loss, love. I've got a song about a car, "you only love me for my car." What's that about? It's kind of an American dream, this guy's got a car, but he's got a full bar and a king-size bed in the back seat.
The songs, the subject matter ranges widely, but I would say it all fits squarely in the pantheon of the history of American rock 'n' roll for Texas and Louisiana.
EGuide: What has drawn you and your band to play the style of music that you play?
Richard: On our own recordings, our music doesn't sound like it came from 1962, it sounds like 2014. There's a retro aspect to it, but it's not like we're just rehashing old stuff. You're taking influences of the stuff that you really love. And that's always gonna come out in your own stuff. And what drives us to do it, really, is just my love for that, and I've sought out other people who can share that with me or can help me realize that vision.
And that's kind of my goal. Like when we do a four-hour show, it's a lot of fun, and there's a lot of ground to cover, a lot of different styles of music that we do. And it's a lot of laughs, too.
EGuide: What portion of your shows would you say are original songs?
Richard: We have a lot of originals, but when we do, say, a four-hour show, probably a quarter of it is original. But if you really look at what we do, if you come out and see the band, to say what portion of it is original is hard to answer, because we do stuff that nobody else does. And even the stuff that other people do, they don't do it quite like us. We don't do it like the record. So it's all original, it's definitely got its own stamp on it.
EGuide: What is your band's favorite venue to play in East Texas, and why?
Richard: XL'N (on Fifth St.) is always great; Lago Del Pino is really nice. And we love Dick's (Cajun Grill), which is over in Mount Selman. FRESH by Brookshire's, we've enjoyed that. There's a place up in Jefferson we go play called The Knight Light Theater.
We really enjoy the people at those places; they really get into it. And it's good when you get that audience participation. A lot of venues we've enjoyed playing, that's why. If you're just playing for 10 people and they're really digging the band and dancing and having a good time, that's what we're there for. We're not like a human jukebox. We have a lot of fun with people; we talk with 'em, we joke with 'em. And the way I view our shows is like, this is my time for my private party with them. They're as much a part of the show as I am.
EGuide: What advice can you give to people trying to break into music, specifically in the blues and rock 'n' roll genre?
Richard: Be yourself, I would say; you've got to be real. A lot of people copy what others are doing. When people think of Texas blues, a lot of people think of Stevie Ray Vaughan, and you can copy their blues licks on the guitar, but that doesn't make you a blues band or a blues player. It's just got to come from your heart. If I could give some other advice, I would say, bring lots of money. You're gonna need it; bring lots of money.
EGuide: What artists have you been listening to lately?
Richard: I've been listening to so much stuff. Clifton Chenier, a Louisiana artist I have recently been listening to. The Black Keys, I really like them. James Brown, Otis Redding and Sam Cooke. All of that is really awesome to me. I love the guitar. I listen to a lot of country players because they can really pick that guitar. I listen to Marty Stuart. Buck Owens. I love Little Richard, Carl Perkins and Buddy Holly. You go all the way back to that. But there's a lot of different, current, contemporary blues artists that are just as fascinating. I love listening to Kenny Wayne Shepherd, who's also a Louisiana artist. There's such a variety of other people that you see in the contemporary blues scene such as Tommy Castro and Joe Bonamassa. I just love blues!
EGuide: Well, thank you, Richard. Do you have any other thoughts you'd like to share?
Richard: Just, thanks. I want to say thanks to all the people who've been supporting us, following us on Facebook, and buying music, coming out and seeing the shows. We've got a lot of people who've just been die-hards, really good friends to the band, and I just can't thank them enough. All the people who've made all the shows such a success, because it's really just as much about them as it is me. I love it when the people dance and get up and have a good time with us.
We had an interesting show at FRESH (in May), and there was an older couple that got up and danced to the music, and the lady got up afterwards and told us she was 85 years old, and the man had just turned 90. And they're up there dancing. But that was just kind of an interesting thing. That's the kind of thing, that's who I want to thank – the people for bringing the spirit to it, 'cause that's the spirit of the show. We put on a show, but that's the culture, rock 'n' roll. It's a party. And you can't have a party without some partygoers and making some noise and having a good time.
King Richard & the Bayou Boys have an album titled "Life of the Party," available online at KingRichardtheBayouBoys.com (note that there is no "and" in the Web address), on iTunes, Amazon.com, and other online music retailers.
The band also has a new album in the works titled "Crawfish," and Richard has his own upcoming solo album, "Tequila Nights," which consists of 15 original songs recorded in New Orleans. He expects both to be released sometime in the fall.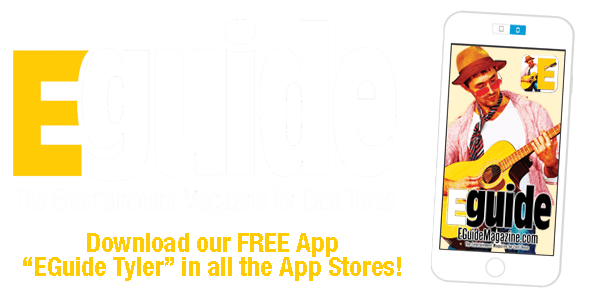 EGuide Magazine's Gig Guide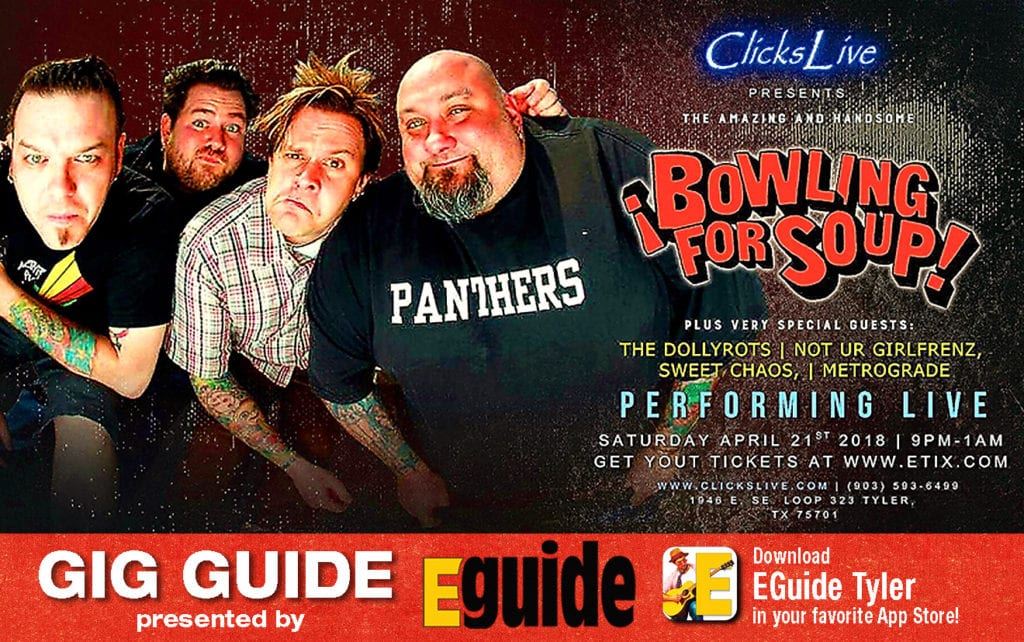 April 21st: Mouse and the Traps and Bowling for Soup
Upcoming Concerts
April 21st (8pm) – Mouse & The Traps – After more than 50 years together, Mouse & the Traps continue to be one of the best examples of "Texas Rock & Roll." Formed in Tyler, Texas in 1965, Mouse, Nardo, Dave & Larry continue to give the public just what they want – great rock and roll. Whether you remember "Public Execution," "Hit the Bricks," or not, Mouse & The Traps has something for everyone. Tickets are $20-$25.
April 21st – Bowling For Soup at Clicks Live (8pm) – American pop-punk band Bowling For Soup emerged in Wichita Falls, Texas in 1994, but have since relocated to Denton Texas. Tickets are on sale at the door for $19, and may be purchased in advance online for $15 at etix.com.

Blind Pursuit: Chasing Dreams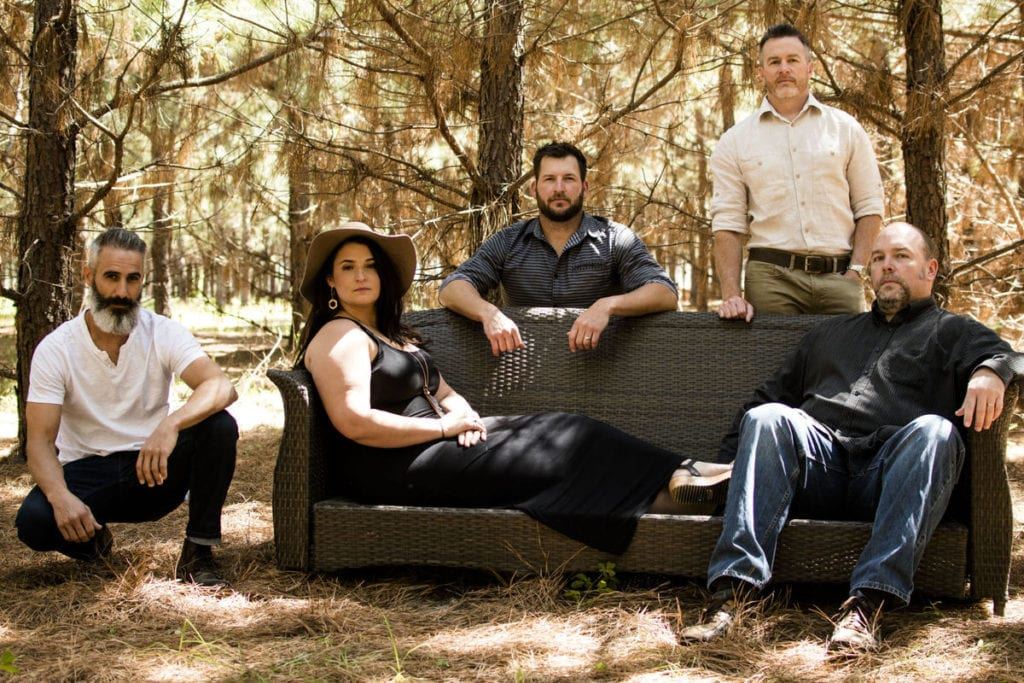 By Johnny Griffith
In science, there is a phenomenon known as the Butterfly Effect which states, that in a complex system, small changes in one place can have a larger effect elsewhere. This is best illustrated in the hypothetical example of a butterfly flapping its wings in Mexico and causing a hurricane in China.
A more practical example of this would be the formation of the band Blind Pursuit, based out of Palestine, Texas. An amalgamation of sound and styles brought to the table by each individual member, Blind Pursuit is the end result of five people from different backgrounds and geographical origins ending up in a small town in East Texas and magic happening.
Hailing from Southeast Louisiana, Maine, Cayuga, and Harmony, the odds of these five people interacting were astronomical, but small changes had large effects and Blind Pursuit has been a staple in the east Texas music scene for three years now. We recently tracked them down to get to know them just a little better.
Johnny: Blind Pursuit has been playing gigs around East Texas since 2015. What was the genesis of the band and what is the current line up?
Blind Pursuit: Our first show was February 28th, 2015 opening for our good friends Blacktop Mojo at Click's Live in Tyler.
Our current lineup includes Marc Mitchell on drums, Craig Jones on bass guitar, John Reed on lead guitar, Katie Reed with lead vocals, and Michael Jones on lead vocals and acoustic guitar.
Craig and Katie hail from Cayuga, Texas. John was raised right down the road in the Harmony Community just outside of Palestine. Marc migrated from the great state of Maine; and Mike spent most of his time about 45 minutes southwest of New Orleans, Louisiana. He has been in Texas since 1998 and spends his time filling in behind the bar at Pint & Barrel Drafthouse in Palestine, and working construction. He met John and Katie again in 2013. John and Katie own Reed Construction where John builds custom homes and Katie does interior design. Craig owns Oak Floor Supply in Tyler, Texas and Marc is in marketing and communications and sometimes moonlights at the Appleton Coffee House.
Johnny: How about the name – there's a lot to be said in that name. What does it mean to the band and where did the idea come from?
Blind Pursuit: The name Blind Pursuit stems from the belief that we are all pursuing something, whether it be chasing dreams, running after love, or following your passions; at some point, it takes a blind leap of faith to achieve something truly great. In all actuality, we started with the word 'Pursuit' and since we had no idea of how or where we were going or how to get there, 'Blind' seemed like the obvious choice.
Johnny: Blind Pursuit has a pretty eclectic mix of sounds in your catalog but how would you describe 'your' sound?
Blind Pursuit: Wow! That's a great question, one that we've been asking for quite some time. We play what we love. We are a varied group of musicians with different musical backgrounds and tastes, and we play what we would like to hear if we were sitting in the audience. Our own sound stems from songwriting, which is mainly done by our lead singer Michael, and so it definitely has a soulful, emotional style to it, and has a layered Indie rock feel. You can hear a little bit of our southern influences layered in as well as the obvious differences of having two lead vocalists. So if you wanted to pigeonhole us into a specific genre, I would say we fall into the Indie Rock genre, just because it encompasses such a wide variety of sounds and musical stylings.
Johnny: How much of your show is covers versus originals these days?
Blind Pursuit: After the release of our debut album "Offramp," we do about ¾ covers and the rest originals. New material is constantly being added and we hope to shift the number of originals to a larger segment of the show.
Johnny: About how many shows does the band try to play a month?
Blind Pursuit: We're currently averaging five shows a month but we are always looking to add to that.
Johnny: Are most of the gigs in the east Texas area or do you travel out of the area?
Blind Pursuit: The majority of our shows are in East Texas. We do travel to north and central Texas on occasion and we are hoping to broaden our travel radius this year.
Johnny: What are you most proud of as a band?
Blind Pursuit: Our album, without a doubt. We feel like it is such an outpouring of who we are and our evolution over the past couple years. It's like we have given birth to our own child. So much love, nurturing and hard work has gone into this project. Our resources and time have been singularly focused towards this and we could not be prouder of how it has turned out. We worked with so many great musicians and our Producer, Phillip Moseley was a great asset. They have been invaluable in helping us birth this album.
Johnny: What has been your favorite moment, on stage or off, as a group so far?
Blind Pursuit: I think it has been a thousand small moments of connection with our fans. We've heard stories where our songs touched someone going through a divorce, or something we sang really resonated with someone going through a tough time, and you just stop for a second after the mad rush and adrenaline goes away, and you think about how you're affecting people and the connections you're making. When we see people singing along with our songs, grabbing their person and dancing, when you see an emotional reaction – that's the good stuff, the reason we do what we do.
Johnny: What is in the works for the year?
Blind Pursuit: We've got another handful of songs and hopefully, that will translate into a new project as well. Whether the next step is an EP or a full-length album is yet to be determined.
Johnny: What's in the water down in Palestine, between Blind Pursuit, Blacktop Mojo, Kolby Cooper, and others… seems like Palestine has become a serious music town. What's your take on it?
Blind Pursuit: Every once in awhile, "magic" happens in the most unlikely of places. If you've seen the documentary on Muscle Shoals and the music that came out of that small studio in Alabama, then you kind of have insight into the madness behind the magic.
All these acts from Palestine are backed by the most awesome community of people who rally behind us and get the word out, grassroots style. The people here truly love music and they believe in us, or we wouldn't be able to do what we love. We have a connection, not only through the town we're from but through our producer and the studio we've all recorded at, Audioworx.
Johnny: What experience do you hope first timers will have at a Blind Pursuit show?
Blind Pursuit: Someone recently left a review on our Facebook page that sums it up perfectly: "Bet you will leave their concert feeling like your soul is a little more free than when you walked in." We hope that everyone will leave feeling a little lighter and a little more connected to their fellow man. In a world where we are bombarded with distractions, we hope people can come and reconnect and feel more human than when they came in. We hope the love and passion that we have for life and music can be felt and translates well to concert goers.
Blind Pursuit can be found at facebook.com/Blindpursuit and blindpursuit.com.