Therapet: Health, Hope, Healing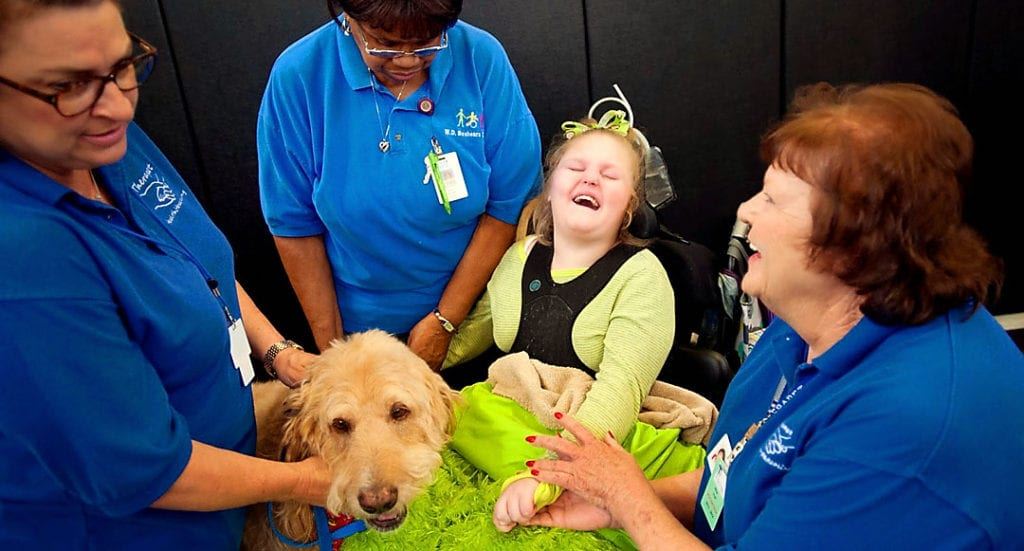 Written and Photographed by Barbara King
A hospital visit can be a frightening, often pain-filled journey for a patient. Then the quiet is interrupted by the sounds of padded feet up the hallway and the animal parade has begun.
The dogs, cats and bird that make up the Therapet troupe have a purpose that is truly a mission from the heart. Therapet is an Animal Assisted Therapy (AAT), solely volunteer organization, which uses animals in visitation and therapeutic programs to promote health, hope, and healing. All the animals in the program are family pets that have been specifically trained by their owners to benefit the program.
Currently, the Therapet program consists of 90 dogs, a few cats, and even a cockatoo, who bring their loving, non-judgemental natures to assist in therapies in many different settings. What began as a small group of six or seven founding volunteers, has now grown to over 100 volunteers, bringing their dedication and passion to make a difference. Started in 1994, the nonprofit is fully funded by the generous donations of individuals and corporations who realize the benefits the animals provide in terms of helping to achieve the best patient outcomes, including better physical, social, emotional, and cognitive performances.
Carianne Sites, Executive Director of Therapet, says, "It is such a win/win for the animals, the clients, doctors, nurses, and therapists who love to work with the animals and who actually see a marked improvement in their patients when they can touch, walk and spend time with the animals."
Lots of folks wonder how their animal can become a Therapet and as Sites explains, "We hold our pets up to the highest standards, and they must have the temperaments and personalities to be in situations that require a lot of patience and interaction."
The animals must pass obedience testing, an application and veterinary screening, Therapet skills training sessions, temperament testing, and complete a successful probationary period. Approximately 40% of the Therapet animals are rescues. The dogs must be at least one year old, and volunteers should be at least 16 years of age.
The benefits of the Therapet program are almost too much to name, including motivation and sense of well-being, reduced anxiety, loneliness and stress, improved endurance, range of motion and strength, faster recovery from serious physical or emotional trauma, improved communication and social skills, and improvement in fine motor skills, mobility, and balance.
The Therapet volunteers and their pets get to choose visitation programs and times that suit their work and life schedules, including visits to Trinity Mother Frances Rehabilitation Hospital, Tyler ISD, East Texas Medical Center, East Texas Crisis Center, Texas Department of Corrections, Skyview Unit, Boshears Center for Exceptional Programs, Rusk State Hospital, and the Children's Advocacy Center.
Wendy Gerard and her two dogs, Murray (weighing in at 110 pounds, a very large Labradoodle) and Yager, (a smaller beagle) are in the program, and Wendy is treasurer and Board Member for the organization. "It is really a joy and honor to be involved in this program and see the difference it can make in people's lives," she explained. "It is a ministry to me, and the both dogs love knowing they are 'going to work.' We were at the Boshears School not very long ago and a young boy was having seizures and also experiencing extreme head pain. I had Murray lay down on the floor with the boy, covered them both up with a blanket, and the boy began patting Murray's fur, cuddled up, and immediately calmed down. There they were, with paws and feet sticking out from under the blanket, just being warm and calm and safe together."
Holly Welmaker has been actively involved with Therapet since 1999 and had the first Dalmation, Daisy, to ever be in the program. Now she works and travels with her dachshund Riley, and normally puts in 6-8 volunteer hours a month at different locations.
"It is an absolute joy to be part of Therapet, and I can't imagine my life without it," said Welmaker. "When Riley sees the leash and sees me put on my blue Therapet shirt, we both get so excited to be able to help in any small way to make a life more bearable, happy, and productive."
"It is a one of a kind experience and an incredible way to give back to the community," she said. "When we go to the Skyview unit, the prisoners smile from ear to ear because it gives them contact and normalcy, and maybe even some hope for that brief period of time."
Yet another unique program that Therapet is involved with is R.E.A.D. (Reading Education Assistance Dogs), which helps improve elementary level reading skills. The students are more motivated and less self-conscious reading to the dogs. "Sometimes students who are introverted will make a connection with a particular animal and really open up," explained Welmaker. "We will notice after the session is over, that a student will be whispering a secret directly into a dog's ear."
The visits to local hospitals are especially rewarding, as volunteers tell stories of comatose patients that open their eyes and have tears on their face as they feel the warmth of an animal. "We have patients who ask to see a specific breed, or maybe a smaller or bigger dog, as it evokes wonderful memories of pets they had when they were younger," said Welmaker.
Executive Director Sites says that one thing most people are not aware of is that you do not need to have a pet to be part of the program. "We have lots of volunteer opportunities available, from helping with our fundraisers, to being part of the team that goes to the hospitals, to working at Mistletoe & Magic in our booth."
Murray, the biggest Labradoodle ever, said goodbye to me with his sweet, big wet eyes, as he curls up to get some shut-eye before he has to go back to work with Therapet.
For more information about Therapet, please visit www.therapet.org, or call (903)535-2125 or on Facebook at "Therapet."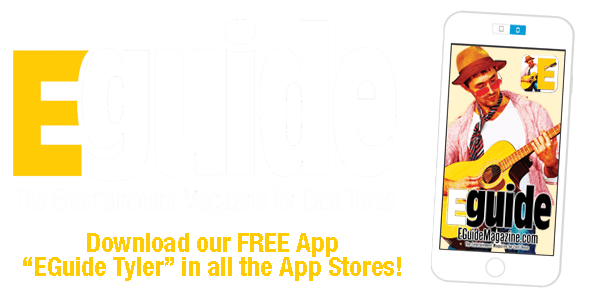 Dinosaurs are Back at Discovery Science Place!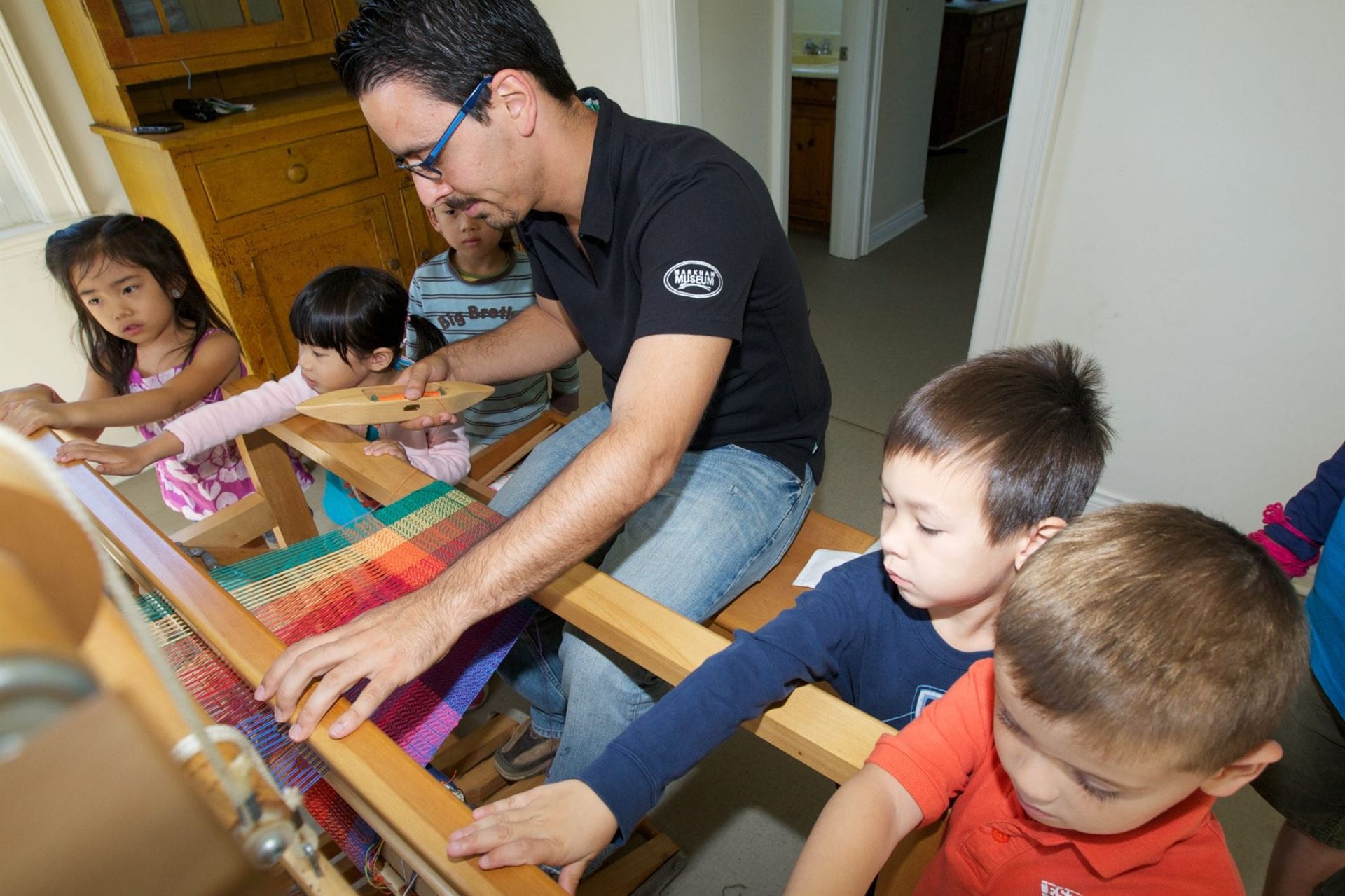 Return of the Dinosaurs This Summer at Discovery Science Place
Discovery Science Place (DSP) is located at 308 N. Broadway Ave., Downtown Tyler. DSP is open Tuesday-Saturday 10am-5pm, Sunday 1-5pm, and closed on Mondays. Summer Hours (Memorial Day through Labor Day) are Monday-Saturday: 10am-5pm, and Sunday 1-5pm.
Tickets are $8 for adults (ages 13 and up), $6 for children (ages 2-12), $6 per person for seniors (65 and up), $5 per person for active military (must provide ID), and children under 2 are free. For more info call (903)533-8011 or go to discoveryscienceplace.org.
Return of the Dinosaurs, Coming This Summer!
Come walk among the dinosaurs again as DSP's celebrates its 25th anniversary! Take your picture riding a Triceratops or braving the jaws of a T-Rex. See two Protoceratops guarding their nest or view the long-necked Apatosaurus. View actual fossils along with animatronic models of the "terrible lizards" of long ago.
"Return of the Dinosaurs" is featured in the DSP Annex building next door to the main museum building. Tickets are purchased at the main museum front desk (under the green portico) and exhibit entry is on Broadway under the blue awning.
"Return of the Dinosaurs" is a separately ticketed exhibit. Ticket prices are: $8 for adults ages: 13 and up, and $6 for children ages: 2-12. Current DSP members get in for 1/2 price ($4 and $3). Children under 2 are free.
You can view actual fossils along with animatronic models of the "terrible lizards" of long ago. The exhibit runs June 9th-August 19th.
Summer Camps at Discovery Science Place
8 weeks of camps are planned, from June 11th-August 10th. Each week has a different theme, and campers are divided into two age groups based on school grade: entering 1st-3rd grade, or for students entering 4th-6th grades. Every camper this summer will also be able to tour the exciting summer 2018 traveling exhibit. Camps are from 10am-4pm each day, and extended programming is available from 7:30am-5:30pm.
The cost is $175 per week per camper with a 10% discount for DSP museum members. Cost includes a snack and all camp materials each day, but campers will need to bring a sack lunch. Camps are:
June 11th-15th: Vex Robotics 1
The Discovery Science Place will fill with the sounds of whirling wheels and motors during this robotics camp. They have upgraded to Vex Robotics and are excited to see campers build claw bots and tackle new challenges! This camp is limited to 15 per class.
June 18th-22nd: Make: Create
Curious makers will want to sign up for this camp! During the week children will learn about the design process, then apply those ideas to bridges, buildings, fog cannons and more.
June 25th-29th: Mad Science
If it bubbles, oozes, or pops, campers will give it a try during this camp. Young camper scientists will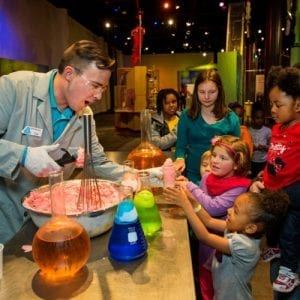 make slime, rockets, and more. Campers need to be prepared, because science can be messy!
July 9th-13th: 3D Modeling featuring Minecraft
Everyone loves Minecraft, and campers will put that knowledge to good use by transforming their Minecraft designs from the digital space to the real world using 3D printing technology. This camp is capped at 15 students per class.
July 16th-20th: Vex Robotics II
The Discovery Science Place will fill with the sounds of whirling wheels and motors during robotics camp. They have upgraded to a new robotics system, and are excited to see their campers build claw bots and tackle new challenges. This camp is limited to 15 per class.
July 23rd-27th: 3D Modeling featuring Minecraft II
Everyone loves Minecraft, and will put that knowledge to good use by transforming their Minecraft designs from the digital space to the real world using 3D printing technology. This camp is limited to 15 per class.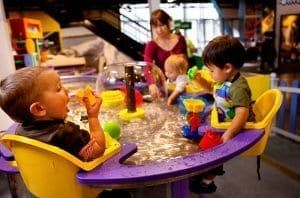 July 30th-August 3rd: Take Flight/ Make it Move
This exciting week lets campers explore various forms of flight, from airplanes to rockets, as well as learning the basis of movement and flight. Rockets will launch, planes will glide, cars will loop-de-loop, and more.
August 6th-10th: Kitchen Chemistry
No Summer camp at the DSP would be complete without Kitchen Chemistry week. Nearly all the activities done during this week can be replicated at home with parent help. Campers will make slime, learn about cooking with solar power, and create paint using vegetables and spices.
It's Going To Be An "INCREDIBLE" Summer at Studio Movie Grill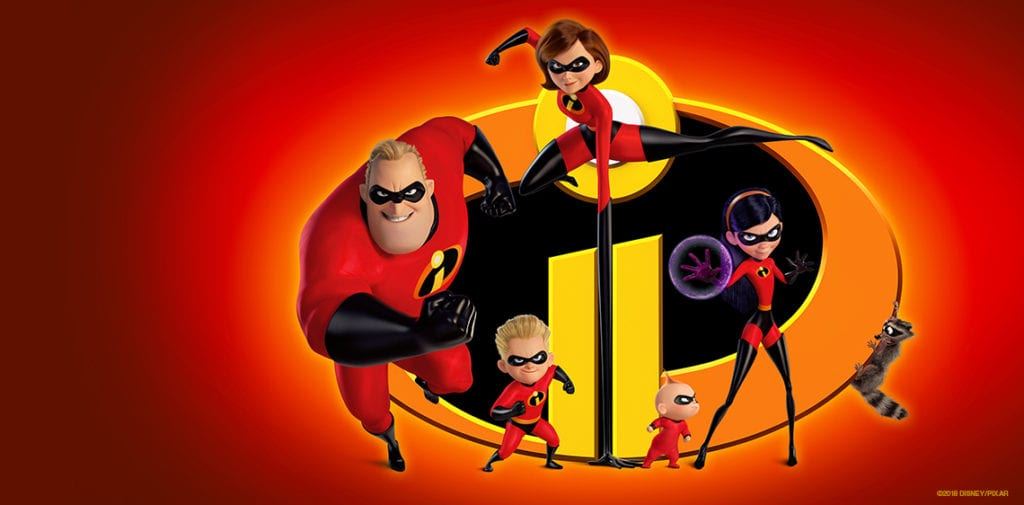 Cool Off from the Summer Heat this Month at Studio Movie Grill
Join the fun at Studio Movie Grill (SMG), located at 8954 S. Broadway Ave., Tyler. Tickets are available at the door and at studiomoviegrill.com. SMG offers box office hits as well as special screenings. These include:
Classics Family Favorites
Relive your favorites on the big screen with these summer family favorites. These start at 7:15pm.
June 6th: "Purple Rain"

June 13th: "The Wizard of Oz"

June 20th: "The Neverending Story"

June 27th: The Iron Gate"

July 4th: "Willy Wonka and the Chocolate Factory"
Special Needs Screenings
Family-friendly movies are free for children with special needs and their siblings with adult tickets available for before-noon price. Special Needs Screenings are shown with the lights up and the volume lowered, and children are free to move around, talk, or even dance in the aisles during the movie.
Special Needs Screenings are shown at 11am. Parental guidance is always suggested. The scheduled movies are:
June 2nd: "Solo: A Star Wars Story"

June 23rd: "The Incredibles 2"

June 30th: "Jurassic World: Fallen Kingdom"
Classic Comedies
Relive your favorites on the big screen with our SMG Classics series! Have some laughs this summer with these comedy classics all at 7:15pm.
July 11th: "The Hangover"

July 18th: "Blazing Saddles"

July 25th: "National Lampoon's Vacation"

August 1st: "Risky Business"
Children's Summer Series
SMG's Children's Summer Series offers a budget-friendly entertainment option for families, summer camps, and weekday programs to escape the summer heat to watch $1 screenings of recent, popular, children films.
May 28th-June 1st: "Flushed Away"

June 4th-8th: "The Book of Life"

June 11th-15th: "How to Train Your Dragon 2"

June 18th-22nd: "Ferdinand"

June 25th-29th: "Captain Underpants"

July 2nd-6th: "The Boss Baby"

July 9th-13th: "Horton Hears a Who"

July 16th-20th: "The Peanuts Movie"

July 23rd-27th: "The Croods"

July 30th-August 3rd: "The Prince of Egypt"

August 6th-10th: "Megamind"

August 13th-17th: "Puss in Boots"

August 20th-24th: "Epic"

August 27th-31st: "Flushed Away"
Big Screen Classics
Fathom Events, Turner Classic Movies and Twentieth Century Fox are celebrating the anniversary of several classic movies this summer.
June 10th (6:45pm), 11th and 13th (6:15pm) – "Scarface"
July 15th and 18th (2pm and 7pm) –  "Big"
Watch Party: Jumanji Double Feature
Join the fun and watch this classic movie back to back this summer! See the 1995 "Jumanji"original and then see the 2017 hit.
June 10th (2pm) and 11th (6:30pm)
June 22nd-23rd: 10th Annual Tyler Coin Show
For more events and to add your events for free, go to EGuideMagazine.com/calendar.
June 22nd-23rd – 10th Annual Tyler Coin Show
will be held at Harvey Convention Center, 2000 W. Front St., Tyler. Friday, June 22nd the show will be 12 noon-5pm and Saturday, June 23rd 9am-5pm. There will be coins, currency, tokens, gold and silver on over 50 tables. They will do verbal appraisals and there will be door prizes, educational displays, and more. For more info call (903)570-3136 or email
ucce@hotmail.com
.
July 4th (8am-11pm) – Smith County Freedom Ride and Festival 2018 – This free event will feature fireworks, hotdogs, drinks, watermelons, kids, pets, hot-rods and motorcycles, and there is no better way to celebrate the 4th of July on a Wednesday! Come out, celebrate our freedom, and honor all those who serve at this Independence Day festival and ride. Downtown businesses will be open to the public. Public will vote on "Smith County Most Patriotic Ride" and "Smith County Most Patriotic Hotrod" from 12 noon-4pm. The Independence Day Ride will begin at 5pm to the clubhouse to the free firework show at dark. Everyone in the community is welcome to join in on the fun. For more info go to facebook.com/events/129556567877651.
July 29th (12:30-4:30pm) – Bridal Expo with East Texas Bride
focuses exhibitors, bridal fashion presentations, grand prizes, and fabulous fun. This is sponsored by All American Party & Tent Rentals, Complete Weddings & Events East Texas, and Fantasy & Fairytale Floral Designs. There will be grand prize giveaways that include The Landing at Joshua Farms offering a fabulous Saturday Package valued at $4500; Bella Sera Ranch offering a Friday DIY package for 150 guests valued at $2695 (excludes December); Old Omen Guest House "Event Day Free" for 150 guests; Eagle's Bluff $1800 venue package; Venue 31 Events $1,000 in event rentals; Fantasy & Fairytale Floral Designs offering Floral Package valued at $1,000; Complete East Texas Weddings & Events offering DJ, Video, and Photography Packages; Lisa Gallant Photography Package valued at $1,200; Simply Beautiful Flowers & More a $500 Floral Package; Nichole Beth Photography $500 Bridal Session; The Barn at the Silver Spur Cabin overnight stay. Don't miss this wonderful summer bridal event. Register for reduced tickets for $8 online and secure your bride bag and your Symbolize It gift card. Tickets at the door are $10. This will be held at Harvey COnvention Center, 2000 W. Front St., Tyler.
Ongoing Events
Hit the Bricks: 2nd Saturday Downtown Tyler (Second Saturday of each month, 12 noon-10pm) –
Get out and about on and off the square where Downtown businesses will be offering fun events all day long. There is free parking in the Fair parking garage. Rain or shine, Downtown Tyler will be the place to be every second Saturday. For more info and a full list of events go to
visittyler.com/secondsaturday
or find Hit the Bricks on Facebook. Dates are: May 12th, June 9th, July 14th, August 11th, September 8th, October 13th, November 10th, and December 8th.
Canton First Monday Trade Days Market
is held Thursday-Sundays. What started more than a century ago as a flea market has become home to some of the most exciting, cutting-edge home furnishings, antiques, and collectibles that can be found anywhere. For more info call (903)567-6556 or go to
firstmondaycanton.com
. Dates are: May 3rd-6th, May 31st-June 3rd, June 28th-July 1st, August 2nd-5th, August 30th-September 2nd, September 27th-30th, November 1st-4th, November 29th-December 2nd.
Free Yoga Saturday
(9am-12:30pm) – Every 3rd Saturday of the month, beFree offers a free day of yoga. You don't have to sign up ahead of time but you can if you'd like to, and there are no catches – just free yoga with the beFree instructors in their beautiful and healing studio space. Check the schedule to choose any class on that day that you will most enjoy at befreeyogatyler.com. beFree Yoga is located at 212 Old Grande Blvd., Tyler, (903)630-6142,
befreeyogatyler.com
.
Every 4th Thursday, April 26th, May 24th, June 28th (6-10pm) – Geek World Paint Night –
With all the excitement around games requiring models, Geek World has had a few of the communities best painters offer to lead a free painting night the 4th Thursday of every month. Bring your painting projects and get your questions answered plus learn some new tricks and techniques. This is free to attend and all painting supplies will be 10% off during the event and 20% off special orders. Geek World is located at 410 WSW Loop 323, Tyler, (903)363-9751,
geekworldconsignment@gmail.com
. Geek World also offers nightly tournaments, game nights, all day Commander games, Friday night magic, and many pre-release sneak peek events.