Ye Olde City Antique Mall: Troves of Unique Treasures and Memories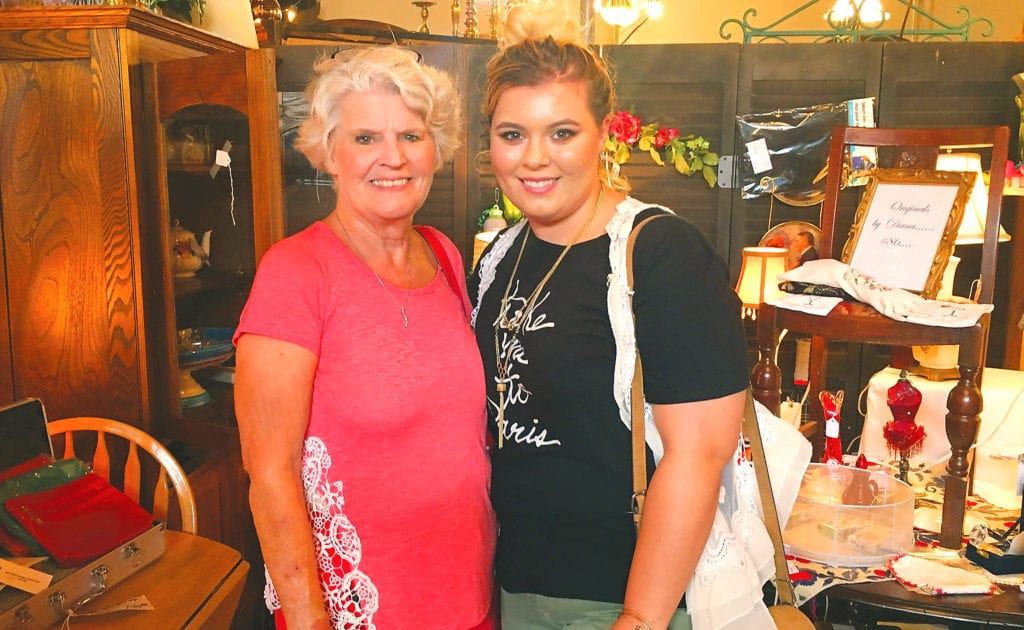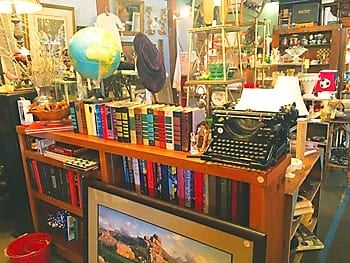 Written and Photographed by Barbara King
Ye Olde City Antique Mall is literally a unique treasure trove in downtown Tyler; a place to escape the stress of today with the memories of the past. Ye Olde City Antique Mall and City Market is a stroll down memory lane; chock full of antiques, china, silver, jewelry, and unique finds.
Hidden at the corner of Locust and Line Streets, part of Historic Tyler, the market is a world all its own. The market straddles a center lane with ample parking for visitors wanting a few hours of meandering and moseying through over 60 booths filled to the brim with everything from books to vintage clothing to jams.
The vision of brothers Bert and Robert Powell, the current spot has been either an antique market or flea market for decades. Purchased in 2007, the 10,000 square foot market has been renovated and restored, retaining the brickwork and facades to create an atmosphere of "old world charm."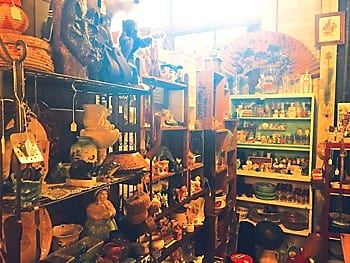 The individual vendors bring troves of unique treasures that are plentiful enough to get in and get serious about finding that special item for your home, office, gift, or for that "just have to have it" moment.
Sandra Herring, manager of the market, says that "We basically have something for everyone. People visit from all over Texas to spend the day wandering around with us." The market is a spend the day kind of adventure; you can literally wander up and down the buildings and slip into the past at every corner.
"I had a man ask me once if we were a 'high end' kind of place," explains Sandra. "We have items at every price range; you can walk out with a gift for someone for $7 or you can spend more for a unique piece that will be a focal point in your home."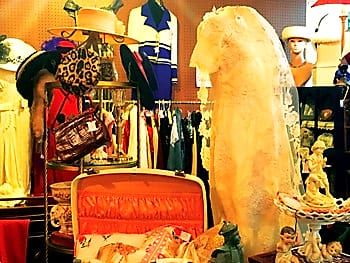 Driving up to the market, you get a feeling of old world medieval charm as you pass through the wrought iron gates, proclaiming you have arrived. The rest of the visit is an unhurried, friendly stroll through history. From an old typewriter to toys you remember from your youth to jewelry exactly like your grandmother wore, the trip will bring back memories of a more unhurried, peaceful time.
"We showcase everything from Victorian to rustic to primitive to shabby chic," says Sandra. "We also have authors on hand with their books in their booths, next to cowboy repeating cap pistol toys," she said.
It's very much a hands-on experience, full of sights, sounds, and smells that will conjure up memories just waiting to be brought to the surface. "We had a lady come in and spend hours wandering around, and when she left she said that it was the best therapy she ever had," Sandra said.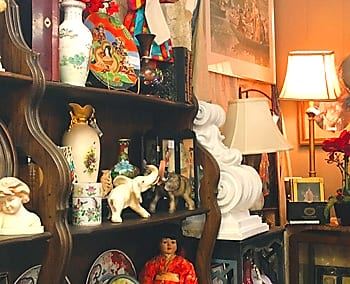 Shelby Kohler and her grandmother Debra Rada of Tyler were strolling through the market on a girls' day out. Shelby had found a unique wooden piece that she was going to transform into a mirror, and both ladies were having a relaxing weekend exploring.
"We heard about the market from some friends and had never seen it before," Debra explained. "We were pleasantly surprised with the variety and uniqueness of the booths and have been here for a few hours and haven't seen everything yet." Shelby added, "This would be the best place to shop for a birthday or anniversary gift, and especially for Christmas gifts. Something you choose from the market would be very different and one of a kind." The ladies added that the market was "a little-known secret in Tyler and that they would be telling their friends and family that it makes a great day, without having to travel to Dallas or out of Tyler." The two also looked up the market online on Facebook to see what was available and what to expect before they ventured out to visit.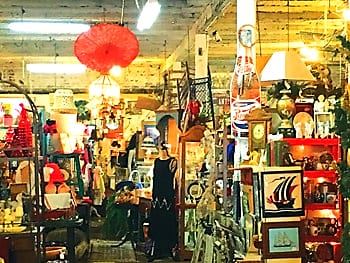 Vintage toys and dolls, wedding dresses, jewelry, and coal oil lamps reside alongside old playing cards and coffee percolators. Bob & Sarah Miller from Mineola, were strolling through looking for a possible art piece for their living room. "I thought it would be one of those times where I would sit down and wait for her to be done," laughs Bob. "I think I am enjoying it even more than she is. There are lots of things for guys to look at, and it brings back great memories from my childhood." He was delighted to find old TV guides and comic books next to Coca-Cola memorabilia.
Gardeners will have a "field day" at the market, with great finds like a metal water lily side table for the patio or yard, or a wash tub and stand that could be filled to the brim with plants or ice cold drinks for the next pool party.
Check out the beautiful florist shop on the corner called Primrose Path, and you may leave with some live flowers to brighten up your home.
"You can sign up on our Facebook page to be up to date on our open houses and specials," says Sandra. We send emails letting our friends and guests know when we have special events and new vendors. It's a great way to keep up to date on what's happening in the market."
Come spend time walking down memory lane at Ye Olde Antique Mall and City Market, located at 302 E. Locust in downtown Tyler. The mall is open Monday-Saturday from 10am-5pm and closed Sundays. For more info find them on Facebook at Ye Olde City Antique Mall or call (903)705-1145.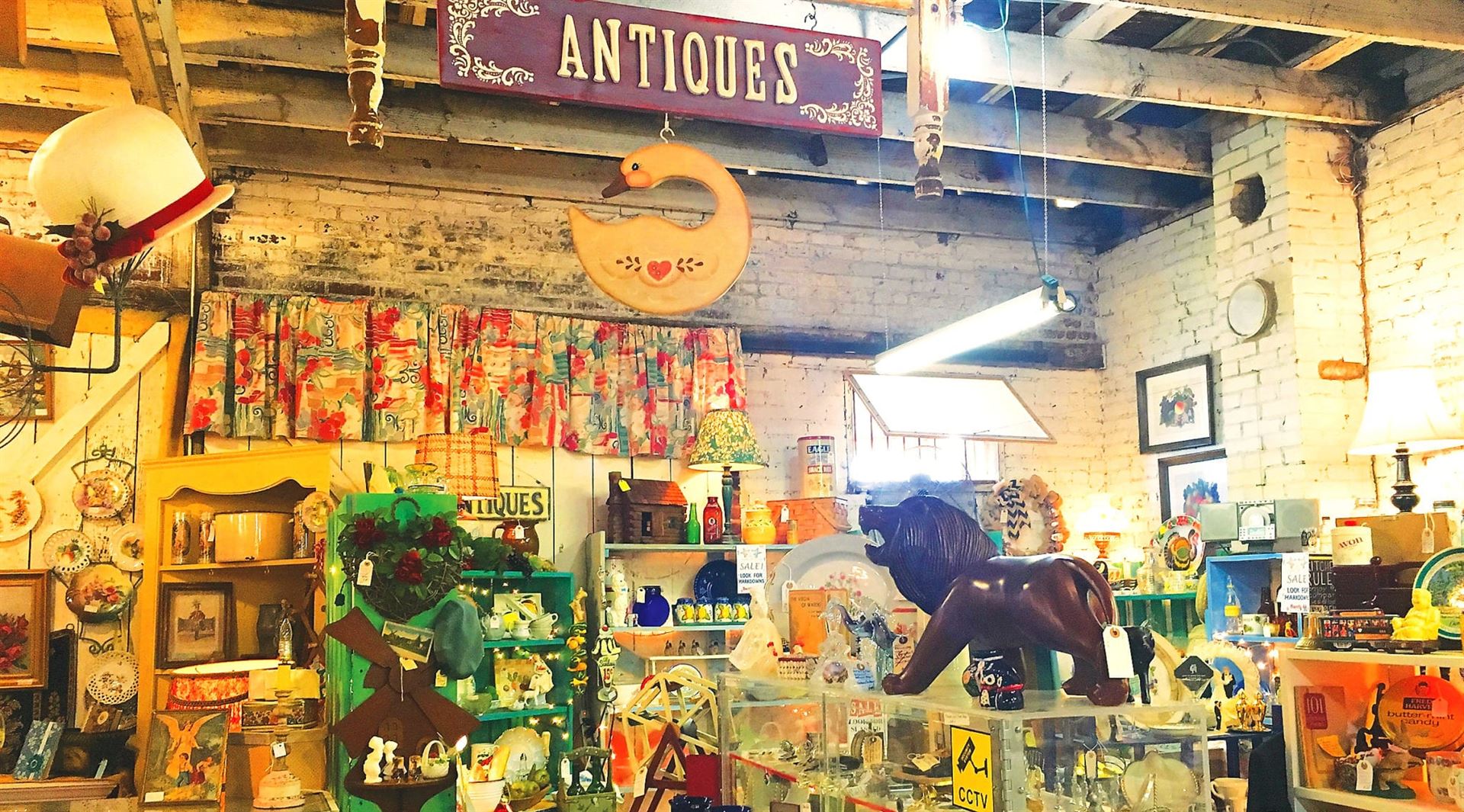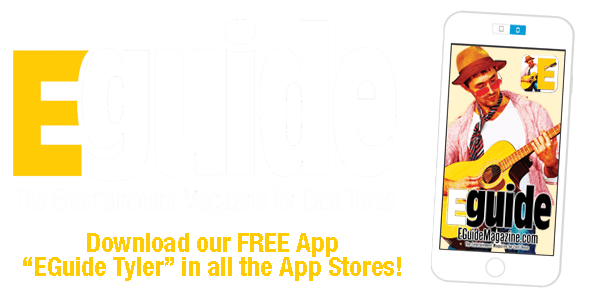 Rose City Farmers Market Downtown This Weekend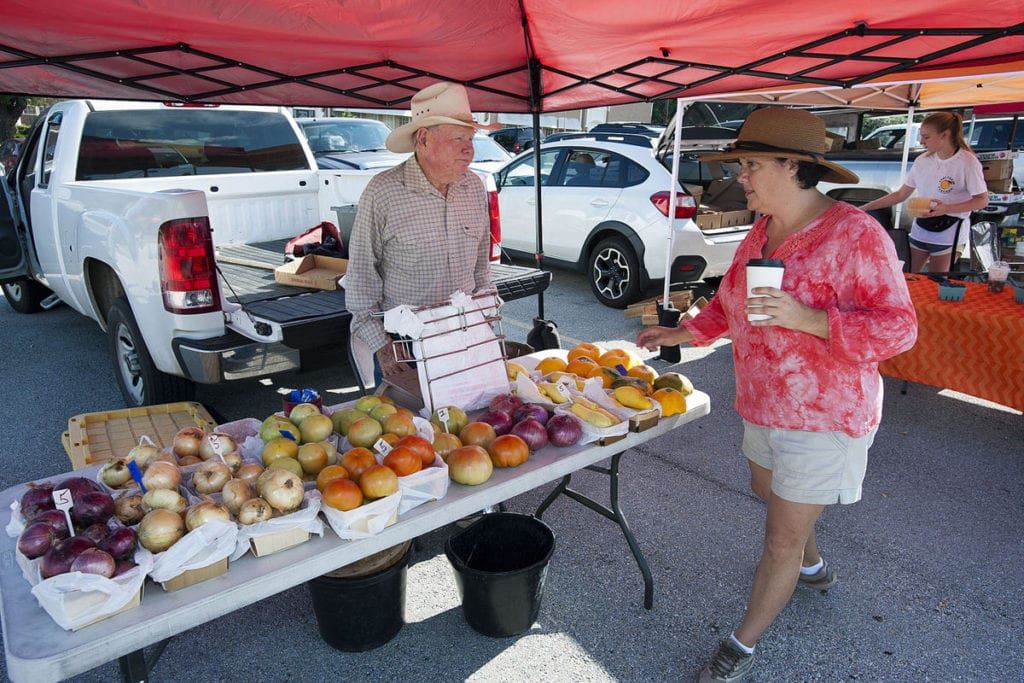 By Barbara Greenbauer
Everything is blooming, growing, and flourishing in East Texas and it's time to head back to the market!
Your Saturday mornings can be stupendous with by stopping downtown at the new Rose City Farmers Market location. Opening April 7th and running through the first weekend in November, the market is a neat, unique experience for the whole family.
Located just a block from the Square – in the Unclaimed Furniture parking lot in Tyler (236 S. Broadway),  the market is the place to be bright and early Saturday mornings from 8am-12 noon. Your senses will go wild with the atmosphere of the Rose City Farmers Market.
As part of the Food and Farm Coalition, their goal is to work toward a sustainable food system that meets the needs of both producers and consumers.
The market brings all that's fresh straight to you: fruits, vegetables, and herbs all grown within 75 miles of Tyler. That includes pasture-raised beef, lamb, pork, chicken, and turkey, free-range/non GMO eggs, and goat cheeses.
Jessica Bullock, Director of the Farmers Market, says "We are excited about the opportunity to connect people with locally grown food in a great community gathering place Downtown."
The move to downtown makes the market "easily accessible to everyone, which is extremely important to our mission," explained Jessica. All items sold at market are 100% produced or grown by the vendors. "Everything you'll see at the market has been grown, baked, or made by the vendors themselves, which may be a surprise to some," said Jessica.
Eating seasonally is what the market is all about, and when you eat food grown locally, it's is always harvested at the peak of its season. Local food is also not stored in shipping containers, so it doesn't spoil or lose health benefits on its way.
Buying food at its peak season also benefits our local farmers because it costs less for producers to harvest and transport and those savings get passed down to you…it's a huge win/win for everybody!
With the Market opening in April 7th and running through November 17th, every week will be a brand new adventure as the seasons change and different produce are featured. In April, a trip to the market will fill your senses with treasures from East Texas fields like arugula, carrots, kohlrabi, radishes, beets, turnips, strawberries, new potatoes, mustard greens, kale, lettuce, cilantro, onions, swiss chard and parsley.
The market is all about community, so you'll find something for everyone from fresh bread to flowers, coffee, jams and jellies, and baked goods. Vendors also showcase Texas olive oil, handcrafted art, and Texas fruit wines.
And that's not all you'll get to see at the Market. Local musicians will be showcased every Saturday, plus a new exciting addition of rotating food trucks. "We are proud to serve as a venue to some of Tyler's most talented musicians," said Jessica. Bring a lawn chair and enjoy the perfect blend of food and music and great weather.
Vendors or members must meet certain goals including being located within 75 miles of the market, providing safe and fair working conditions for all farm workers, organic or natural methods, humanely raised animal products, beef and other grass-eating animals are grass fed, and dairy is rGHB-free. Find out more about becoming a member/vendor at foodcoalition.org.
The market depends on volunteers to set up and break down, help with displays, banners, and lots of behind the scenes work. What a great way to give back to the community! People interested in helping can contact rosecityfarmersmarket@gmail.com.
"We are thrilled to be part of the Downtown scene and to be able to partner with the great small businesses that are part of this growing culture," said Jessica. "The new location is a perfect fit for the Market and the thriving downtown community." "We would like to thank Bill & Cecilia Bush of Unclaimed Furniture for the space and the support."
Bring the family and spend Saturday mornings at the Rose City Farmers Market, located at 302 S. Broadway in Downtown Tyler.
Visit them on Facebook at rosecityfamersmarket.com and foodcoalition.org.
Book Worm Events this Month: April 24th: Club Read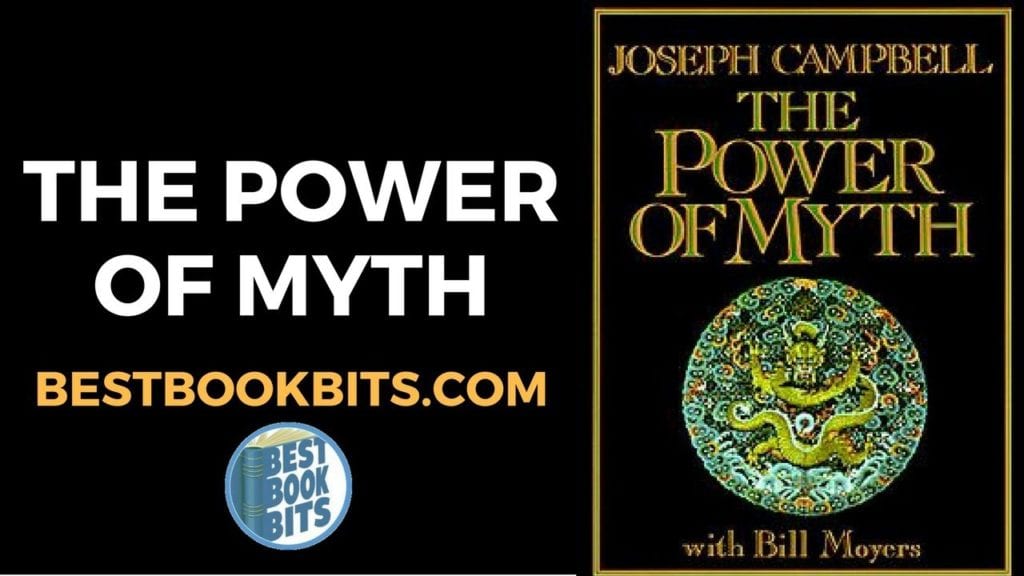 April 5th-7th (8am-6pm) – Book Fair – This year's event focuses on the sale of donated books which will go to endowed scholarships for nursing and healthcare at TJC and UT-T and for community health projects. Thousands of books will be available for purchase. This is held at SCMSA, 2004 Broussard St., Tyler.
April 14th (11am-12:30pm) – "MOM LIFE: Perfection Pending" Book Launch & Signing – Along with selling and signing copies of her new book during her stop at Tyler, Ethington will be discussing various parenting topics and opening up for a Q&A. This will be held at the Tyler Public Library, located at 201 S. College Ave., Tyler. For more info call (903)593-7323 or go to tylerlibrary.com.
April 24th (10am) – Club Read – Join the Club Read group in discussing this month's read, "Power of Myth" by Joseph Campbell. The Tyler Public Library is located at 201 S. College Ave., Tyler. Most events hosted by Club Reads are free. The Library is open Monday-Thursday 10am-7pm, Friday 10am-6pm, Saturday 10am-5pm, and Sunday 1-5pm. For more info call (903)593-7323 or go to tylerlibrary.com.
May 2nd (6pm) – Barnes & Noble Book Club featuring "The Female Persuasion" by Meg Wolitzer – Join in B&N's inaugural book club night, featuring "The Female Persuasion" by Meg Wolitzer. Attendees will receive an exclusive bookmark, and one signed copy of this book will be given away per store.
August 4th (1-5pm) – Book Bash will be held at Harvey Hall Convention Center, 2000 W. Front St., Tyler. They are doubling the authors for 2018's Book Bash – 80 Authors are attending! Tickets will be on sale until the day of the event. Come on out and find a new favorite author as well as meet the authors behind the stories. For more info go to facebook.com/events/1715126465459268. Tickets are $12.
Moss: "Where Flowers are Fair"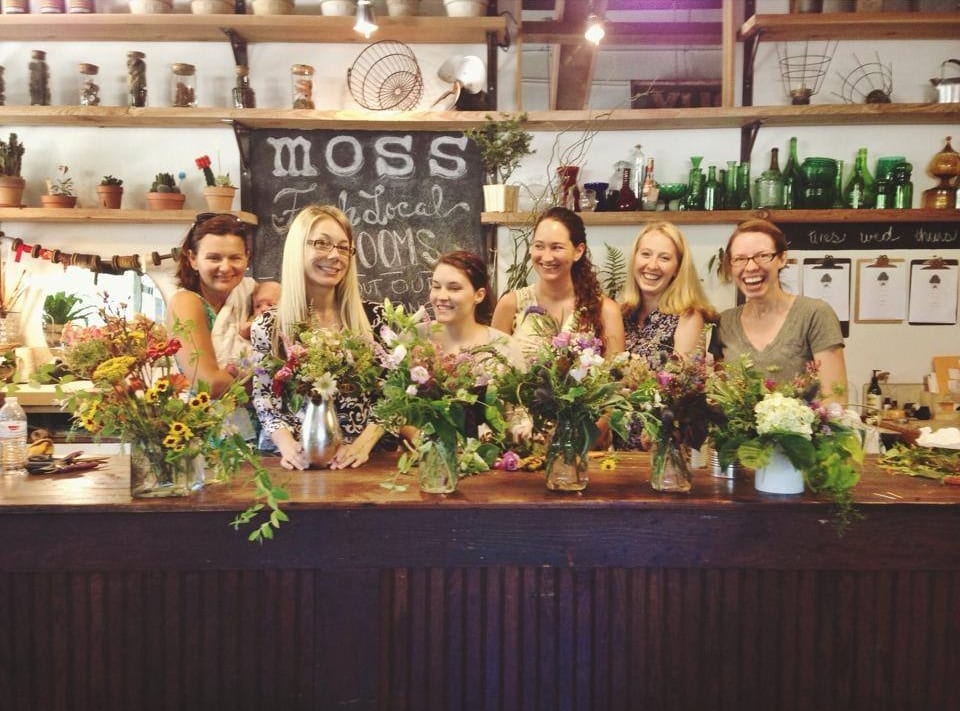 Moss-"Where Flowers are Fair."
By Barbara Greenbauer
Imagine a business that creates floral works of art, that combines the heart and thoughtful mission of fair trade flowers.
In the heart of Tyler, two women are creating unique and earthy arrangements that are works of art within themselves. The mother-daughter team of Paige McGuffey and Meagan Lissner are owners who work in tandem, relying on each other's strengths to provide East Texas with a new kind of florist.
Recently expanding from a 1,300 square foot space to their new current location – encompassing 4,000 square feet, located on Broadway Downtown – Meagan says, "We now have the space to really showcase all we can do and offer more classes and hands-on plant experiences." The shop is indeed a family-run business. Front and center is Meagan's great-great grandfather's countertop from his grocery business, where the magic is created. "The front counter is almost like our own bar," explained Meagan. The client can place an order, talk and watch and give input while we mix up our elements into a bright and beautiful concoction."
There are lots of philosophies and visions woven into this flower business. When asked about the distinctive name, "Moss: Where Flowers are Fair," Meagan responded "I just adore everything about the moss plant itself; it is so lush and gorgeous. But over and above that, the literal meaning for the word 'moss' is charity and is also the symbol for maternal love."
Owning and operating a small business involves not only hard work and long hours, but for Moss, everyone is involved. From Meagan's grandmother, to her husband and three kids (aged 5, 7, and 9), the whole gang is involved in this one-of-a-kind business. "You really have to be passionate and love people," said Meagan. "It is worth all the time and investment to be able to do what we love. It can be a balancing act, but we all pitch in and make it work."
Most folks won't be familiar with the term fair trade flowers, but it is at the heart and soul of everything they do. 80% of the world's flowers sold in the U.S. are grown in Latin America, South America, and Africa where female workers are often exploited to keep costs low, leading to severe abuse and mistreatment.
Fair trade creates a sustainable business model that guarantees social justice for the workers, and certified fair trade flower farms ensure the safety and good conditions for workers, which are typically vulnerable young women."It can be difficult to find sources and farms that are certified, but we do our research, and our mission is to support something greater than ourselves," explained Meagan. "We want to educate others to the plight of the workers and how we can make a difference."
The arrangements that are created and designed at Moss are unique and no two are ever the same. The team hunts for seasonal and unusual flowers to create masterpieces that will hav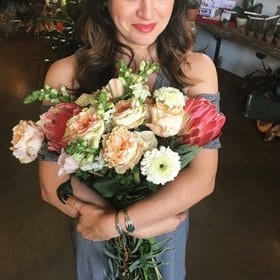 e everyone in awe. "We want to create a piece that reflects you and in that way is totally unique in itself," Meagan explained.
Client Amy Harbottle Carter said,"Their creative, organic, and vintage vibe is my favorite. Not only does Moss have gorgeous fair-trade florals, I can't get enough of the shop's collection of house plants, décor, gifts, and locally-made products. It's reassuring as a consumer to know that shopping there is also an investment in an ethical and meaningful mission."
You can play a huge part in the process at Moss. Come in with your dream and they can help make it happen. Bring in your favorite vase, pot, or container, and they can help you create a beautiful floral takeaway for your home, right then and there. Moss is known for their unique gift boxes, filled with coffee, treats, and succulents that will wow the lucky recipient.
Moss will work with you with blooms for your big wedding day, baby shower, corporate event, anniversary, or just a special gift to say thank you. Moss also has classes on all kinds of hands-on projects listed on their website at welovemoss.com. Grab a friend and come play with flowers!
Wandering through the shop is a feast for the eyes, with everything from fig trees, cacti, succulents and local pottery to geodes for terrariums and air plants.
Moss delivers locally, and gathers, forages, and hunts for local seasonal flowers that will really make your arrangements spectacular. They are truly excited about new ideas and visions, and will work with you through a consultation to pin down styles and colors, incorporating your favorite florals as well.
Frequent client, Traci Dixon sums up Moss,"I love the people and the heart behind this wonderful business. They are fabulously talented in handcrafting the perfect floral and greenery pieces with depth and character for everyone that walks through the door."
They truly do design arrangements the way nature intended them to be. When you choose to shop at Moss, you will always get a thoughtful creation that is anything but typical.
For more information, call (903)787-8822 or go to their website at welovemoss.com. You can also find them on find them on Facebook at mosswhereflowersarefair.
"Moss: Where Flowers are Fair," is located at 237 S. Broadway in Tyler. They are open Monday-Friday 10am-5:30pm, Saturday 10am-3pm, and closed Sundays.