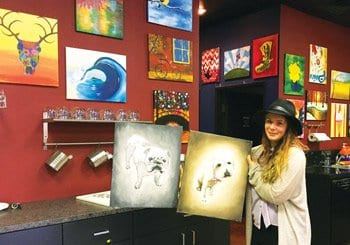 Written and Photographed by Barbara King
One small step inside the front door of Pinot's Palette and you will feel your creative fire burning and want to put palette to canvas. The large, colorful painting area is jammed full of workspaces just waiting for the next budding artists. The walls are laden with artwork, some from previous classes and private parties, along with a showcase of new painting opportunities.
Richard and Robin Haynie, owners of the Tyler Pinot's Palette franchise since 2012, have spent this year busily commuting from Tyler to Austin where they have opened two more studios.
Brandi Smith, manager says, "The experience of creating an artwork and proudly taking it home is like none other. The best thing about it is the fun, party experience, and you don't have to have any painting experience to have a great time."
Basically, you bring the cocktails and snacks, and they will do the rest. The studio will provide the canvas, easel, brushes, paint, and aprons. You can pick a painting from the over 3000 extensive selections on their website or request a custom painting. Then, local artists will lead you step by step through the process, with a completed piece on stage as a reference, and a blank canvas where brush strokes and textures will be slowly explained and detailed.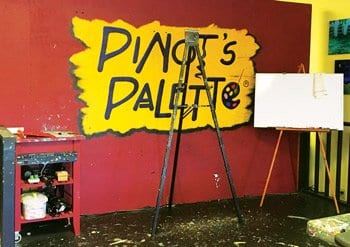 There is a minimum of 15 painters required to book a party, with a $100 refundable deposit. Paint and Sip parties are available to book for two hours at $35 per artist or three hours at $45 per artist. You also don't have to worry about serving your wine, as the studio will supply wine glasses (available to purchase as a memory of your great night out), corks, and ice buckets.
Smith says, "The private parties are a fun atmosphere with no pressure, and we hear folks say all the time that they are so pleased and surprised how their artwork turns out."
It's the perfect place to book a special event like a bachelorette, girls night out, or a corporate event. The studio offers a special team building art puzzle selection that many people can participate in that is incorporated into one final piece for framing. "It's a very motivating, team building, fun activity that companies can take away to display in their lobby or conference room," explained Smith.
Want to impress a date? The studio has really neat, two part mirror pieces that transform upon completion into an intricate design.
The studio also offers family fun days for all ages as an alternative to the typical movie and popcorn family outings.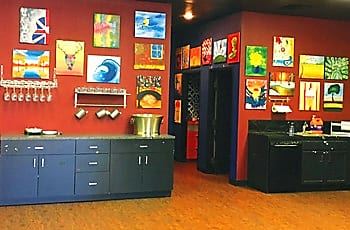 Something really unique at Pinot's Palette is the opportunity to paint your pet. Send the studio your pet's likeness and they can laser it onto canvas, then you can finish the creation with paint in the studio. "We have had people sit and finish paintings of pets they have lost and want to have their pictures framed for their homes," said Smith.
The studio now offers kids' painting parties, which are perfect for birthday parties and can be booked online through their website. "The whole process from booking your date, choosing your artwork, to payment, can all be done very easily through the website," explained Smith.
You can also complete your masterpiece right there in the studio by picking a frame to suit your style for $35, making it possible for you, the proud artist, to walk away with your creation ready to hang.
Pinot's Palette loves to take pictures of your event and post to Facebook. The week following your event, if you tag yourself in the photos, you will have the opportunity to have your name entered in a drawing by Pinot's to win a free art class.
The studio can seat up to 56 artists and Smith says it is an awesome experience when the studio is full, and people that have never painted before are concentrating, laughing, and creating.
Picasso once said, "Every child is an artist. The problem is how to remain an artist once he grows up." Find your inner artist at Pinot's Palette, and take home your own masterpiece. Book an unforgettable evening of fun, friends, and fun art.
Pinot's palette is located at 322 ESE Loop 323 next to Plato's Closet in Tyler. They can be reached at (903)561-2773 or at pinotspalette.com/tyler.