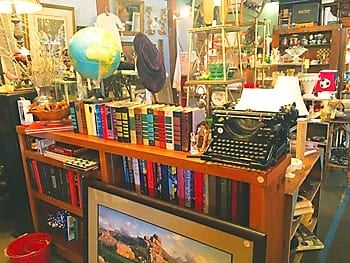 Written and Photographed by Barbara King
Ye Olde City Antique Mall is literally a unique treasure trove in downtown Tyler; a place to escape the stress of today with the memories of the past. Ye Olde City Antique Mall and City Market is a stroll down memory lane; chock full of antiques, china, silver, jewelry, and unique finds.
Hidden at the corner of Locust and Line Streets, part of Historic Tyler, the market is a world all its own. The market straddles a center lane with ample parking for visitors wanting a few hours of meandering and moseying through over 60 booths filled to the brim with everything from books to vintage clothing to jams.
The vision of brothers Bert and Robert Powell, the current spot has been either an antique market or flea market for decades. Purchased in 2007, the 10,000 square foot market has been renovated and restored, retaining the brickwork and facades to create an atmosphere of "old world charm."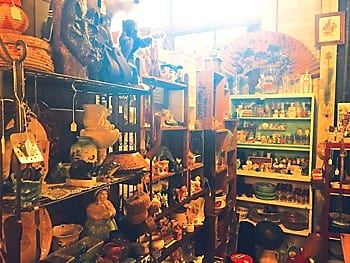 The individual vendors bring troves of unique treasures that are plentiful enough to get in and get serious about finding that special item for your home, office, gift, or for that "just have to have it" moment.
Sandra Herring, manager of the market, says that "We basically have something for everyone. People visit from all over Texas to spend the day wandering around with us." The market is a spend the day kind of adventure; you can literally wander up and down the buildings and slip into the past at every corner.
"I had a man ask me once if we were a 'high end' kind of place," explains Sandra. "We have items at every price range; you can walk out with a gift for someone for $7 or you can spend more for a unique piece that will be a focal point in your home."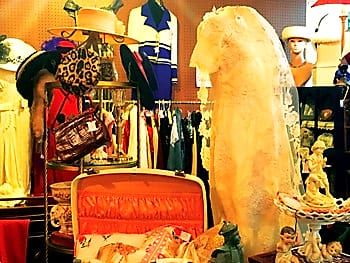 Driving up to the market, you get a feeling of old world medieval charm as you pass through the wrought iron gates, proclaiming you have arrived. The rest of the visit is an unhurried, friendly stroll through history. From an old typewriter to toys you remember from your youth to jewelry exactly like your grandmother wore, the trip will bring back memories of a more unhurried, peaceful time.
"We showcase everything from Victorian to rustic to primitive to shabby chic," says Sandra. "We also have authors on hand with their books in their booths, next to cowboy repeating cap pistol toys," she said.
It's very much a hands-on experience, full of sights, sounds, and smells that will conjure up memories just waiting to be brought to the surface. "We had a lady come in and spend hours wandering around, and when she left she said that it was the best therapy she ever had," Sandra said.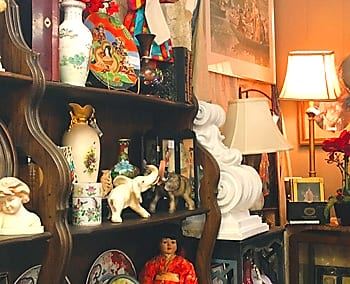 Shelby Kohler and her grandmother Debra Rada of Tyler were strolling through the market on a girls' day out. Shelby had found a unique wooden piece that she was going to transform into a mirror, and both ladies were having a relaxing weekend exploring.
"We heard about the market from some friends and had never seen it before," Debra explained. "We were pleasantly surprised with the variety and uniqueness of the booths and have been here for a few hours and haven't seen everything yet." Shelby added, "This would be the best place to shop for a birthday or anniversary gift, and especially for Christmas gifts. Something you choose from the market would be very different and one of a kind." The ladies added that the market was "a little-known secret in Tyler and that they would be telling their friends and family that it makes a great day, without having to travel to Dallas or out of Tyler." The two also looked up the market online on Facebook to see what was available and what to expect before they ventured out to visit.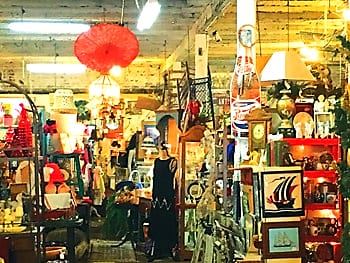 Vintage toys and dolls, wedding dresses, jewelry, and coal oil lamps reside alongside old playing cards and coffee percolators. Bob & Sarah Miller from Mineola, were strolling through looking for a possible art piece for their living room. "I thought it would be one of those times where I would sit down and wait for her to be done," laughs Bob. "I think I am enjoying it even more than she is. There are lots of things for guys to look at, and it brings back great memories from my childhood." He was delighted to find old TV guides and comic books next to Coca-Cola memorabilia.
Gardeners will have a "field day" at the market, with great finds like a metal water lily side table for the patio or yard, or a wash tub and stand that could be filled to the brim with plants or ice cold drinks for the next pool party.
Check out the beautiful florist shop on the corner called Primrose Path, and you may leave with some live flowers to brighten up your home.
"You can sign up on our Facebook page to be up to date on our open houses and specials," says Sandra. We send emails letting our friends and guests know when we have special events and new vendors. It's a great way to keep up to date on what's happening in the market."
Come spend time walking down memory lane at Ye Olde Antique Mall and City Market, located at 302 E. Locust in downtown Tyler. The mall is open Monday-Saturday from 10am-5pm and closed Sundays. For more info find them on Facebook at Ye Olde City Antique Mall or call (903)705-1145.