By Derrick White
"My career as a Tyler artist and teacher has brought me much joy and deep experiences from which to create my art. Art has brought me contentment and happiness. I love to talk with people about art. I learn what is in their heads and in their hearts. Moreover, I love to teach art. For two decades I have watched students challenge themselves to draw, paint, or sculpt in creative explorations that end up thrilling them. I continue to encounter adult students I taught when they were in elementary school. They remember me and recall my lessons. I feel I chose the correct profession for my life," states local artist Mary Ann Post.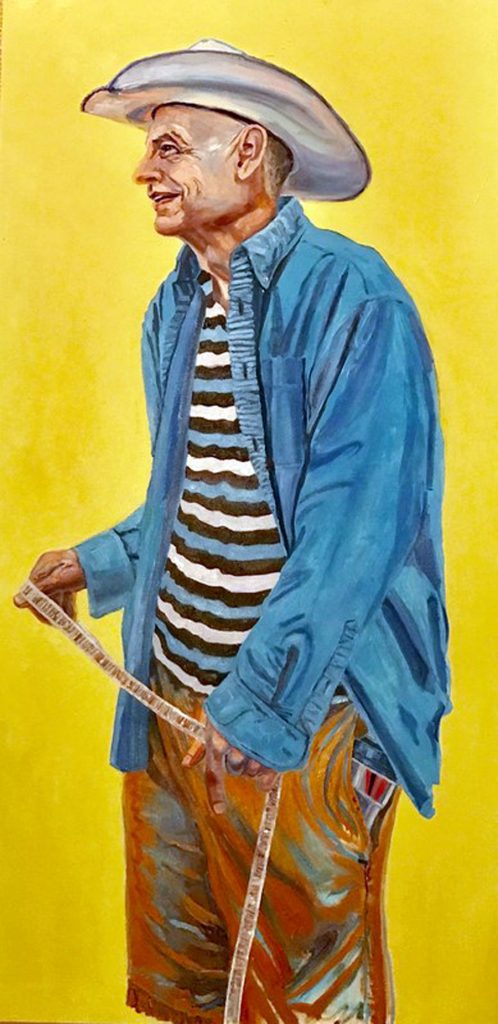 She continues, "My experience creating art spans many decades. I have painted people throughout my life. My earliest memory of exhibiting my artwork comes from the first grade when my tempera paintings of George and Martha Washington were framed and displayed in the hallway of Bluebonnet Elementary School. During my later elementary years, I took art classes three times a week at the Museum of Science and Natural History in Fort Worth. I continued to make art as I completed my high school years and started college at The University of Texas at Austin where I received a Bachelor of Fine Art degree." 
After college, Mary Ann moved to Tyler to start a career as an artist. She accepted a position at an advertising agency and designed advertisements and illustrated furniture. Mary Ann Post later married, and she and her husband raised a family of three daughters. During this time, she completed her Texas Teaching Certification in Art for grades pre-kindergarten through twelfth grade. She put this certification to good use by teaching art in a public elementary school for seventeen years and in a middle school for about two. "Presently, I am attending The University of Texas at Tyler where I am a graduate student. In the spring of 2021, I will have completed my Master of Art History and Master of Studio Art degrees. I will celebrate this milestone with a solo exhibition to be held at the Meadows Gallery located within the R. Don Cowan Fine and Performing Arts Center on the campus of The University of Texas at Tyler," she states. I encourage you to seek out Mary Ann Post's artwork whenever and wherever possible and make note of this exhibition next year in 2021 because these are works of art you are going to want to see up close and in person.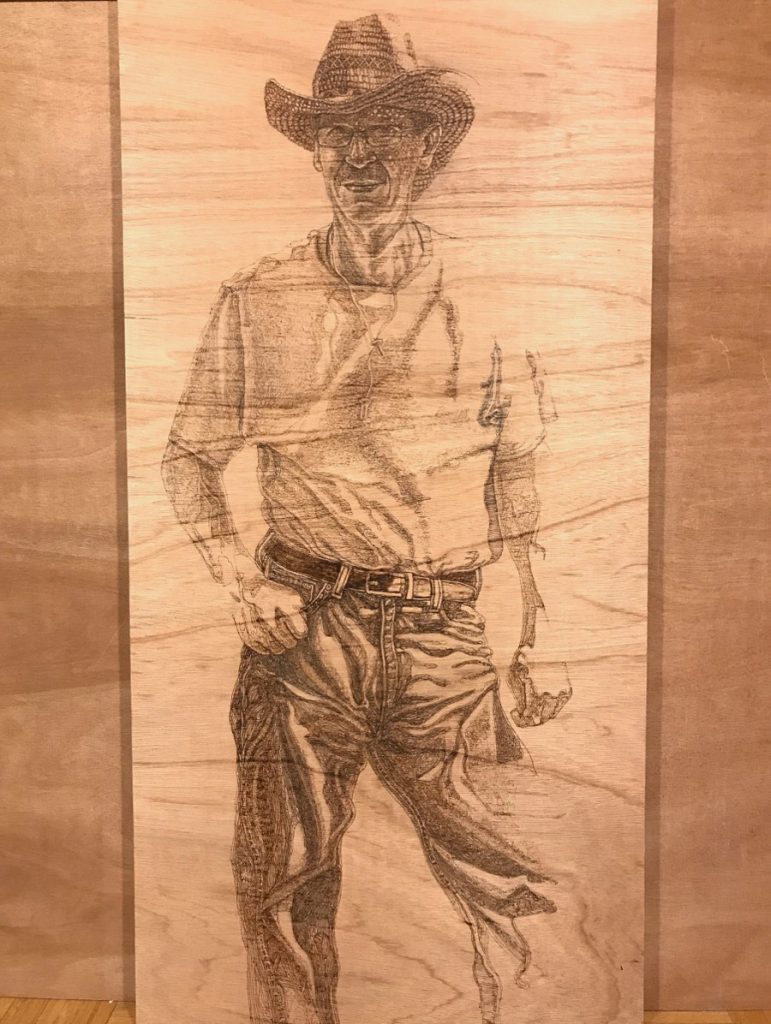 Mary Ann's work is figurative, and she commands her materials with exquisite detail and skill. Her works reveal a real sense of her subjects' personalities coming through her process and having a powerful connection to the shared human experience with the viewer. The works are executed with great attention to small details, tremendous patience, and obvious love for both technique and subject. The artist explains, "I focus on a person's essence. The essence is one's unique characteristics, the tilt of the head, the posture of the body, the expression of the face, the gesture of the hands, and the objects included. Additionally, I usually only include a single person in my work. I place him or her in a setting defined only by a single color or the grain of the wood. This setting serves as a metaphysical space, thus inviting the viewer to imagine the place and to focus primarily on the human form."
Post uses two main mediums, painting with acrylic and oil, and pyrography, the art or technique of decorating wood or leather by burning a design on the surface with a heated metallic point, creating beautiful subjects onto the plane of plywood. She describes, "First, I paint the under layers of my figures with acrylic and paint over some of this area with oil. The acrylic paint provides vibrant colors for shadows and local color of clothes. Next, I paint the clothing, skin, and hair using oil paint. The thickness of the paint depicts the heavyweight of the clothes and the velvety appearance of the skin. Secondly, I burn images of my friends and family into various kinds of plywood. The grain of the wood and figure hold equal visual importance. The layers of the wood grain symbolize the passage of time, especially when it passes through the face, creating wrinkles. Thirdly, I occasionally combine paint and colored pencils with my pyrography, or wood-burning. I carefully control the use of color so that it does not overpower the merging of wood grain and the figure."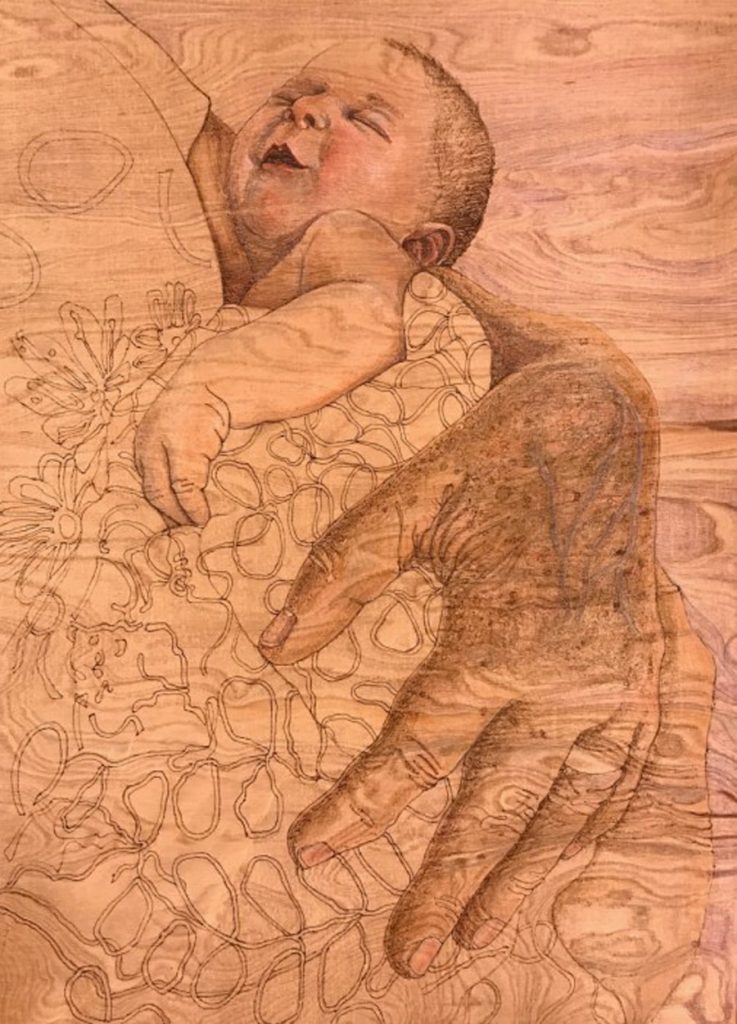 Mary Ann Post draws inspiration from skilled old master artists like Rembrandt van Rijn (1606-1669). She expounds, "He was the master of painting the spirit of the people in his portraits. Not only did he paint each person's unique characteristics, but he led his viewers to focus on the people by his use of dramatic lighting. Occasionally, he mixed sand in his oil paints which acts like glitter to sparkle when the painting is illuminated by candlelight. Moreover, Rembrandt documented his own life by painting numerous self-portraits. They show his audiences throughout the centuries the mystique and mastery of painting."
Let us conclude with a speed round of artist facts. Mary Ann says she has dyslectic tendencies, which serve her well for making art, but torment her when she writes or speaks formally. Impressively all three of their daughters were valedictorians at Robert E. Lee High School. Mary Ann enjoys riding bicycles, both touring and mountain. Her favorite national park is Sequoia National Park, CA and her favorite state park is Caprock Canyons State Park, TX. Mary Ann and her husband have been married for thirty-five years. She has known her two best friends for fifty-six years and they talk and get together frequently. Finally, Mary Ann's cocker spaniel, Penny, is thirteen years old and has the supernatural ability to read Mary Ann's mind and the dog snores loudly.
For more information about the incredible art of Mary Ann Post, visit: https://maryannpost.weebly.com/