Inside the Artist's Studio: Dedicated Young Warriors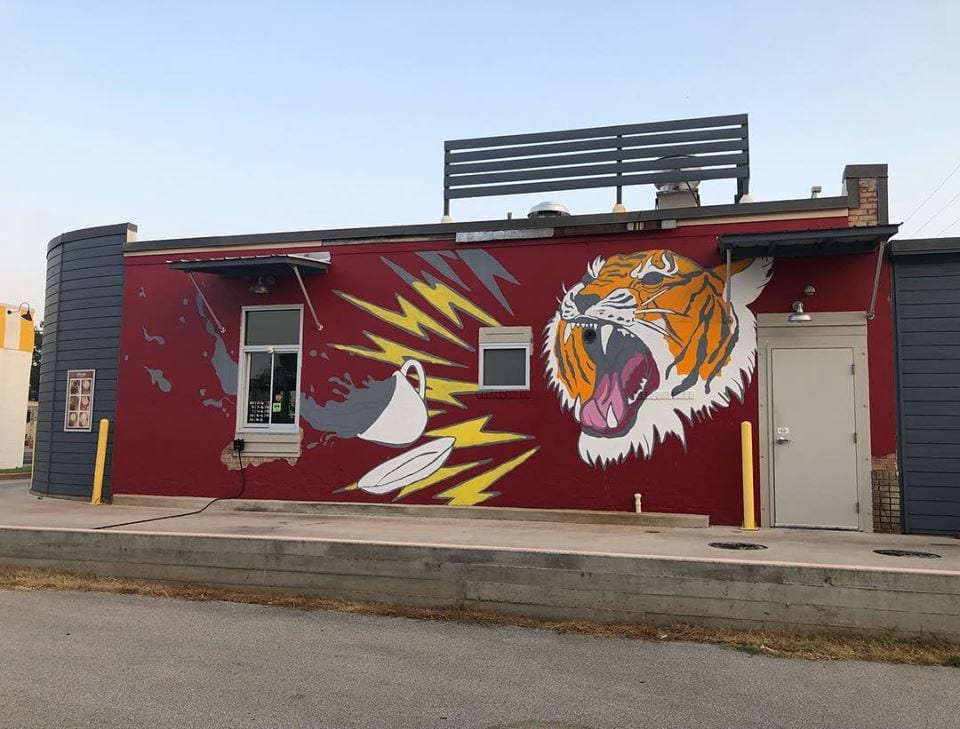 The Art and Illustrations of Micah Lewis
By Derrick White
"I continually push myself to try a new medium or style, or just simply work harder with what I've got. I've grown to love studies in my sketchbooks and understand the importance of slowing down for a bit and working out the kinks or just wrapping my mind around how to draw something," states local artist Micah Lewis. In my career as an art professor at TJC, I work with many students who aspire to become professional artists. After decades of instructing, I have found the most important qualities in making the dream of living as a professional artist come true are dedication and perseverance. Those who are truly dedicated to their art and process will succeed and they persist through all setbacks.
Micah Lewis is one such devoted artist living and working from the red brick streets in downtown Tyler. My first introduction to Micah was through a Facebook page coordinating Free Art Fridays encouraging participants to place or seek hidden art in downtown Tyler and beyond. We have connected through social media, and I have had the pleasure of meeting her in real life at local establishments. Through her posts and comments one can conclude she is a fun, determined, dedicated, persistent and successful artist. In addition to being a professional artist, Micah is also a committed wife and mother. Her web site describes Micah as, "a self-taught artist who finds beauty in all of God's creation, particularly in people… and coffee. Having a heart for creativity from a young age, she draws inspiration from tattoo art, comic books, or old Godzilla movies. Additionally, she has a peculiar knack for portraits where she can capture the natural emotion present in each subject."
"My formal training was limited to half a semester of art during my sophomore year of high school. Somehow, I ended up in a class full of students just attempting to fill a credit. It was a disruptive environment in which the other students regularly sabotaged my projects. So, my path has been one of self-learning with trial and error," says Lewis. Micah's art is influenced by comic book art and executed through her unique surrealist lens. She considers her style of art lowbrow and also enjoys painting watercolor portraits. She states, "Four years ago, if someone told me I would love watercolor and use it almost daily, I would not have believed it. I used to loathe watercolor. It didn't seem like there was a lot of control. It just wasn't as smooth as I like. When I revisited the concept after a few years I fell in love. I really and truly enjoy creating with watercolor. In achieving a variety of line weights, I use a Pentel pocket brush pen (typically used for calligraphy). I love the contrast inking gives my pieces. It pulls the soft washes together with bolder, inconsistent lines."
Like many artists, Micah can trace her inspiration back to childhood. "It's difficult to pinpoint. The earliest drawings I recall were on the inside cover of the coloring books my sisters and I had. Coloring a picture felt like more of a chore to me. So, I just drew my own pictures on the blank inner covers. Sorry, Lisa Frank! When I got a bit older, I kept a sketchbook. It just became a part of who I am. It is shocking to me I became a professional artist. It still baffles me. I remember telling people I wanted to be an artist when I grew up as early as first grade, and maybe I was just too stubborn to not make it happen," states the artist.
For Micah, dedication and perseverance in her art means growth. She explains, "I can always learn, study, and work towards improvement. Finding a voice is difficult; especially given the understanding your audience may never quite comprehend the images in your mind and the emotions accompanying those images. I think it is pretty easy to pander to your audience with the pressure for success but creating, for me, was never meant to be superficial. The intent of art is communication, and communication on a deep level of who we are and the emotions driving us as people. Art should be a connection, but not a cheap one. I still have to remind myself of this from time to time and just strive to be authentic."
Micah Lewis finds inspiration in the work of other artists, citing one of her favorites is Berlinde de Bruyckere (a Belgian contemporary artist sculpting unsettling forms in various media including wax, wood, wool, horse skin and hair. She also works in watercolor). "I hope one day I have the opportunity to meet her or just experience one of her installations in person. Her ability to sculpt with wax, wood, and natural fibers is pure wizardry and you'll never convince me otherwise. I have a copy of her book, "In the Woods There Were Chainsaws." The pages are yellowed and warped and the spine has a gash in it, but it's only because I've loved it so dang much. I draw so much inspiration from her dedication to detail," exclaims Lewis.
Micah's life and art career are very busy with multiple upcoming projects. "This summer, I will be working on a few murals around Tyler, one for Strada Caffè and I am also working on a few murals at True Vine Brewing Company in their new location (2453 Earl Campbell Pkwy) and later this year, I'm excited to curate my first show for The Foundry Coffee House in downtown Tyler. Submissions will start in November and the show will open in January. I'm excited to meet new artists and take on this new role. Interested artists should follow the Foundry Coffee House's Facebook page for more information as it becomes available. Locally, you can find Micah's original artworks and prints available for purchase at El Guapo Records, Strada Caffè, The Foundry, and Moss just to name a few local love friendly places.
You can follow the art, projects and progress of Micah Lewis at:
www.instagram.com/theyoungwarrior
www.facebook.com/micahtheyoungwarrior
Commission or collaboration requests can be filled out via the contact form on Micah Lewis' web site. I recommend you commit yourself to looking through and purchasing some of these dedicated young warrior's creations for your very own.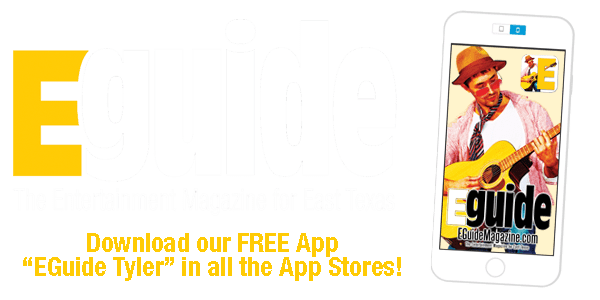 August 18th: A Rock 'n Roll Summer of CESSE Fun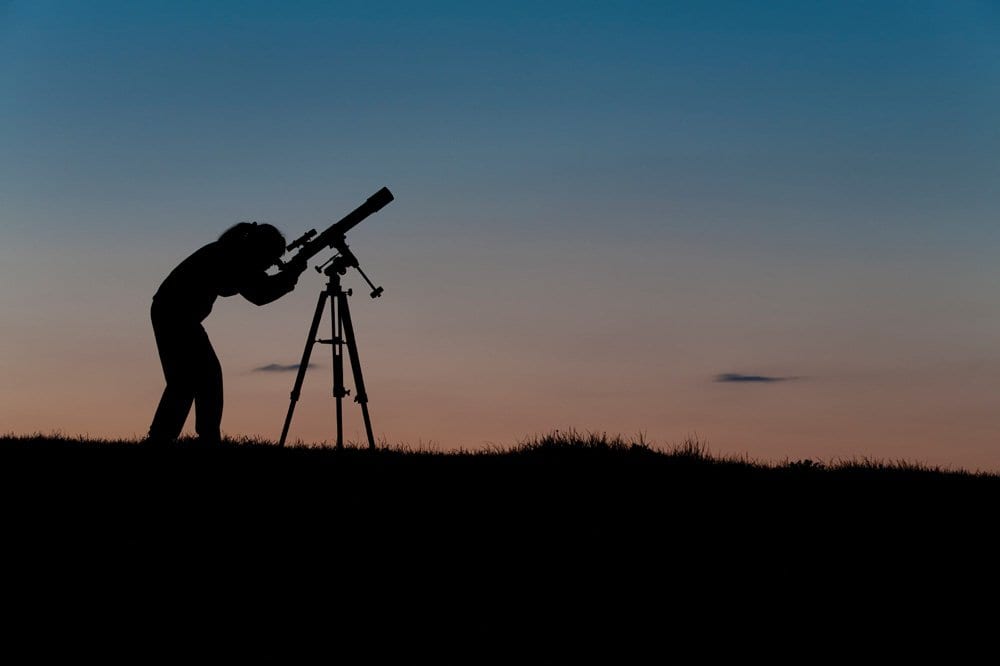 Visitors of the Center for Earth & Space Science Education (CESSE) at Tyler Junior College will have a lot of fun this month.
Most shows offer tickets for $5. Tickets for All Day passes are $12 for adults and $9 for students, children, and senior citizens. Exhibit only tickets are $3. Tickets can be purchased at sciencecenter.tjc.edu.
CESSE is open Tuesday-Friday 9:30am-4:30pm, and Saturday 10am-4:30pm. CESSE is located on the Tyler Junior College campus at 1411 E. Lake St., Tyler.
Rock 'n Roll Saturday
Rock 'n Roll Saturday is fun for the entire family! Two shows will be presented. July 21st "SpacePark360" will be shown at 7pm and "Rock on Demand" at 8pm. August 18th the two shows will be shown again.
"SpacePark360" takes audiences on a wild, immersive ride through the solar system, recreating the experience of amusement park thrill rides – roller coasters, pendulums, inverters, and more. Seen from the rider's perspective, "SpacePark360" combines full dome technology with thrill rides to create a heart-pounding experience.
"Rock on Demand" fills the entire 40-foot domed theater with vibrant graphics, completely enveloping visitors in a 360-degree view while the 16,000-watt, digital surround sound system plays rock hits ranging from the Beatles and Rolling Stones to The Doors and Aerosmith.
Tickets are $5 for each show. This is fun for the entire family!
Dome Shows
CESSE offers a variety of Dome Shows. Call for availability in the event field trips may have been scheduled. Daily show schedules are:
10am – Children's Show
11am – "SpacePark360"
12 noon – "National Parks Adventure"
1pm – "Dream Big: Engineering Our World"
2pm – "Extreme Weather"
3pm – "Space Next"
4pm – "Moons: Worlds of Mystery"
New this month is "Extreme Weather." Weather has always been one of the most dynamic and complex forces shaping our planet, but now it's intensifying in varied and complex ways. "Extreme Weather" takes us to the front lines where few have gone. Among the melting tidewater glaciers of Alaska, National Geographic Emerging Explorer Dr. Erin Pettit leads a young team of researchers into the splash zone at the face of Dawes Glacier aboard a boat custom-designed to get as close as possible to the calving ice. Using a variety of instruments, her team works to measure the rate of melting to help build a more accurate model of global ocean level rise.
A FREE Star Party Saturday
June 2nd (ongoing the first Saturday of each month), you can see a Star Party in a live presentation in CESSE's 40-foot planetarium dome. This is a unique opportunity for families to view the beautiful heavens of east Texas. Best of all, it is completely FREE!
Learn all about the stars, the planets, and the constellations as you take a tour of the night sky and travel to distant planets and beyond. There will also be a TJC astronomy professor with telescopes set up outside (weather permitting) for you to gaze at the astronomical objects with your own eyes until 10pm.
Live Sky shows will be at 8pm, 8:30pm, and 9pm. Telescope viewing will be 8-10pm.
Amy Holden Concert Benefiting Children's Miracle Network, Aug. 24th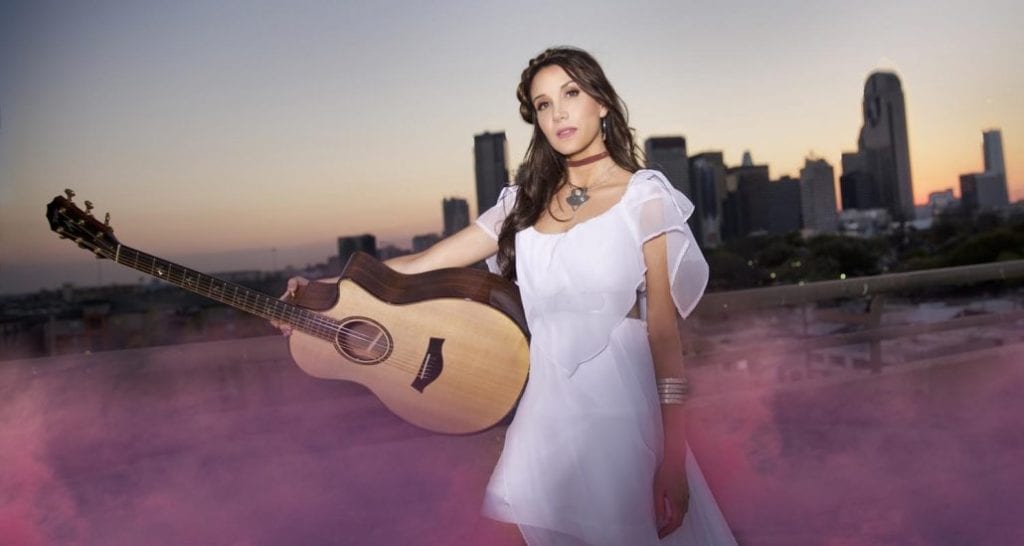 For one night only, east Texas singer-songwriter Amy Holden is set to perform live in concert at Liberty Hall on Friday, August 24th at 8pm.
Amy's friends, Cole Risner, Meredith Crawford, and Milo Deering are also set to perform.
Fresh off her single release, "Best Time" on Texas Red Dirt Radio, Amy brings a new soulful twang with her style and flavor of upbeat country music to Tyler. Amy, a Nashville and Texas recording artist, has performed from New Zealand to the House of Blues. Bring the whole family to this family-friendly event and be prepared to be thoroughly entertained.
100% of proceeds from ticket sales will benefit the Children's Miracle Network. This fundraising event is sponsored by Texas Strong Promotions, Fire Dog Records, and Amy Holden Music Group.
Liberty Hall is located at 103 E. Erwin, Downtown Tyler. Tickets are available at libertytyler.com.
East Texas State Fair Returns Sept. 21st-30th!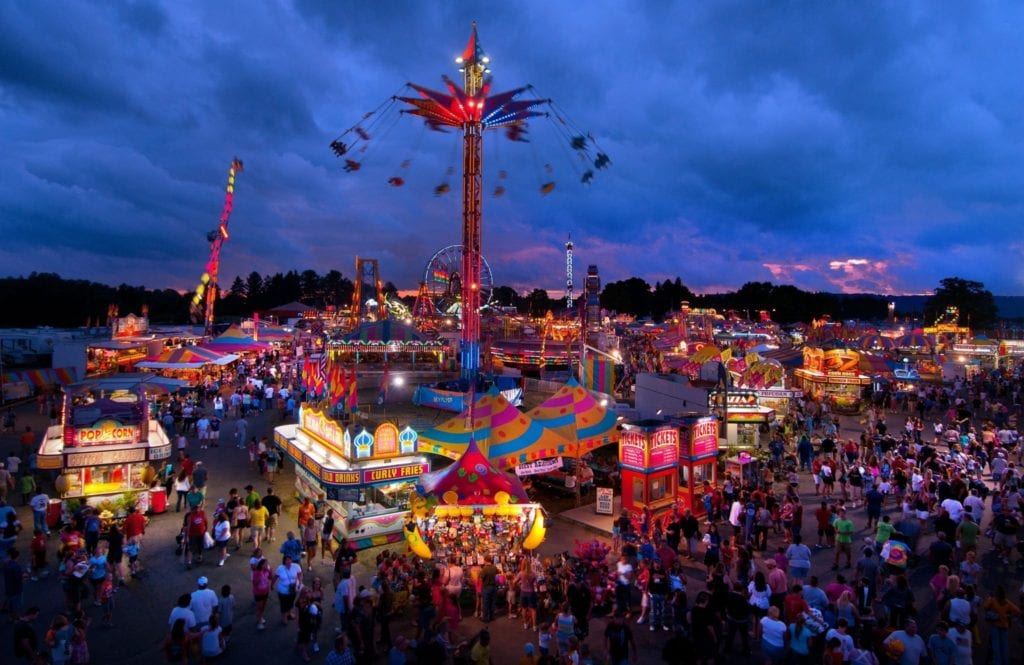 East Texas State Fair to Bring Lots of Festivities!
The 2018 East Texas State Fair takes place September 21st-30th in Tyler.
The annual East Texas State Fair is set to host an estimated 250,000 visitors during the ten-day event to enjoy concerts, shows, rides, food, exhibits, and much more. Here's a look at just some of the festivities to come:
Sheldon Casavant, Magician: World-renowned magician Sheldon Casavant takes the stage in the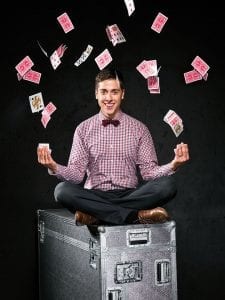 historic Mayfair building for an amazing show full of laughter, thrills, and impressive illusions. The show is featured each night during the fair at 8pm. The show is set to be as impressive as the 100-year-old building it's hosted in. The historic Mayfair building was built in the late 1920's and has seen musicians such as Elvis Presley, Dolly Parton, Johnny Cash, Hank Williams and so many more. While the building hasn't been used in many years, fair organizers are opening it up once again for this spectacular show. Every Day.
The Craft Beer Tour: New to the fair this year the craft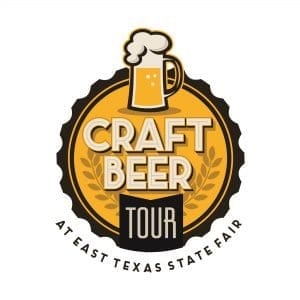 beer tour is an event you don't want to miss. Craft breweries from all over Texas will gather in the upscale venue to present their beers to the public. For just $15 you can purchase a passport to sample up to 24 different beers from all over the State of Texas. So gather your friends and embark on a craft beer adventure. Fridays, Saturdays, and Sundays during the Fair.
The Summit: The ultimate party in the heart of the Fair! The Summit is an all-new venue for live music, beer, margaritas, and a great place to hang out with friends and family. The Summit stage will feature live local music from artist such as Ray Johnston Band, Billie Jo Sewell, Holly Tucker, Sabrina Toole, and many more. Every Day.
Chili Cook-Off: Come enjoy samples of chili from over 30 different teams as they compete for the prize of "Grand Champion." It's going to be a great place to hang out with live music, cold beer, and plenty of delicious chili. Interested in having a team of your own? Gather your friends, family, co-workers, etc. and register to compete. Sunday, September 23rd beginning at 9am.
Sea Lion Splash: Sea Lion Splash is a unique show that will have crowds cheering and laughing. It's an educational show with a "splash." The sea lions will amaze the crowd as they balance balls, shoot hoops, dance, perform stunts, and show their pretty smiles. This is the only show in the U.S. to feature both California and South American sea lions.
Timberworks: You'll love this fast-paced thrilling show as two authentic lumberjacks go head-to-head in a variety of competitions. These include log rolling, cross-cut sawing, hot sawing, axe throwing, chainsaw carving, chopping, and speed pole climbing. Timberwork's Lumberjack Show offers spectators a unique blend of logging history, world class competition, and plenty of hilarious comedy. Every Day.
The Sound Exchange: The Sound Exchange is a five member a cappella group bringing dazzling harmonies, and wise-cracking audience interaction together in a whirlwind a cappella experience that is not to be missed. Whether you love soulful ballads, blistering rock anthems, jazz standards, or chart-topping singles…. or, perhaps you just love to laugh and have fun. Then, you're in for a treat with the hijinks & harmonies of The Sound Exchange. Every Day
That's not all! The Fair will be full of a variety of exhibits, attractions, rides, games, and more. From fair favorites like the petting zoo, pony rides, and the legendary food row to a variety of exhibits like AgriWorld, Creative Arts, and The Marketplace there's sure to be something for everyone to enjoy.
This impressive lineup of all things new to do at the Fair will not disappoint- there's truly something for everyone. And let's not forget all the favorite returning attractions:
The Great American Petting Zoo: This petting zoo is unlike any other- held within a 1,200 square foot enclosure, each animal runs freely with the public once inside. A favorite among kiddos, these friendly animals- all hand raised here in Texas- make for a ton of fun in this barrier-free petting zoo. The space is kept immaculately clean, and trained petting zoo staff are always available for any questions. Open every single day of the Fair, find more info here: etstatefair.com/events/2018/great-american-petting-zoo(17)/
The Pony Rides: Your kid will thank you for this one! Come let them experience a real live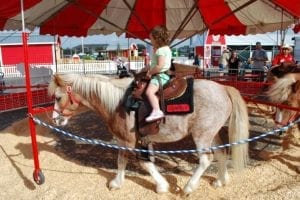 pony ride, carousel style. For $5, these beautiful, purebred Welsh ponies will take your kiddos for a ride they won't soon forget. Presented by Pony Express of Texas, these local ponies are safe, clean, and a whole lotta fun. Happening everyday of the fair, find more info here: etstatefair.com/events/2018/pony-rides/
Carnival Rides and Games: As always, the Fair won't leave you hanging if you're in need of some thrill or friendly competition. You'll find tons of exciting rides like The Freak Out, The Tornado, and The Ring of Fire, along with plenty of gaming fun this year at the Fair. For detailed schedule and pricing info, head here: etstatefair.com/p/entertainment-/carnival-rides
Legendary Food Row: Mac & Cheese Fries, Chocolate Covered Fried Bacon, Chili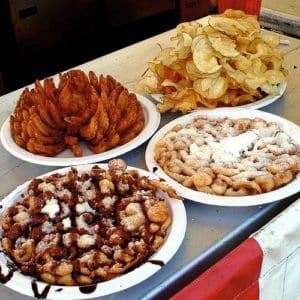 Dogs, Turkey Legs, 4 Meat Baked Potato, Fried Cheesecake…need we say more? The options available at Food Row are endless- wear your comfy pants and your maybe belt a tad loose, because everyone knows there's no such thing as a diet during the Fair. This is the real deal, folks- find a list of all the different vendors and food offerings here (it's crazy long!): etstatefair.com/p/entertainment-/food-row
A Ride Share: a special new drop-off lane for coming and going to the fair, made for guests who use a Rideshare service for transportation instead of driving themselves. That's right folks: this is the year that Fair parking woes and hassles will finally come to an end, leaving you with more important things to worry about (like whether to order a smoked turkey leg or funnel cake..or both.)
"Our goal is to take some of the strain off of our parking lots and make it easier for visitors to come and go safely. The lane will literally drop you off right at the North gate. You'll step out of your car and walk right in!" -Cody Rosenbalm, Director of Marketing at Park of East Texas.
The drop-off lane is located at the intersection of Front St. (Hwy 31) and Fair Park Dr. The lane is only accessible when traveling eastbound on Front St. (Hwy 31) from the Loop towards downtown.
It's hard to believe how much there is to offer at this year's Fair- the organizers have gone above and beyond to ensure an unforgettable experience for each and every guest.
And don't forget- there's still SO much more to see and do at the Fair in addition to this incredible curation of attractions. Whether it be the Photography Contest, the Livestock Show, Senior Day Bingo, or the countless exhibits in The Marketplace, this is only the tip of the iceberg. Gear up, everybody- The East Texas State Fair plans to blow it out of the water for 2018. See you there!
For more information or to get tickets go to etstatefair.com.