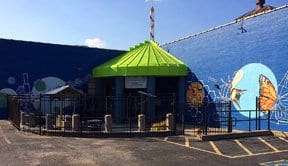 By Kelly Griffith-Fields
Discovery Science Place (DSP) wastes no time captivating minds from the parking lot. A large mural created by The University of Tyler Art Department fills the wall running along the sidewalk toward the entrance. The painting foreshadows all there is to explore inside.
DSP closed for a few weeks this past September to undergo various renovations. Interim Executive Director Chris Rasure explained their recent renovations were to put more emphasis on science and research education. Many areas received a new look with a fresh coat of paint. New toys and attractions were added. Cleanliness and safety were improved upon and all stations were repaired to be operational.
"If you haven't been in a while, it's time to come see all of the changes and new things," Rasure said.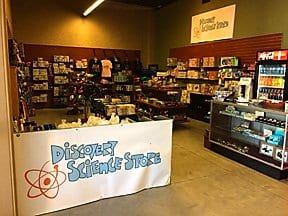 The DSP Mining Company is a new feature sure to excite many. Outdoors, in a new enclosed exhibit area, freshwater flows to a trough where sifting screens wait to be used. Young miners can pan for such items as fossils, gems, arrowheads, and shark teeth. Bags of sand and treasure are available for purchase. Miners are guaranteed to sift out a variety of goods.
Once inside, to the left you'll see the gift shop. It has grown at least three times its former size. Patrons may come and shop the store without paying admission to the exhibits. The store is one of few in our area with toys, apparel and other items geared to the young scientist, engineers and explorers. Microscopes, rockets, perfume making kits, bird calls, NASA and dinosaur themed products are just a small example of what can be found.
In the main room the DSP pirate ship has recently been transformed into a research vessel. The stark primary colors have been changed to cool nautical tones. "We've always been popular and pleasing to toddlers or younger kids," Rasure said. "We want to have enough science content to extend our reach to older students as well."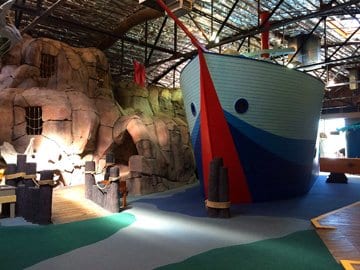 Near the stern of the ship, a new 3D cinema shows a variety of presentations. In another corner of the room, sprawling rock formations encompass a cave where gems and minerals are on display. The display is a favorite for many children. Because the minerals are shown under UV light, many present themselves as nature's glow sticks, putting off bright fluorescent colors. Further into the cave, explorers can stand on a platform to experience an earthquake. Across from the cave entrance another natural disaster can be experienced in the tornado simulator.
Through another corridor Home Town is found and 'imaginative play' is taken to the next level. DSP is in good relations with local businesses and organizations and many recognizable establishments have set up shop in Home Town, such as Brookshire's grocery store. Children can wheel their shopping cart along, browsing merchandise, just as their parents do. Brookshire's has also provided an interactive, touch screen game 'Feed the Bear' which teaches about proper nutrition. Children may also be bankers, chefs, veterinarians checking actual x-rays in the clinic, heroes in real firefighter gear and more.
At Makers Park, the hands-on play continues with many interactive displays that make up this section of DSP. These activities are rotated on a monthly basis to help keep Makers Park new and engaging.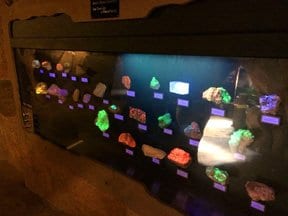 DSP is currently working on their new Orion exhibit which will feature interactive games at the exhibits mission control. DSP also hosts many traveling exhibits and events throughout the year. Their partnership with The University of Texas was formalized this fall. Rasure explained that this partnership is beneficial as it allows access to the universities resources. Tyler Junior College and their Center for Earth and Space Science also work closely with DSP. Together they promote science education across Tyler and east Texas.
DSP has extended their hours on Tuesday through Saturday when they are open from 10am-7pm so that students have adequate time to visit after school. Sundays are open from 1-5pm and a lounge area is available for guests to sit and enjoy a sack lunch. Electrical outlets are conveniently located there for charging mobile devices and storage lockers are available for storing personal belongings.
Currently the DSP is planning their day camps that will be held in December so students on winter break can take part in a day of hands-on education and fun. For more information on Discovery Science Place or their day camps visit their website at discoveryscienceplace.org.