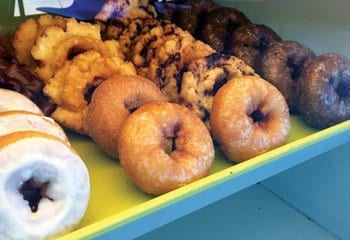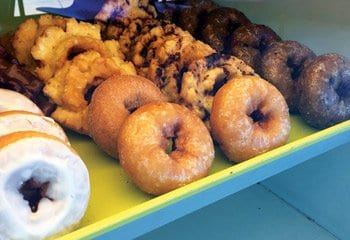 Doughnuts have a disputed history. According to Wikipedia, one theory suggests they were invented in North America by Dutch settlers, and in the 19th century, doughnuts were sometimes referred to as one kind of oliekoek (a Dutch word literally meaning "oil cake"), a "sweetened cake fried in fat."
If you think the Dutch name was less than appetizing, the French version is simply silly. In France, small deep fried fritters or donuts are called "pets de nonne" or "nun's farts." Really! Wish we had been there when that little nickname was formed! Wonder what the real story is there.
Hanson Gregory, an American, claimed to have invented the ring-shaped doughnut in 1847 aboard a trading ship when he was 16 years old. Gregory was dissatisfied with the greasiness of doughnuts twisted into various shapes and with the raw center of regular doughnuts. He claimed to have punched a hole in the center of dough with the ship's tin pepper box and to have later taught the technique to his mother. "Smithsonian Magazine" states that his mother, Elizabeth Gregory, "made a wicked deep-fried dough that cleverly used her son's spice cargo of nutmeg and cinnamon, along with lemon rind," and "put hazelnuts or walnuts in the center, where the dough might not cook through," and called the food 'doughnuts.'
Yet another story reportedly tells of a cow who kicked over a pot of oil into a mixture of pastry.
Whatever the history, according to "Huffington Post," over 10 billion donuts are consumed in the U.S. each year.
Whatever, right? Just hand me one of those warm, sugar-laden, fried round piles of yummy dough! We have discovered that Tyler has many donut shops that offer a variety of other unique offerings as well as those heavenly donuts that we all know and love. Some of these have been doing it for quite a while, while others have just started, but all have made breakfast selections not so boring and tres yummy.
Southern Maid – 1514 W. Gentry Pkwy., Tyler, (903)593-7251
First we start with a legend, Southern Maid. In our search for the best donuts in Tyler, we met Mary and John Teel when we visited Southern Maid. They are the sweet owners of this legendary donut shop on the north side of Tyler, that got its start over 60 years ago.
Mrs. Teel said Southern Maid in Tyler opened in the late 1940's or early 1950's across the street from where it is now on Gentry Parkway. They sold doughnuts wholesale to Ideal Bakery Co., now Flowers Bakery, which sold them all across East Texas before there were a lot of small retail doughnut shops," she said.
The Teels moved to Tyler in 1971 and bought Southern Maid when the previous owner retired. The Teels began selling strictly retail in 1977, and they know most of their customers by name.
Southern Maid offers 25 to 30 different kinds of doughnuts, all handmade with extreme love and devotion to quality.
Southern Maid's varieties include six flavors of cake doughnuts, doughnuts with sprinkles, nuts or filled with jelly, lemon or Bavarian cream; cinnamon rolls and twists, apple fritters and sometimes chocolate éclairs. Mrs. Teel said they have the "best blueberry cake doughnuts in the world, but our glazed doughnut is our most popular."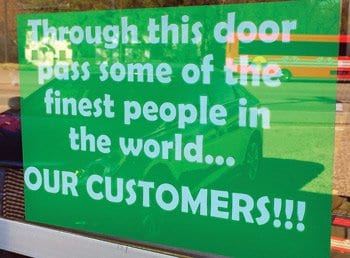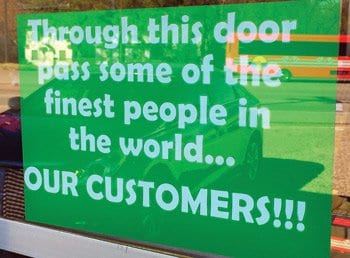 We sampled their Maple Glazed donut covered with sprinkles, the most popular and traditional glazed donut, plus several kolaches, one jalapeno sausage, and the other the plain version. Donut holes were included in our bag, and these were some of the best we have tasted. The Pigs in a Blanket come with a signature recipe of sausage crumbles.
Mr. and Mrs. Teel are real, hard-working people who not only create delicious food but are genuinely interested in who they are serving it too. Be sure to get there early – they sell out fast.
Southern Maid is even in the Guiness World Book of Records for the World's Largest Donut! It took eight people to lift the 74-lb doughnut out of the specially constructed 3-foot-deep cooking vat used to deep fry it. Made by the Holly Drive Baptist Church Youth Group of Richardson, Texas, under the direction of Monty Maple, with assistance from the Southern Maid Donut Company, the glazed doughnut had a 5-foot 9-inch diameter.
Did you know that Elvis did the only commercial of his life on November 6th, 1954, for Southern Maid Donuts? He sang their jingle, "You can get 'em piping hot after four PM, you can get 'em piping hot. Southern Maid Donuts hit the spot, you can get 'em piping hot after four PM." The Tyler location closes at 11am but Elvis' impact on Southern Maid Donut sales is legendary.
Southern Maid is open Tuesday-Saturday, 6-11am.
Donut Diner – 225 E. Amherst Dr., Tyler, (903)630-6150
Welcome to the neighborhood, Donut Diner! Although Donut Diner has been open for a little bit, they are new on our scope of breakfast options. Located just behind Old English Village, right on the edge of the midtown Pollard Farms neighborhood, owners Rom Phath and daughter Pear Sok bake up some heavenly goodies every morning.
"We are proud to say that we make all the goodies in house, fresh daily. My mom (Rom) cooks everything from scratch," states Pear.
Claiming the "cheapest dozen in town" at $3.99 for a dozen of glazed donuts, Pear says that they are a favorite for large orders for churches and schools.
One of their specialties are Kolaches, a traditionally soft doughy pastry cradling in its center a filling of different varieties. From "Edible Austin," "Long ago, in a corner of the Austro-Hungarian Empire now known as the Czech Republic, Maminka was trying to bake bread, but her daughter, Lebuse, kept interrupting her. So Maminka gave her a piece of dough to play with. Happily, Lebuse rolled and flattened her dough, added some plums from the table, and slipped her creation into the oven with the rest of the bread. When her father came in from the fields for a snack, he grabbed Lebuse's little cake, which promptly squirted him with scalding plum juice. Crazed with pain, he began hopping around the table in a circle. Lebuse, who found all this very funny, cried out, "Tatinek je do kola!" In other words: "Tatinek is making a wheel" as he jumped about.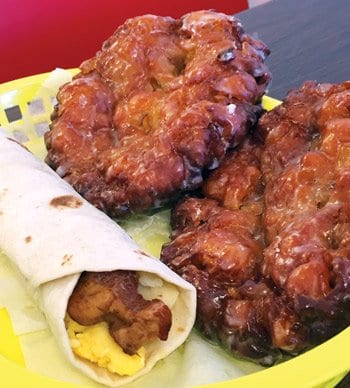 And so the kolache – a ball of dough, not unlike a slightly sweetish dinner roll, was born, its name having evolved from the Czech kola, meaning 'wheels' or 'rounds.'
Texans, of course, put our own spin on these, making them to resemble pigs-in-a-blanket, but still kept the slightly sweet dough. And we enjoy them immensely!
At Donut Diner, we tried their Spicy Jumbo Kolache Roll and found the slightly sweet dough a nice mix with the tender and juicy sausage. They also offer kolaches with regular sausage, a combo of sausage, egg and cheese (with and without jalapenos), and a ham, egg and cheese version.
Donut Diner has very good Apple Fritters, and we found their breakfast burritos stuffed full of scrambled eggs, your choice of sausage or bacon, potato, and cheese, to be very good as well.
Donut Diner offers traditional glazed donuts, cake donuts, speciality donuts, eclairs, cinnamon twists, muffins, croissant, biscuit sandwiches, and a huge selection of beverages.
Take our advice, start your day off right with an Apple Fritter and chocolate milk, or perhaps a sausage kolache and a cup of coffee. You won't be disappointed.
There is seating, as well as to-go orders.
"Donut Diner is excellent. Their glazed [donuts] are a great bargain and delicious. Service is very fast, and the food is always fresh," said Melanie Black. "We are always greeted with a smile by the friendly helpful staff."
Donut Diner is open until 2pm daily.
Star Donuts – 1611 S. Broadway Ave, Tyler, (903)592-2092
Star Donuts was our fourth or fifth stop of the morning, and we were starting to shake from all the sugar. Nevertheless we trudged on. Writing about donuts is hard work, but someone has to do it!
First, there are several Star Donuts in Tyler, but they are not all owned by the same people. You have passed by this one a hundred times because it is located next to Bergfeld Park with the cool 1950's deco sign out front.
Unlike the other stops, we dove right into the other stuff on the menu. We were very happy to see a sign that read "Earl Campbell Sausage sold here." When Earl started making sausage, he said "I like spicy so keep on adding more pepper 'til it is just right." Star uses this yummy sausage in pigs in a blanket.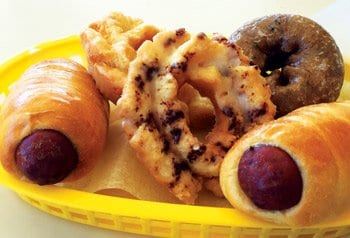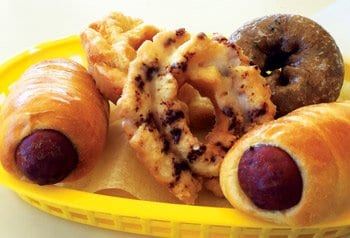 We unexpectedly found them to be not too hot but yes, very peppery. Combined with the warm dough wrapped around the big sausage link, Earl and Star Donut, you did a great job creating these.
We got a dozen glazed donut holes for fun. Star Donuts offers chocolate iced ones! From Wikipedia, "The hole in the center of the donut appeared in the first half of the 19th Century and allows the donut to cook more evenly." We already knew that.
Star offers Big Pigs in a Blanket, breakfast sandwiches, croissants, biscuits with sausage, bacon, ham, egg, cheese or boudin.
Traditional glazed and cake donuts, "fancy" (the ones with the yummy toppings), blueberry cake donuts, twists, jelly donuts, apple fritters, and giant cinnamon rolls are also available.
Shipley Do-Nuts – 1700 SSE Loop 323, Tyler, (903)566-0006, www.shipleydonuts.com
While the traditional spelling of the tasty treat is 'doughnut,' Dunkin Donuts popularized the 'donut' version for obvious reasons, and Shipley's made famous "Do-Nuts."
From the Shipley's website, "It was 1936, the end of the Great Depression, when Lawrence Shipley, Sr. created a gourmet recipe for 'Do-Nuts.' So delicious were the Do-Nuts that they have withstood the test of time. Cut by hand and served hot throughout the day, the Do-Nuts were 5 cents a dozen and were only sold wholesale. The product was so successful that it started to sell on the retail market in the mid 1940's. With Lawrence Sr. away on do-nut routes, his wife Lillie would stay behind and make the culinary delights with Lawrence Jr. at her knee." And thus, it all began.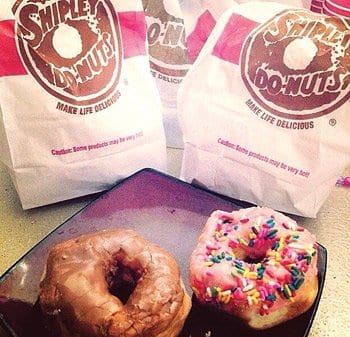 Lawrence Jr., worked in the business all of his life, continuing his father's vision and making Shipley Do-Nuts the successful franchised business it is today. He expanded the company to more than 190 stores around the nation in Alabama, Arkansas, Louisiana, Mississippi, Tennessee, and Texas.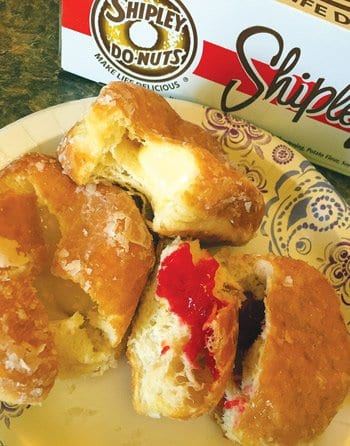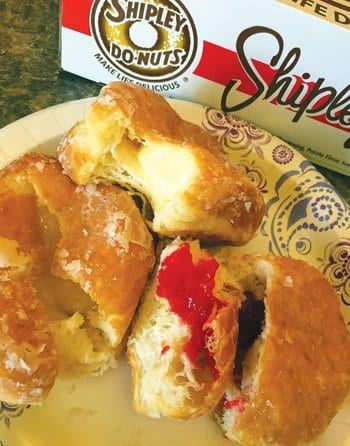 Tyler has one of Shipley's many locations, located in the Tanglewood Shopping Center on the east side of Tyler.
"I have been eating Shipley Do-Nuts since I was in high school. The creme filled ones are my favorite. The donuts are very light, rather than dense and cakey, which I like," said Mitch Graner as he sat with his daughter, having a quiet, sugar-filled, 'bite of heaven on earth' in Tyler.
Shipley Do-Nuts offers iced, glazed, and filled 'do-nuts.' With over 60 varieties, Shipley remains consistent with their freshness, and still to this day the plain glazed do-nut is by far their best seller.
A few stand outs are the Maple donuts, chocolate creme filled donut, and the Bavarian filled donut. Some people won't admit it, but the best part of a donut is a steaming hot cup of coffee to go with it. Without coffee, donuts are just another confection, but together they are a perfect match. A large cup of coffee is only $1.49 at Shipley Do-Nuts.
Cake Do-Nuts are available in blueberry (a favorite) and buttermilk. Cinnamon Rolls, the Old Fashioned Cinnamon Rolls, and Butterfly Rolls are freshly baked. Apple Fritters, Filled Bars, Cinnamon Twists, Iced Nut Rolls, Do-Nut Holes, and of course the classic, glazed donuts are available.
Also, kolaches are offered in varieties like Big Earl Sausage and Cheese (regular and jalapeno), traditional sausage, Ham and Cheese, and Sausage and Cheese.
Shipley Do-Nuts is open daily 5am-1pm. They have seating as well as a drive-thru.
Royal Donuts – 1628 NNW Loop 323, Tyler, (903)526-5552
Located at the intersection of Old Henderson Hwy. and Loop 323 on the east side, is Royal Donuts. It has been here for many years. For us, their huge Cinnamon Rolls are a stand out on the menu. The day we went, they had just taken a fresh batch out of the oven. I think we were quite literally drooling as we ordered several of these hand-rolled rolls. The delicate blend of tasty dough, sugar, a light glaze and loads of cinnamon throughout all combined with a Sunny D juice will definitely not leave you disappointed!
Also, Royal Donuts offers traditional glazed donuts, cake, blueberry, twists, jelly donuts, and fritters. Pigs in a Blanket are offered in traditional size and Big Pigs. Croissants, biscuits and tacos are available with ham, bacon and sausage.
Royal Donuts has seating as well as a run and dash option.
Star Donuts & Croissants – 1940 Troup Hwy., Tyler, (903)595-0006
Located in the funky-style building on Troup Hwy., Star Donuts & Croissants offers a big selection of standard donut fair, but the stand out on the menu for us is a unique creation – boudin kolaches. Yes, the Cajun favorite rice and sausage boudin link is stuffed inside kolache dough then baked. It is truly a remarkable tasting thing and something that you must try immediately.
At Star we love the Kolache Puff too, which is like a normal kolache but square in shape and with a more sandwich-like feel with a Texas flair. It has less bread than a normal kolache and comes with either bacon or sausage. Other kolaches offered are cheese and hot link versions.
Star has all the classic glazed donuts, fancy style donuts which are the iced versions, jelly-filled, twists, and cinnamon rolls. The vanilla glazed donut with chocolate chips is great. The glass-fronted display is always a plethora of color and options. "We love all the sprinkled donuts because, well, who doesn't like sprinkles. My daughter grins ear to ear when I tell her to pick one. Coming to Star is a Saturday morning tradition for us," says mom Katherine Reick.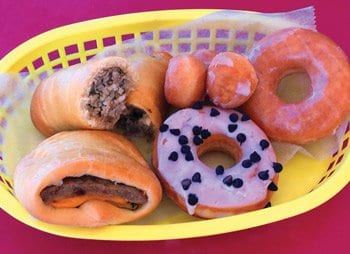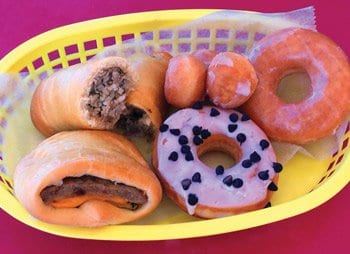 Breakfast tacos, biscuits, and croissants are available too.
They have a huge selection of your favorite breakfast beverages, including coffee, hot chocolate, sodas, Starbuck cold drinks, energy drinks, and more.
Think about this – a warm chocolate glazed donut and a Yoohoo – this is what makes a happy life!
Star Donuts & Croissants offers seating and to-go orders.
National Donut Day: June 6th
National Donut Day is celebrated on the first Friday in June, this year falling on June 6th. National Doughnut Day has been celebrated since 1982.
In 1917, Salvation Army female volunteers known as "lassies" prepared thousands of fresh donuts for the homesick soldiers that served in France during World War I. National Donut Day was officially established in 1938 by the Chicago Salvation Army to raise much-needed funds during the Great Depression.
Mark this down on your calendar because this day is as fun as your birthday!
Happy sugar-filled day everyone!