---

Written and Photographed by Barbara King
Let's discuss a hidden gem in Lindale that's like no other. A tribute to the best Asian cuisine added to the ambience of upscale dining, and you have Leo's…a dining experience of unparalleled excellence.
Leo's Asian Bistro is the epitome of a family affair, and this is evident in everything from the décor, to the food, to the exceptional service. The Crist family, formerly of Julian's, bring their painstaking attention to detail, their love of family, and great food to their passion about their restaurant.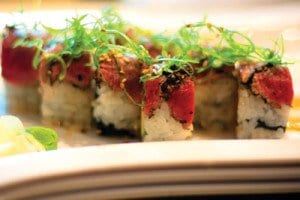 They are pioneers in the concept and design of an open kitchen where you can sit right next to the sushi chef, have a drink and soak up the atmosphere. This is definitely a destination for fine dining with the flair and the exotic feel of the big city.
Carey Crist is the effervescent "front man" of the business and he explains, "We want to bring a new and exciting option to dining that highlights the best of us. This is a dream and vision that we all share, and we are extremely proud of how it has evolved."
Brother and Chef Lonnie is the soft-spoken creative genius behind the spectacular dishes on the menu. "We utilize only fresh ingredients in all our dining options and offer healthy bowls and numerous gluten-free entrées as well." It is truly a labor of love in the kitchen, with sauces prepared every day and with 95% of ingredients fresh, not frozen. Friday and Saturday nights feature spectacular sushi, surf-n-turf rolls, spicy and crunch rolls, lobster crunch and California favorites. More adventurous types can feast on tuna, salmon, and escolar sashimi or try the same options with Nigiri.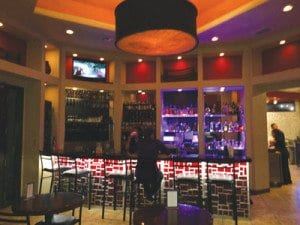 You're probably wondering where the moniker Leo's comes from? The brothers love to recount the story from their childhood, when they teasingly referred to each other as "Leo." "Now the nickname represents and symbolizes a partnership that we can't walk away from," explains Carey. Even their logo epitomizes the four branches of their business, the 'o' in Leo is a four cornered square, representing the two brothers and their wives.
Service and relationship building is key to success, and one thing that is sure, you will be well taken care of during your dining experience. Carey and Stacey's daughter Hayley will greet you with a great smile, and returning customers are remembered and called by name. The beautifully stocked bar is front and center, and guests are surprised to see wine on tap. The restaurant has already made a name for itself with specialty drinks like the fired up wok line martini, Leo's Long Island and a plethora of Asian beers to choose from.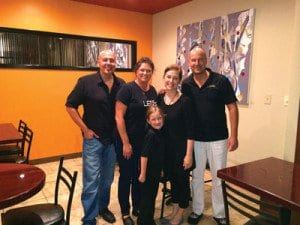 Lindale's Mayor Pro-Tem, Jeff Daugherty, was enjoying a father-daughter dinner date, with his daughter Regan Hutchinson. "We come here often," Daugherty said. "It is a much welcomed addition to Lindale and fills a much needed niche in the dining scene." Regan raved about the lettuce wraps and spring rolls they were sharing for appetizers, followed by teriyaki beef and orange chicken. "Not only is the food excellent," she said, "the service and attention to detail make it a great special evening."
The menu is extensive and Executive Chef Lonnie takes pride in both the taste and presentation. Appetizers run the gamut from crispy wonton strips to baby-bang shrimp and chicken (a gluten-free choice). Start your meal with an incredible soup like hot and sour, creamy cilantro or Thai coconut and lemongrass.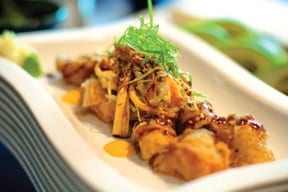 Then make a salad choice, from mango shrimp, Leo's spicy chicken or Thai steak. Leo's bowls are legendary, including health bowls (carrots, onions, broccoli, ginger, mushroom with beef, chicken or shrimp), teriyaki chicken, Thaiphoon bowl (filet mignon wok seared with onions, mushrooms, cilantro, mint, basil, garlic, chili paste and soy sauce), Pad Thai noodle bowl, or a shrimp bowl. Le Kamagra est disponible économiquement. Vous pouvez acheter Kamagra en ligne sans ordonnance en France depuis peu https://pilemeds.com/commander-kamagra-moins-cher.html .
Entrées include all kinds of scrumptious chicken choices, including orange chicken, coconut curry chicken, sweet and sour, Leo's own spicy chicken, Kung Pao, honey seared and sesame chicken.
Of course there's beef… Hibachi steak and lobster, mango beef, Kung Pao, pepper steak and sesame beef.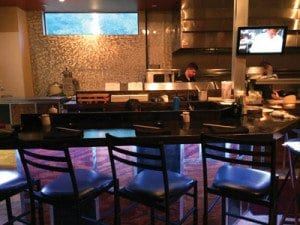 Knowing the Crist family means that they value your family too, so there is a Lil' Leo's just for kids menu featuring vegetable fried rice, chicken bites with broccoli, and chicken and beef bowls.
You can also call ahead and find out about the lunch specials and they will have your order ready for pickup. Additionally, Leo's can cater an out of this world menu for your wedding, corporate event, family reunion and other special events.
The Crist family lives in Lindale and supports the east Texas community. Tyler artist Amanda Slaughter's vibrant art lines the walls, while the decadent cheesecakes come from local baker Bryan Méndez.
"We have been humbled and blessed to be able to live and thrive in this community," said Jennifer Crist, Chef Lonnie's wife. Together with Carey's wife, Stacey, these four dynamic and very different personalities have created a labor of love that is a strong balance of love, family, and great food.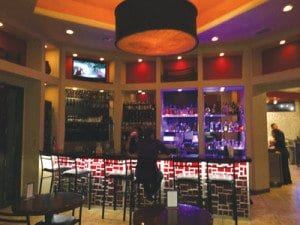 "We make decisions together as a team, and Carey and Lonnie are strong leaders," Jennifer said. We have the same goals: to build relationships, provide great food and service, and to make it a unique and special experience for everyone who comes through our doors." "We have fun and get it done," adds Stacey, "and as anyone who runs a small business knows, at the end of the day you have to love each other and love what you do."
As the night winds down, Lonnie and Jennifer's daughter Skyla, 7 years old, gets a hug from dad and some specially made sushi as she shares her love of Leo's, proudly telling of serving water and the after hours "dance off" she leads as everyone unwinds after a busy Saturday night.
Join the Crist family and make Leo's your next destination for an unforgettable adventure in dining!
Leo's Asian Bistro is located at 2808 South Main in Lindale in the Sherwin Williams Shopping Center. Hours are Tuesday-Thursday from 11am to 9pm, Friday and Saturday 11am to 10pm.
Leo's is closed Sunday and Monday. Call (903)882-5367 or www.leosasianbistro.com or on Facebook leosasianbistro.
---