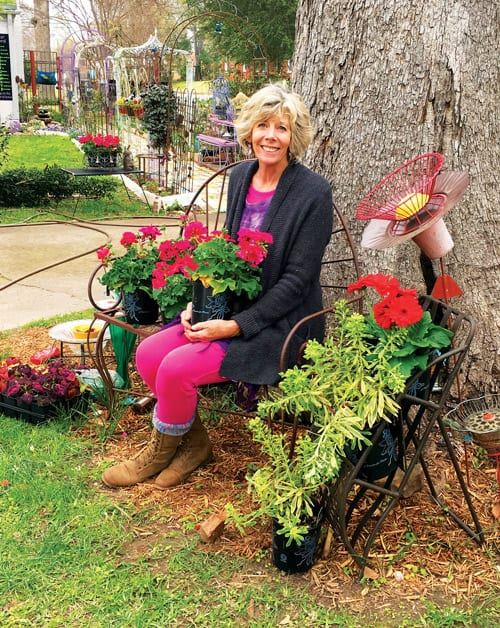 By Barbara King
It's literally a cornucopia for the gardener's imagination, and it's right off the Brick Streets of Tyler.
What was originally a hobby for landscape architect, Dory Hersey, has bloomed into a flourishing "backyard oasis," meant specifically for stop and smell the flowers moments.
Garden artist Dory is celebrating the one year move from the Brick Streets to her current home and garden location and loving every minute of sharing and inspiring others to visit and enjoy the park-like setting. Driving up to the corner of Augusta and Rusk Streets, guests are immediately made welcome by the outside porch entrance to the "Garden Fancy" boutique shop, which is literally in Dory's front parlor. Here you will find everything garden from colorful clothing and Seattle spiced tea to candles to succulents. It's a warm, inviting cozy space where you will want to wander and discover scents and images. Dory has also created her own unique cards and calendars featuring her striking floral photos.
Dory's passion for people and plants as living art is apparent around every corner in the outdoor space. Your entrance to the "secret garden" begins by entering under the lavender gate as Dory's personal mantra becomes apparent: "Inspiration Awaits Beyond the Lavender Gate." Following the gate is a colorful Morse code walkway leading to a ½ acre visual plethora of pots, plants, and garden paraphernalia. Signs throughout the garden tell the story, "Smell the Roses," "Perennial Picks," and "Under the Sea-dum."
It's a peaceful, lush space designed for sitting, walking, and gazing, complete with tables and chairs, where guests are encouraged to "bring their lunch and coffee and stay and enjoy the outdoors," said Dory. The garden is the perfect tactile experience, as Dory says, "I wants my guests to touch and feel the flowers, pots, and plants and imagine how they would look in their own home."
Dory's Gardens was created for the exchange of ideas and inspirations, and Dory is the conduit for your gardening dream to become a reality. Dory's personality looms large in the garden, and visitors are greeted with warmth as the conversation turns into a one-on-one tour of the garden. Dory inspires networking and sharing, so once a month she hosts a "stalk exchange" on the second Saturday of the month, and the garden transforms into a plant swap meet. Refreshments are served while you roam around to find new flowers, and gardeners are encouraged to bring extra starts and bulbs to trade.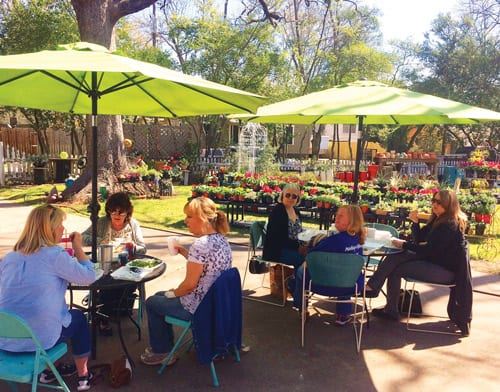 Mother and daughter duo Morgan Chaney and Karen Nelson, who live in the neighborhood, love the "peaceful spirit" of the garden and Dory's knowledge of "what works and what doesn't in a garage apartment space," said Morgan. They have also taken advantage of Dory's unique workshops, held on the fourth Saturday of the month, recently finishing a colorful terrarium, utilizing different varieties of plants that look great in the apartment, according to Karen. The classes change monthly, usually ranging from $15-$20 with all material supplied, and you walk away with a floral treasure for your home. Private classes are also available with a minimum of four guests.
Bring your own container or buy a pot at the garden, and Dory will help pick out the perfect arrangement of plants suited to your lifestyle. The first Friday of every month, Dory picks featured flowers in their prime, so choice is great for new blooms to add to your beds.
The garden is the perfect destination for a family outing too, with hands-on play areas including a maze for kids and the very kid-friendly pond with the opportunity to feed the goldfish in the fountain. The garden has tons of seating areas to relax, but it's not too spread out that you can't keep an eye on the kids.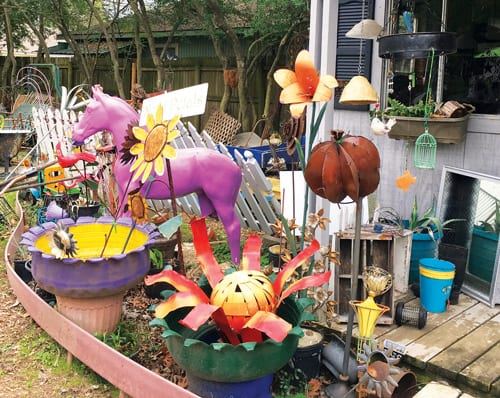 Dory promotes her love of the community by featuring ceramics, jewelry, birdhouses, and other items by local artisans. The garden is chock full of unique plants, herbs, shrubs, garden décor, outdoor furniture, tools, pots, and vibrant color as far as the eye can see.
Troy and Hillary McFarland, who were touring Tyler on a day trip from Dallas, did a Google search on "flowers" and found Dory. They brought their coffee and took a leisurely stroll around the garden, even though Hillary said, "We kill all of our plants and definitely don't have green thumbs." The couple said they were "amazed that this garden existed in an established neighborhood like this; what a great surprise! We were so thrilled that Dory spent the time to visit with us and explain the gardens," said Hillary. The Dallas couple left happy with succulents and church window art for their home.
You can plan a private party in the garden or a dress-up birthday tea party with crumpets for kids with Dory's guidance and creativity for a memory that will never be forgotten.
"Guests who visit become my new friends, and most come back and will sit and read, knit, enjoy a hot drink, or sit under the trees to feed birds and squirrels," Dory said.
Visit Dory's Gardens, and let your imagination soar! Dory's Gardens is located at 600 W. Rusk St. (at Augusta). Dory's Gardens is open Thursday-Saturday, 9am-5pm. For more info call (903)330-4663, dorysgardens.com, or look for Dory's Gardens on Facebook.