East Texas Craft Beer Group: Good Friends and Good Beers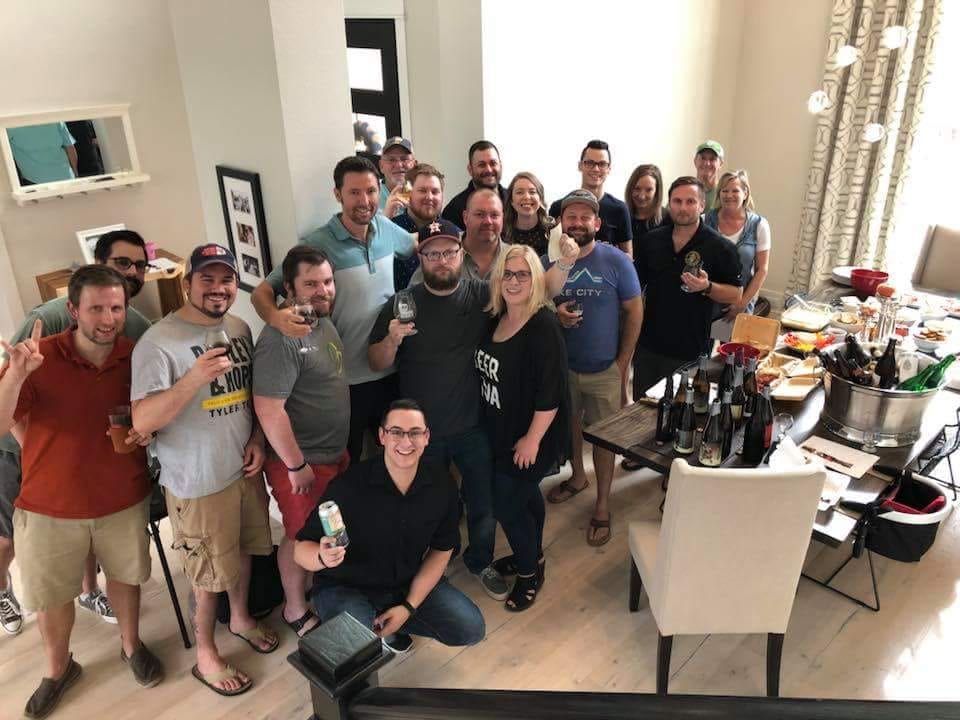 By Johnny Griffith
For many East Texans, if you mention beer what comes to mind is one of the big commercial brews you see advertised ad nauseum during sporting events and prime time TV. However, a growing number of beer drinkers are branching out from the same old same old and embracing the burgeoning craft beer movement. In a forest full of diverse craft beer choices from a myriad of micro-breweries across the country, sometimes it becomes hard to see the individual trees and know which beers are worth trying and which are great to sit on the shelf and look at the groovy can. Luckily, local brew-o-philes Jarrod Maness and Greg Lewis recognized the need for a resource and formed the East Texas Craft Brew Group (ETCBG )on Facebook.
Maness and Lewis both share a love of the brew and have backgrounds that helped expose them to a wide variety of styles and tastes. Jarrod is the manager of Juls Events & Envirocare while Greg has worked for FRESH as the beer and wine specialist, True Vine as head of sales, and is currently working with Kiepersol Winery.
I sat down with both recently to figure out what exactly the ETCBG is and what they're up to.
Johnny: I guess let's start off with what exactly is the East Texas Craft Beer Group?
Jarrod: It's a place where all walks of Craft Beer Enthusiasts/Fanatics/Explorers/ are invited to share, question, inquire, and learn about "Craft Beer From the Local, State, and even National Spectrum."
Johnny: So when and where was the idea for the East Texas Craft Brew Group born?
Jarrod: Greg and I had tossed around the ideas for a couple of weeks about starting a group on Facebook that would talk about all things craft beer. At the time, I was the GM of Juls Restaurant and Greg was the Craft Beer Specialist at FRESH. So one night over a bottle of Blind Pig from Russian Rivers Brewery, out of California, at my kitchen table, we came up with East Texas Craft Beer Group (ETCBG).
Greg: If I remember correctly Jarrod Maness approached me about the idea while I was frequenting the restaurant he was running at the time. I'm glad he did because I've made many friends through this group.
Johnny: How many craft brews had been had that night prior to the idea coming up?
Jarrod: The night we actually cemented the group, surprisingly only one! Very unheard of with most of our bottle shares.
Greg: At that point in my life, it was an 'off day' if I wasn't two IPAs in by 7:30pm. I've slowed down since but our conversation about the group was discussed over a few beers and great fellowship.
Johnny: So what do you feel is driving this trend we've seen the last few years toward more and more options of beer in the market besides the traditional macro-brews that have dominated the market for so long?
Jarrod: I think a lot! But the three areas I truly believe are most important are: first, how the craft beer community as a whole has embraced teaching and sharing what craft beer is all about. Next, we as a community, want to support our micro breweries and brew pubs, that are locally owned and operated here in Tyler and Longview and other cities throughout Texas. And finally, they taste really good!
Greg: Variety! There have been a ton of new styles introduced including the semi-controversial Hazy IPA – a style of IPA that has a foggy/hazy appearance and a hoppy aroma without all the bitterness of a regular IPA. Many brewers have been introducing fruits to many beers to help reach a wider audience and broaden their marketability to new people.
Johnny: How would you say the general knowledge of craft beer overall is in this area?
Greg: Man, it's growing a ton. The people from east Texas have become more and more curious because they see their regular beers getting replaced with new beer. Brands like Revolver, Deep Ellum, True Vine and ETX Brewing are taking over tap handles all around east Texas. Its indicative of the growth in knowledge for the area.
Johnny: Is the group primarily Facebook based or are there scheduled meetups to have beer tastings and swap notes?
Greg: I'd say primarily Facebook based, but we do meet up a few times a year in order to raise funds for local charities and have a good time, most notably for "Dogtoberfest" benefiting the SPCA of East Texas.
Johnny: Do you have any organized educational events where you try to enlighten the membership on different new styles, perhaps variations within styles or new trends?
Jarrod: Actually, we had one of our members, Jordyn Rose, host an Off Flavored Beer Class, where she helped people identify off flavors in beer. She is planning on setting up another one. At our bottle shares and through conversation topic starters (on the forum) there are a lot of in depth conversations about styles and variations of the beers being shared.
Greg: The page has become a resource for people who want to learn about new styles. The comment section of a post will always have people asking questions or commenting about what they thought of that beer. It's fun to see the interactions of people and friendships become built in the group. We have a few members that always make very intriguing posts that will facilitate discussion. Another Admin that we have, James Gillingham, has been a huge influence in facilitating discussion. He is always posing questions for the rest for the group to answer.
Johnny: How has the public response been to the creation of the ETCBG?
Jarrod: We continue to grow each year adding more community members that are constantly sharing, educating the group about upcoming trends, and what's brewing locally.  The addition of James Gillingham as an admin was huge. He is truly one of the most giving guys I have ever met, and let me go on the record to state, if you are invited to one of his bottle shares – it's like Christmas, but for craft beer lovers and he is an amazing cook. Great craft beer calls for great food, right?
Johnny: What does the ETCBG have in store for the remainder of 2019? Any special events?
Jarrod: This will be our third year to have our annual fundraiser to help raise money for the SPCA of East Texas. In ETCBG, we love our craft beer and our Furry Family members!
Greg: Every year our goal is to raise funds for Dogtoberfest and that is our main goal. To be honest, Jarrod Maness absolutely rocks that event every year and I'm just proud to be able to help out in the small way that I can.
Johnny: So what style of craft beer would you say is your current favorite at the moment and why?
Jarrod: Anything where maple is involved in the beer! I'm a sucker for great pastry stouts! Big thick mouthfeel with rich maple syrup in the nose and finish…I'm getting thirsty just thinking about it!
Greg: I spent the better part of two years drinking beer almost everyday and I was drinking every style, IPA, Brown Ales, Bourbon Barrel Aged Stouts and porters, Sours… you name it. Today, you can find me drinking a nice clean lager or pilsner like Hans Pils by Real Ale or Tropic of Thunder Lager by Stone Brewing Company. I'll get crazy and buy an IPA or two as well.
Johnny: If you had to suggest a good transition beer to get someone from one of the traditional macros to craft beer, what would your answer be?
Jarrod: Yard Bird from ETX Brewing or Smith County Lager from True Vines, both of which are local breweries! These beers offer great flavor with a clean crisp finish.
Greg: Blondes and Lagers are great "in between" beers. I enjoy Hans Pils by real Ale, Love Street Blonde by Karbach, Brickstreet Blonde by ETX or you can take a huge gulp of a Black IPA and fall in love with craft beer, like I did.
Check out the East Texas Craft Beer Group at facebook.com/groups/338376999706636.


Upcoming 5Ks, 10Ks, Marathons, Tri's & More
Downtown Tyler welcomes the Beauty and the Beast Bicycle Tour
More than one thousand cyclists will be pedaling their way through the brick streets as the largest cycling event in East Texas returns to Downtown Tyler.
On Friday, Feb. 7 at 6 p.m. at ETX Brewery, the Tyler Bicycle Club will announce the routes, present the new logos and the new "beast" that cyclists will have to slay!
"Downtown Tyler and its merchants have embraced this event," said President of the Tyler Bicycle Association Bill Lewis. "We anticipate 1,000 cyclists in attendance to see the beauty of the Rose City and celebrate on the Downtown Square."
The tour name, Beauty and the Beast, depicts a beautiful bike ride in the rolling hills of east Texas, with the "Beast" being a hill on Old Omen Road as you leave Lake Tyler. Participants earn a medal if they can "slay the Beast" and pedal to the top of the hill.
The Bicycle Tour features three routes of 26, 43 and 62 miles that will begin at College Avenue and Erwin Street at 9 a.m. on Saturday, March 14th. The City of Tyler Transit buses will be running early that morning to help cyclists get to downtown to ease parking issues. The cyclists will make their way east of town and head toward Overton.
This is the 32nd year of the event and the tour's roots go back to the late 1980s when Lance Armstrong made an appearance and was the largest cycling event in the state.
Proceeds from this year's event will go to support the Salvation Army and the maintenance of the Mountain Bike Trails at Lindsay and Faulkner Parks.
For more information, contact Bill Lewis at (903) 372-4511 or lewislandman@gmail.com.
For more events, check out EGuideMagazine.com 's entire


---
There's a great amount of variety with the walks, runs,
triathlons and more in East Texas. Check out these upcoming events.
It is free to post any event. Please click "Add Event" below to add yours!

Concerts & Classic Movies at Liberty Hall This Week

Tickets available at LibertyTyler.com or on Facebook at @LibertyHallTyler. For more information about upcoming events, sponsoring an event or renting Liberty Hall, email LibertyHall@TylerTexas.com or call at (903) 595-7274. Liberty Hall is located at 103 E. Erwin St., Downtown Tyler.
Full Calendar for Liberty Hall:

Live Music Guide, Tyler TX

---
There's tons of Live Music & Concerts This Weekend!
To list live music here, e-mail to eguidemagazine@gmail.com.