Still Feeling Blue After All These Years
By Johnny Griffith
Edwin Holt caught a mad case of the blues about 30 years ago, and it hasn't let go yet.
The East Texas native was a graduate of West Rusk where he spent most of his time around the band hall when he wasn't at home listening to his father's collection of 45's to the tune of Sam Cooke, Little Milton, and the like.
After high school, Holt sought to spread his wings and ended up at The University of Mississippi in Oxford, Mississippi. Here, he was exposed to music in a way he never had been before. Eventually finding his way to Dallas, Edwin would make his mark on the Blues Scene over the next several years playing with established acts.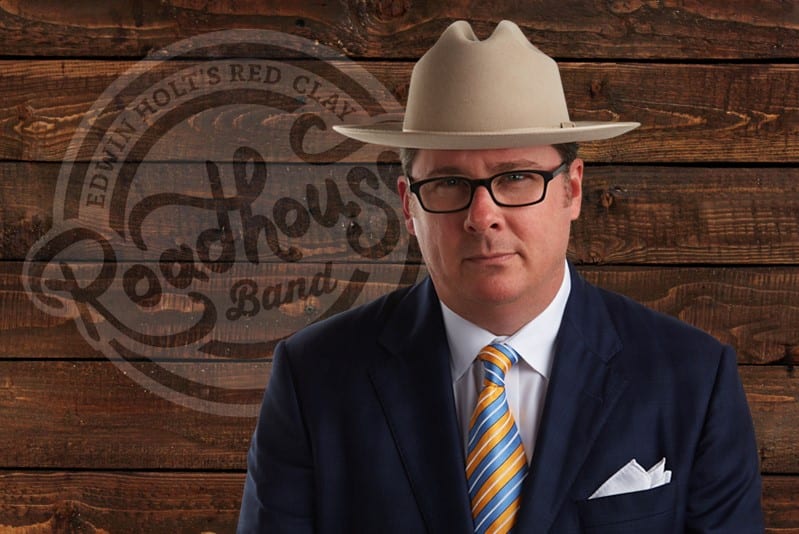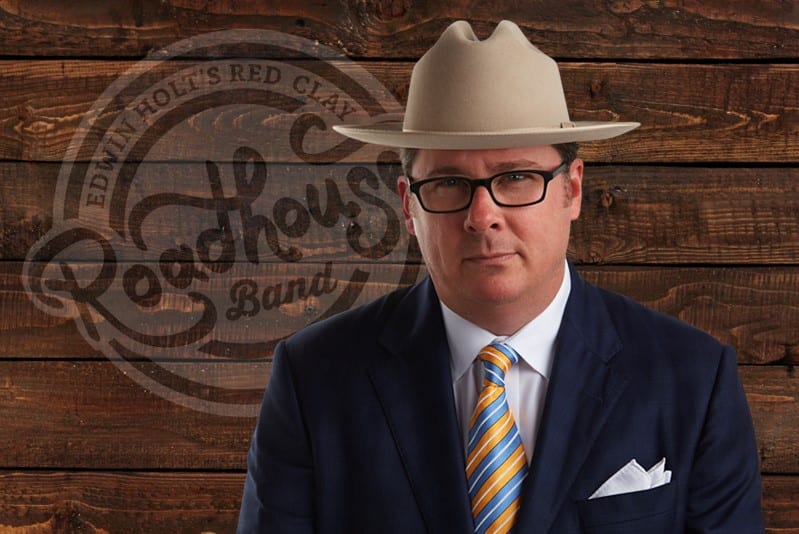 After earning the respect of his peers through years of gigs, Holt was eventually asked to take over Johnnie Winters' backing band after his death. Eventually Holt stepped away from touring to spend more time with family and focus more on his design firm right here in Tyler.
Fast forward to present day and Holt once again finds himself at the helm of a new group, The Red Clay Roadhouse, and this time the sound is probably the most unique blend he's every been a part of. We caught up to the blues man recently to get to know him better and get the scoop on his latest project.
Johnny: You've been in music for a long time, at last count I've got you more than 30 years in the business, but let's go back to the beginning. When did you first get the itch for music?
Edwin: The big "aha" moment for me was when two guys from Greenville, Mississippi would take me to see James Son Thomas perform in Oxford. James was the real deal, which would then turn into an introduction to the Mississippi Delta Blues Festival, an event that I attended for 13 years in a row and would finally headline three years in a row later on in life.
Johnny: East Texas has a deep, rich, musical history, but the blues has often taken a backseat to other genres. Mississippi, on the other hand, has the ghosts of blues legends around every corner. What was it that drew you into the blues when you went to Ole Miss and then later when you came back to TCU?
Edwin: I couldn't get out of the music scene long enough to actually attend class, which dented my grades. Frustrated with my lack of academic progress, my parents would pull me out of Oxford (Mississippi) and place me at Kilgore Junior College until I could get my grades up to attend TCU, but Mississippi was the turning point for me in blues music. I think East Texas has nurtured a number of great musicians, but historically they left for bigger and better things. Freddie King, George Jones, etc…
As far as drawing me into the blues at TCU, I missed Mississippi, and so I went looking for what I missed and found it deep in the depths of South Dallas. An entire subculture of music that exists underneath all the glitz and glamor of Dallas. This is the real turning point where I decided to take the plunge and begin establishing myself as a musician and performer. I would soon join an all black blues band and tour every juke joint within Texas and even Oklahoma.
Johnny: Who were some of your early influences as you were getting your start in and around Oxford, Mississippi?
Edwin: Again, the main figure would be James Son Thomas, but that all changed as I began to progress within the urban areas of Dallas. There's a transformation that the black blues world made from rural blues to soul blues. From the delta of Mississippi, I would soon evolve into the sounds of Johnnie Taylor, a much more soulful sound or slick blues as some folks refer to it.
Johnny: As you split time at TCU between class and a burgeoning musical career, how did your family react and were there ever any doubts in the early days that you'd made the wrong choice?
Edwin: I actually graduated from TCU with a degree in liberal arts, and I would go on splitting my time between a day job and a musical career; something that I still struggle with today. I tell people all the time that I don't know if music is a temptation, a distraction, or an opportunity. I've done well with my career as a designer, but I've struggled all my life between two loves.
Johnny: Obviously history proved you made the right choice, finding success while becoming a regular in the blues scene and playing with some of the legends in the business. With so many memorable gigs with legends in the genre, are you able to pick one show that just stands above the rest?
Edwin: The best moments never happen on stage. Shows are calculated and rehearsed. There are moments that happen on stage that are special, but a true moment happens unrehearsed and by the seat of your pants. That moment for me was during a funeral. Mary Collier, or Lady Princess as she was known, passed away when I was in my thirties or so. She was a mainstay in the south Dallas blues scene and the greatest unknown vocalist you've never heard. We performed together for 10 years or so before she would finally pass away. Every well known south Dallas blues artist attended the funeral. We all sat on the back row. Ernie Johnson, R.L. Griffin, Tutu Jones, Big Charles Young, and myself. During the service, Johnnie Taylor entered from the side carrying a folding chair then placing it in the center aisle in front of God and everyone, unfolded it, and sat down. While whispers and gasps of surprise riddled through the crowd, the preacher asked if Mr. Taylor would like to come up and say a few words. Johnnie then stood up, took the mic and began to sing, requesting a male chorus from the back row. We all stood up, went to the front, and backed him up while he sang gospel. One of the most amazing moments of my life and completely unplanned. I'll never forget it.
Johnny: Your career has had several twists and turns over the years, a major one of which was when the backing band for that very same Johnnie Taylor asked you to be the band leader after his death in 2000. Was that a call you were expecting and how did it feel to have to take on that mantle?
Edwin: It was a huge undertaking and meant a lot of rehearsals. I hate rehearsals. Horns, charts, timing had to be right on for all numbers. It's a ton of work for a big band due to the number of moving parts, but the impact is over the top. Some of the best little moments of absolute bliss happen during solo horn parts with a powerhouse of players pushing sound forward.
Johnny: Musicians aren't exactly famous for knowing when to walk away from a gig, especially a particularly sweet one, but you were able to successfully step away and focus that creative drive on your business for the sake of your family. When was the moment you knew it was time to come home?
Edwin: Like I said, the battle has never ended. I've been stepping back and forth over the line for thirty years. It's a struggle I'm sure I'll be dealing with until they put me in the ground.
Johnny: So as it turns out, music wasn't done with you, and a few years later you find yourself once again at the head of another band. This time, however, the big band sound has been traded in for something completely different. How did the idea for the Red Clay Roadhouse Band come about, and who are the members?
Edwin: What's interesting about this sound is that it showed up every year on a fishing trip. Each year, thirty close friends would leave the world behind and head to Uncertain, Texas for an annual fishing trip. I always had pickers show up, and we would jam around the campfire at night.
One year, my pickers out of Austin couldn't make it so I pulled in Cadillac Sky out of Fort Worth. I became close to two of their members. Ross Holmes on fiddle and Matt Menefee on banjo. Ross would soon hit the big time touring with Mumford and Sons. Between gigs with Bruce Hornsby, he called me and wanted to know if we could do something between shows. I really didn't know what we could do on stage, so I literally threw some songs on the table. Before we knew what was happening, a new sound was born in Tyler, Texas.
Johnny: The sound seems to me to be a unique blend of blues, bluegrass, roots, and Americana, thrown into a blender, mixed-up, and poured out on stage. How would you describe it?
Edwin: Yeah, that's it all right. Hard to define whatever is coming out of that blender, but it sure tastes good.
Johnny: With genres like Rock and Country dominating the gig landscape in this area, how has the reception been to what the Red Clay Roadhouse Band brings to a show?
Edwin: That has been the most interesting piece to this new sound. Most, if not all, of my followers are from the ages of 45-75. They are people that grew up listening to real music and long for something that's not made in a machine. I would like to think that we represent what's right in the music world. Real music that pulls from the soul.
Johnny: What is on the horizon for Edwin Holt and the Red Clay Roadhouse Band for 2017?
Edwin: Ha! Who knows. I'm taking this whole thing one day at a time. I've been doing it for so long that I've given up the idea of becoming famous. I just do what I do because I love making music. And if I can make someone happy with what I do on stage, then I'm all the better for it.
Johnny: If I'm a new fan looking to go to my first Red Clay Roadhouse Band concert, what can I expect?
Edwin: Food for the soul, my brother. So I hope you're hungry!
Upcoming Shows:
May 27th: Bright Star Theater, Texarkana, Texas
June 10th: Liberty Hall, Tyler, Texas
September 23rd: Big Truck Theatre, Taylor, Mississippi
For more info about Edwin Holt and Red Clay Roadhouse go to redclayroadhouse.com or find them on Facebook.