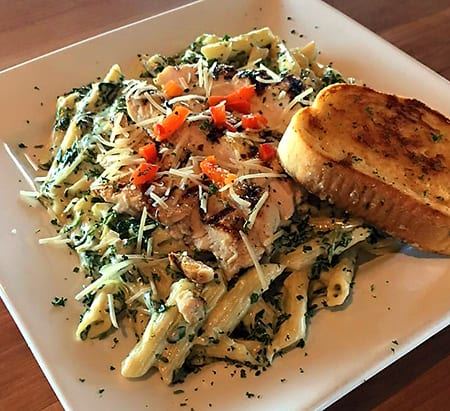 By Barbara King
Yes folks, the holidays are coming, and everyone will be hitting the stores to do frantic last minute shopping. There's a place in town that's perfect for when you are out and about and ready to take a break for a great meal.
In the new shopping mecca of the Villages at Cumberland Park, there's a restaurant that will give you everything you crave: an elegant atmosphere, great food and selection, along with a courteous wait staff that wants you to leave happy and positive about your experience.
It's a step way above your fast food or chain establishments. Opened in December of 2015, owner Scott Williams was in the mood for something a bit upscale, contemporary but inviting. The dark wood of the bar front and center is enhanced by huge booths and some high tops, for whatever strikes your fancy.
It's a great place for a special date night, anniversary, or another occasion, but FD's is also geared for families, and the unhurried slow-paced atmosphere makes it an excellent choice for families on the go.
Charley Groom, FD's manager, says, "We are super excited that the word is being spread that we are a wonderful option for dining. We get first-time visitors in the door every day, and our goal is to have them leave with a very positive opinion of the entire experience with us."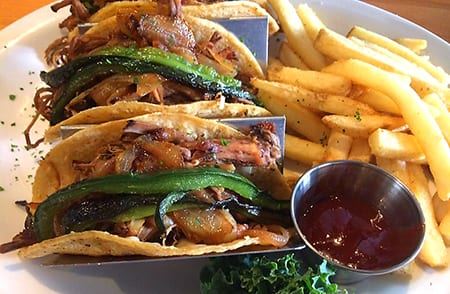 There are several different dining options within the restaurant: the main dining room with lots of booths and room to spread out, the fully-stocked bar with TVs for sports enthusiasts, and the back Florida room enclosed patio with white drapes and a more cozy, subdued atmosphere.
When asked what FD's stands for, you'll get a grin from manager Groome. "It's kind of a fun thing," he explains. "We like to say it's fresh daily or fine dining or whatever suits your fancy on any given day."
The food is always made from fresh ingredients, and as a grill house, the restaurant is known for its fish and steak, but also serves awesome burgers (bacon, portobello and swiss, classic cheeseburger, and brisket burger). Fresh seafood comes in five days a week and includes fresh snapper and trout (in season), along with gulf shrimp. Fish specialties are rounded out by North Atlantic salmon, their famous cedar planked salmon, and tilapia. "Lots of our foods are made fresh every day, including our whipped cream, key lime pie, dressings, sauces, and tortilla chips," added Groome.
You can take your pick of any three items and create your own combo from either lemon gulf shrimp, fried shrimp, crawfish etouffee, North Atlantic salmon, or chicken tenderloins.
The steaks are superb at FD's and include center top sirloin, center cut filet, and baby back ribs or ribs and chicken combo. Carla and John Peters were enjoying "the best steak in town" according to Mr. Peters. "This is our go-to place to eat," said Carla, "and the food is always perfectly done."
Don't forget the chicken and pasta, that includes lemon-herb chicken, beer-battered chicken tenderloins, spinach-dip chicken pasta, or Hawaiian chicken.


Large groups are made welcome and can share items off the "community" portion of the menu like the triple dip (spinach dip, homemade queso, and fresh salsa with warm tortilla chips), firecracker shrimp (gulf shrimp tossed in a creamy, spicy sauce), Mexican shrimp cocktail (gulf shrimp, avocado, pico de gallo, and salsa with tortilla chips) or three cheese crab dip (blue crab, spices, and three cheeses served with fresh baked bread).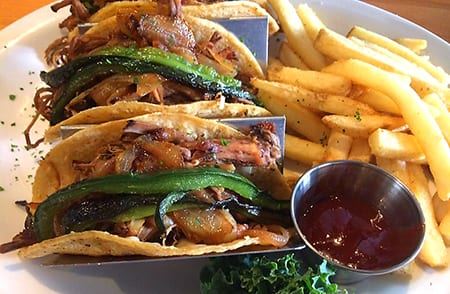 You can also have your pick of soups (Louisiana Shrimp Gumbo or Mexico City Chicken Soup), salads (like grilled chicken and walnut, salmon, quinoa, and kale; or the Asian chicken and shrimp), sandwiches or tacos (fish tacos, crispy chicken, brisket tacos, or shrimp loaf).
Families are favored at FD's, and the seating is perfect for larger parties in the round, padded booths that will make you want to stay awhile. Crispy shrimp, cheeseburger with fries, penne with alfredo sauce, grilled chicken with rice and broccoli, or chicken tenders are available for the small fry.
The full-service bar has a wide variety of wines, by the glass or bottle, and their strong and smooth margaritas are a hit with names like The Tango, Limousine, Mambo, Size 2, and the Uberita.
The house-inspired crafts include La Cubana Mojito, Kentucky Mule, Moscow Mule, Whiskey Barrel Old Fashion, and FD's Twisted Long Island Tea. Draft beer features are Bud Light, Blue Moon, Stella, and selections from the local brewery True Vine.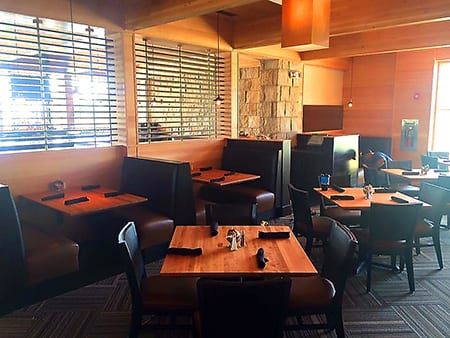 Every Tuesday night, local musician Eric Mosley entertains in the enclosed patio. You can join the crowd for some great music.
You can also call ahead to place a to-go order and pick it up anytime at the bar.
"Our guests always comment on the quality of the food and the prices," says Groome. James Freeman and his daughter Kayden were waiting on other family members to join them for dinner. "We have a big family, and the prices are right," said James. "We watched as the restaurant was being built. We love the steak and seafood and the big city atmosphere."
Bring your friends and family to FD's, where you will discover they have "a passion for cooking with fresh ingredients, making things from scratch, and giving you a dining experience that's both memorable and enjoyable."
FD's is located in the Villages at Cumberland Place, 8934 S. Broadway, Tyler and can be reached at (903)630-7683 or find them on Facebook at FD's Grillhouse.