---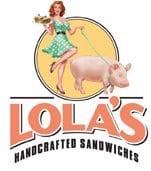 Written and Photographed by Barbara King
Britain's 4th Earl of Sandwich may take credit for inventing the sandwich, but Lola's takes the sandwich to a whole other level. Ask the pop/son partnership of Chris and Andrew Czop what makes their take on the sandwich special, and they will eagerly explain that it's the freshness, and the care they take in each creation with all the fixings.
"Everything we do is made from scratch," explains dad, Chris, "from the bread to the chips, salad dressings, soups, and even desserts." The organic produce they use comes from the Red Moon Farm in Van and as well as other area growers.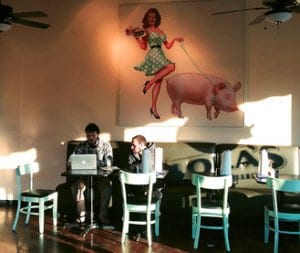 What about the namesake "Lola" seen caricatured throughout the store? "We liked the throwback sounding name from the 40's or 50's," explained Czop, "and we also wanted a feminine sounding name to pay homage to the ladies."
Chris changed careers, after working in the hearing aid business for over 30 years, to pursue his love of good, quality food. His son Andrew said, "Dad was always experimenting with new foods and it was kind of a given that we would be trying something new every night."
Opened in late November, the Czops are pleased to be part of the ever-growing foodie destination in the Flint/Gresham area, landing in the Gresham Village shopping center. The shop itself seats 40 inside, but plans include increased seating in the outdoor area in the warmer weather, a once a month RSVP special dinner menu, and a jam night for local musicians.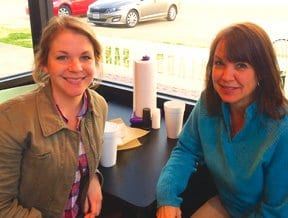 But back to the reason for being – the sandwich. Take your pick from some well knowns like the Reuben (hand crafted roast beef, sauerkraut, Swiss cheese and homemade Russian dressing), BLT, grilled cheese or Chicken Parm. Lola's pays tribute to some famous destinations like the N. O. Po' Boy (shredded house roast beef, root beer glazed ham, Créole mustard, cabbage and dill pickles), the Chicago Beef (house roast beef, Italian au jus, green peppers, and giardiniera), and the Cuban (slow roasted pork, root beer glazed ham, with Swiss cheese).
Soups, salads and incredible sides are on the menu, including lemon dill potato salad and Mediterranean orzo (orzo pasta, sun dried tomatoes, Kalamata olives, toasted pine nuts). Featured soups are French onion and tomato basil, and salad lovers can enjoy a chopped salad (iceberg lettuce, cherry tomatoes, red onions, house made bacon, homemade Maytag bleu cheese dressing and candied pecans) or a Greek dill salad (romaine hearts, cucumber, cherry tomatoes, fresh dill, Kalamata olives, feta cheese and homemade vinaigrette). You better save some room for the one of a kind homemade potato chips, or even better, the kicked up potato chips that are made with balsamic reduction, bleu cheese crumbles and green onions.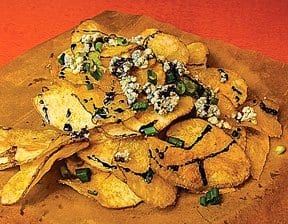 Of course. there has to be sandwiches for the youngsters on the menu: ham and cheese, grilled cheese or pb&j with chips and a drink.
Success for the Czops means "good food, and being able to invest in our passion and the community," says Chris. "It takes a lot of hard work, but working together on our dream has been a great adventure."
Mother/daughter duo Terri and Hannah Rowden dropped in on their first visit and both ordered the T.A.B.C. (roasted turkey, avocado, Nueskes bacon, Tillamook cheddar, heirloom tomatoes, red onion and chipotle mayo). Both were amazed at the portions, and Hannah said, "the bread was incredibly fresh and so were all the ingredients."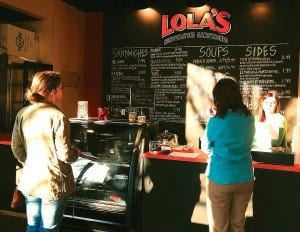 Bring your appetite and support a local father and son team who brings you the ultimate in sandwiches by visiting Lola's Handcrafted Sandwiches in Gresham.
Additionally, Lola's can handle catering for larger groups, and you can also BYOB and relax and enjoy your sandwich.
Lola's Handcrafted Sandwiches is located at 16700 FM 2493 in the Gresham Village Shopping Center. For more info call (903)707-2432. They are open Monday-Friday 11am-7pm, Saturday 11-5pm.
Find them on Facebook at www.Facebook.com/lolastyler.