With warm weather arriving in Tyler, outdoors is a destination for enthusiasts who want to bike, hike, and walk on local trails.
And now, more than ever, being outside is a safe fun place to be – breathing the fresh clean air and seeing the beauty of #tylertx.
The Tyler Parks and Recreation department and the Tyler Bicycle Club continue the "Ride the Four Pedals" initiative, encouraging all ages to ride, run, or walk all four of the designated trails and be a part of nature.
The "Four Pedals of the Rose" is a series of four trails that stretch more than 33 miles and showcase both the city's urban landscape and its natural beauty. Trails in Faulkner Park, Tyler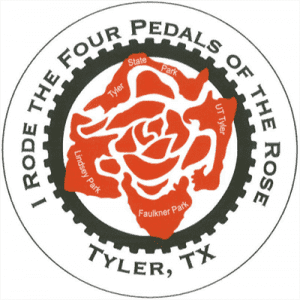 State Park, the University of Texas at Tyler, and Lindsey Park attract locals and visitors alike. The 10-mile Lindsey Park trail, designed by professional cyclist Nevada Thompson, was completed in 2013 as the newest addition to the network, and was developed as a joint project between the city and many volunteers.
The four designated trails (Lindsey Park Trail, Faulkner Park Trail, The Tyler State Park Trail and the UT Tyler Trail) are designed for runners, walkers, and bicyclists of all ability levels, and each one is different. Beginners can ride parts of each trail and work their way up to the more challenging sections. Lindsey has more open spaces, and Faulkner has more twists and turns, Tyler State Park offers many challenging elevation changes and has been called one of the best trails in Texas. The UT Tyler trail is a shorter option but still offers a fun time.
People who ride, run, or walk all four trails are encouraged to fill out a form online, and will receive an "I Rode the Four Pedals of the Rose" decal from Tyler's Parks and Recreation Department proclaiming their accomplishment.  
Trail maps are available at
Here is the Ride the Four Pedals Submission Form.