"Wine is Sunlight Held Together by Water"
By Barbara Greenbauer
Nestled in the countryside outside of Edom is an oasis that is a totally unexpected treat to the senses.  Green Goat Winery and Vineyard, established in 2015, is the passion and dream of Rip and Cindy Cunningham, the husband and wife team that envisioned a vineyard oasis.
On their 22 acre property, the rows and rows of gleaming grapes catch your eye as you turn up the road onto the property.  Six acres of land are given over to the succulent fruit, shimmering in the sun in hues of purples, golds, and greens.
Farther up the country road is the winery and tasting room and the best cabinets for wine, a testament to the fact that production is a local, hands-on affair, from harvest to bottle, and a labor of love for the couple.
Both Rip and Cindy have "full time" jobs, but spend all their spare time out in the fields,
netting, irrigating and tending to the grapes.  Wine production from grapes is a five-step, time-intensive process: harvesting, crushing and pressing, fermenting, clarification (removing solids such as tannins and proteins), racking (transfer to oak barrels or steel tanks), corking, and bottling.
Green Goat wines are made right on the premises, and a behind the scenes tour showcases the gleaming tanks and corking machinery and thousands of bottles ready to be filled and labelled.  
"In 2016, we ended up with about 4,000 bottles of wine, and this year we are anticipating about 6,000," explained Rip. The above ground wine cellar is full of glistening reds and whites, topped off with the distinctive Green Goat Winery logo.
The winery is currently offering six different varieties of wine, and the varied assortment is sure to please everyone's palette.  "We are constantly testing throughout the entire process and making changes to make sure our wine is up to our own expectations," said Rip.
The tasting room is a treasure in itself, with a rough-hewn bar, high bistro and trestle tables, with plenty of room to move around and socialize.  The real bonus is the view; from anywhere in the tasting room you have a perfect look out onto the vineyard itself. If you want to really be a part of the experience, the tasting room also features a wrap-around porch, with huge wooden rocking chairs and plenty of ceiling fans for the Texas heat. It's also the perfect spot for date night on Friday and Saturday nights with live performances by local musicians.
Rip and Cindy are the perfect hosts, warmly greeting each guest and guiding them through the wine selections.  You can tell that the vineyard is their passion, and they want everyone to feel right at home.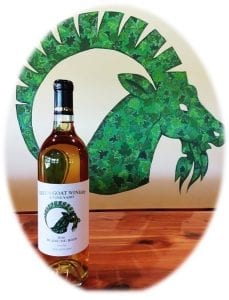 Start with a tasting of six different wines for $8, or nine different tastes for $10.  You can also enjoy Green Goat wine by the bottle or glass, and it is the hope of the Cunninghams that you will love the wine so much you will want to share it and take a some home. Bottles of the unique wines are very reasonably priced between $18.50 and $24.
Pair your pours with meat and cheese plates for a delectable combination. Three different plates are available including meat and cheese mix, a "stinky" mix (cranberry goat feta and apricot crumble), Italia plate (provolone, asiago, and fontino cheeses) or a regular (port wine, derby, smoked gouda, and swiss).
The winery boasts a great selection of both whites and reds including: Blanc du Bois, a semi-dry light white citrus with undertones of peach and apricot; Lamanto, a semi-dry Texas red, silky smooth to the palate with a lingering aroma; and Lenoir, another Texas red, well-rounded with a burst of flavor.
Their extraordinary Texas fruit wines are made from 100% fresh local berries from nearby farms and include Blackberry (aged in French oak), Blueberry (with strong notes of vanilla) and Strawberry (with hints of elder flower).  Also featured are a Cabernet Sauvignon and a Chardonnay blended at the vineyard.
Lenell Lambright from Athens and Jim Hartung from McKinney were enjoying a glass and the classy yet comfortable ambience of the tasting room.  "The wines have a very distinctive aroma and flavor," said Jim. "We love the beautiful setting and the great relaxed atmosphere," added Lenell.
"We take great pride in every bottle made," said Cindy.  As hands-on owners, the Cunninghams do everything from hand harvesting the grapes to working behind the bar as a large group celebrating a birthday walk through the door on a Saturday afternoon.
The Cunninghams encourage guests to walk among the grapes and take an up close and personal view, along with your glass of wine.  On this Saturday evening, Rip invited us to climb on the mule and took us on a personal tour of the vineyard, along with the opportunity to sample a cluster of the sweet, delicious grapes.
In the Tasting room, a sign with a perfect quote summarizes the winery by Galileo, "Wine is sunlight held together by water."
The Green Goat Winery and Vineyard is open Friday and Saturday 12 noon-8pm and is located at 11384 FM 279 in Chandler.  They can be reached at (903)360-0448 or (903)360-1952 or at Greengoat2017@gmail.com.  Find them on FB @greengoatwinery.  They are located about 25 minutes from Tyler. (Edom and Chandler area).