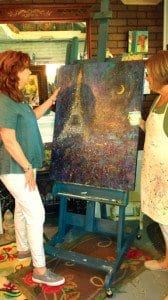 By A. C. Slaughter
Alright ladies hike up your skirts and show some ankle 'cause this month's artist is all femme! A southern belle who paints like a lady, markets herself like a pro and smiles all the way to the bank. Red headed and full of sweetness, Ms. Dana Cargile is making moves and making history right here in lil' ol' Tyler, Texas.
Dana and her family moved here five years ago from Jackson, Mississippi and she dove right in. Helping to grow the art scene in East Texas, Dana has been on the board of the Heart of Tyler for five years. She immediately started showing with Gallery Main Street when they first opened and since then has shown at 8th Street Boutique, Larry Lotts Interiors, Regions Bank downtown, Gold Leaf Gallery, Salon Verve, and has participated in the downtown ArtWalk every year it has been put on. For the last six years she and her dear friend, Cherie, share a booth at a show called "Handworks" in Jackson, Mississippi where they have built quite a following. This past holiday season Dana participated in Mistletoe and Magic, one of Tyler's best known holiday extravaganzas. Dana says she intends to do the show again this year. "It's a labor of love," she says about her painting. Doing all these shows takes time. "When do you have time to paint?" I ask, and Dana laughs. "I am out here [in her studio] all day Tuesday and Thursday and Monday, Wednesday, Friday afternoons." With three boys and a husband it is amazing that she is able to do what she does. "Sometimes I forget to do the wash," she says but I think that is a small sacrifice for such a successful body of work.
So let's talk about the work …..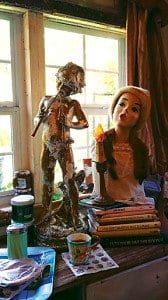 Dana's loose, fun, child-like style has roots in realism. Her bright colors and bold brush work is a treat for your inner happy place. You can see her background in realism in her genre pieces. "I started painting when I was little. My grandmother always painted." Much like many artists, Dana's parents did not encourage her painting. They wanted her to pursue a career in business or something that she could support herself with. So Dana got her degree in fashion merchandising. It was a compromise between business and art. Not ever really doing anything with her degree and having a strong desire to do what she pleased regardless of who or who didn't support her, Dana continued to paint for her own sake.
Twelve years ago she and her family moved to Jackson, Mississippi where, for the first time, Dana found her support. She joined an art guild. Hosted by some of the elders in town, she met Cherie, who sits in a rocker in the corner of Dana's studio chiming in while we do the interview. They both had children the same age and because they were younger than most of the other members, the two belles quickly became friends. "You had to be tough as nails," Dana recalls. The group met once a week and held critiques. "You could paint whatever you wanted and sometimes we would watch videos and have a discussion. They [group members] were very helpful." Much like a classroom environment Dana found a place where she could paint what was on her heart and then have it drug through the dirt by many discerning eyes. This builds character. If you have ever been in a critique situation, you know. It hurts when you first hear that someone doesn't like your piece, or aspects of your piece, but you get over that soon enough and if you don't, you quit. But when they DO like your work, you may find yourself on cloud nine for days to come.
After having been through tough critiques, Dana and Cherie felt it was time to start doing art shows, sharing booth rentals and finding their niche in the Jackson art scene. Their success was quick to come and continues to build to this day. Even distance can't tear these two apart. In 2009 Dana and her family moved to East Texas just in time to get in on the ground floor of all the new art happenings in Tyler. Dana immediately started having success here in Tyler. She started receiving commissions from shows, then shows from commissions. People see her work, like her style and ask her to paint something for them. Starting out in realism Dana painted, "A lot of landscapes. The more you paint the more your style changes. My style kept getting looser and looser." Then Dana took a portrait class. "Once you can do people you can do animals. People love cows and pigs here in Tyler!" In addition to Dana's local success she has been asked to paint images for a website that sells images to churches for church bulletins. Additionally, she was asked to paint the poster image for the 26th annual Festival on the Square and she has also illustrated a children's book titled "Pet Fairy" written by Christie Joy.
All of Dana's success can be directly attributed to hard work and a good attitude. People love to buy art from people they love and Dana is a lovable Southern gal. Did I mention her studio is called the "Doll House" and rightly named? While interviewing Dana at the "Doll House" we had tea service in porcelain tea cups served alongside dainty tea cookies. The southern charm just does not stop and neither does the femininity. There are dolls all around the studio as well as paints, brushes, rocking chairs and lots of windows bringing in all the good ol' East Texas light. There's even a fireplace. Dana's studio is inviting, comfortable, eclectic and beautiful. It's in her own backyard, separate from all her boys, a special place just for her and the gals.
Dana is what all artists aspire to be and few ever accomplish – she is a true working artist. How does one become such a thing you ask? "You learn from every painting. You keep learning, and you keep learning, no matter how old you are."
For more info, go to Facebook.
So there you have it. To all of you who are struggling, deep in the throws of being an artist, take a lesson from an angel of wisdom and work hard, keep at it, market your work and believe in yourself. Because believing in yourself in the key. If you don't believe in yourself no one else will and you must believe that what you are doing is unique and special and that it is the right thing to do.
There is no substitute for good mojo.
Dana's work can be found online at "MyBackPorch" on Facebook, danacargile.blogsot.com, Twitter, Tumblr, Instagram and now on Etsy. It has only been in the past five years that Dana has promoted herself online. "It works," she says. "It's the modern world. I had a lady in Austin who I've never met see a piece she liked and wanted one similar, so now I am painting one for her."
Well that's it for September's issue of Inside the Artist's Studio. Remember to send us artists that you like and would like to see featured in Inside the Artist's Studio to eguidemagazine@gmail.com.
Now it's back to my studio to work…'cause art just doesn't come out of the blue, you have to work for it, and work hard. Stay classy East Texas and until next month, MAKE ART!