Inside the Artist's Studio:
Make Tyler Weird
The Exploring Force of Addie Moore
By Derrick White
"Being an artist is scary. You make things, and then you ask others to look, critique, dissect,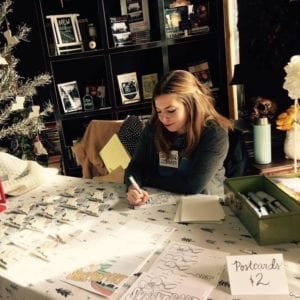 and evaluate your work. I have always been drawn to art and I suppose I have always been an artist, as I feel like many humans are, but I didn't realize or give myself credit until recently," states local artist, promoter, and innovator Addie Moore. "I have been drawing and making my whole life. Both my parents studied graphic design and instilled an appreciation of the arts in me from an early age," she continues, adding, "I enjoyed trying different media in high school but never saw myself as an artist. My parents also embedded in me the fear of the starving artist. I decided to study art history because I felt an academic approach would be a road to job security."
Addie is an illustrator and a ceramic sculptor. Her works tend to have a significant emphasis on line. Her illustrative work is inclined to have straight, hatched, striped, etched effects. These pieces are colorful, layered, and contain elements both recognizable and abstract. "For my illustrative work, I have a dry media studio. I tend to use inks, markers, pens, colored pencil, watercolor pencils, and watercolor, layered in no particular order. For my ceramic work I lean towards light, white, hand building clays," Addie reveals.
Moore graduated from the University of Texas at Tyler in 2016, where she studied art history and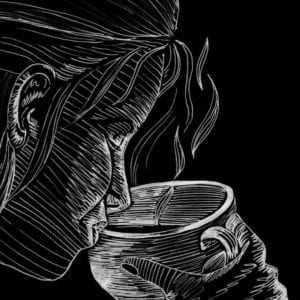 minored in studio arts. She focused her research and internships towards museum education and community involvement in the arts. Addie recalls, "I focused primarily on ceramics and drawing during my studies for my minor at UT Tyler. After college, I pursued jobs at non-profits and museums in Northwest Louisiana because they have a growing art scene and I had connections. I was able to land a couple of part-time art teaching jobs at after school programs but soon realized I would need a graduate degree to do anything I wanted to do full-time. I worked in inventory management for a jewelry store for a year before being recommended for my current art teaching job in Tyler. It wasn't until last year, when Aaron Dunn, local poet, caught a glimpse of my sketchbook and asked me to illustrate his book of poetry, 'I'm Just Saying', I felt validated as an artist. I completed his book, started renting my own ceramic studio, and started participating in group shows. I realized how much I had been holding myself back due to fear. I learn every day from my students and I am working to perfect my craft and my practice, but I still fall short all of the time. I also began seeing a need for a unification of the East Texas art scene."
Addie Moore is a frequent traveler and explorer. She has been able to save, fund, scholarship, and scrimp her way into multiple countries including France, Turkey, Brazil, Argentina, Uruguay, Chile, China, and India. She also loves road tripping across the United States. Moore's adventurous spirit and tenacity has led to a wonderful new East Texas asset. Look out, Austin: Tyler is cool now.
"A small group of energetic people can create an art scene anywhere," proclaims Christina Rees, the Editor-in-Chief at Glasstire, a Texas contemporary art online-only magazine. She was the juror for the 34th Annual International Exhibition in the Meadows Gallery at the University of Texas at Tyler on view through March 8, 2019. The reason Rees was the juror and the reason two Tyler Museum of Art exhibitions were listed in Glasstire's top five recommendations is because, from a visual arts standpoint, East Texas is becoming a hotbed and Addie Moore is channeling this energy into action.
"There is so much artwork here in East Texas, and due to city over region mentality, we miss out on amazing exhibitions, public art, and events. I can see where artists and other creatives who have been living and working here for decades could feel discouraged by the past promotion of the arts. I have recently formed the group of creatives to help connect, begin holding ourselves to a higher standard, and begin exposing East Texas to everything we have to offer," declares Addie.
The group etx creatives is a community organization to connect imaginative people through internet, workshops, meet-ups, and events. The group intends to better connect East Texas to the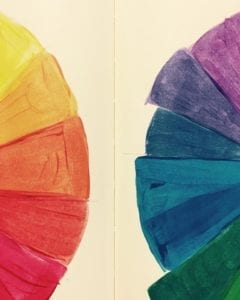 arts in a real, accessible, and equitable way. Addie explains, "We had our first exhibition with local artists, poets, and musicians in January. We were so energized by the turnout. We decided to do another on February 23rd at the former True Vine Brewing Company location on Englewood featuring the local Art School Girls (ASG) Collective's inaugural show, 'Components'. The work featured in 'Components' is highly individualistic with two common ties, each artist uses ceramics and small pieces to come together into a larger idea, slowly growing into larger, meaningful moments of light, shadow, and space. Each member of ASG has artwork arising from their own research into form and philosophy. The works will be complimented by music by local band Dang Dens & Friends and spoken word poetry juried by poet Aaron Dunn. Our long-term goal as etx creatives is to develop an area where the arts can flourish, create a gallery and studio space for artists, and eventually develop a residency program bringing in artists to teach and to learn from each other."
Addie Moore believes in community. She proclaims, "Art is an independent practice in most cases, but being part of a classroom, university, collective, art show, and community organization gives me the confidence to put my own work out there. I am so proud of the community we have here in East Texas, I am meeting amazing artists, musicians, poets, and creative people every day. It's encouraging and exciting." Writers note: I attended the etx creatives' inaugural event and it had the best vibrancy, energy, and funky eccentricity of any East Texas art event I have attended in the last twenty years. Times are a-changing, let's get weird.
Keep Austin Weird is the slogan adopted by the Austin Independent Business Alliance to promote small businesses and creative culture in Austin, Texas. Other cities have since mimicked the motto, including Portland, Louisville, and Indianapolis.