Coy Lothrop: Inside the Artist's Studio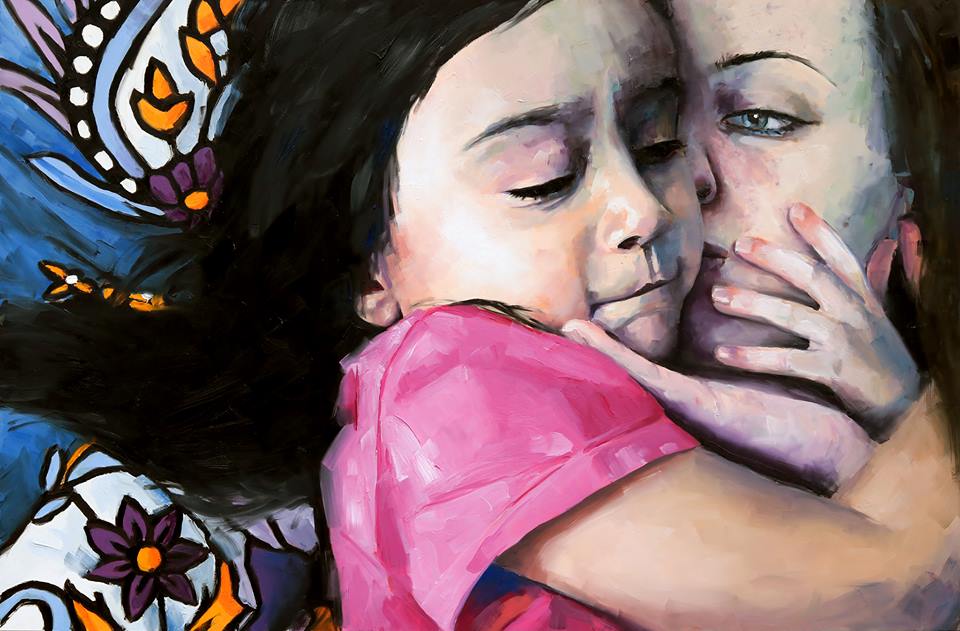 Inside the Artist's Studio:
Pine Curtain Portraits
The life impact of Coy Lothrop's paintings.
By Derrick White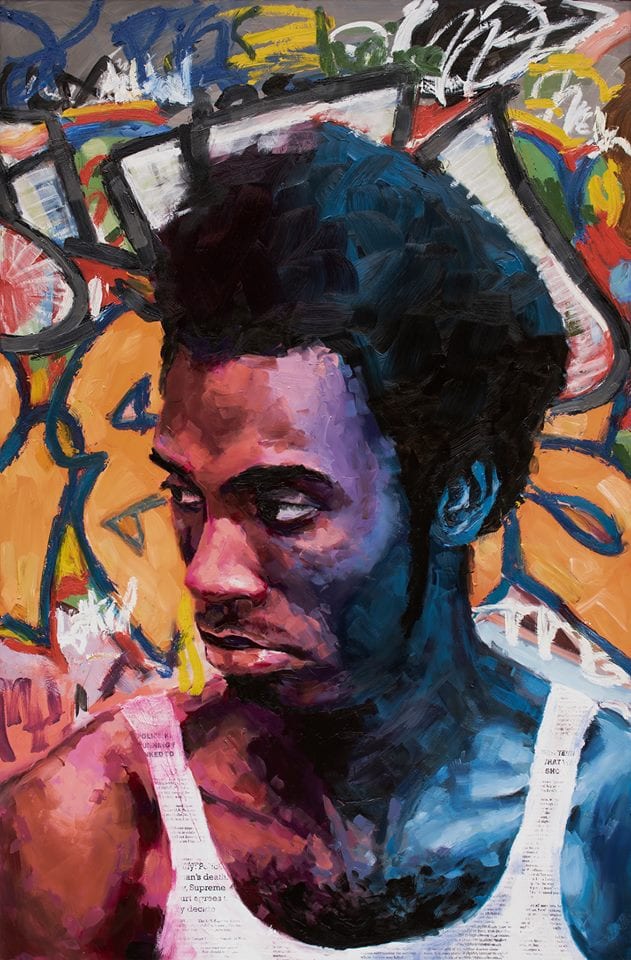 "I've always believed great art is about life. In retrospect, the opposite is also true: art has made my life great, and it is the people you meet along the way making the enriching difference," states artist Coy Lothrop, adding, "My work addresses the human condition and records contemporary society, for better or worse, and how growth, emotionality, conflict, and mortality manifest in the human figure and their environments in the most intimate ways."
Lothrop was born in Baton Rouge, Louisiana, but has lived most of his life in the small towns dotting the piney woods of East Texas. He has worked as a visual designer, illustrator, creative director, and an educator. He is a graduate studio art major at the University of Texas at Tyler. His art presents the viewer with a familiar, current interpretation of the genre of painted portraiture. His portraits address emotional, universal truths and illuminate shared societal issues. Lothrop teaches at Kilgore College as a professor of Advertising and Graphic Design, where he has served and advised for 19 years. "I started at Kilgore College with the dream to be a practicing fine artist showing in exhibitions and selling in galleries. I also took several classes in Photography because I thought being able to capture my reference material would be a great asset in my skill set. I transferred to the University of North Texas, Denton, and studied studio art with an emphasis in painting and drawing, but I also took classes in art history and photography. Due to some issues back home with my father and his health, I returned home, my degree incomplete," states the artist.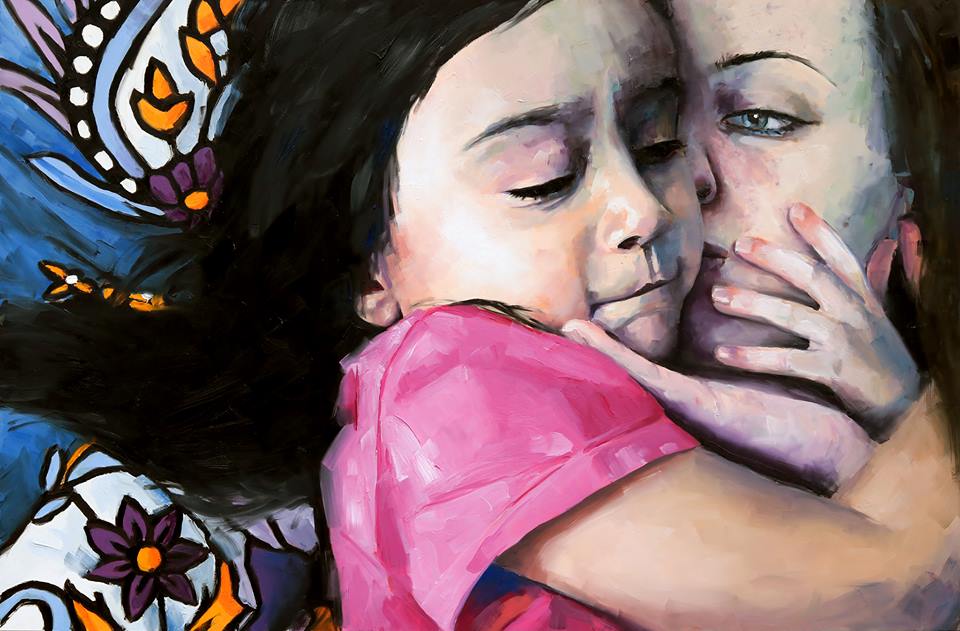 In 2000, Coy began teaching Advertising and Graphic Design at Kilgore College part-time, and in 2011, he went full-time. He considers teaching art to be a dream job. Lothrop informs, "Teaching affords me a lot of free time back into my life. In the design industry, I was working 12 – 14 hours days as a creative director and spending most of my time managing the business rather than making art. With the extra time in my day and summers off with a wide-open schedule, I decided to return to higher education and pursue my first love, painting, and drawing." Coy Lothrop is currently in the UTT graduate school program working to complete a MFA degree in studio art.
Lothrop's paintings are dynamic, bold, and immediate enamoring viewers with sumptuous, expressive, and gestural marks of paint coalescing into compositions of exquisite realism. Coy explains, "I try to make brushwork look effortless but really it takes a lot of thought and buildup to arrive at something I'm happy with, so I'm still not there yet. I embrace the expressive qualities inherent in paint. I want to display evidence of the hand and convey a painting is a painting – a work more valuable, in my opinion, than a capture on film and more personal and unique."
Lothrop adds, "Beyond the material, I am looking to express a human narrative or universal truth all viewers can associate with. Telling a story or presenting a message is important to me. I like to think my work, in its variety of faces, environments, and objects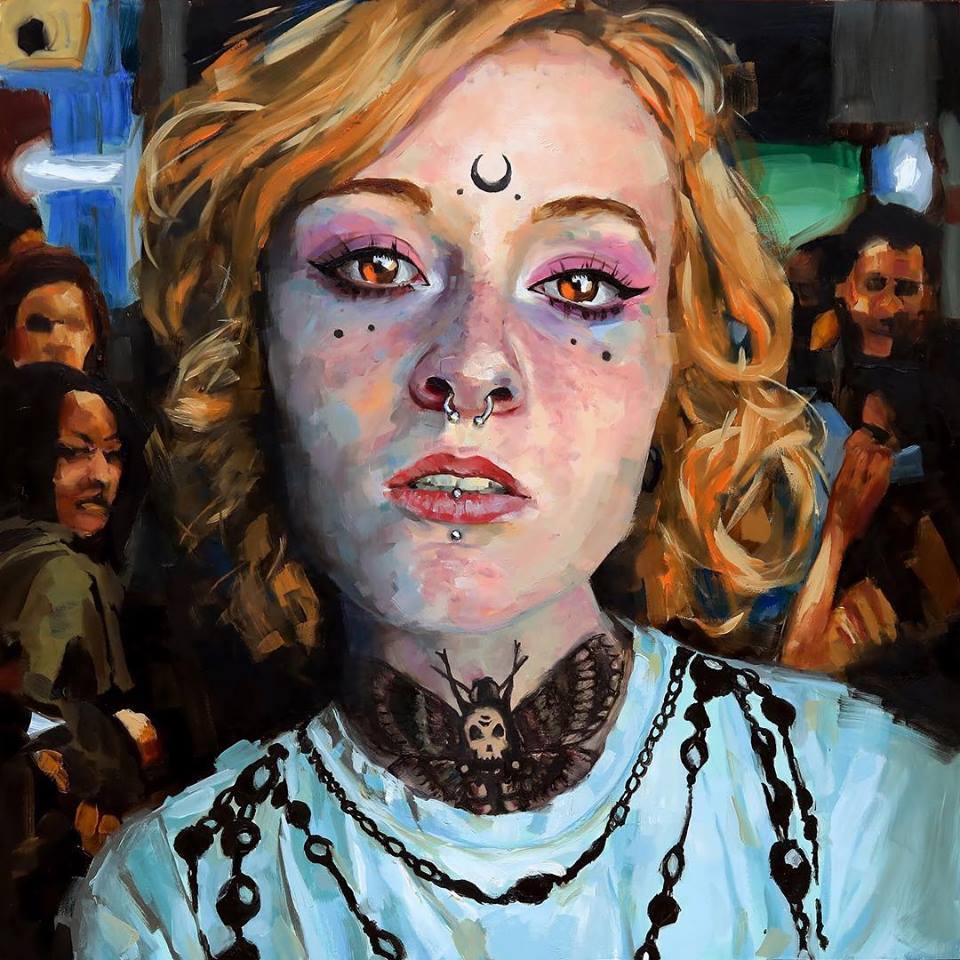 is a call to action. I attempt, through my formal choices of composition, color, line, and anatomical construction, along with a few key details and implied clues, to generate agents of change out of viewers who would engage the work and seek its story of truth. My desire to generate awareness regarding issues directly affecting the people I serve daily – students, family, or others – drives me to make images that matter. So it isn't strictly portraits I am making, but rather, I like to think I am painting life."
Coy primarily works in oil paints on wood panels and loves the thick, impasto textures. Sometimes he will experiment with additional mixed media, usually replacing a historical material with a contemporary substitute, such as replacing gold leaf with the iridescent metallic film of DVDs and CDRs by harvesting it free from the plastic disks with an Exacto knife and gluing it in place with a clear gel medium.
Lothrop has always created and has many influences. He recalls, "As a child,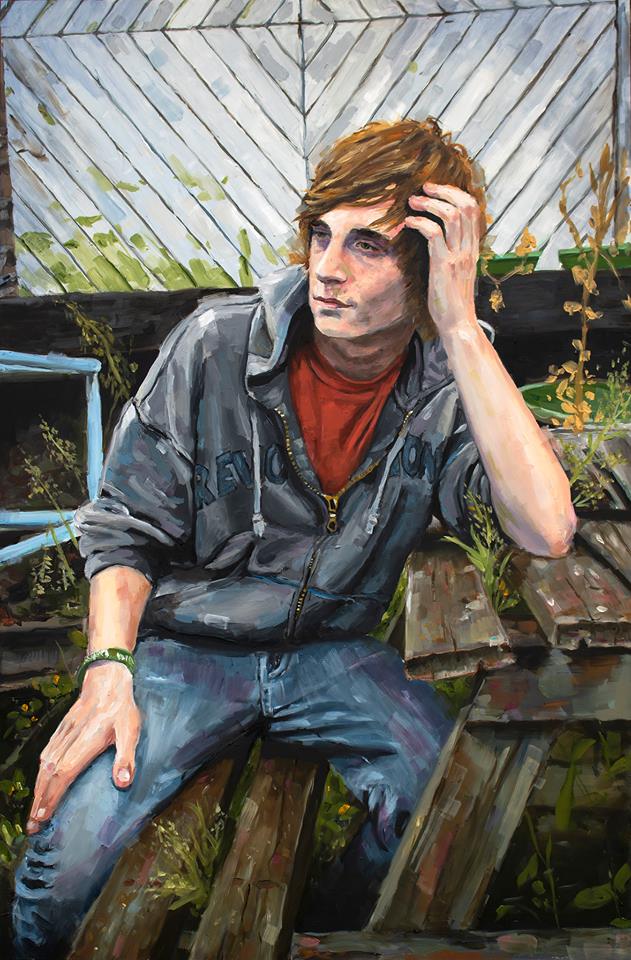 I was a maker. I loved the library where I would pick up nature books and spend hours drawing the wildlife. I think it's just in my DNA. My mother is a poet and a watercolorist. My aunt, her sister, is a naturalistic oil painter and ceramicist working in functional porcelain. I decided to pursue art as a career when I met a family friend named Darel Hutchison. When he visited, he would bring with him a stack of the most beautiful and interesting figurative drawings of people and their environments. They were realistically rendered in graphite and I could not get enough. I desire to make, and I can't think of any better job than to initiate things and teach others to make things like Darel did for me. Art, most importantly, has brought into my life the opportunity to meet and make friends, learn from and be inspired by numerous artistic and creative people throughout my life. It is people like Darel Hutchison and Larry Kitchen who have invested in me, and it is every student I have the honor to work with and invest myself in. They made me the artist I've become."
Coy explains, "An education in fine art can have a certain stigma with parents, and some young, emerging talents can find themselves without the support of their family. It means a long road ahead for the student, one rife with self-doubt and hardship as they try to make their way without solid advice, encouragement, and financial support. Fortunately, art faculty at most institutions are fantastic mentors to students working their way through an art program. Once you have your body of work, a hard-fought series of art pieces based on years of study and exploration, it has intrinsic value," adding, "Art, like life, is a struggle. It can be difficult to find your voice. It is hard to find an appreciation for the voice you discover. Making art can be discouraging. We all have a self-critic threatening our confidence. It is hard to manifest a creative thought into the physical world the way you envision."


Inside the Artist's Studio: Nic Trent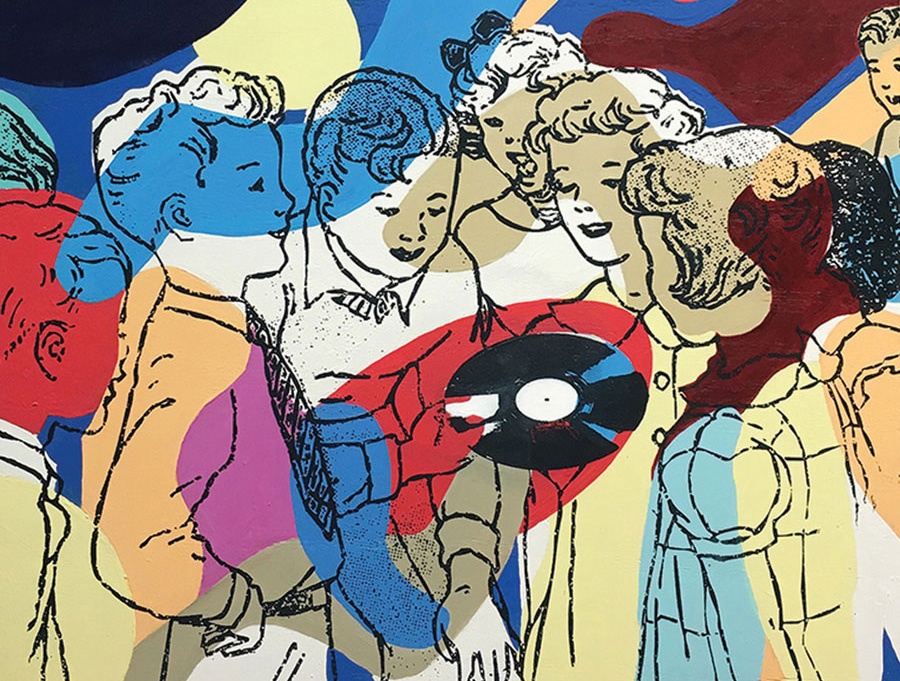 Inside the Artist's Studio:
Art is What You Can Get Away With: Nic Trent
Derrick White
"Making art is a necessary therapeutic experience. As a graphic designer at Encore Multimedia, I spend all day solving problems of how businesses can reach their target demographics. Creating art is when I can express myself and satisfy my own aesthetic instead of someone else's," states local artist Nic Trent. Nic makes colorful and sharp pop art images, typically on wood panels. His work has the unique ability to trigger both a familiar nostalgia and a captivating freshness simultaneously. The works are bright and playful in their form yet slightly subversive in content. They are eye candy and brain food. Nic explains, "Art is a powerful language. No matter the medium, it portrays and also influences the culture and ideas of those who experience it, even if only subconsciously."
Nic Trent recounts his journey to becoming an artist: "I was an awkward kid who constantly doodled and had no idea what I wanted to do with my future. I would draw on school papers, church bulletins, or whatever was in front of me. It was an older woman in church who encouraged me to pursue a career using my creativity. She saw me drawing during church service and suggested I check out a nearby technical school for an art related program called graphic design. It seemed like a decent way to make a living as an artist so I attended Oklahoma State University Institute of Technology for graphic design without really knowing what graphic design was. However, design school was an invaluable experience where I learned how to create aesthetically while expressing ideas."
"Some of the best things I learned were from my peers. I befriended two graffiti writers from Tulsa, Darshan Phillips and Aaron Whisner, who made gallery art. They built their own surfaces out of wood because it is cheap and designed their compositions on computers. This is the same process I still use today." He continues, "My first art show was when a friend hosted an event in his loft and told me I was going to be one of the artists. I had never made any art before, but he already put my name on the flyer, so I had to. The experience was terrifying but also exhilarating. Afterwards, I was officially addicted to art."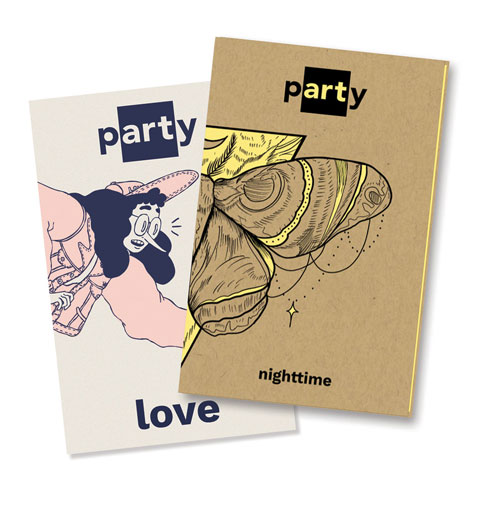 Nic Trent explains, "I'm excited to see interactive and digital media have more of a presence in local galleries. The Longview Museum of Fine Arts currently has an exhibit by Liz Hickok where you can hold an iPad up to the art and watch the art being created right in front of you. I can't wait to see more video screens made available by local galleries for artists to utilize." Writer's note: Intimate Immensity with Liz Hickok is on view until September 21st. With glowing colors and shifts in scale, Hickok's work calls into question what is real and what is imagined. She uses ephemeral materials such as liquid crystal solutions and constructs colorful, glowing architectural sculptures changing over time, morphing into fantastical worlds. She documents her processes with photography and video to catch fleeting moments in the continuously evolving scenes. 
Nic Trent is also inspired and influenced by artists like Andy Warhol (pop art's leading figure, painter, printmaker, director). Nic states, "Andy Warhol challenged the art world club. Warhol's art paved the way for new voices of expression from Jean-Michel Basquiat (a graffiti/urban art sensation) and Keith Haring (pop art and graffiti artist) to Barbara Kruger (seditious conceptual artist) and innumerable other artists. Warhol also started as a graphic artist which, to me, makes it seem like the modern everyday man can achieve artistic success." "Art is what you can get away with." – Andy Warhol.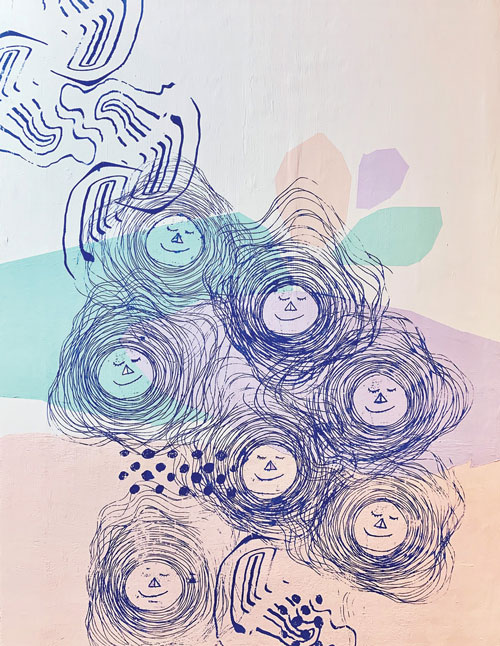 Nic has been around the local art scene for some time. I encountered his work in pop-up shows a decade ago. There have been previous attempts to get the regional art scene up and running at full force, but there is something different happening now not found in the efforts of the past, a new sense of collaboration and commitment. "One of my favorite things about art is community. I love trading work with other artists and learning about their processes. This is the reason why local illustrator, Jasey Beddingfield, and I created ArtParty (artpartytx.com). ArtParty is a hand-made zine (self-published mini-magazine), featuring East Texas artists. We do our best to make the zine a nicely crafted collectible by creating a limited number of 60, choosing nice paper, and screen-printing the covers," explains Trent. He adds, "ArtParty gives local artists an opportunity to get their work out in a different way. Our latest issue featured a 16-year-old's work alongside a well-known tattoo artist with thousands of followers and I love that. My favorite thing about this project is it might bring someone's work to a whole new audience."  
Nic states, "I feel lucky to be included in one of the recent shows organized by the local art collective, etxcreatives. The quality of work in the exhibits they organize is extremely impressive. I had no idea this caliber of art existed here in East Texas and I can't wait to see what they do in the future. They are raising the bar for the quality of work in our area." 
Speaking of raising quality, Nic advises, "Presentation is everything. There are so many great local artists who could do a much better job of presenting their work. I hope the recent uptick in the local art community will challenge more artists to learn from each other and step up their game. The biggest faux pas I see is really incredible work on paper with a cheap frame or no frame at all. Investing time in building a frame or buying a gallery style frame will transcend the art to a new level." 
Trent concludes, "There are plenty of opportunities for artists to get involved locally, but I'm not so sure about the supporters. For all the people reading this who drive to Dallas to buy art or even worse, shop at big box stores and behemoth hobby shops, please support your local artists. Just think about how much better a conversation piece an artwork by a local artist could be. It seems to be a rare individual who realizes the contribution they are making by supporting the local art community." 

UT Tyler Exhibition Features Artwork of James R. Pace Opening Sept. 14th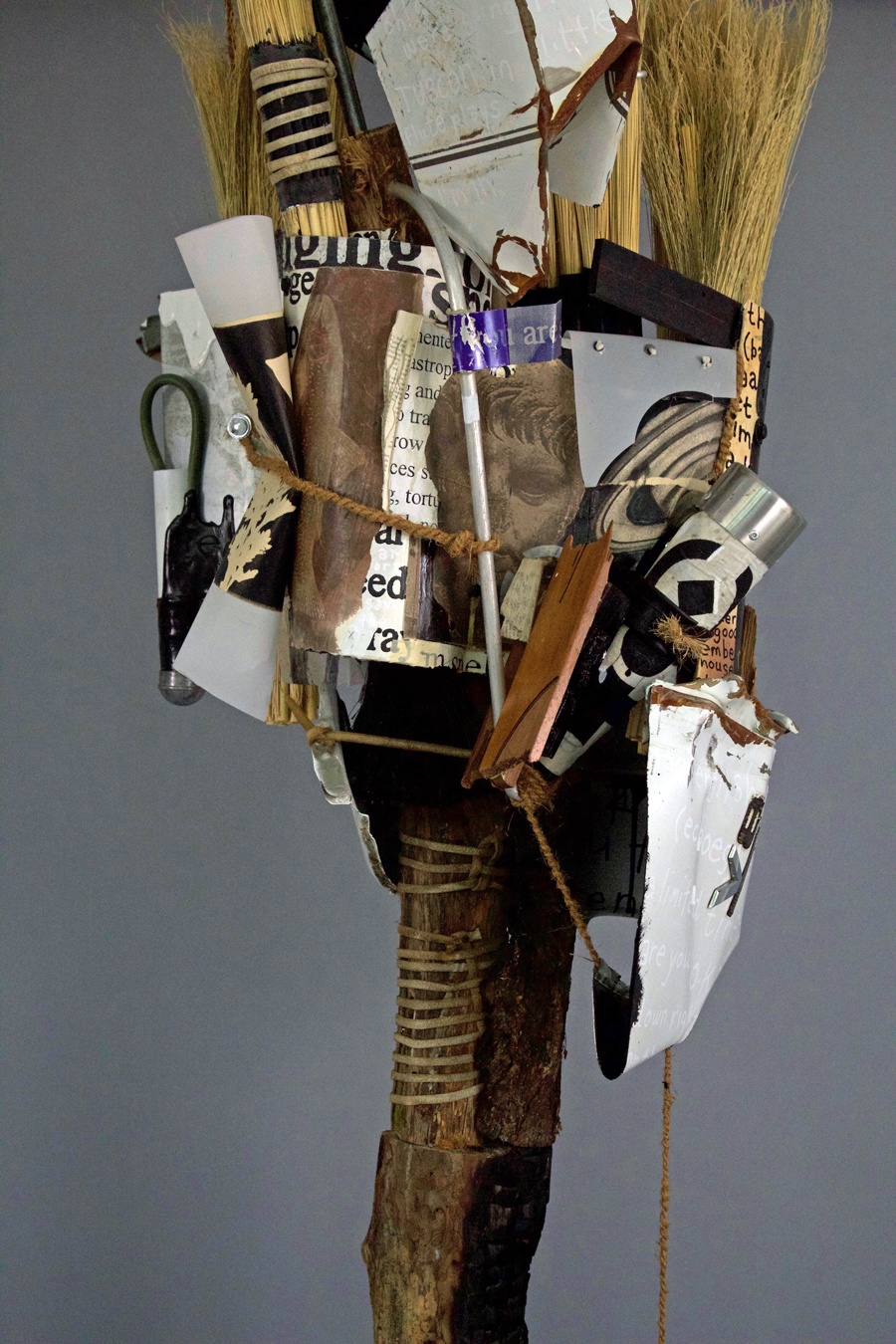 Reception and gallery talk with retired art professor set for Sept. 14th
The University of Texas at Tyler has announced the opening of "Artifacts of Wayfinding (a Visual Play in Three Acts),'' a solo exhibition featuring the newest work of retired UT Tyler professor James R. Pace, at the University's Fine Arts Complex Gallery.
A reception and gallery talk with the artist is scheduled for 6 p.m. Saturday, Sept. 14. The exhibition, presented by the Department of Art and Art History, continues through Thursday, Oct. 11.
A Distinguished Professor of Visual Art, Pace recently retired after teaching in the UT Tyler College of Arts and Sciences since 1985. He has exhibited nationally and internationally for more than 40 years and has received numerous awards for his paintings, drawings, prints and mixed media work.
Pace maintains an active practice in his East Texas art studio and continues to serve as a juror, lecturer and visiting artist at museums, galleries, art centers and universities across the U.S. and in Germany and Japan.
He holds a Master of Fine Arts degree from Arizona State University and a Bachelor of Fine Arts from the University of Oklahoma.
The Fine Arts Complex Gallery is open to the public 8 a.m. – 5 p.m. Monday through Friday. For more information, call 903.566.7237 or email gallery coordinator Michelle Taff at mtaff@uttyler.edu.
A member of the prestigious UT System, The University of Texas at Tyler focuses on student success and innovative research in the more than 80 undergraduate and graduate degree programs offered. With more than 10,000 students, UT Tyler has facilities in Tyler, Longview, Palestine and Houston.
FOR MORE INFORMATION, CONTACT BEVERLEY GOLDEN at bgolden@uttyler.edu | 903.330.0495

Gallery Main Street's Portraits of Inspiration Honors The Rose Festival
Portraits of Inspiration, an art exhibit in collaboration with the Texas Rose Festival  
Gallery Main Street has partnered with the 86th Annual Texas Rose Festival to create Portraits of Inspiration, an art exhibit inspired by the original costume design of Winn Morton. Since 1982, Mr. Morton has been designing the costumes and scenes of the Texas Rose Festival. Since its beginning in 1933, the Texas Rose Festival has represented the spirit that brings Tyler together as a community. Rich in heritage and tradition, the Festival offers enchanting ceremonial events- the Queen's Coronation, Ribbon Cutting and Rose Preservation, the Queen's Tea and the Rose Parade – all amidst the backdrop of brilliant roses as vibrant and colorful as the community they represent.
The Gallery, located at 110 W. Erwin St. will host an opening reception Saturday, Sept. 14 from 5 to 7 p.m. This free event will feature the opportunity to meet many of the artists, Mr. Winn Morton himself and the 2019 Rose Queen. Morton's original sketches will be on display along with a couple of Rose Festival costumes. Patrons will also be among the first to see and purchase pieces from this new exhibit. The exhibit will run through Nov. 5.
The 86th Annual Texas Rose Festival is held from Oct. 17 through Oct. 20.
For more information on Gallery Main Street hours and rules for entering the exhibit jury process, please call (903) 593-6905.
To more info, visit downtowntylerarts.com, call (903)593-6905, email GalleryMainStreet@TylerTexas.com. Gallery Main Street is located at 110 W. Erwin St., Downtown Tyler.