"The Searchers"
By Derrick White
John Ford's "The Searchers" (1956) was my dad's favorite film. It is a milestone Hollywood western, a Technicolor marvel with shades of emotional melancholy, tackling the myth of manifest destiny with a man's horseback quest to find and recover his remaining family. I will always associate this western and horses with my dad. He raised horses throughout his life more often than not. One of my earliest memories is my dad giving me a horse drawing lesson starting with two circles and simple shapes.
So, there is an instantaneous wistfulness when I see the exceptional work of local artist Diane Ditzler Frossard. This artist works in a variety of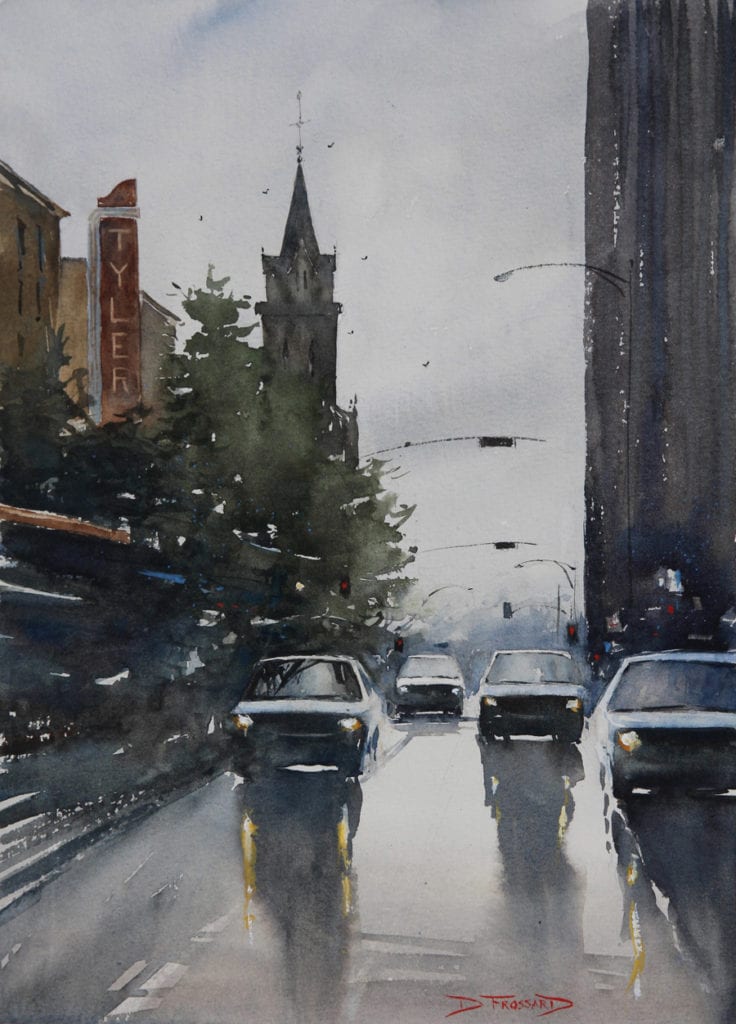 media including oils, watercolor, graphite, and charcoal. She has an extraordinary capacity to capture the essence of natural light on her realistic subjects and allows quick expressive marks and brushstrokes to build and become greater than the sum of their parts. A captured realism created from magically expressive movements leaves the viewer to become the searcher and reap the rewards of taking a double take and examining with a closer eye Frossard's amazing artwork.
"It is gratifying when someone is drawn to one of these paintings, saying it reminds them of something familiar to them," the artist stated. "As early as I can remember, I have had a passion for two things: art and horses. My father, an avid horseman, introduced me to horses at an early age, and they have always been a part of my life. I also loved drawing or doing anything related to art in my spare time. My mother briefly took an oil painting class. I thought her painting was wonderful, but she felt otherwise and didn't continue. I asked if I could use her leftover paints and canvas. Although I had no idea what I was doing I had fun creating my first oil painting (of my paint horse) when I was about 10 years old."
Diane Frossard has a degree in geology, not the typical path for an aspiring full-time artist. She knew she wanted to pursue art, but only painting what interested her and not have the pressure of having to support herself financially so she, and her husband, both worked as geologists. They moved their family to Tyler and established a ranch. Their horses are like family members, pampered, occasionally ridden, and often the subjects in her paintings.
"I still have the offspring of one of my childhood horses. He is now 33, and we have grown up together," Frossard said.
Frossard is a Master Signature Member of the Outdoor Painter's Society, a national plein air (painting outdoor subjects in the open air) group featuring the annual exhibition, Plein Air Southwest. Many of her landscapes are produced specifically for this exhibition. These landscapes are fairly small because they were created on location and had to be executed within a specific time frame before the light changed too much.
She says her inspiration usually comes when she is not looking for it: while feeding horses, doing chores, or taking walks. The lighting and time of day are
crucial to making a seemingly mundane subject come alive. Thirteen of Frossard's landscape paintings were featured at the Tyler Museum of Art in 2015 in the "Reflections of East Texas" exhibition.
Artists search for guidance. With the support of her husband, Diane has attended and learned from many different workshops.
"Bruce Peil was my mentor and introduced me to plein air painting. Paintings from life are bold, fresh, and immediate small works of art. I highly recommend Bruce Peil who works and teaches out of his renovated barn/studio, in Athens, to anyone looking for a good foundation in landscape painting," the artist suggested.
Artists search for the sublime. "The older I get, the stronger my desire is to take the ordinary things I see in my life and bring forth something unique and poetic from it. The reference is a jumping off point. The challenge is being able to tap into your muse and bring out unique, mystical, and sometimes fleeting images from your mind. For me, it is most often done through the use of light," Frossard said.
Artists search for development. Solitary practice is important and experiencing frustrating failures helps one grow as an artist.
"My breakthroughs and improvements most often come during those independent, alone times. I actually learn the most just from closely studying the work of master artists and staring at paintings in museums and online, how they solved problems, their compositions, brushwork, etc," Frossard said.
Frossard is searching to give back to her community in a variety of ways. "In gratitude for all who have shared their insight and expertise with me, I like to share what I have learned," she said. Frossard has been volunteering for a couple of art classes at St. Gregory School for 15 years.
Other projects include the "Hope" column for the "Pillars of Hope" mural project under the Gentry St. Bridge where homeless and others gather for church. She is currently working on a painting of the Tyler Square, which will be offered through auction at "The Art of Transformation" fundraiser on November 16th. All proceeds from the sale of this painting will benefit the Highway 80 Rescue Mission's Triumph Village, a new housing project and recovery program for the homeless.
Artists search for satisfaction. Diane stated, "Non-artists often don't realize, unless you are married to one, a lot of hard work, frustration, planning, and years of experience go into a good painting that looks simple and easily executed. It is hard to make it look effortless. It is not all fun, requires problem solving, and can be stressful at times, but tremendously worth it. It never gets any easier, because you are constantly working at a higher level; the more you learn and improve, the more your critical eye is ahead of your current ability. It can be frustrating at times when people don't understand the value of original art: the expense of materials, canvas, paints, brushes, etc., the time involved, plus the years of experience."

For more info about Diane Frossard go to DianeFrossard.com. Her work can currently be seen at Artist Showplace in Dallas and Valerosa in Tyler.
For anyone interested in figure drawing, Tyler has a life drawing group on Thursday evenings 6-9pm for $20 at Brick Street Studios, 1000 Augusta hosted by Russell Belue. For more info email beluesky2015@gmail.com.