How an Emerging East Texas Artist Beat Breast Cancer and Made Her Dreams Come True
In the spirit of Breast Cancer Awareness Month in October, I am proud to introduce an amazing abstract artist, who also happens to be a stage III Breast Cancer Survivor. Her name is Kelly Gowan, and she is someone you are definitely going to want to follow.
Earlier this year, Kelly was accepted in the prestigious Fort Worth Main Street Arts Festival, where more than 1,500 artists applied and only about 215 were accepted. By the end of the weekend her booth had sold out, and the event proved to be a springboard from which she hasn't slowed down.
Her styles are unique with jaw dropping large pieces of abstract resins that look like oceans or marble geode rocks. She slips into her painting zone where she mixes resin with various mediums and inks, while utilizing a blow torch and heat gun to achieve the end results. She also does abstract acrylics utilizing water and movement to create unique pieces. These crazy acrylics are done outside where she can be as messy as she wants. Her paintings are all created from feelings of the moment. The images formed during the process can betray many different emotions, but you will see in her work it is mostly peace, happiness, and strength. She has successfully worked with clients' homes and businesses to come up with pieces of art that truly add beauty to the environment and she welcomes commissioned work.
Kelly is excited to have her first art exhibition in Tyler. If you enjoy art, food, and drinks, you should come see her October 14th, 1-8pm, at Tyler Innovation Pipeline, 217 E. Oakwood St., Downtown Tyler, just blocks from the activities of Tyler's main street and across from the Tyler Transit Department and Cotton Belt Depot.
Drinks are being donated by True Vine Brewery, and there will be some local food trucks as well. The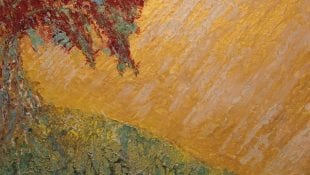 Tyler Innovation Pipeline is housed in an early 20th century building that was completely renovated with all new state of the art technology and machinery for an entrepreneurship shared space of the community's freelancers, consultants, and Shark Tank want-to-be's. Gowan's art is now on display throughout the entire building and is also for sale. There will be auctioned art on October 14th during the monthly Hit the Bricks event Downtown, as well as other pieces and prints you can purchase and take with you.
Kelly's art is displayed in a growing list of other East Texas locations as well. As part of its interior renovation, Wasabi's Sushi Restaurant off Broadway and Donnybrook Ave. is hosting a six-month exhibit of Kelly's pieces throughout the restaurant that are for sale.
Her pieces are also featured in what she calls "a hidden gem for great pizza" at Moe's Pizza near Holly Lake Ranch. Moe recently renovated his restaurant after a flood, and the modern new interior design with tall ceilings and gorgeous cedar beam accents make for a great place to hang some of her art.
Kelly Gowan is an amazing example of what happens when someone goes through a life altering experience, such as breast cancer. She went from owning a staffing company, living in Dallas, to fulfilling her dreams of living on a lake and painting. But before she got to where she is today, she was truly put to the test of life with cancer.
Kelly was only 31 and had two babies in diapers in 2005 when she was diagnosed with the most aggressive type of breast cancer, stage III, in her lymph nodes. Her cancer was detected because she felt a lump while taking a shower.  Initially it was thought to be related to recently having had babies, but later found out it was cancer. Before she knew it, her life spiraled, and she had a port installed to administer chemo, a lumpectomy, which did not get all the cancer, a bi-lateral mastectomy, radiation, reconstruction, and after care.
She is here today as a testimony to anyone going through cancer, to never give up and to follow your dreams. She believes very strongly in the power of prayer and staying positive. All that she went through helped bring her to where she is today.
When not creating resins in her inside studio, she loves to be outside with her paint, canvas, and water. Not only the water in the lake giving her inspiration, but she is a messy painter who uses water with various mediums to achieve a specific look such as in the painting of a tree she called "Strength." "Strength" was actually a painting she submitted to apply as an artist in the Fort Worth Main Street Art Show.
Strength is what Kelly truly represents. Prints of this painting will be for sale at her exhibition on October 14th at Tyler Innovation Pipeline.
For more info about Kelly's journey of art and life go to kellygowan.com or find Kelly Gowan Art on Facebook.