By Derrick White
It's a small world, and the art world is even smaller. Be kind to those you meet; you will meet them again. Although it can sometime feel like everyone everywhere is crafting, blogging, painting rocks, or creating some kind of art, the truth is most people do not. If you are a creative person, congratulations, but understand as you stand in line in a big box store or get stuck in traffic most of the humans surrounding you do not regularly participate in creative, artistic activities. If you do not consider yourself artistic, the best thing you can do to change is to begin. Give it a try. Create something for yourself and for the therapeutic benefits and enrichments it adds to dealing with life. There's no competition with anyone but yourself. Just attempt, improve, and grow. Today is good day to start. Right now is even better. "A flower does not think of competing to the flower next to it. It just blooms," is a quote from the book "Zen Shin Talks" by Sensi Ogui.
While attending the University of North Texas, Denton in the 1990's, I befriended a talented artist named Michelle Flanagan. The University of North Texas has an excellent visual arts program and makes a profound impact on the Texas contemporary art scene.Their graduates are often engaged in all aspects of the art world. Connections occur so often I am constantly reminded it is a small world, a smaller art world. In fact, half of the full-time faculty members in the art department at Tyler Junior College are UNT alums. So, when my art journey brought me to East Texas it was not surprising to come back in contact with Michelle Flanagan, a Tyler native.
Artist Michelle Flanagan was born in Tyler in 1971. Her primary discipline and field of research in art is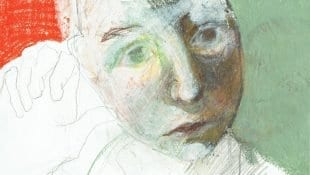 drawing, but she also explores painting. She works predominantly in the media of graphite, charcoal, oil pastels, and acrylic paint. Michelle completed an Associate in Arts degree in Art at Tyler Junior College in 1991, a Bachelor of Fine Arts degree in Studio Art (magna cum laude) at The University of Texas at Tyler in 1994, and worked towards a Master of Fine Arts degree in Studio Art at the University of North Texas, August 1994–May 1997. She had a solo show for her MFA exhibit in Denton, Texas, at the Cora Stafford Gallery, UNT College of Visual Arts and Design. Flanagan lives and works in Whitehouse, Texas.
Michelle's artwork is visually captivating, sensitive, and composed of multiple layers of almost ephemeral mark making. Her subjects are deeply personal, sometime autobiographical, but intensely universal providing powerful connections to the shared human experience.
"I typically use and combine graphite, charcoal, oil pastels, oil bars, and acrylic paint. I like the immediacy and control of working on paper. It's easily accessible, which complements my spontaneous, expressive approach to art," she said. "I have enjoyed working on stretched canvas as well but through my career as an artist, it's been less available. Stretched canvas also has give to it, unlike paper, which has a flat surface and is more rigid," states the artist.
She adds, "My work is figurative, typically portraits or torsos. Style is determined by the nature of the work. I've made graphite and charcoal portrait drawings using a realistic style. It is quite gratifying to see how far I can push techniques to have the end result represent the subject realistically. The work I do for myself is more expressive. One of the best descriptions of my autobiographical self-portraits came from my UNT professor in graduate school, cathartic. I look forward to the unexpected and spontaneous. I have such an enthusiasm for watching a work evolve. Through the interplay and control of variables surprise is inevitable."
"I believe artists are just those who do not grow out of the childhood joy of creative exploration," Michelle said. I have drawn for as long as I can remember. I was educated in the basics of art, and my skills and habits improved. I became very comfortable in the execution of representational, realistic images. I was given positive reinforcement throughout my childhood and teenage years. Positive feedback and encouragement from my mother, family, friends, and teachers enhanced my self-esteem and made me want to create more."
Michelle has great respect and admiration for the ancestors of art. She will often visualize while creating Michelangelo or Titian (masters of the Italian Renaissance), Willem de Kooning (Abstract Expressionist), the group of Expressionists (artists concerned with manifesting feelings over observation).
"It is an amazing gift to reflect back on the legacy of art history and good company from which to draw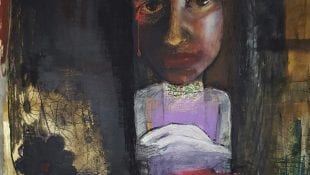 motivation. I feel humbled, honored, and proud," Michelle said. Her favorite artist is Pablo Picasso (Cubism and more).
The business of art comes with its own challenges beyond the trials of the creative process. "I created a website back in the early years of the internet," Michelle explained. "A part of me believed collectors would immediately find me, flitter upon my doorstep, purchase everything I created, and offer to be my patrons for life. I still don't know how people make it, whatever that means, especially in the digital age. And, marketing through social networking seems like a full time job. I never sought a business degree." Michelle added, "Understanding through experience what "starving artist" means is rough."
Being an artist does not mean one must make their living as an artist. You do not have to compete with anyone. Just bloom. Michelle stated, "Having to accept I had to get a real job was difficult. I entered the workforce around 2004 and had a full time job as an administrative assistant until 2015. My art productivity practically ceased through those years. The past few years have been some of my toughest in life, but things are changing for the better. I've created some new drawings and look forward to what awaits me in the future."
I am looking forward to it too. Bloom.