Inside the Artist's Studio: Michelle Flanagan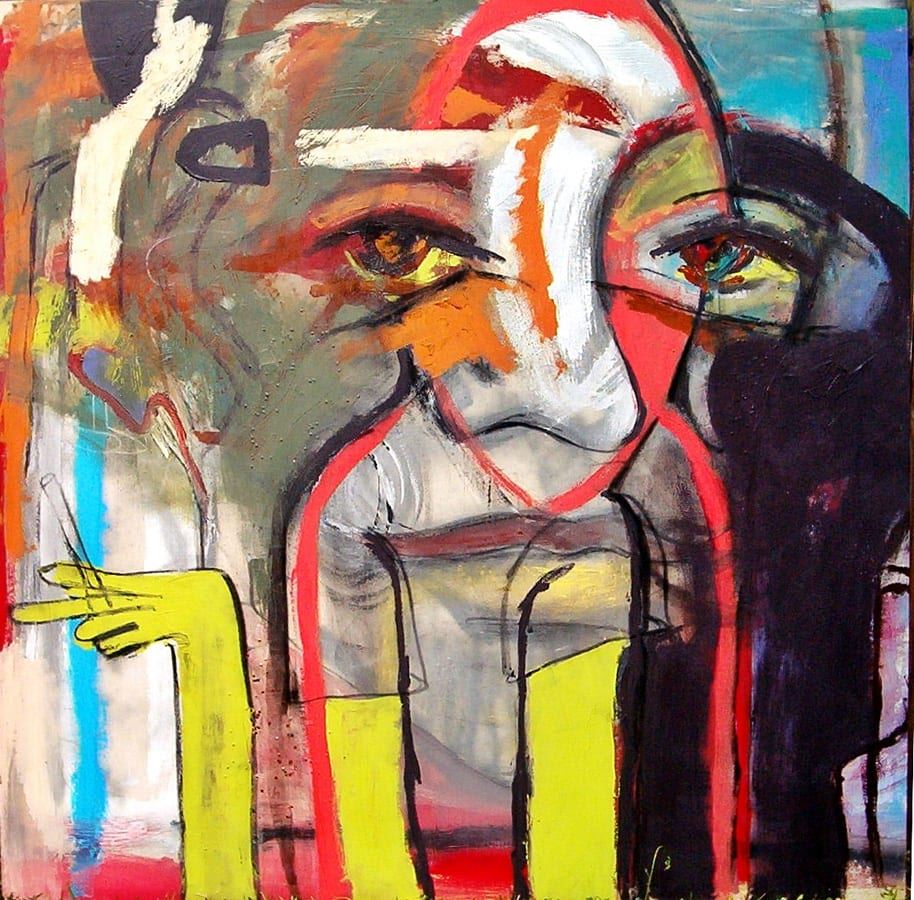 By Derrick White
It's a small world, and the art world is even smaller. Be kind to those you meet; you will meet them again. Although it can sometime feel like everyone everywhere is crafting, blogging, painting rocks, or creating some kind of art, the truth is most people do not. If you are a creative person, congratulations, but understand as you stand in line in a big box store or get stuck in traffic most of the humans surrounding you do not regularly participate in creative, artistic activities. If you do not consider yourself artistic, the best thing you can do to change is to begin. Give it a try. Create something for yourself and for the therapeutic benefits and enrichments it adds to dealing with life. There's no competition with anyone but yourself. Just attempt, improve, and grow. Today is good day to start. Right now is even better. "A flower does not think of competing to the flower next to it. It just blooms," is a quote from the book "Zen Shin Talks" by Sensi Ogui.
While attending the University of North Texas, Denton in the 1990's, I befriended a talented artist named Michelle Flanagan. The University of North Texas has an excellent visual arts program and makes a profound impact on the Texas contemporary art scene.Their graduates are often engaged in all aspects of the art world. Connections occur so often I am constantly reminded it is a small world, a smaller art world. In fact, half of the full-time faculty members in the art department at Tyler Junior College are UNT alums. So, when my art journey brought me to East Texas it was not surprising to come back in contact with Michelle Flanagan, a Tyler native.
Artist Michelle Flanagan was born in Tyler in 1971. Her primary discipline and field of research in art is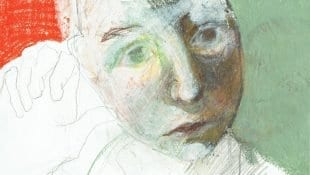 drawing, but she also explores painting. She works predominantly in the media of graphite, charcoal, oil pastels, and acrylic paint. Michelle completed an Associate in Arts degree in Art at Tyler Junior College in 1991, a Bachelor of Fine Arts degree in Studio Art (magna cum laude) at The University of Texas at Tyler in 1994, and worked towards a Master of Fine Arts degree in Studio Art at the University of North Texas, August 1994–May 1997. She had a solo show for her MFA exhibit in Denton, Texas, at the Cora Stafford Gallery, UNT College of Visual Arts and Design. Flanagan lives and works in Whitehouse, Texas.
Michelle's artwork is visually captivating, sensitive, and composed of multiple layers of almost ephemeral mark making. Her subjects are deeply personal, sometime autobiographical, but intensely universal providing powerful connections to the shared human experience.
"I typically use and combine graphite, charcoal, oil pastels, oil bars, and acrylic paint. I like the immediacy and control of working on paper. It's easily accessible, which complements my spontaneous, expressive approach to art," she said. "I have enjoyed working on stretched canvas as well but through my career as an artist, it's been less available. Stretched canvas also has give to it, unlike paper, which has a flat surface and is more rigid," states the artist.
She adds, "My work is figurative, typically portraits or torsos. Style is determined by the nature of the work. I've made graphite and charcoal portrait drawings using a realistic style. It is quite gratifying to see how far I can push techniques to have the end result represent the subject realistically. The work I do for myself is more expressive. One of the best descriptions of my autobiographical self-portraits came from my UNT professor in graduate school, cathartic. I look forward to the unexpected and spontaneous. I have such an enthusiasm for watching a work evolve. Through the interplay and control of variables surprise is inevitable."
"I believe artists are just those who do not grow out of the childhood joy of creative exploration," Michelle said. I have drawn for as long as I can remember. I was educated in the basics of art, and my skills and habits improved. I became very comfortable in the execution of representational, realistic images. I was given positive reinforcement throughout my childhood and teenage years. Positive feedback and encouragement from my mother, family, friends, and teachers enhanced my self-esteem and made me want to create more."
Michelle has great respect and admiration for the ancestors of art. She will often visualize while creating Michelangelo or Titian (masters of the Italian Renaissance), Willem de Kooning (Abstract Expressionist), the group of Expressionists (artists concerned with manifesting feelings over observation).
"It is an amazing gift to reflect back on the legacy of art history and good company from which to draw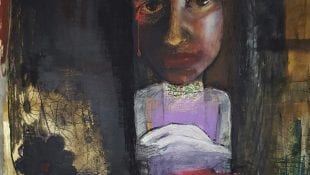 motivation. I feel humbled, honored, and proud," Michelle said. Her favorite artist is Pablo Picasso (Cubism and more).
The business of art comes with its own challenges beyond the trials of the creative process. "I created a website back in the early years of the internet," Michelle explained. "A part of me believed collectors would immediately find me, flitter upon my doorstep, purchase everything I created, and offer to be my patrons for life. I still don't know how people make it, whatever that means, especially in the digital age. And, marketing through social networking seems like a full time job. I never sought a business degree." Michelle added, "Understanding through experience what "starving artist" means is rough."
Being an artist does not mean one must make their living as an artist. You do not have to compete with anyone. Just bloom. Michelle stated, "Having to accept I had to get a real job was difficult. I entered the workforce around 2004 and had a full time job as an administrative assistant until 2015. My art productivity practically ceased through those years. The past few years have been some of my toughest in life, but things are changing for the better. I've created some new drawings and look forward to what awaits me in the future."
I am looking forward to it too. Bloom.

15th Annual Life in Tyler Photography Contest Now Seeking Entries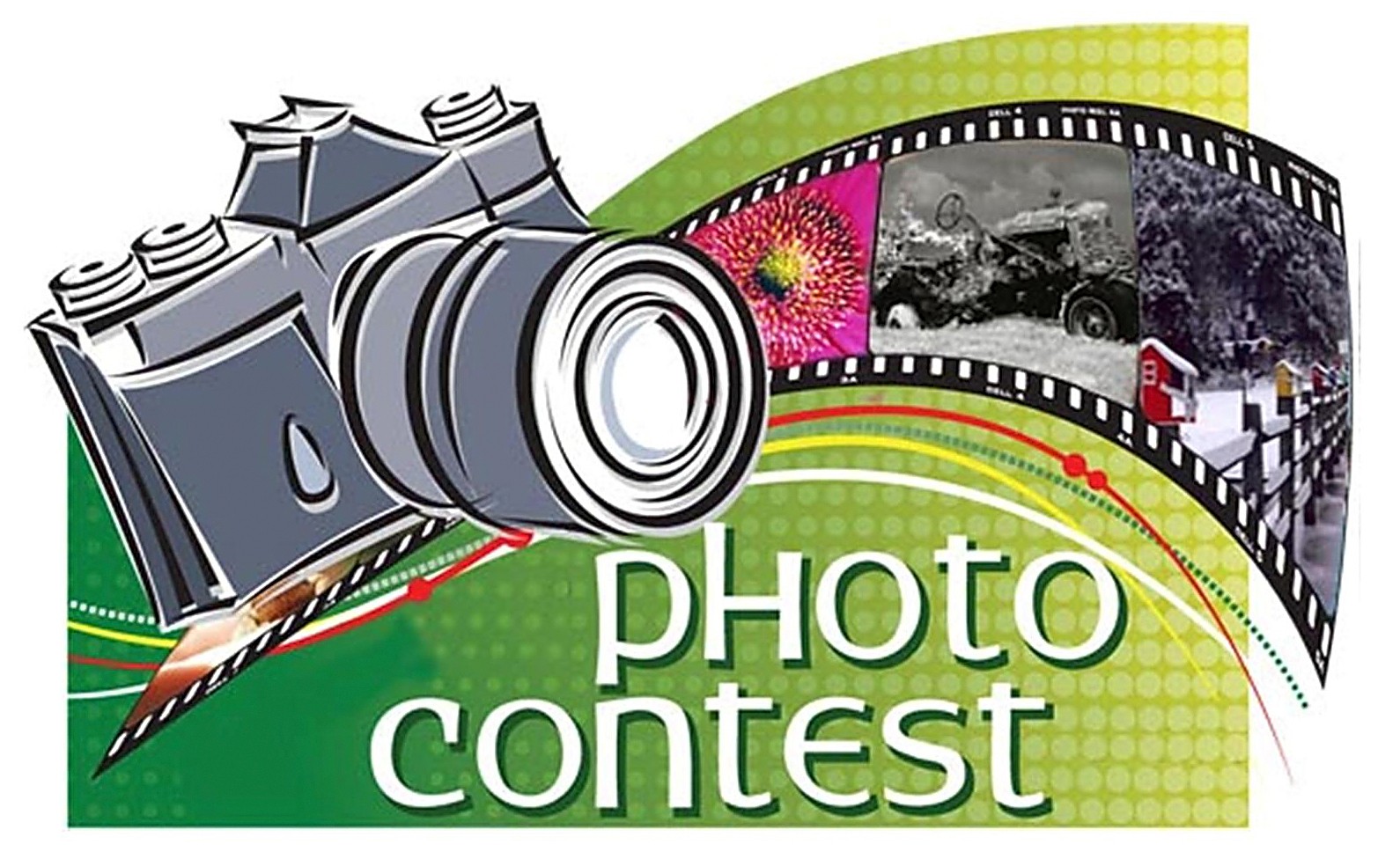 The City of Tyler Parks and Recreation Department is seeking entries for the 2020 Life in Tyler photography contest. Entries will be accepted from March 2nd to 10th.
Photos will be exhibited at the Rose Garden Center during the 2020 Azalea Trails, March 21st through April 5th. Ribbons and prizes will be awarded for the Best of Show entry as well as first, second and third place for each of the 12 categories.
Registration forms are available online at TylerParksandRec.com, at the Parks and Recreation office at 2000 W. Front St. or at the Rose Garden Center, 420 Rose Park Dr.
For more information, please call Debbie Isham, special events/recreation manager, at (903) 531-1214 or email disham@tylertexas.com.
About the Tyler Parks and Recreation
The Parks and Recreation Department provides oversight for the City's open spaces, athletic complexes and recreationally oriented programs for the use of all residents and visitors. Staff members diligently maintain a proactive maintenance program for over 26 park areas including oversight of maintenance activities on 23 playgrounds, traffic islands and medians, landscaping at City buildings, cemeteries and the downtown square. They also provide for the propagation of seasonal and perennial plant materials utilized in the Parks beautification programs, as well as the maintenance of trees in the Parks system. The mission of the Tyler Parks and Recreation Department is to improve the quality of life for our residents and guests by providing superior parks, cemeteries, recreational and tourism opportunities. Our vision is to provide residents and visitors with attractive outdoor spaces that are well maintained while continuing to be fiscally responsible. Learn more at www.TylerParksandRec.com.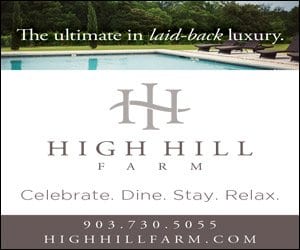 Bloom Where You are Planted, Buy Local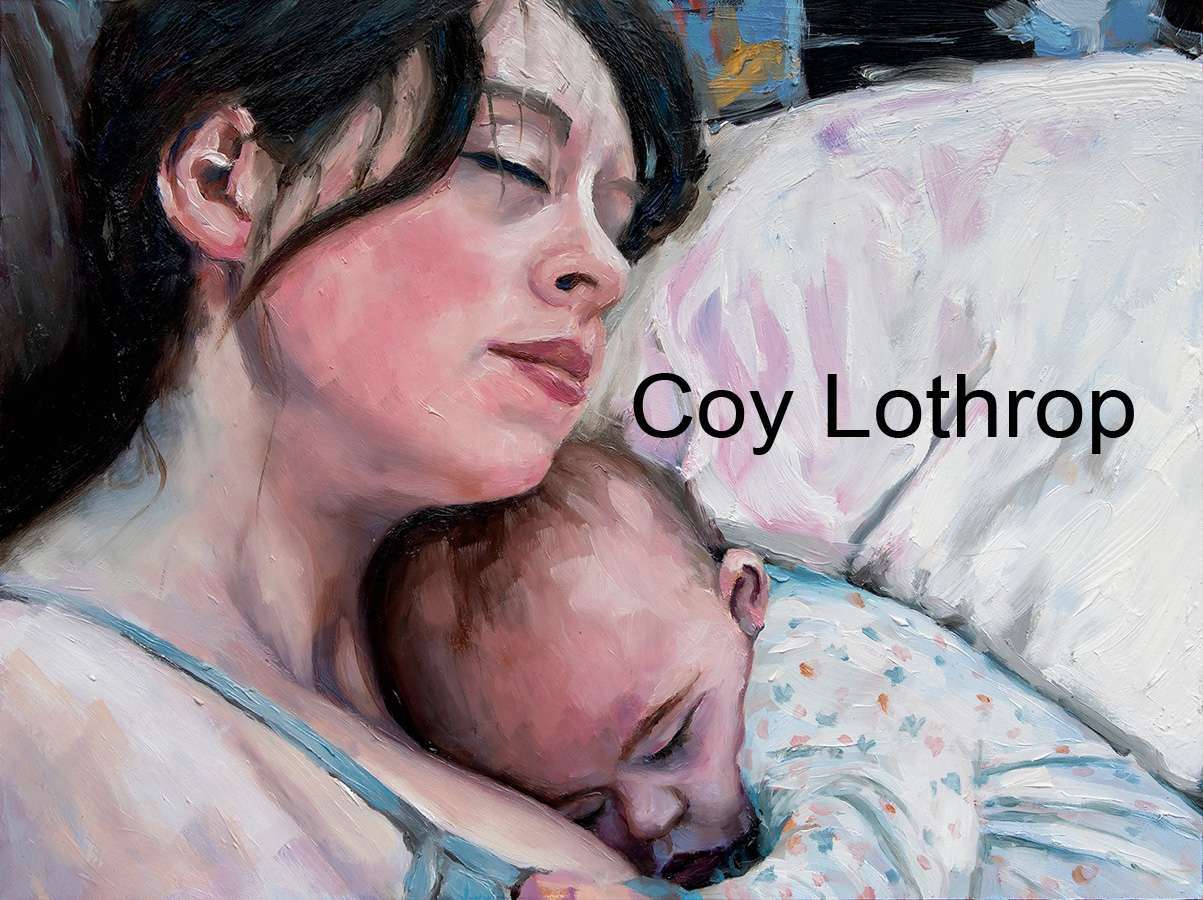 By Derrick White
Glasstire is an online art magazine covering topics in Texas contemporary art. They produce thoughtful art criticism and are the journal of record for our extensive Texas visual art community. The website's name is a reference to the glass tire sculptures of East Texas native Robert Rauschenberg (1925 – 2008), who was from Port Arthur. Glasstire holds the belief that great art can come from anywhere. In the last few years the website has expanded into the realm of podcasts. In their podcast titled Art Dirt: The Personalities of Texas' Art Cities, Publisher Brandon Zech and Editor-in-chief Christina Rees discuss what makes each of Texas' distinct art regions tick and the potential for success for visual artists. 
Rees was the juror for the University of Texas at Tyler's 34th Annual International Exhibition and witnessed some of the dynamic art aspects happening here. As you might imagine, the bulk of the podcast is devoted to the larger visual art market cities of Dallas, San Antonio, Austin, and Houston; but they also talk about the panhandle, West Texas, southern border cities, and East Texas gets a shout out towards the end.  
Christina states, "What happens if you go out to East Texas, with a place like Tyler, is you've got the universities, you've got schools, you've got faculty. They are there to stay. They make art and they are bringing up students through their programs and it's sort of a 'bloom where you are planted' thing. Start your own art scenes. Have an art community, busy making work and making it for its own audience – you know, those aren't necessarily places to move to if you don't already live there but if you are there, there is a way to make something, however small, feel quite thriving and to have dialogue and to have a community, an actual working community." 
Brandon Zech responds, "Or maybe they are places to move to depending on if you have this really cool idea as long as you can get local support and you can band together with people who also think your idea is awesome, especially if you are moving into a community you don't know. But the real crux of this: it only takes one person to really change and make an impact on an art scene, be it in Tyler or in Brownsville, or really even in Houston." 
Rees concludes, "Once you reach a certain age you will have friends who have moved to big art centers, New York or Los Angeles, and have burned out. They got up there and they had to work two full-time jobs and they stopped making their art because they were too busy making a living and paying rent. They want to come to Texas, or come back to Texas, or figure out a way to be able and have a studio and make work and live comfortably and be creative. I don't think being completely stressed out by having to make a living all the time and not getting to make your work is necessarily ennobling. I don't think it's creatively inspiring, and I think this whole character building up exercise of moving to New York City and living in a (dump) and working sixty hours weeks and trying to get some traction is not necessarily the only way to go anymore. There are a lot of different art worlds and you can make your own art world. Things are changing rapidly."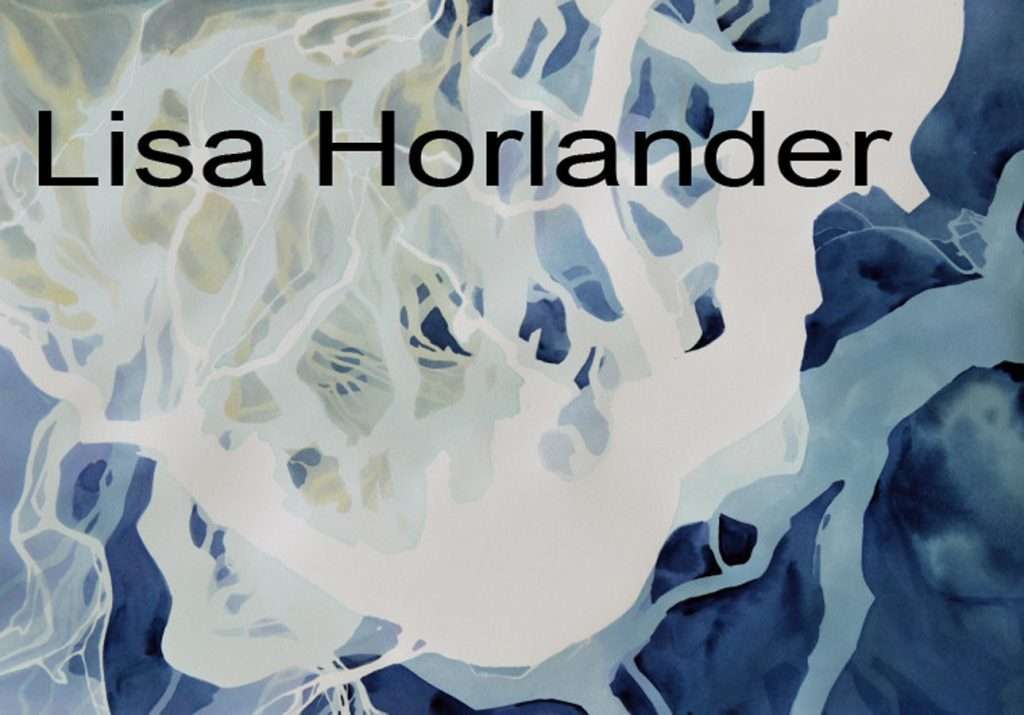 Things are changing rapidly. That statement struck a sympathetic chord with me and reiterated a belief I stated in a podcast interview with ETX Creatives founders Addie Moore and Lisa Horlander. "I like what is changing in East Texas and in our visual arts community and the arts community in general. It's got legs and a driving force it hasn't had before. East Texas, in general, is changing for the better and I think there are more opportunities coming for visual artists in our region than before. Sixteen years ago, if I had an aspiring visual art student in class, the best advice I could give them was … move. Go to Dallas, go to Austin, go to Houston, go to Abilene, all these different communities supporting their arts so much better than we used to. I really believe this is changing now better than it ever has been, and if we could introduce some of the money here in East Texas to some of our local creatives and get it all off the ground, then I think the sky's the limit for what is coming in the future," I declared. 
We are at critical mass for visual art. We have excellent regional museums, universities, and colleges with inspiring art programs filled with professional artists, and we have amazing emerging student artists who are sticking around and building supportive, innovative communities. We have support from new and established locally owned businesses and civic communes throughout East Texas giving opportunities to local visual artists. What we need is collector financial support, people willing to invest in budding talents here at home. Start buying original, local art.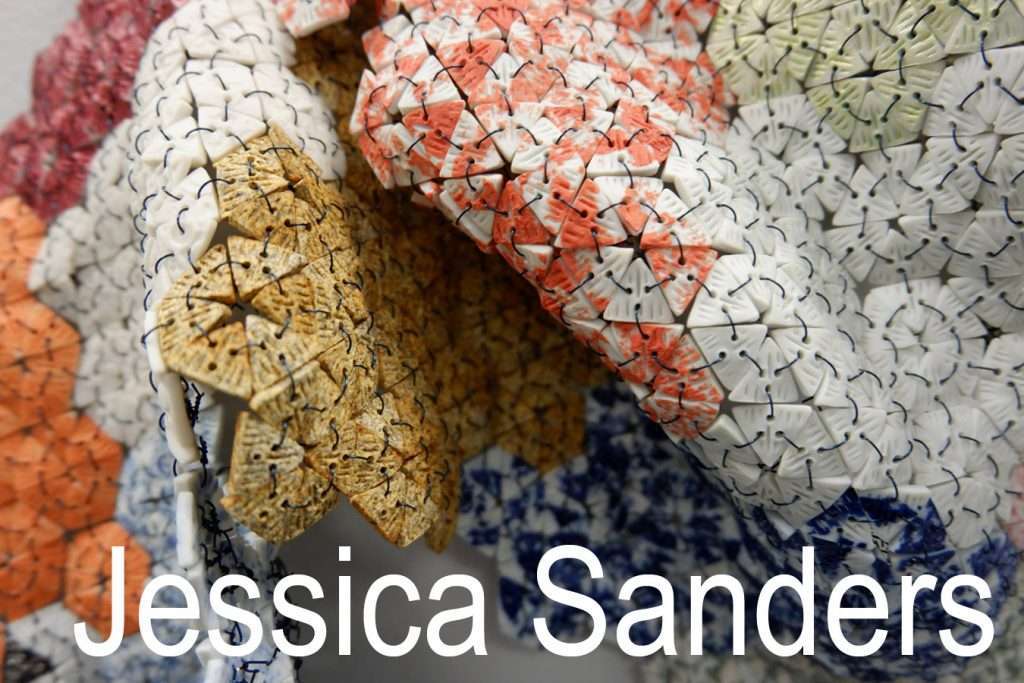 There are many reasons original art brings fulfillment to those who collect. When purchasing art, you may think about décor and how it will fit into your home. Are you looking for an exciting piece, something comfortable and welcoming, or are you looking for something striking out as a room's focal point? Whatever original art you choose, you will eventually find yourself enchanted by how it becomes a part of your home and a part of your life. By seeking out and supporting emerging artists, collectors may find the pieces they have bought increase in value as emerging artists become established. 
Owning original art enriches your life and has the potential to make you happy. You enjoy the satisfaction of having a good eye for what fits your personal aesthetic. You get the gratification of having helped and encouraged a local creative who may have depended on your purchase as sustenance they needed to keep going. You have added to the cultural enrichment of our region. You own one of a kind art not existing anywhere else in the world. 
Writer's note: The Art Guys, a collaborative performance art duo based in Houston, sadly lost Michael Galbreth, who died in October 2019. Galbreth was married to Rainey Knudson, the founder of Glasstire. Condolences.

Michael Brundidge: Inside the Artist's Studio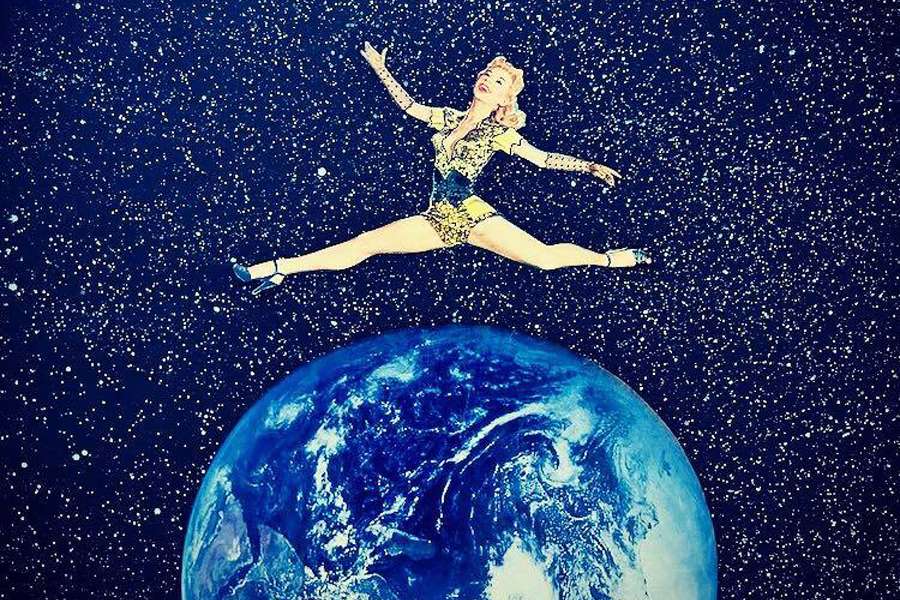 Some People Call Me the Space Cowboy
By Derrick White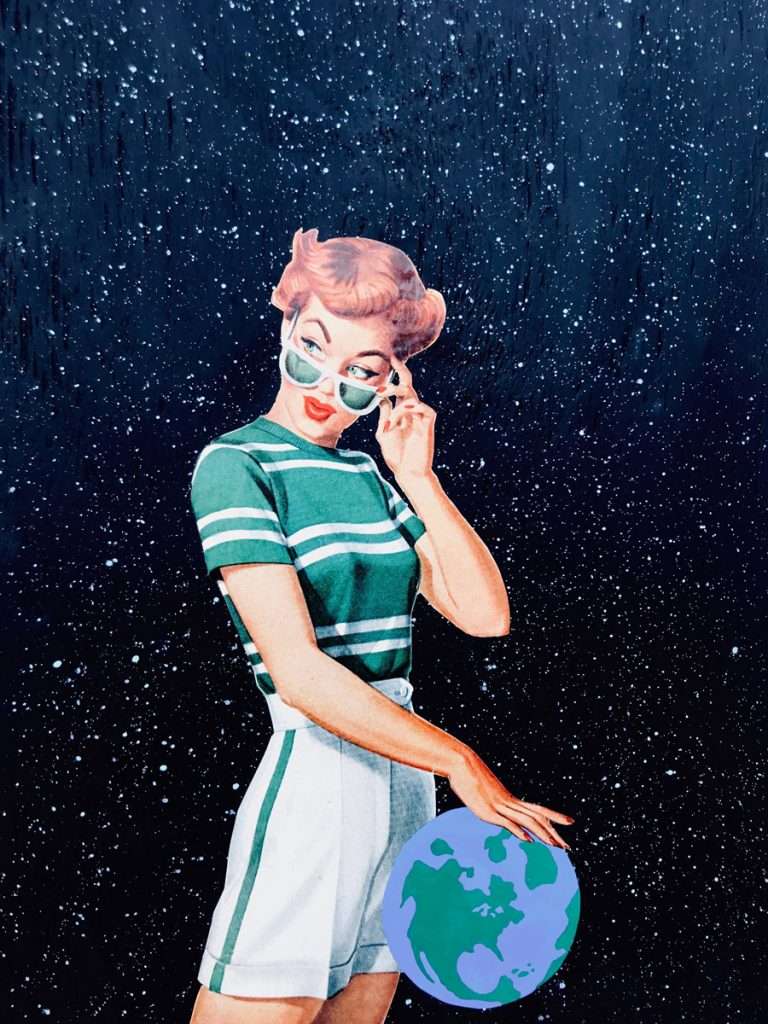 "You are free to do what you want! So go out and get it," exclaims local artist Michael Brundidge. Michael is a cheerful, energetic, friendly, and laid back personality you are more than likely to encounter during your next visit to True Vine Brewing Company, where he works. His artwork may also be seen there, perhaps being displayed in a one-night, pop-up art exhibition or permanently installed in spots around the brewery. Michael's art is primarily collages. This is something I personally value because about half of my own artwork is in the medium of collage and I appreciate it when I see it and when I see it done well.
The word collage comes from a French word meaning "to glue" and it is a prevalent and accessible visual art technique, where the composition is created from grouping different colors, forms, and images and creating a new, and sometimes very different, whole. Collages may include drawings and sketches, magazine and newspaper clippings, ribbon, paint, handmade papers, text lettering or phrases, photographs, prints, and other found objects selected and attached to paper, canvas, wood panels, or other supports. The ancestry of the process of collage dates back hundreds of years. 
Brundidge explains, "My main focus in style lately is mixed media collage artwork. Outer space has been the most prevalent theme and inspiration in my current series "Space Is The Place." I like to mingle Pop Art, Surrealism, and a splash of Neo-Dadaism (an absurdist combination of daily life and art using playfulness, iconoclasm, and appropriation)." He goes on to add, "I use plywood as my canvases (or supports) and acrylic paint for the backgrounds. I love how the acrylic soaks into the plywood. I think the textures really visually pop creating a combination matte and glossy finish to my backgrounds. I use clippings and cutouts of various images found in old magazines from the 1940's, 1950's, and 1960's. I really enjoy the textures and color palettes used in those decades. I juxtapose images of people, places, and things I find interesting onto my painted backgrounds. I like to call it manual Photoshop. The images most often reoccurring throughout my pieces are large ominous hands, planets, women, and astronauts." After Michael creates his collages he then finishes them by creating a custom frame for each individual piece using weathered or repurposed wood, which adds to the charm and content of the work.
Other than elementary school art classes, Michael Brundidge does not have any formal training in visual art. He is a self-taught artist, sometimes referred to as an outsider or folk artist for the unique qualities of style and practice. When making art to make art, there is no critique deadline and no teacher to please. This is one of the open-ended concepts I love about creating art: the fact you can just decide to do it. If you feel inspired to start making, sharing, and selling art, you can put a sign in your yard today and become just as much of an artist as anyone else. No degree or certification, training, or experience required. This does not mean you will automatically have any success, be any good, or make anything interesting, but you might. You get to express yourself and your unique human experience to the rest of us however you feel compelled to do so. This concept applies to everyone, of any age, of any skill set, and by any means. You cannot do this with most other occupations. You cannot decide to randomly put a sign in your yard and start practicing dentistry, for example. Or as Michael Brundidge puts it, "You are free to do what you want! So go out and get it."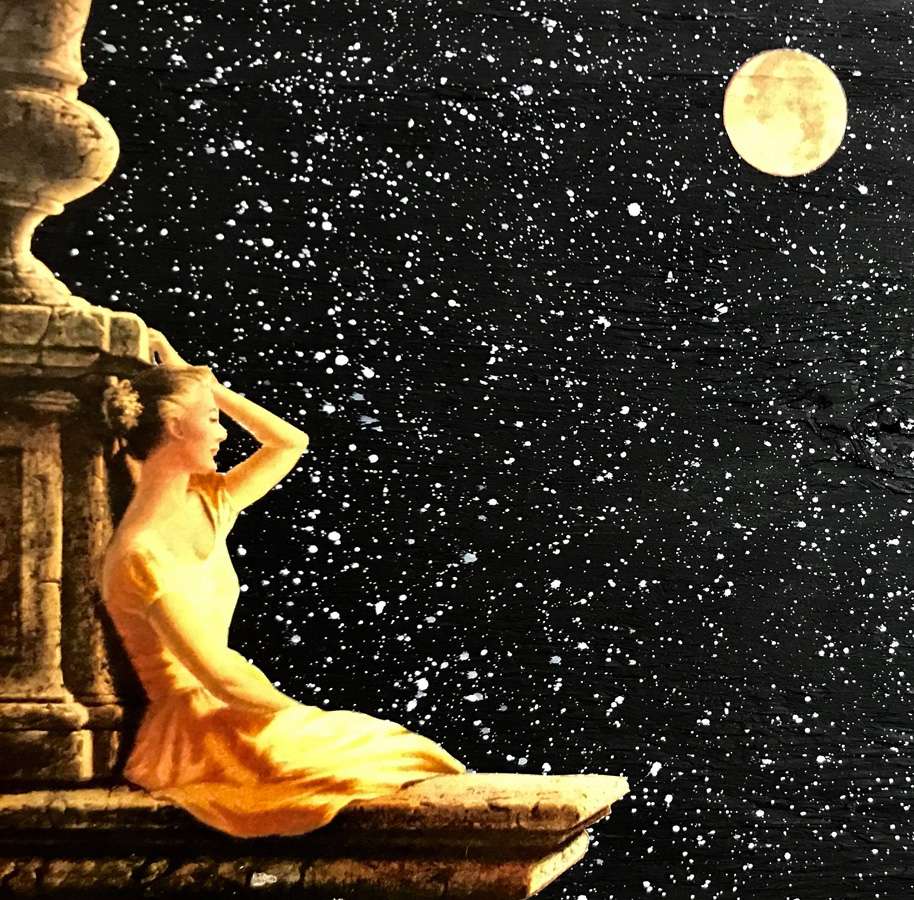 What inspired Michael down the path of pursuing art was, as he states, "Honestly, it was loneliness and alienation. I know it sounds dismal and depressing but I was truly hard-pressed to do something. I did not feel as though I had much of an identity. Making art brought back vitality, confidence, and purpose in my life." Adding, "It has developed my trait of persistence. Art has given me the will to continue on despite ridicule, hang-ups, and depravity." What Michael finds frustrating about being an artist is, in his words, "Exclusivity and competition. I disagree and do not participate in any art based competitions. Art is extremely subjective. Critics and the upper crust held in high regard can make or break an artist. Anyone can make art. I dare and laud them to do so. I truly believe art is a party and everyone is invited.  Make art to make art. Elitism is too common in the art world. The idea that money talks and has unquestionable influence in the art world is a fallacy. Every artist matters and all content must be considered." So everyone could, and I believe should make art. The process is emotionally healing and therapeutic. It doesn't matter if you are interested in playing the game of the big money buying and selling art world, which is an economy just like every other commodity-driven economy in the world. Make art by you for you, and let the rest fall where it may whether you are a joker, a lover, or a sinner.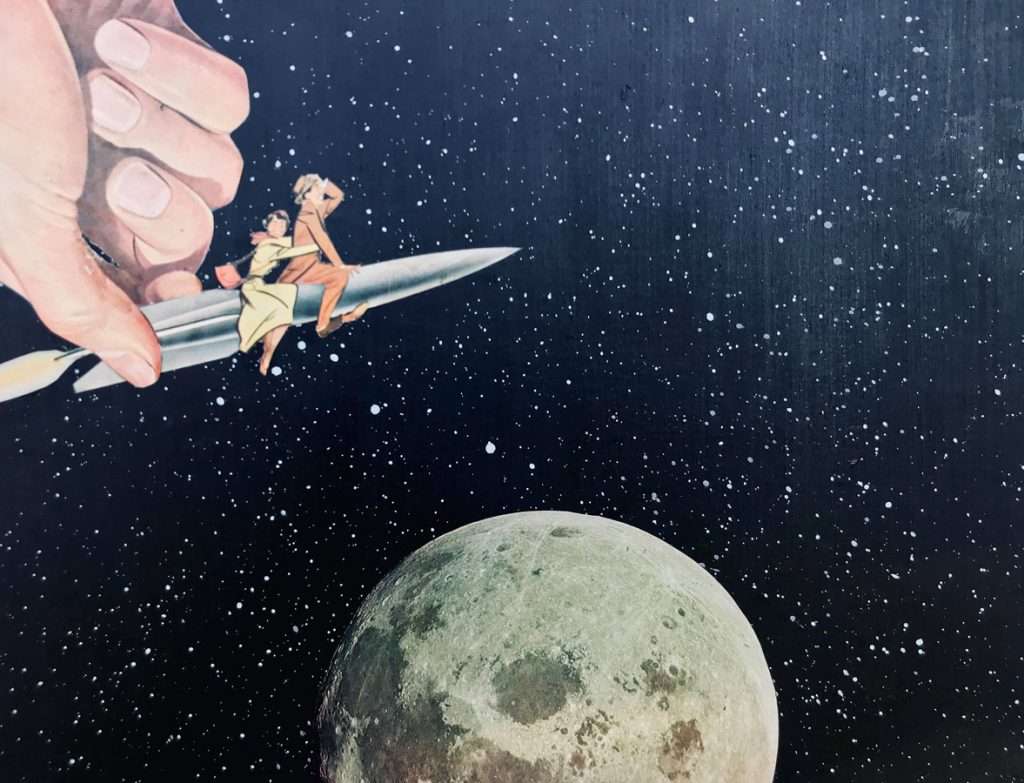 Speaking of jokers, Michael finds inspiration in the works of artist Ray Johnson, who was primarily a collage and correspondence artist. He was described as New York's most famous unknown artist. Michael exclaims, "He was relentless and continuously persistent in his artwork. He was a recluse staying vigilant and persistent in his process. His media ebbed and flowed at his inclination. Johnson was a prankster in expectation. His content was his own and he did not sway his ideology and process. He even determined and called the shots when it came time for him to leave this world." On January 13, 1995, Ray Johnson dove off a bridge and then backstroked out to sea in an apparent suicide or perhaps final performance art piece. Strange aspects of Johnson's death involved the number 13 (date; his age, 67 (6+7=13); his motel room number 247 (2+4+7=13) … and the number of letters in "Me Space Cowboy"). Learn more about Johnson in the documentary film "How to Draw a Bunny." Learn more about Brundidge by going to True Vine and having a beer.