One person's craziness is another person's reality
By Derrick White
"I follow so many amazing artists on Instagram, and I know some equally amazing artists in Tyler. For a while I was convinced there wasn't room for any other artists, but what I didn't realize at the time was the world always needs more art. Even if the people don't want it, we should give it to them anyway, just in case they don't realize they want it," states local, Tyler artist Lenora Hill.
I concur. You should make art, share art. Everyone should embrace the creative outlet of their unique human existence. Sell work you've made, don't make work to sell. Take the craziness of your life and experiences and channel it into your personal, creative expression. "One person's craziness is another person's reality," is a quote from visionary artist and film director Tim Burton.
When one experiences Lenora Hill's artwork, the Tim Burton influence is apparent. However, Lenora is her own artist. She has dedicatedly committed to her own style, and she has created her own characters' narratives with their own realities. Lenora's work is dark, humorously twisted, and engagingly intriguing, and she is deeply devoted to her craft.
Lenora started studying art at Kilgore College and then transferred to Tyler Junior College, graduating in December of 2016. She has exhibited in numerous student exhibitions and has been instrumental in promoting the East Texas art scene.
"During my first semester at TJC, I displayed work at my first art show at a venue called the Mango Chateau, along with local artist Paris Martin and multiple local bands. In February of 2017, I worked with Douglas Jay Boyd to put on a show at the former Jul's restaurant called the Lemonade Collection showcasing eight artists of varying media and a number of local and out of town bands. Afterwards, I was contacted by Daniel Westmoreland at the Athens Brewery about putting on a live painting and music event. We named the event 2nd Story Arts, and it took place in March and included around six or seven musical acts and four artists. On the eighth of July, we had our second 2nd Story Arts exhibition and event, hosting nine artists," Lenora affirms. Also in Athens, Lenora took part in a mural painting at the Trace Bar with local Tyler artists Alison Matlock and Sean Smith. The next Athens Brewery Company 2nd Story Arts show is scheduled to be on September 9th.
Lenora keeps herself busy creating and getting her work in front of audiences. Lenora has participated in the Downtown Tyler Wine Swirl art event, and she has had work published in Tyler's Noise City Zine and the annual TJC Bell Tower Arts Journal. She was commissioned to draw the sheet music cover art for the production of 'Troubadour' in Atlanta, Georgia. Later this year, on October 21st, Lenora will be in Deep Ellum in Dallas, TX displaying and selling artwork for the annual pancakes and booze arts festival. You may have seen her work locally at El Guapo Records, the former What About Kabob, and currently at the Strada Caffé near Downtown.

Lenora mainly works with either acrylic paint or ink. "When I am working with ink, I have a Kuretake no. 50 ink brush pen I use on watercolor paper, or I'll use a variety of Micron brand pens. On a rarer occasion, I might use watercolor paints or sculpt with clay. I paint mainly on canvas and wood," states the artist.
When asked about her early inspirations Lenora replies, "I've always liked to draw, but even up until high school all I had ever really created were quickly sketched ideas I would hang on the walls of my bedroom. I guess collectively they made a cool collage, but I still didn't seriously start making art until my second year of college. I knew the style I wanted to draw in, I just had to put in the practice to get there. I was pretty impressed with surrealism throughout my life, so I believe it had an effect on my style. Tim Burton movies like "Alice in Wonderland" and "Coraline" introduced me to alternate worlds of strange characters and scenery and inspired me to create my own. I see all of my paintings and drawings as a culmination of characters from the same weird universe."
Lenora continues, "The most important thing art has brought to my life is the understanding I will never be as good as I can be. I can never draw for so long, or paint for so long, I can't improve any further. There is always a goal, and I'll never get to a point where there's nothing left to learn. Being an artist is like reading a really good book series, but instead of getting to the end and not having anything left but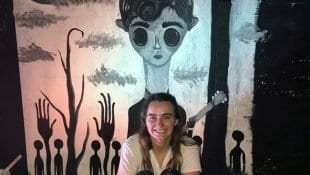 weird dissatisfaction the world you were just invested in is through existing, you can keep reading forever. So in a simpler sense, I always have something to do, and I like doing it. Aside from that, it's introduced me to some of the most incredible people throughout the years, and I've learned something from all of them."
Lenora gains inspiration from artists like Jean-Honore Fragonard (French Rococo painter distinguished by exuberance and hedonism). "He incorporated some pretty inappropriate themes for the time, which take a second to catch because the way they are painted is just so beautiful and distracting, but it's like each painting has its own secrets, and if you don't stop and admire it for long enough, you can totally miss out on what he was trying to show. It makes one wonder how many messages or signals are missed in other artwork, or even other aspects of life, because you didn't stop for long enough to soak in the details. Over all, I can only hope to achieve such a graceful, playful style," pines the artist.
"It's hard to find logic in things sometimes. That's why I can't analyze things too much, because it often doesn't make much sense." – Tim Burton.
Find more info about Lenora Hill's art through Facebook and an Instagram at OddsArt.