Inside the Artist's Studio: Theresa Creek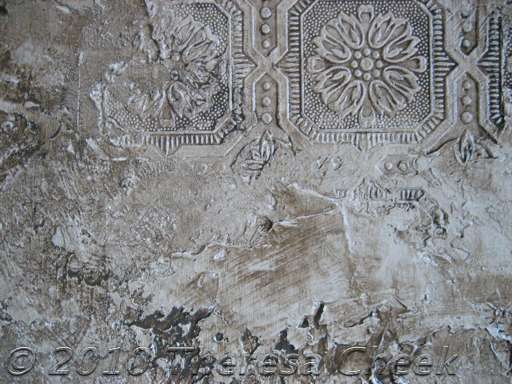 The Writing on the Wall,
The Art of Theresa Cheek
By Derrick White
Murals have existed as long as people can remember. They have served as a form of evidence of life from prehistoric times to modern day. "From the cave paintings at Lascaux Grottos in southern France to the street art murals of today, people have been leaving signs of their own existence in many places around the world. It is because of the earliest scratching, carvings, etchings and paintings, that we now have priceless knowledge of history and predecessors. These murals hold great significance for all of mankind. They depict life activities, every day scenery, and some religious traditions of the time period that they were created; giving us an invaluable look of the diversity of cultures during different periods.
"Over the course of time, murals have covered interiors and exteriors of many public buildings (i.e., palaces, temples, tombs, museums, libraries, churches, and the houses of wealthy art patrons), spreading onto the streets and architectural elements more recently, all the while keeping their initial meaning and purpose: to paint a picture of society, created from stories, values, dreams, and change," writes Angie Kordic in her article "Mural."
Tyler artist, Theresa Cheek, creates many murals among her repertoire of work. Theresa earned her Bachelor of Fine Arts degree in art history from the University of Texas and an Associate's degree in Art from TJC. "I have always been fascinated with obscure techniques and have studied with various artists from Italy, France, and the United States on verre eglomisé (a French term for the process of applying both a design and gilding onto the rear face of glass to produce a mirror finish), egg tempera (a permanent, fast-drying painting medium consisting of colored pigments mixed with a water-soluble binder medium, usually egg yolk), fresh paint, gilding, and mural work," states the artist. Theresa has served a three year presidency term with the International Decorative Artisans League and is currently on the board of the Arts and Humanities Council of East Texas (AHCET). She is currently a member of "Salon," a prestigious international group of decorative artisans with a purpose of learning, preserving and handing down long-standing techniques.
"I am a decorative artist, not a fine artist. That simply means I specialize in ornate, decorative borders, trompe l'oeil (a visual illusion in art, especially as used to trick the eye into perceiving a painted detail as a three-dimensional), gilding and other techniques used as embellishments in churches and other historical buildings. Although original sketches are done, most work involves copying various motifs and designs from the past. Most recent works include Saint Edwards Catholic church sanctuary and courtyard and restoration on the First Presbyterian church in downtown Dallas," explains the artist, adding, "I also make marbled papers for bookbinders and other creative uses."
In explaining her techniques, Theresa says, "Although I do use commercial acrylics, oils, and 23k gold leaf, I also concentrate on 14th century techniques and make my own egg tempera, fresh pigments, and oils, along with gesso and casein."
Theresa's business name is Art's the Answer. She believes this is true for so many things in life. Art can heal as well as be a unifying universal language for civilization. "Art gives my life balance and purpose as well as a solace from stress," avows the artist. In addressing the frustrations of her artistic pursuits Theresa states, "If you know me, you know my work is very laborious, involving many steps and a myriad of chemicals and pigments. In an age of instant gratification through the internet, younger patrons do not necessarily appreciate the process or labor behind each project and the price point it carries."
Theresa Cheek finds inspiration from classical master artist, Giovanni Battista Tiepolo (a Rococo and Baroque Italian painter and printmaker). She enjoys his use of scale, color and his depictions of Venice. Contemporary decorative influences include Carlo Marchiori, renowned muralist, and Pascal Amblard, majestic landscape muralist with whom Theresa has studied.
To find out more information about Theresa Cheek and her artwork, and/or to commission a decorative mural, please visit: theresacheek.socialtuna.com or etsy.com/shop/artstheanswer.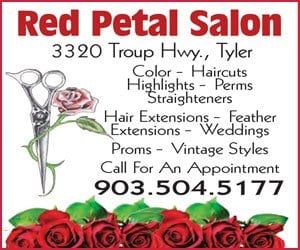 Keep Tyler Beautiful Unveils New Murals Around Town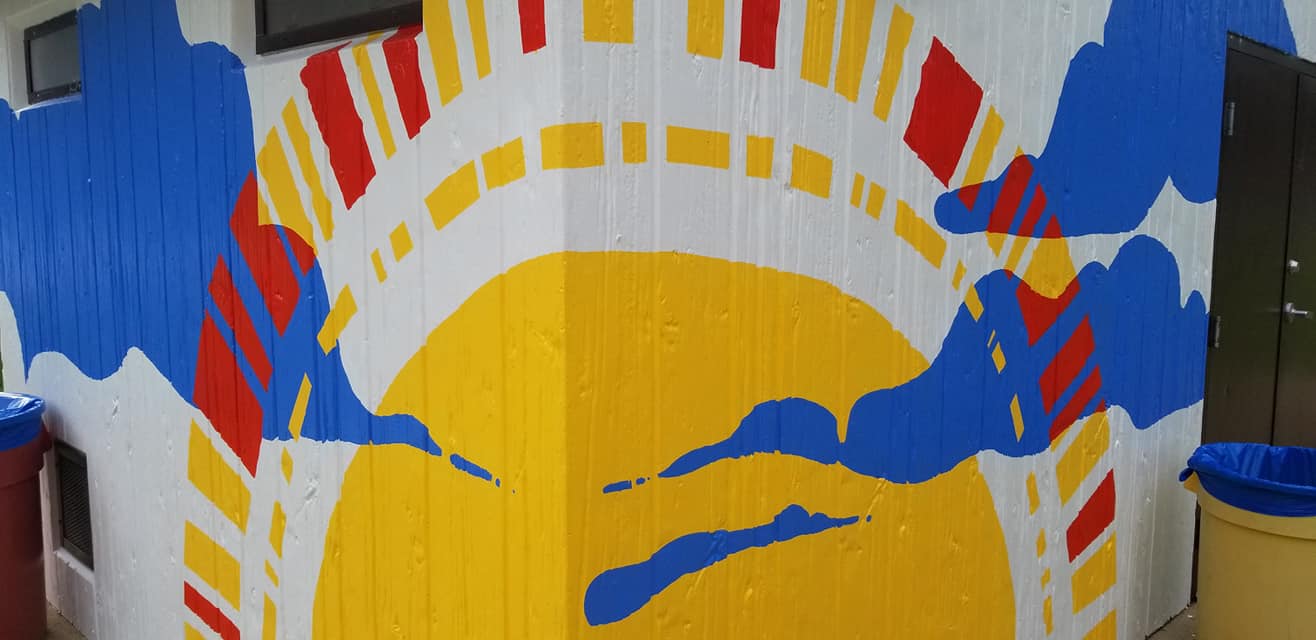 Eight artists from the community are working with Keep Tyler Beautiful to repaint the mural along South Loop 323 between Fry Avenue and New Copeland Road. The previous mural featuring 520 feet of colorful roses was painted in 2011 by students from multiple Tyler high schools, but it has now faded. The final mural will be completed in October.
"The art mural is intended as a creative outlet for artists in our community," said Keep Tyler Beautiful Coordinator Belen Casillas. "Our vision is to display local art by Tyler artists and promote Keep Tyler Beautiful."
In addition, Keep Tyler Beautiful has partnered with local artists Lisa Horlander and Daryl Phillips to paint murals at Emmett J. Scott Park and Woldert Park, respectively.
The new mural at Emmett J. Scott Park is on the newly renovated restrooms and the mural at Woldert Park is on the electrical box near the new splash pad. Both artists have been involved with art projects at Tyler Parks and with the Beauty and the Box program.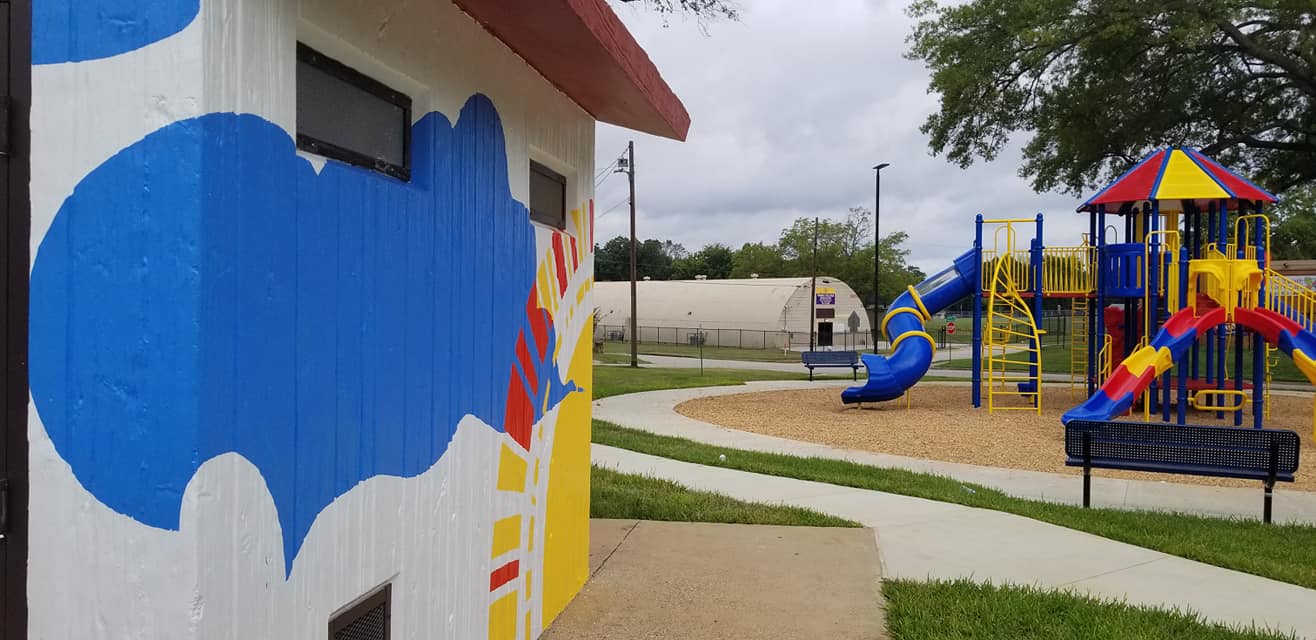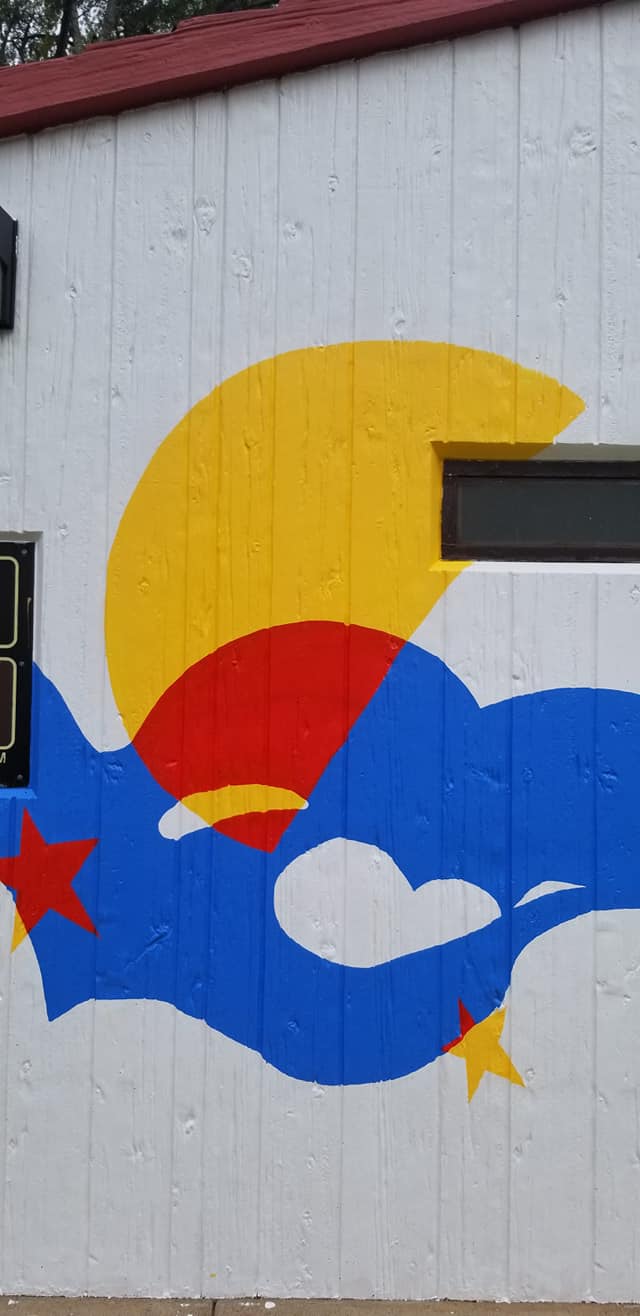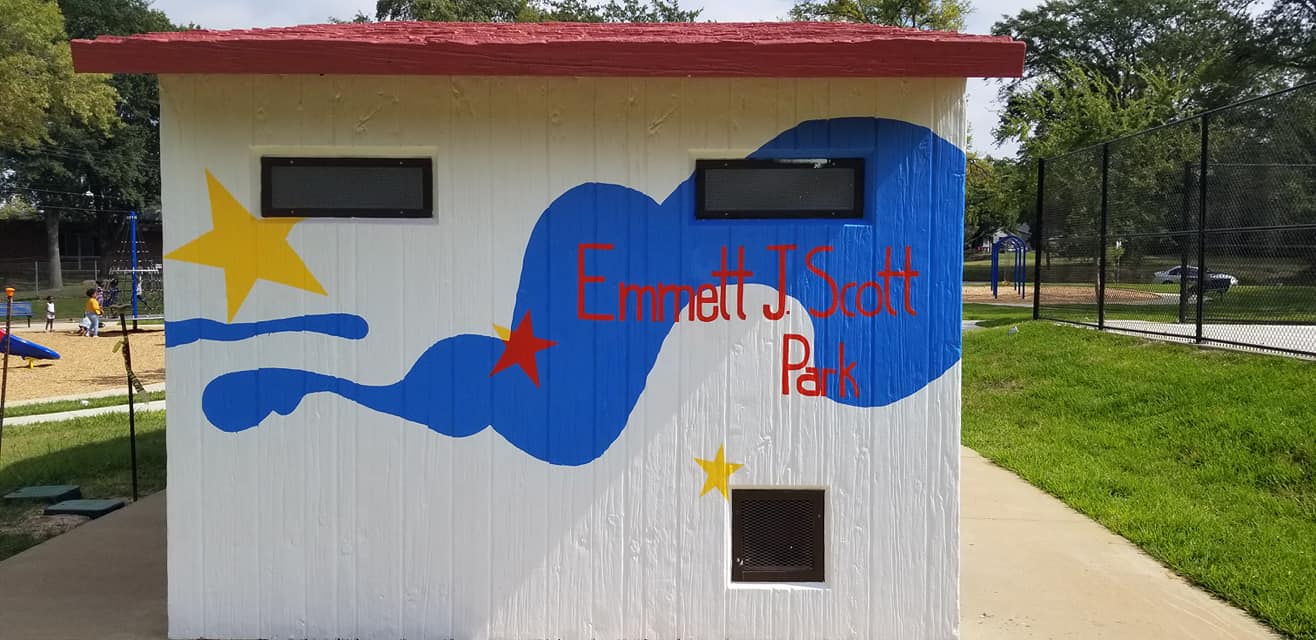 Tyler Animal Shelter launches Beautification Project, Call for Artists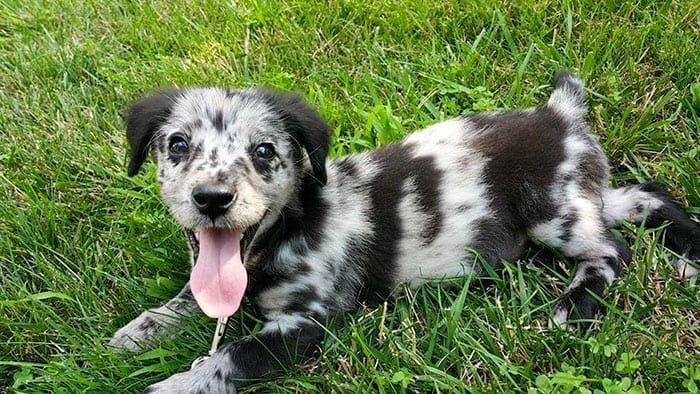 Help! There isn't much color in our Animal Shelter lobby or get acquainted rooms so we need the community's help to transform it. The Animal Shelter Beautification Project invites artists of all ages to submit images of their original artwork to be considered for a mural on the walls of the shelter lobby or the get acquainted rooms.
Attached is a complete list of rules for artists wanting to submit their artwork. The deadline to submit artwork will be Jan. 31. 2021 at 11:59 p.m. All artwork is to be submitted digitally on our website: https://www.cityoftyler.org/government/departments/animal-services.
In 2017, Tyler Animal Services opened its doors to the public in a restructured facility that houses both the City's Animal Shelter and Animal Control Department, located at 4218 Chandler Hwy. The facility also houses 103 dog kennels and 65 cat kennels for holding, isolation and display. The City's shelter features "get acquainted" rooms for people to come in, meet with shelter staff and their potential pet for some time to "get acquainted."
In 2019, 482 pets were adopted, 492 were reunited with their owners and 349 animals were transferred to 110 different rescue organization partners. There were 1,172 microchips registered to responsible pet owners.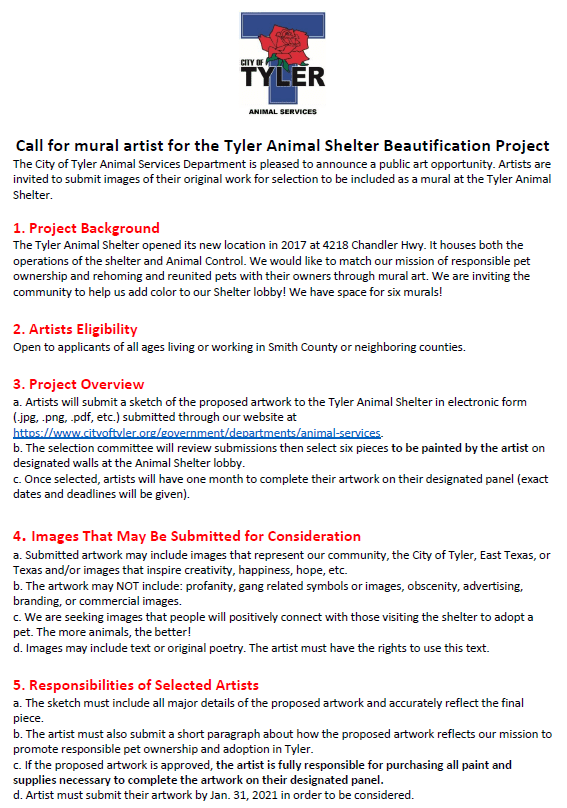 On Exhibit at Tyler Museum of Art: "Bits & Pieces"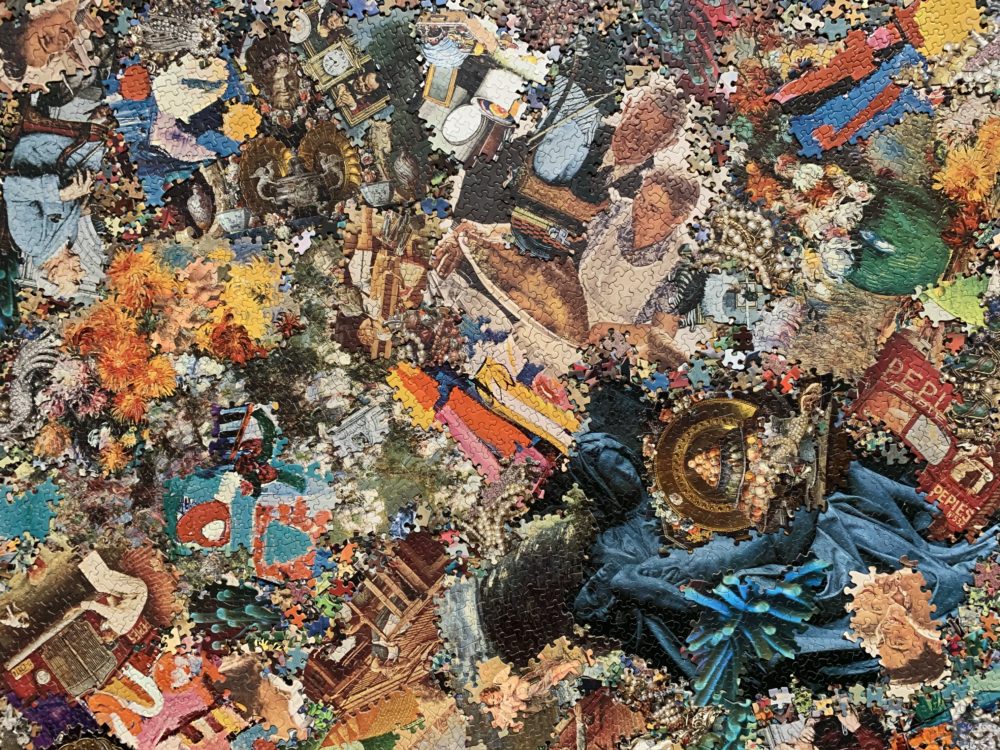 The Tyler Museum of Art (TMA) is located at 1300 S. Mahon Ave. on the Tyler Junior College main campus. Regular TMA hours are 10am-5pm Tuesday-Saturday, and 1-5pm Sunday. The Museum is closed Mondays and on most major holidays. For more info call the museum at (903)595-1001, tylermuseum.org, or email info@tylermuseum.org.
Bits & Pieces: Works by Al Souza is on exhibit July 9th-Oct. 18th, 2020. Organized by the Tyler Museum of Art, this exhibition features a variety of mixed media collages and assemblages from 2000 – 2010 by Al Souza. The works, including his jigsaw puzzle assemblages, showcase his ability to masterfully combine various parts to create a dynamic whole.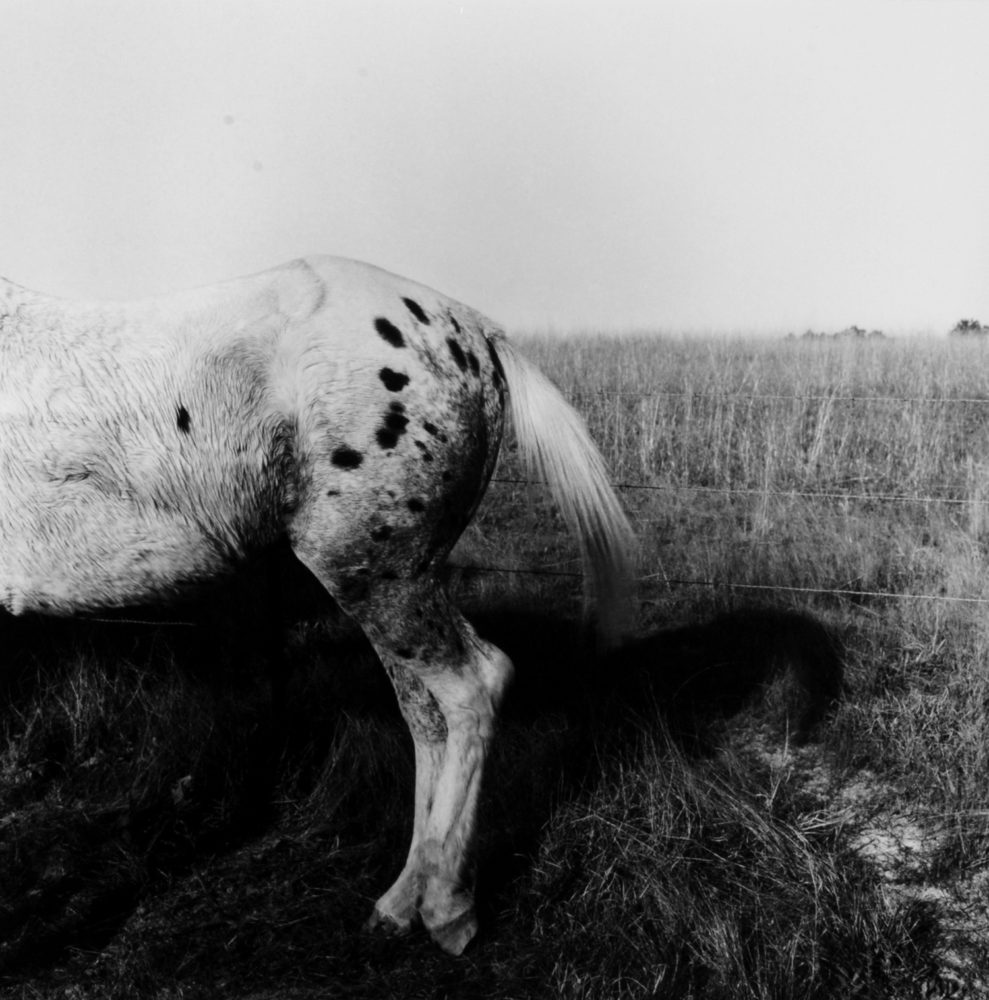 The Blue Man: Photographs by Keith Carter is on exhibit June 21st-August 30th, 2020. Organized by the Tyler Museum of Art, this exhibition showcases 50 photographs from Keith Carter's Blue Man series held in the TMA's Permanent Collection. The images, taken in the late 1980's, highlight a variety of people and places found around East Texas. Rooted in a documentarian tradition, Carter's images capture the ordinary as well as the unimaginable subjects that make our region unique. Keith Carter (b. 1948) is an internationally recognized photographer and holds the Endowed Walles Chair of Art at Lamar University in Texas. His work has been widely exhibited and can be found in numerous museum collections including the National Portrait Gallery, Smithsonian American Art Museum and J. Paul Getty Museum.