Just The Way She Is: Elfin Paige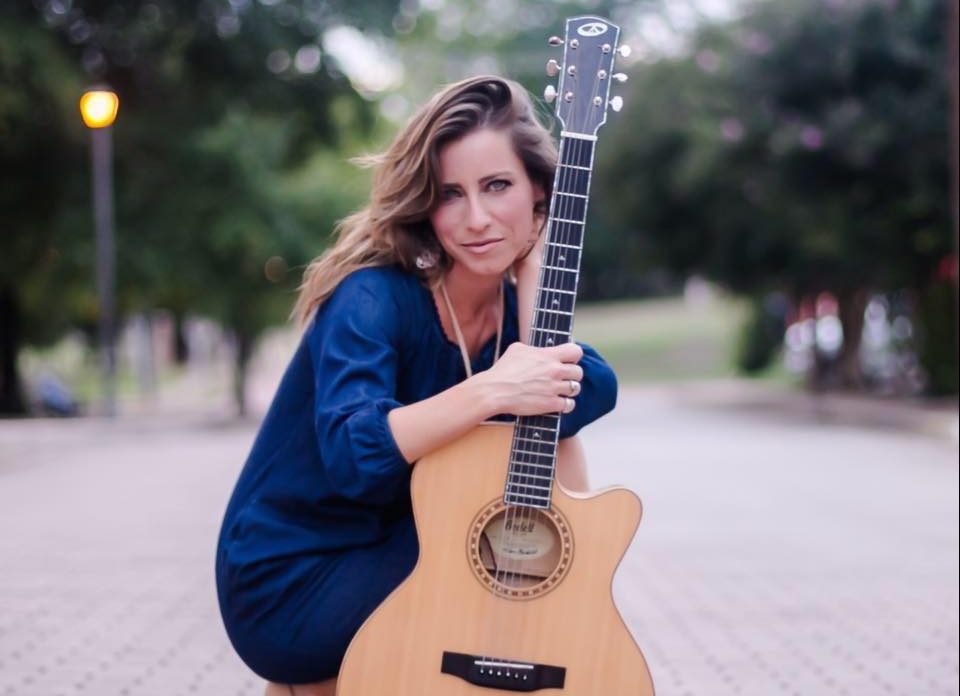 By Johnny Griffith
Some people are just blessed with what seems like an endless well of creativity, and there are the rest of us who have to work to get the ideas flowing. From the moment you meet Elfin Paige, you get this calm, laid-back evening breeze vibe that belies the creative hurricane going on inside her head, and for good reason … this single mom wears a lot of hats. She is a part time photographer and a writer, publishing two books already, with a third on the way in September, oh, and she's a really good singer/songwriter who has found her way to many stages in the East Texas area already.

I ran across her recently while she was getting ready to play a show, and sat down to get to know her a little better. 
Johnny: You're not originally from this area. Where were you born and what brought you out this way?
Elfin: I was born at St. Joseph's Hospital in Stockton, California, but I grew up mostly in and around San Diego until my early teens, when my family moved to East Texas. Mom and dad decided to move back to Lindale when I was 13. So on Thanksgiving Day, 1994, we unloaded the U-Haul into that first rental house on FM 16. Mom and dad had been in a ministry called The Agape Force here in the 1970's. At that time they were close friends with Keith Green, Winkie Pratney, and many other well known people in the local ministry circuit. They moved back to serve with Winkie in his ongoing ministry.
 Johnny: What do you feel was the biggest cultural adjustment when you came out this way?
Elfin: People burning things in their front yards and strangers waving from their cars.
 Johnny: What is your earliest memory of music?
Elfin: My parents are singer-songwriters, so all my life. There was never much money, but I grew up with mom and dad's gold and platinum records hanging on our trailer house walls. I was in the recording studio for the first time at age 6. 
 Johnny: At what point did you take more than a passing interest and whom do you credit for fostering that spark?
Elfin: It was never NOT a thing. Like I mentioned, it was my family culture. At family get togethers you get together and sing Beach Boys songs with all the harmonies for fun.
 Johnny: When did you feel the desire to begin writing your own music as opposed to just playing other people's stories?
Elfin:Well, I am, first and foremost, a writer. I was 8 years old the first time I wrote a song that was actually recorded and used for a kids project my parents were working on at the time.
 Johnny: What do you enjoy writing about the most, or do the songs just take a life of their own?
Elfin: I can do either/both. Sometimes I write out of necessity, as a way to process pain and emotion. But other times I've had a friend call me and ask, "Can you give me two songs for this children's project about such and such," and the next day I'm like, "Actually, here's three." 
 Johnny: You're also creative in other outlets besides music. Do you find the different mediums influencing each other or blending together at times?
Elfin: Certainly it's all intertwined. I am, I guess, what they would call "a creative." So I can transition very easily from one medium to another. It's less about being good at X, Y or Z, more about the way my brain works, I think. I am also very tenacious, so if I don't do something creative excellently right at first, well we can't have that, give me just a minute. 
Johnny: A big part of your outlet as a writer was inspired by your son. Can you tell us a little about that part of your life?
Elfin: My second to youngest of my 5 children, Trey, was born with severe health problems, and I spent the 3 years he was with us either in the hospital with him, or caring for him at home, while also doing all-the-things. When he passed, I started doing photography part time, and nannying a special needs little girl and her brother for several years. I also served as the children's pastor, and one of the worship leaders at Bethesda Church, in Lindale. In 2017 my autobiographical book, "From Ashes," about our many adventures, and life with (and then without) Trey, was released. That same year the first children's book I co-authored with my friend, best selling thriller novelist Jennifer Jaynes, was also released. It's called "I Care About Me." Jennifer and I have been working together on a second kids book entitled "Just The Way I Am." It's set to drop in September. Additionally, I have been collecting interviews for a documentary project over the last few years. It's about parents, and the aftermath of abortion. 
 Johnny: What do you remember about the first show you ever played?
Elfin: So I've been singing all my life and I don't really have a memory of the first time I did that publicly. Probably a play at church as a small child. I have zero nerves singing in public. But the first time I started playing my guitar publicly I was already in my thirties, and my palms would sweat every dang time for a solid year! 
Johnny: Do you typically play solo or do you ever collaborate with others on stage?
Elfin: Both. I have spent the bulk of my time as a singer backing up other people, singing harmonies, or being part of group acts. I am pretty adept at hearing what's already there and knowing how to complement that without overpowering it or taking over. However, I'm a pretty strong lead vocalist, and I think I've become a little restless always being everybody's backup girl. So I'm playing more on my own now. 
Johnny: Who would you say had the biggest impact musically on you?
Elfin: Being raised by creatives and songwriters has to count for something. But beyond that, I had a very eclectic set of music I was exposed to. As a kid I would pull CD's from my dad's collection and listen to The Beatles, The Beach Boys, Frankie Valli and the Four Seasons, Todd Rundgren, The Zombies, you name it. Mostly stuff that was before my time. But then I also listened to current stuff as I was growing up in the 80's and 90's. I'd take my boom box, lock myself in the bathroom, and practice hitting notes with Celine Dion and Mariah Carrey for hours on end when I was 12. As a teenager, my best friend loved country music, so I was introduced to that whole scene, but my favorites were the ones who were sort of mocked for not being "country enough," like Faith Hill and Shania Twain. I don't know if there are very many Shania songs I wouldn't know every word to if you put them on.
Johnny: So that being said, how would you describe your sound/style? 
Elfin: That's a good question, which I have asked myself on numerous occasions. I never quite know how to answer me, but I've begun saying Americana/Folk, for lack of a better description.
Johnny: About how many shows do try to play a month?
Elfin: As many as I can manage right now, since I don't have a regular job to pay the bills.
Johnny: What's coming up during the rest of the year that has you excited?
Elfin: It's very cool the locals in the music scene have nominated me for best female vocalist in the upcoming ETX Music Awards in September. "Just The Way I Am" releasing the same month is also exciting! Beyond that I'm just sort of flying by the seat of my pants, waiting to see what the Lord will do, trusting, moving when I feel I'm supposed to, being still and trying not to panic when it doesn't feel like things are happening like I'd hoped or thought they would.
Follow Elfin at facebook.com/elfinpaigemusic/.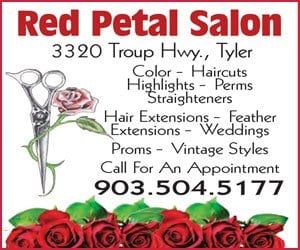 Rose City Strong: Buy Cool Swag & #supportlocal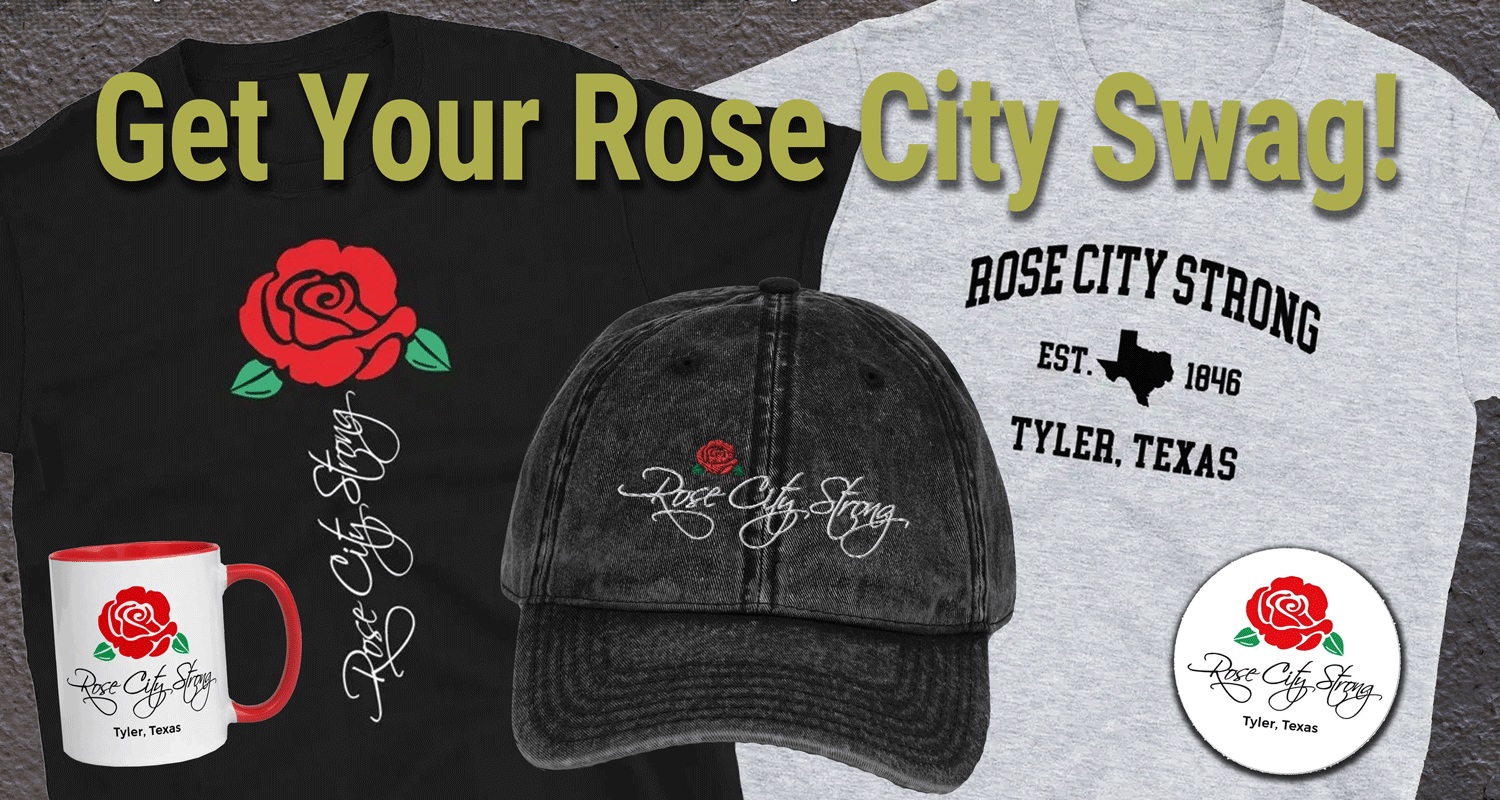 In these trying times, everyone wants to help and do their part. One way is to support local businesses. You can do so and get a cool t-shirt in the process!
VisitTyler and EGuideMagazine.com have teamed up and created a cool line of t-shirts, mugs, stickers, caps, and more!
Check out this cool swag and #supportlocal by being #rosecitystrong!

Live Music Guide, Tyler TX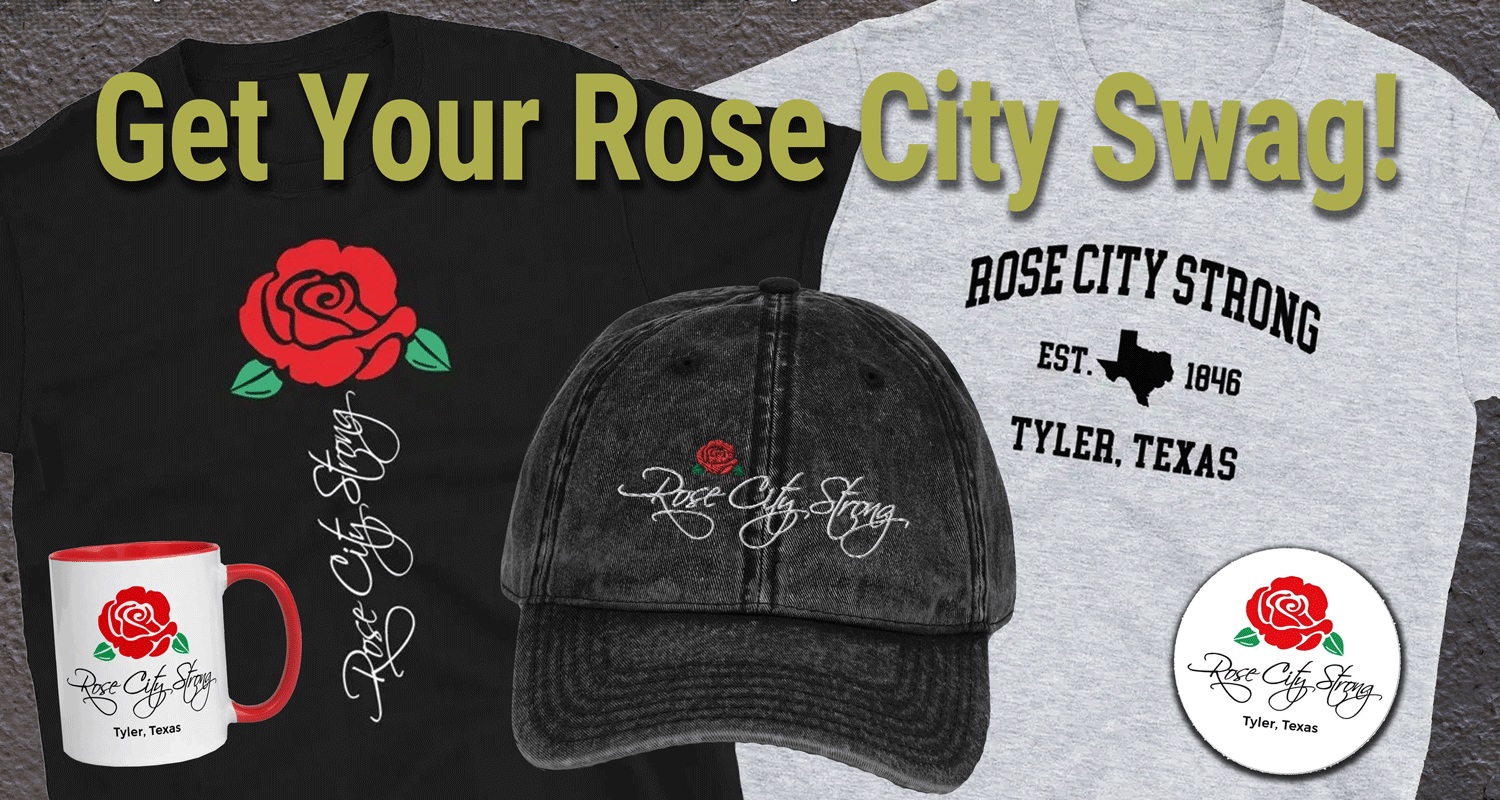 In the constantly changing world of Covid-19 pandemic, we at EGuideMagazine.com are making every attempt to keep our Big Calendar updated. However, we suggest that you still double-check with the businesses to confirm that the events are still happening.
To list or make any changes to this Live Music Gig Guide for #tylertx, please e-mail to eguidemagazine@gmail.com or text 903-530-2041.



---
XL'N on Fifth: We're Back & Rockin'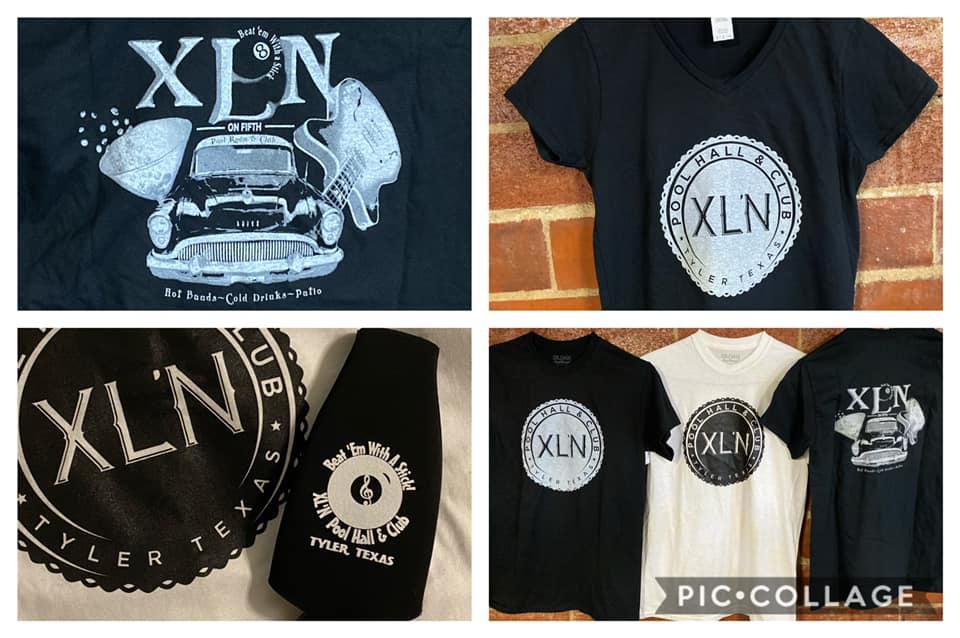 Order T-shirts, Koozies & More HERE!
---
XL'N Events & More:
---
By Amanda Main
Some patrons have dubbed XL'N On Fifth the "Cheers" of Tyler. The club started out of a love for billiards, but out of necessity grew to include a members-only bar and live music venue.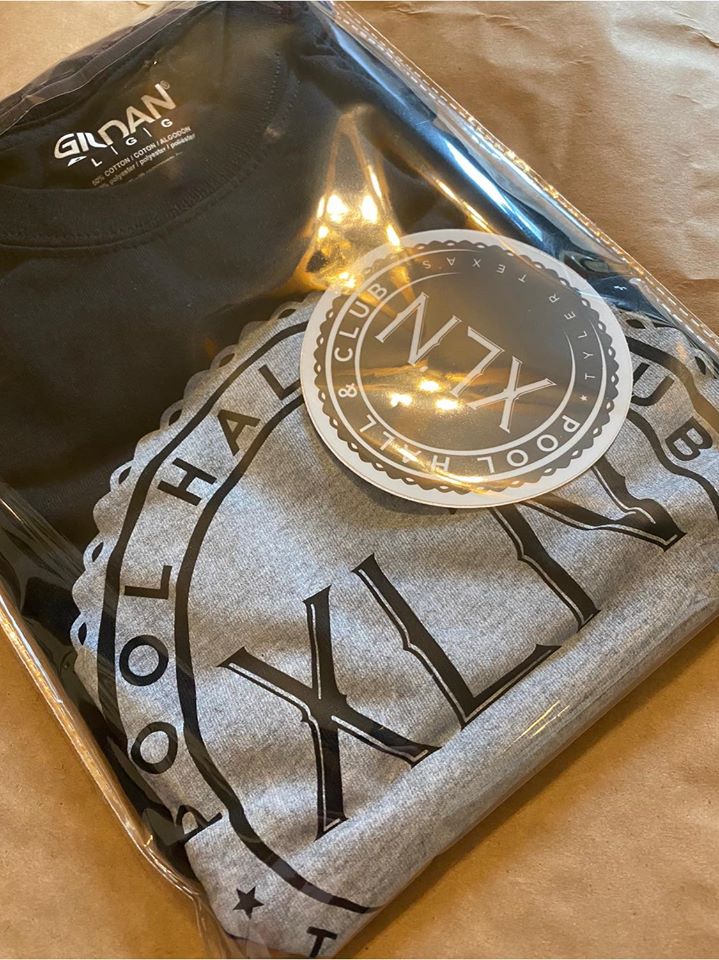 Owners Donald Griffith and his wife, Robin, opened the club and pool hall in January 2006.
"Neither of us have backgrounds in running a bar. This was our first rodeo," Robin says. "He's big into pool — he plays in a pool league, but the pool hall is not the main business, it's the club."
Donald chose the name XL'N, which stands for 'Excellin'.
"We didn't want a cute little name like 'Corner Pockets' or 'Side Pockets' or 'Rack 'Em,' or anything like that," Donald says. "I told her that it doesn't matter what the name is, if you have a good place, then the name won't matter."
Robin chimes in with sarcasm: "I think it proved it, didn't it? 'XL'N.' Yeah, I think you proved that theory."
Robin says the business was a huge undertaking for the couple to open. In the beginning, the only thing she liked about the building when Donald first showed it to her was the painted wall, where musicians now play. That's because the wall is the original, outside wall of an old lumber yard from, she estimates, the 1950's. When they purchased the building she says, "there was a pile of lumber with nails in it and there were no lights. There was an extension cord with light bulbs on it, but somebody had come in and taken all the copper out to sell. They just stripped all the wiring out of the place. It was just a gutted mess of a place, and we spent three months working on it before we opened."
But that was many years ago and the business has come together nicely. What makes the establishment truly special, the Griffiths says, is the people — the people who work there and the people who frequent there.
"It's a family of friends," Robin says. The business' motto is "Where Good Friends and Good Times Come Together." Robin says they consider their regular customers like family, as well. "We're a comfortable, laid-back place. Anybody can come here. A woman can come in by herself and not feel weird."
On another note, she also adds, "I don't like to be called a mom and pop joint, but I guess we really are. We are about the people, our customers, our friends. As with any business or club, if you don't like the people that hang out there, you're not going go there but that's not the case for us. We have lots of great regulars. And we don't allow any craziness. Our regulars know that if you cause any problems you will be banned from here. I'm like the mama hen when it comes to keeping XL'N fun for everyone."
Never a Cover
"Always free" meaning there is never a cover charge, except on one night of the year: New Year's Eve, when Robin will fix up a big feast including shrimp, black-eyed peas, and cabbage, among other foods. But even that night, the cover is only $10, and she says it's well worth it since it includes her home-cooked delicious (and legendary) food.
The Pool and Drinks
Happy hour starts early at XL'N from 12 noon to 5pm.
XL'N is home to six custom, 8-foot Olhausen pool tables. The playing rates are a super deal from 12 noon to 5pm. Two people can play unlimited games for a total of $5 between those hours. After 5pm the pool rate is $6 per hour for two players.
Robin and Donald are proud to host amateur American Poolplayers Association (APA) Leagues at their bar. They meet to play at 2pm on Sundays and about 7:30pm on Monday and Tuesday evenings. XL'N has been featured in the APA Magazine as the best place to play pool in East Texas.
The league players play "8-ball and 9-ball," Robin says. "There are always teams that are looking for someone to play. They need all skill levels, from beginners to put-your-kid-through-college kinds. They rank them because a team can not have too many high-rankers."
More Info
XL'N is located at 2109 E. Fifth St., Tyler, (903)535-7956. You can
follow them on Facebook at facebook.com/XLN.Pool.Hall.
XL'N is open 12 noon to 12 midnight Sundays – Fridays and 12 noon to 1am on Saturdays. All ages are allowed before 7pm; 21 and older only after 7pm.