Just The Way She Is: Elfin Paige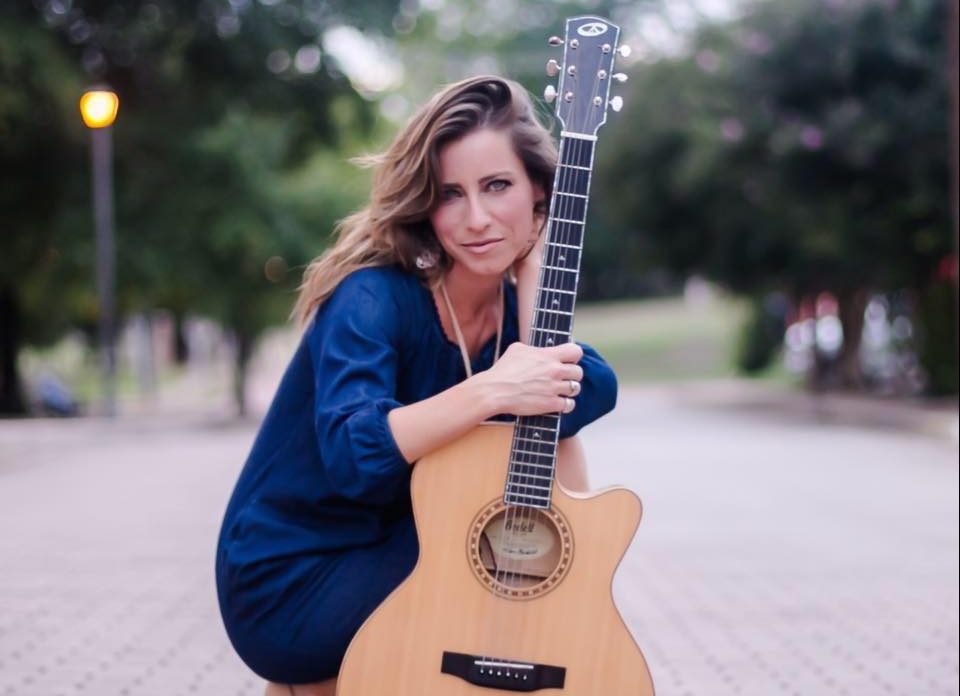 By Johnny Griffith
Some people are just blessed with what seems like an endless well of creativity, and there are the rest of us who have to work to get the ideas flowing. From the moment you meet Elfin Paige, you get this calm, laid-back evening breeze vibe that belies the creative hurricane going on inside her head, and for good reason … this single mom wears a lot of hats. She is a part time photographer and a writer, publishing two books already, with a third on the way in September, oh, and she's a really good singer/songwriter who has found her way to many stages in the East Texas area already.

I ran across her recently while she was getting ready to play a show, and sat down to get to know her a little better. 
Johnny: You're not originally from this area. Where were you born and what brought you out this way?
Elfin: I was born at St. Joseph's Hospital in Stockton, California, but I grew up mostly in and around San Diego until my early teens, when my family moved to East Texas. Mom and dad decided to move back to Lindale when I was 13. So on Thanksgiving Day, 1994, we unloaded the U-Haul into that first rental house on FM 16. Mom and dad had been in a ministry called The Agape Force here in the 1970's. At that time they were close friends with Keith Green, Winkie Pratney, and many other well known people in the local ministry circuit. They moved back to serve with Winkie in his ongoing ministry.
 Johnny: What do you feel was the biggest cultural adjustment when you came out this way?
Elfin: People burning things in their front yards and strangers waving from their cars.
 Johnny: What is your earliest memory of music?
Elfin: My parents are singer-songwriters, so all my life. There was never much money, but I grew up with mom and dad's gold and platinum records hanging on our trailer house walls. I was in the recording studio for the first time at age 6. 
 Johnny: At what point did you take more than a passing interest and whom do you credit for fostering that spark?
Elfin: It was never NOT a thing. Like I mentioned, it was my family culture. At family get togethers you get together and sing Beach Boys songs with all the harmonies for fun.
 Johnny: When did you feel the desire to begin writing your own music as opposed to just playing other people's stories?
Elfin:Well, I am, first and foremost, a writer. I was 8 years old the first time I wrote a song that was actually recorded and used for a kids project my parents were working on at the time.
 Johnny: What do you enjoy writing about the most, or do the songs just take a life of their own?
Elfin: I can do either/both. Sometimes I write out of necessity, as a way to process pain and emotion. But other times I've had a friend call me and ask, "Can you give me two songs for this children's project about such and such," and the next day I'm like, "Actually, here's three." 
 Johnny: You're also creative in other outlets besides music. Do you find the different mediums influencing each other or blending together at times?
Elfin: Certainly it's all intertwined. I am, I guess, what they would call "a creative." So I can transition very easily from one medium to another. It's less about being good at X, Y or Z, more about the way my brain works, I think. I am also very tenacious, so if I don't do something creative excellently right at first, well we can't have that, give me just a minute. 
Johnny: A big part of your outlet as a writer was inspired by your son. Can you tell us a little about that part of your life?
Elfin: My second to youngest of my 5 children, Trey, was born with severe health problems, and I spent the 3 years he was with us either in the hospital with him, or caring for him at home, while also doing all-the-things. When he passed, I started doing photography part time, and nannying a special needs little girl and her brother for several years. I also served as the children's pastor, and one of the worship leaders at Bethesda Church, in Lindale. In 2017 my autobiographical book, "From Ashes," about our many adventures, and life with (and then without) Trey, was released. That same year the first children's book I co-authored with my friend, best selling thriller novelist Jennifer Jaynes, was also released. It's called "I Care About Me." Jennifer and I have been working together on a second kids book entitled "Just The Way I Am." It's set to drop in September. Additionally, I have been collecting interviews for a documentary project over the last few years. It's about parents, and the aftermath of abortion. 

 Johnny: What do you remember about the first show you ever played?
Elfin: So I've been singing all my life and I don't really have a memory of the first time I did that publicly. Probably a play at church as a small child. I have zero nerves singing in public. But the first time I started playing my guitar publicly I was already in my thirties, and my palms would sweat every dang time for a solid year! 
Johnny: Do you typically play solo or do you ever collaborate with others on stage?
Elfin: Both. I have spent the bulk of my time as a singer backing up other people, singing harmonies, or being part of group acts. I am pretty adept at hearing what's already there and knowing how to complement that without overpowering it or taking over. However, I'm a pretty strong lead vocalist, and I think I've become a little restless always being everybody's backup girl. So I'm playing more on my own now. 
Johnny: Who would you say had the biggest impact musically on you?
Elfin: Being raised by creatives and songwriters has to count for something. But beyond that, I had a very eclectic set of music I was exposed to. As a kid I would pull CD's from my dad's collection and listen to The Beatles, The Beach Boys, Frankie Valli and the Four Seasons, Todd Rundgren, The Zombies, you name it. Mostly stuff that was before my time. But then I also listened to current stuff as I was growing up in the 80's and 90's. I'd take my boom box, lock myself in the bathroom, and practice hitting notes with Celine Dion and Mariah Carrey for hours on end when I was 12. As a teenager, my best friend loved country music, so I was introduced to that whole scene, but my favorites were the ones who were sort of mocked for not being "country enough," like Faith Hill and Shania Twain. I don't know if there are very many Shania songs I wouldn't know every word to if you put them on.
Johnny: So that being said, how would you describe your sound/style? 
Elfin: That's a good question, which I have asked myself on numerous occasions. I never quite know how to answer me, but I've begun saying Americana/Folk, for lack of a better description.
Johnny: About how many shows do try to play a month?
Elfin: As many as I can manage right now, since I don't have a regular job to pay the bills.
Johnny: What's coming up during the rest of the year that has you excited?
Elfin: It's very cool the locals in the music scene have nominated me for best female vocalist in the upcoming ETX Music Awards in September. "Just The Way I Am" releasing the same month is also exciting! Beyond that I'm just sort of flying by the seat of my pants, waiting to see what the Lord will do, trusting, moving when I feel I'm supposed to, being still and trying not to panic when it doesn't feel like things are happening like I'd hoped or thought they would.
Follow Elfin at facebook.com/elfinpaigemusic/.

Country To The Bone:  Darrin Morris Band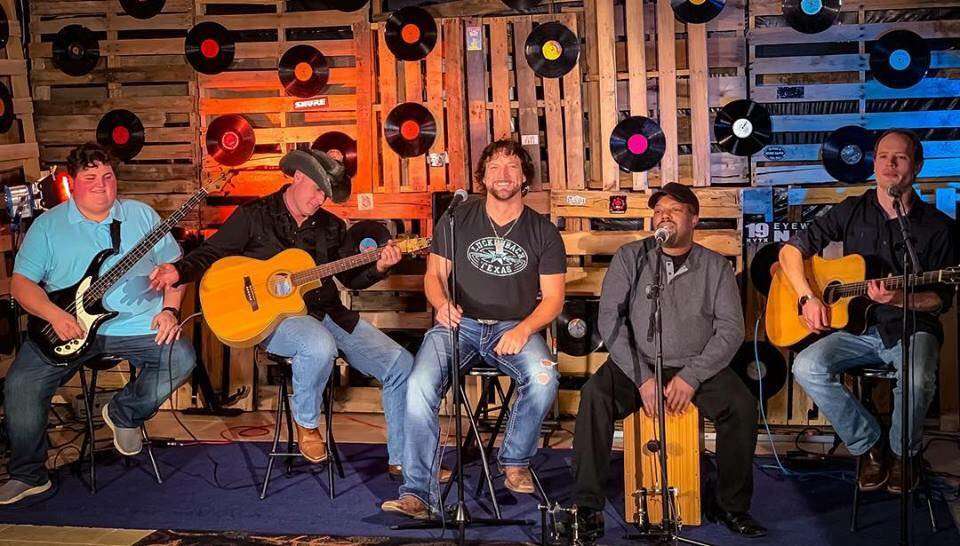 By Johnny Griffith
One of the many things I enjoy about getting to interview local musicians is the ability to follow them over the years and watch them perfect their craft in front of audiences around the area. One of the acts I've always enjoyed keeping up with has been the Darrin Morris Band. DMB is one of the hardest working bands in East Texas, constantly adding shows to their calendar and you can literally see them all over the East Texas landscape, sometimes on opposite sides of the region in the same week. 
The band is anchored by Darrin Morris on vocals and consists of long-time members Jeremy Moore on drums, Blake Watson on bass, and Michael Olson on guitar; and they've recently added veteran guitarist Philip Griffith to the roster as well. Playing a dynamic mix of favorite country hits as well as a solid lineup of originals that consistently show up on the Texas Country Radio charts, the Darrin Morris Band is a fantastic reminder of all that is good about country music: relatable lyrics, memorable music, and an authentic delivery on stage. 
I recently had a chance to catch up to Darrin at the East Texas Taco Fest in Marshall and we sat down to catch up a bit.
Johnny: It's been about 3 years since we last talked for EGuide and you guys have had a lot going on. What have been some of the highlights since then?
Darrin: Man, so much has happened in the last 3 years it would take me forever to tell. I guess a couple of the most significant things would be releasing our latest album this past year and we had one of our songs go to number 31 on the Texas charts. That same song "Green Eyed Texas Angel" also has over a half million streams on Spotify.
Johnny: About how many shows a month are you guys averaging these days?
Darrin: I'd say we are probably averaging about 10 shows a month, so we're blessed to be staying pretty busy right now; but we're always on the lookout for more opportunities to get our music out there to our fans, old and new.
Johnny: What has been the most memorable gig the last couple of years?
Darrin: We've had the privilege to take the stage for some really awesome gigs over the last couple years. I would say one of the most fun was the Houston Rodeo two years ago. We played the after-party the same night Luke Bryan played on the main stage and the place was absolutely packed. That crowd was really amazing. Another great gig the past couple of years would be the Texas Country Music Cruise, which was a blast to do.
Johnny: Speaking of the Texas Country Music Cruise, by the time this goes to print, you'll have just gotten back from this year's version. Tell us a little about what that is and how excited you guys are to be in that lineup?
Darrin: The Texas Country Music Cruise is a 7 day tour of the Carribean with some of the biggest names in Texas country putting on shows each night. We've actually done that 2 years in a row now and just got a contract for year 3. It is definitely one of the most fun gigs we have ever been a part of and we are absolutely looking forward to next year. The lineup of musicians is always amazing, we get to play for some amazing fans, and we're on a cruise!
Johnny: What have been the biggest challenges you and the band have dealt with since we last talked?
Darrin: There are plenty of challenges to pursuing music for a living, but honestly, at the end of the day, it's always the same challenge for a working band: money. Most people don't realize how much money it takes to keep a band up and running. There's always something that needs replacing, travel expenses, equipment upgrades, and plenty of other things that always seem to pop up at the most inopportune times. 
Johnny: You've had several singles released over the past couple of years. How has the response on Texas Country Radio been?
Darrin: Texas radio has been very good to us. To date I think we've released five singles and our best one so far has been "Green Eyed Texas Angel" which landed at #31. We just released our latest single "Dancing in the Rain" and have big expectations for it as well.
Johnny: Anything you're really excited about or on the radar the rest of the year into 2020?
Darrin: We have a ton of shows lined up to round out 2019 and we're already looking forward to 2020. We've got several big opportunities in the works for next year and are excited for the journey moving forward.
Johnny: What's the next big move for you and the band? New album? Tour more outside of Texas? 
Darrin: We are going to release a new set of songs after the first of the year, but we aren't sure if it will just be an EP or a full album yet. We are definitely working on trying to tour more outside of Texas for next year but always want to leave plenty of dates available for our core fans here at home. 
Johnny: Anything else on your mind before we wrap it up?
Darrin: We just want to make sure and thank everyone here in East Texas for all the support over the last few years. This is an incredible ride we're on, but we're really just getting started. We can't do what we do without our amazing fans and we thank them so much for everything. We love every single one of them and hope to see them all very soon.
Follow the Darrin Morris Band at darrinmorrisband.com and facebook.com/darrinmorrisbandmusic.

Taking Every Footstep To Heart:  Gary Patrick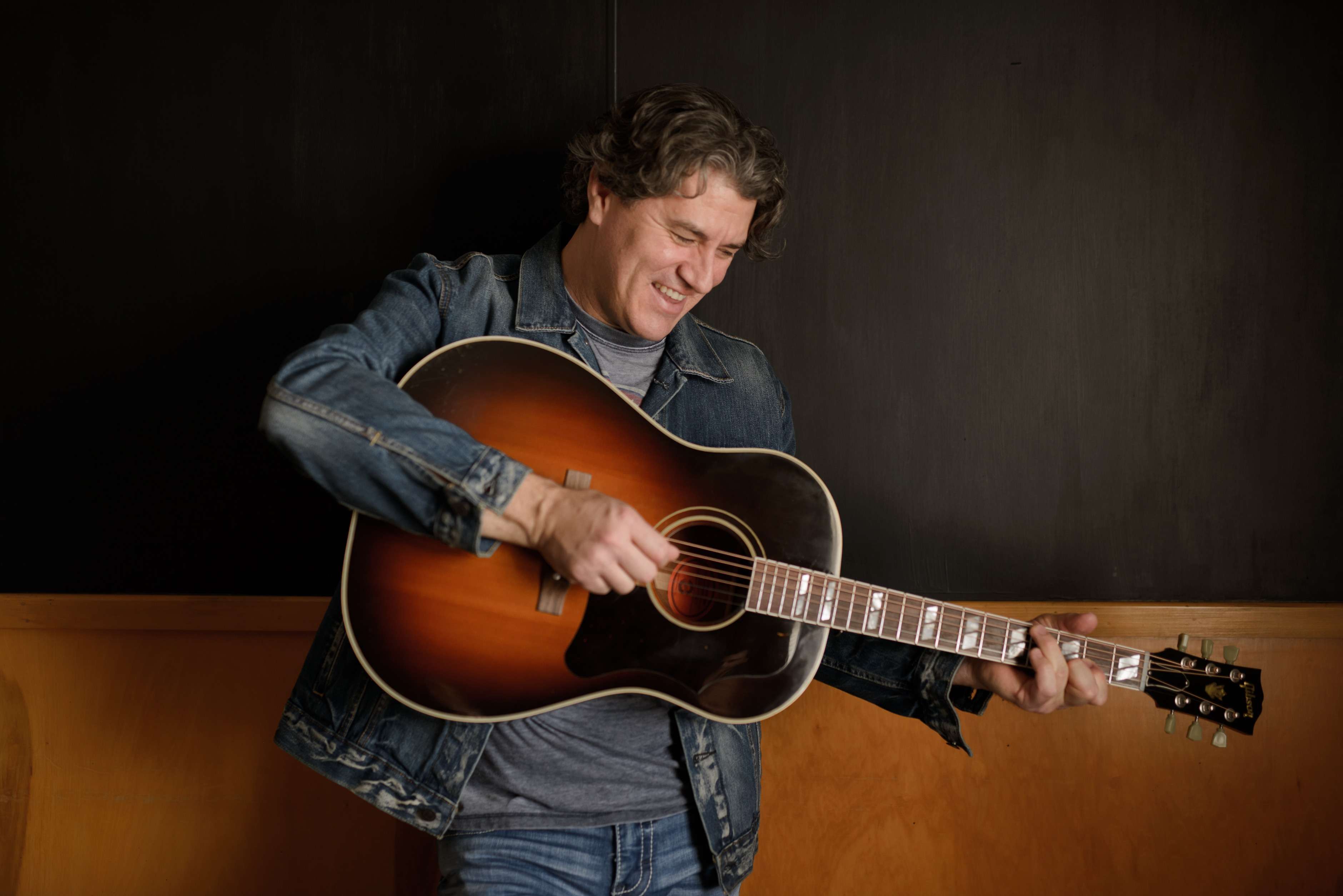 By Johnny Griffith
Month to month I talk to a lot of musicians here in East Texas. Either I'm interviewing them for EGuide, or playing with them on stage, or catching one of their shows in between gigs. One of the things I always enjoy asking when we talk is "Who excites you in the East Texas music scene?" People are always happy to share who they've seen lately that they enjoyed or who I need to go see, and the list is as diverse as the group of people I'm asking. However, there is one name who kept popping up on enough lists that I finally had to stop and give him a listen.
That name was Gary Patrick. 
Originally born in Tyler, Gary took a circuitous route around the country over the next several years that saw his career as a working musician begin in Southern California and from there would take him all over the country and even as far away as Europe before bringing him back to where he started, right here in East Texas. 
With a gift for telling a story and the musical chops to back it up, Patrick is part Pat Green, part Tom Petty, but yet completely Gary Patrick. His latest single, "Man's Gotta Have Some Fun," cracked the top 50 in 8 weeks, and he was recently nominated for "new male vocalist of the year" in the Texas Regional Radio & Music Awards. I was lucky enough to grab some time with Gary in between stops on his radio station tour to sit down and find out more about the man that has local musicians talking.
Johnny: What is your earliest memory in music?
Gary: My mother's jewelry box had a wind-up music harp in it. The song was "Fur Elise" by Ludwig Van Beethoven. I was mesmerized by that melody and kept coming back to open the magic music box. I was around three years old. 
Johnny: You grew up in a very musical family, but when did you have that moment when you wanted to start learning it for yourself?
Gary: My older brother Ronnie, who is 12 years older than me, played guitar and taught me a few things when I was tiny. I couldn't wrap my hand around the neck of the guitar so I played the strings almost like a piano from the top of the fretboard. At 10 years old, my folks took me to Mundt Music here in Tyler, circa 1981, where I met my most impressionable music mentor, guitar teacher and friend, Tom Russell. Tom taught me from age 10 until I was almost 18. To make a long story short, the answer to your question is sometime around ten or eleven. I still remember how music took a firm hold on me. What I didn't understand then but clearly understand now is that I really didn't choose music, but rather it chose me. I was innocent and helpless but I loved how music made me feel, and that learning an instrument was a deeper connection with something that would always be with me.
Johnny: At what point did you start thinking this was something you wanted to be more than just a hobby and perhaps try to make a career out of it?
Gary: That moment came in 1990. I graduated high school in 1989 and moved to Southern California, where I was attending college courses for an Aeronautical Engineering program. I also love flying and thought of making a career as a pilot. I was two semesters in when I realized my heart just wasn't in it. My folks have always supported my music and urged me to pursue my dreams, so my Dad walked me around the block one evening and said college courses will be here for you but these are the years to cultivate a career in music. So, go and find your way with our blessing and support.
Johnny: Do you remember who was in your first band and what your first show was?
Gary: I certainly do! Les Clanton and his stepbrother Tony McAfee were in my first band. We knew each other since elementary at Alba-Golden ISD. The very first show we played was a big talent show at school. We were called "Novice" but later we changed our name to the "Thundering Hearts," perhaps to imply we weren't quite novices any longer. Now that I think of it, I believe Les came up with both names. 
Johnny: Your journey has taken you pretty far from your roots in Jacksonville, is there anything that sticks out in particular along the way?
Gary: Oh wow, how much time do we have here?
I take to heart each and every footstep along the way. My journey with music has had many chapters and many sacrifices. There's nothing normal about the career of a singer/songwriter/musician/entertainer, but luckily I've had the fortune of making many incredible friends and colleagues since my early years of being a professional musician. 
Some memories that stick out in my mind over my career are; playing music up and down the Southern California Coast; taking my band to Helsinki, Finland for a month in 1995 where my long hair froze off, and I'm totally not kidding; playing guitar and singing for Beach Boys great Brian Wilson's daughters for a few TV shows and radio station tours; being a contracted band for the Bellagio and Mirage Casinos in Las Vegas for several years; recording three albums; currently promoting my second radio single, "Man's Gotta Have Some Fun," on Texas Radio; and playing multiple shows per week.
Johnny: When did you first start writing your own material?
Gary: That would happen when I was around 12 or so. 
Johnny: What would you consider your favorite original? How about your favorite cover song?
Gary: Hmm. I think my favorite original song is "Blue Skies" from my latest album, "No Standing Waves," and my favorite cover song? Yikes, that's virtually impossible to answer. I must say, "Tunnel of Love" by Dire Straits speaks to me. The lyrics and music are so good it hurts. The story line puts you right there … boy meets girl at a carnival. It takes me back to that innocence every time.
Johnny: How would you describe your particular style to someone who has never heard you?
Gary: With my latest album, I'm proud to say that I sound like me, Gary Patrick. Equal parts of all elements in music that have inspired me vocally, lyrically, and musically since my journey began all those years ago. If I were to describe me in the third person, I might say, "Gary Patrick… he's that guy that reminds me of Bryan Adams's tenor voice and plays guitar kinda like Mark Knopfler of Dire Straits. He writes deep lyrics like Gordon Lightfoot, delivers a story like Willie Nelson, and has the happy country energy of Keith Urban." 
In the end, I absolutely sound like me. All artists have their influences. I certainly have influences across several genres. If you could mix em up and pour a cup, the above mentioned might be a good description. 
Johnny: You've done quite a bit of studio work. How has that experience evolved for you and what did you learn from the process that you've carried with you moving forward?
Gary: Studio recording is the ultimate litmus test for a musician. I have so much to say about this so I'll try not to ramble. As an artist, you'll always be moving onward and upward as long as you work at your craft. Recording is important because it teaches you where you need to refine. If you are an artist or musician that only plays live shows, you are in for a lesson when you step into a studio. The studio environment is completely sterile. You hear all the mistakes you might otherwise miss while playing live. I'd suggest every musician practice playing with a metronome. Guitarist, I'd suggest refine how hard you strike the guitar with your right hand or clutch the neck and pull things out of tune. Refine, refine, refine, refine and REFINE your lyrics before going into the studio. Learn the art of co-writing with folks. Learn to be objective with your lyrics and make certain the story holds true from the first to last word. 
Vocally, get yourself some coaching! Especially if you tend to write songs that peak your vocal range. If you are struggling at all with singing your songs, either change the key or realize that you may need help. Incredible vocal coaches from Los Angeles and Las Vegas can teach you via Skype. In my 30 year career, I wouldn't have survived vocally without having the knowledge I learned from years of coaching. Knowing vocal technique will only serve you better in the studio. 
If you are an artist without a band and want to record a single or a few songs, reach out and find a producer who can put together a recording session and hire players for you. Sometimes you just don't have all the answers, so it's time to build relationships. 
Be serious about your art but don't take yourself too seriously! This is something that I can speak from experience with. Being intense is a good thing, but remember to relax and enjoy this. Everyone else will enjoy it more too.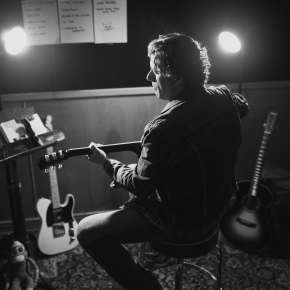 Johnny: Do you primarily perform with a full band or more solo work these days?
Gary: I perform solo, acoustic trio, acoustic four piece and full electric band…whatever the venue or show calls for. 
Johnny: What do you have coming up the rest of this year into 2020 that we can look forward to?
Gary: We are playing several shows per week, all over the East Texas area. You can always check our calendar on my website: garypatrick.love.
Johnny: The East Texas music scene has a great collaborative vibe to it, seemingly more so than other areas I've experienced over the years. To what would you attribute this sense of community the local musicians in this area seem to share?
Gary: I talk about this all the time, Johnny. I love how much music there is in East Texas. I love seeing so many artists and musicians happily supporting one another. East Texas is a great community that fosters some amazing relationships. On top of that you have so many venues now that support live entertainment. All of that encourages excellence. You know, I've personally never been a huge fan of the singing contest TV shows. It's not how I built a lasting career as a musician or refined my skills and relationships. However, I've noticed since shows like "The Voice," "American Idol," etc., SO many talented singers/musicians have emerged and a new generation of folks are inspired. The Texas Country scene has completely blown up and offers opportunity for artists and musicians to cultivate a career. Like any career, there's lots to learn and dues to pay along the way, and that's where I am in this. I'm promoting singles to Texas Radio, driving to little radio stations all over the state, and meeting new folks that love music. Trying to move the machine out of my 100 mile orbit and grow new fans. It's hard work. There are times when I want to swing a hammer instead of a guitar, but then I regroup and realize this is what I do.
Johnny: So the last question is hypothetical. You're stuck on a remote island for the next year and can take one album, and one album only…what is it?
Gary: Oh that's easy.. Journey, "Infinity, 1978."
Follow Gary Patrick online at garypatrick.love and facebook.com/Gary-Patrick-Music-2083252245021618/.

Sticking To His Roots:  Wade Skinner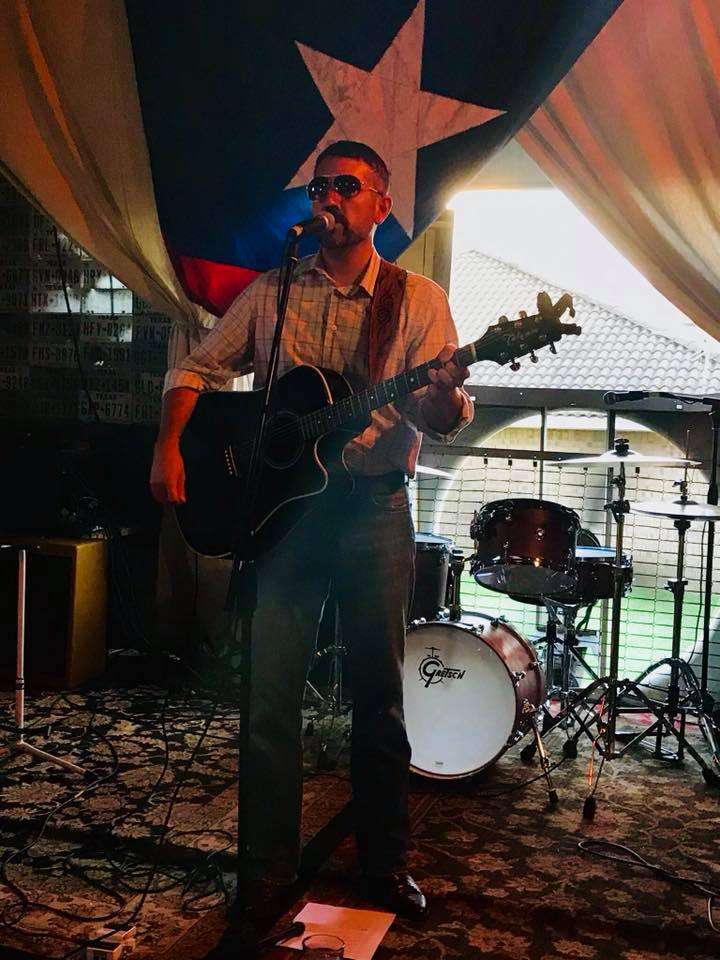 By Johnny Griffith
Country music has become a quickly evolving genre tree that has a lot more branches on it these days than it did just 20 years ago. Mainstream Country has become designed to appeal to a broader audience and capture more downloads or streams, often sacrificing substance along the way in an effort to capture that commercial appeal, losing sight of its "three chords and the truth" roots. Fortunately, here in East Texas, the roots of Country music are alive and in good hands with many local musicians who have their roots planted deep in the local soil. One of those musicians maintaining that connection is Longview singer/songwriter Wade Skinner.
With a musical background grounded in the bluegrass, gospel, and classic country music played by his family as a child, Skinner pours his heart and soul into the music he creates. His creative process is informed and shaped additionally by a period of service in the military and a love of poetry, which also led him to a career as a collegiate English teacher. I got a chance to visit with the modern day Renaissance man recently to find out more about his roots and his music.
Johnny: When did you first become interested in music?
Wade: I have been interested in music as long as I can remember and apparently even before that. My parents have pictures of me from when I was just old enough to walk carrying around a toy guitar. They tell me that I could sing almost every word of Gene Watson's "Fourteen Carat Mind" when I was three so I definitely think there is some genetics involved in my love for music. Of course, nature can only take you so far and my interest was definitely nurtured by the musical environment I grew up in. Impromptu jam sessions were a part of every family gathering on my dad's side. My grandfather on his side loved music, so he made sure that everyone who was able to brought an instrument to play anytime the Skinners got together. The music was mostly country and bluegrass; I fell in love with the lonesome and happy acoustic sounds of a mandolin, fiddle, banjo, standup-bass, dobro, and guitar as a child. Looking back, I think about how lucky I was to be exposed to such a rich musical environment. My dad fostered that love by taking us to bluegrass festivals as kids, teaching us how to play guitar, and encouraging us to play and sing at family gatherings. 
Johnny: What was the one thing in music that grabbed you early and wouldn't let go? 
Wade: I think it was harmonies of the voices and instruments melding together. From the time when I was a little boy, I just couldn't get enough of that. I think this is why I gravitated towards bluegrass. Bluegrass, probably more than any other genre of music, knows harmonies. This is probably also why I loved groups like the Beach Boys and the Eagles so much. 
Johnny: What were some of your early musical influences? 
Wade: My musical influences are all over the map. I love and appreciate all genres of music; I listen to everything from Vivaldi to Robert Johnson to Jimi Hendrix to Hank Williams Jr. Most of the music that I listened to growing up was on tape or record. CD's didn't really hit the market until I was in my teens so when I was a boy, the tapes that I wore out were by the Stanley Brothers, the Beach Boys, Creedence Clearwater Revival, The Eagles, George Strait, and Chuck Berry. When I went to my grandfather's house, he played records by Marty Robbins, Hank Williams, Ernest Tubb, the Stanley Brothers, Bill Monroe and other classic country singers. My dad and my Uncle Alvin played a lot of country music from the 50's, 60's and 70's when the family got together which meant I heard plenty of Merle Haggard, Johnny Cash, Willie Nelson, Waylon Jennings, and others from that era. I was a teenager in the 90's and I loved the 90's grunge scene: Alice 'n Chains, Stone Temple Pilots, Soundgarden, Pearl Jam, and Nirvana. Sometimes I like to surprise people at shows by playing a bunch of old country songs and then hit them with an Alice n' Chains song or a something by Seven Mary Three. 
Johnny: When did you start writing music? 
Wade: I started writing music in my teens but it was just terrible. I just didn't have the well of experience to draw from back then like I do today, so I tried to write songs that were "deep," and they ended up being incomprehensible and just plain bad. 
Johnny: When did you figure out this music life was for you? 
Wade: I don't know if there was one moment or a series of moments in my life that led me to figure out that music was for me, but I do know that it has been there all along and I cannot imagine my life without music. I feel like my soul was hard-wired for music but I'm not really an entertainer, like some folks in this business. They love the stage and they love to be the center of attention, taking lots of selfies and videos; always on social media. I'm not trying to put anyone down who does that. It's just not my personality. I'm not, nor have I ever been, a flashy person. If I had a choice, I would rather not be on social media. I perform shows for one primary reason: so that people can hear me perform songs I have written. 
Johnny: What's the current lineup of the Wade Skinner Band?
Wade: At the moment, the band consists of four people that play with me consistently for full band shows: Ronnie Godfrey plays drums, Chase Barrett plays bass, guitar, mandolin, Chuck Spears plays steel guitar and electric guitar, and Nina Gonzalez plays bass from time to time. I've tried more complicated band setups, but I find that a four piece band works very well for what we are doing. I've been very lucky to play with some amazing musicians who know how to make the songs I write sound good. 
Johnny: About how many shows a month are you playing these days? 
Wade: It depends on the month, but in 2019, we have averaged about one show a week, so about four shows a month. 2020 is looking to shape up about the same or more. Since I've hired a booking agent, I've been able to book a lot more shows than in the past when I was doing it all myself. 
Johnny: How much of your set list is original versus cover? What is the favorite cover you do? 
Wade: It depends on the show, but I would say that the set lists at honky tonks with the full band tend to be more covers because the shows are longer. Most of the time we try to play about half of the show as covers and half with originals. I'm not a karaoke singer and the Wade Skinner Band is not a cover band. There are some professional singers out there who just sing songs other people write and there are some great cover bands out there. I'm not knocking those folks and I respect what they do but frankly, I don't know how they do that all the time. What motivates me to keep pursuing music is creating and performing original music. Once I figured out that I could write and perform my own original music, and people were enjoying the songs I had written as much as the ones I hadn't, I think that was when I knew I would be doing this for a long time. 
Johnny: How would you describe your original music stylistically?

Wade: I suppose I would call it roots country. I'm not up on all the hip terminology people use to describe different genres of music these days, and I'm certainly no musicologist. Some of the songs I write sound like what people call classic or traditional country: George Jones, Merle Haggard, Waylon Jennings, etc. but just as many don't. Whatever style you would call it, I want my music to transform people's souls for the better. We try to stay away from the clap-track/snap-track driven mainstream stuff people hear on your average modern country radio station that I call "canned country." I don't use pre-made lyrics or canned chord progressions for my songs. I just don't find the kind of stuff that passes for music on mainstream country radio stations very meaningful; unfortunately, they tend to recycle tired phrases like "red dirt," "solo cup," "mason jar," "pickup truck," "girl in tight shorts," etc. and rework them into predictable chord progressions. I just don't listen to that kind of music, and the people who enjoy my music don't tend to either. Thank God for people like Tyler Childers, Tennessee Jet, Cody Jinks, Sunny Sweeney, Ward Davis, and Sturgill Simpson who are recovering the roots of country music without slavishly copying one person. I'll throw my hat in the ring with those folks any day.
Johnny: What has been your best memory so far in your musical journey? 
Wade: I think it would have to be the Downtown Live Show in Longview we played a few weeks ago on October 4th. The weather was beautiful and it was an outdoor stage, so we had quite a few folks that came out to see the show. One of my favorite local singer/songwriters, Heather Little, opened the show for us; then we took the stage and played for two hours straight in front of a large audience of people from my hometown. Fifteen of the twenty-five songs we played that night were originals. We got great feedback from the audience and the event organizer, and the band had a great time. It was a family-friendly atmosphere with lots of kids and families running around in front of the stage with shaped balloons on their heads and riding scooters. My wife captured a picture of me talking to my daughter at the foot of the stage that I will cherish forever from that night. That was also one of the first nights that I was able to thank my wife, Kylene, publicly for all that she has done for our family and to encourage my music career. Unfortunately, my wife does not get to come to as many shows as she would like because she is at home with our daughter. Looking down from the stage and watching her as the band played all these songs that she had only heard me play in our living room made for a fantastic night for me. Altogether, it was a great evening because it was one of the first shows we have played where the majority of the songs on the set list were originals. I had someone come up to me after the show was over and tell me how far I'd come since she last saw me perform a few years back. That meant a lot to me. If there is anything that I strive to do, it is to make every show a little bit better than the last one. I also want every song to be a little bit better than the previous one. 
Johnny: Where can people find you performing over the next couple of months? 
Wade: We have a busy couple of months lined up, thanks to my booking agent Sheryl Oney. I think we have about twelve shows before the end of the year. I'll be opening for Zane Williams at a Benefit for Camp Gilmont on November 2 in Longview but we have shows in Dallas, Fort Worth, Tyler, Longview, Natchitoches, Shreveport, Paris, Jefferson, Bossier City, and Gladewater on the books before the end of the year. I encourage people to follow me on social media to find out about future shows and to check out our website calendar: http://www.wadeskinner.com/gig/.
Johnny: What is on your radar for the rest of 2019 and into 2020 that has you excited? 
Wade: I am definitely excited about recording my first full album. We have already started that project with the recording of my single "Highway Going Down" earlier this year; I received such good feedback from that song that we have decided to add that song along with nine more originals to our full album. We hope to finish that project early in 2020 in time to promote it for our summer 2020, multi-state tour. 
Follow Wade Skinner at wadeskinner.com and facebook.com/wadeskinnermusic/.