Lauren Pitre: Inside the Artists Studio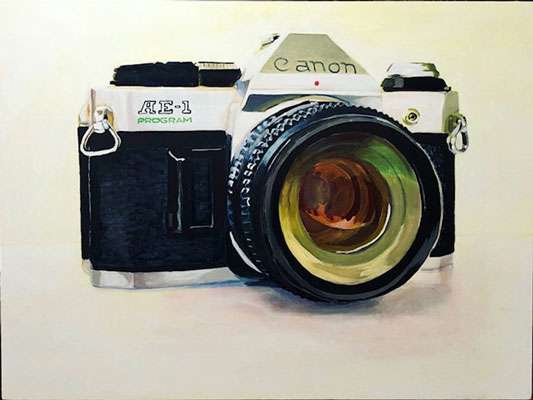 Painting the Town: Lauren Pitre
Derrick White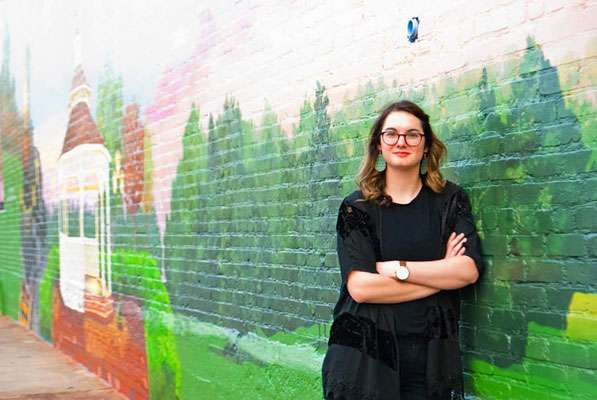 "I can say without a doubt art has brought me confidence. I always struggled with confidence growing up but it seems after each milestone I pass within my art career I gain more confidence, in particular with my murals," affirms local artist Lauren Pitre. You may have experienced Lauren's work even if you were not aware of it at the time. If you've been to the Longview Mall, downtown Mineola, The Discovery Science Place in Tyler, or the Lindale Candy Company, you probably noticed her dynamic and engaging murals. Lauren received her Associate's degree in Art from Tyler Junior College and received a Bachelor's degree in Fine Art from the University of Texas at Tyler, focusing on painting. She prolifically creates beautiful and enchanting still lifes of antiquated objects but during her time at UT Tyler she gained experience in painting murals. Now murals and commissioned portraits are Lauren's full-time job.
"The Importance of Community Murals" is an online article from the website productcare.org stating, "From the 30,000-year-old animal murals in France's Chauvet-Pont-d'Arc Cave to Banksy's Balloon Girl, murals have been part of our cultural landscape for thousands of years. Community murals are a mode of expression for artists in every graphic style imaginable: abstract, photorealistic, surrealist, expressionist and graffiti, to name just a few. Most recently, murals have become community centerpieces bringing people together to celebrate the heritage and history of their home. They create vibrant neighborhoods people want to visit and live. Murals attract new local businesses, help bring customers to pre-existing locations, and boost the economy of an area. Murals encourage people to slow down and admire your surroundings. Part of slow living involves appreciating our surroundings and their beauty. Murals create important conversations and expand thought. They also act as collective thought spaces. A great example of a dialogue-provoking mural project is American artist Wyland's Whaling Walls. Over a 30 year period, Wyland painted 100 life-sized whale murals across the globe to help people appreciate our oceans through art."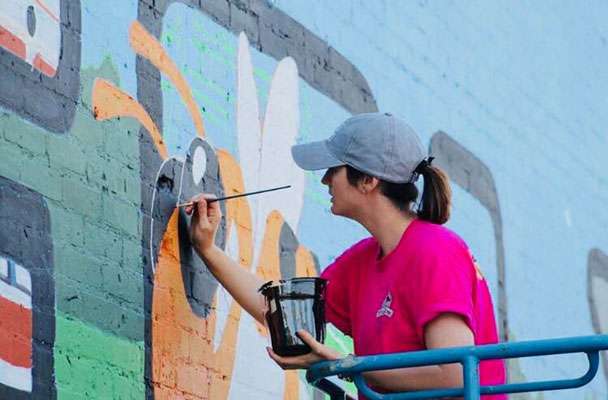 Lauren has an excellent painting skill set, creating works quite capable of attracting and holding the viewer's attention while provoking conversation and thought in her murals as well as her fine art. "My vintage still lifes are mostly painted on wood panels with acrylic paint. I use wood panels so I can get more layers and am able to lightly sand between coats to get a smooth surface I like. Acrylic paint works best with the wood. It dries quick enough to get more layers of detail," Lauren describes. She adds, "The style of my pieces is realistic with an exaggerated use of color as well as the background behind the objects. Typical objects I choose to depict are old cameras, clocks, books, and radios. As far as commissioned portraits and murals I tend to stick to realism as well, depending on what the subject matter is, along with the look and design of the surrounding area I will use a specific color palette directed towards a particular style." 
Lauren grew up always drawing people and facial portraits. After she graduated high school she began working at a local Goodwill store. It is there her fascination with distinctive items began to take hold. Lauren explains, "I enjoyed seeing different objects from different decades, mostly old cameras and clocks. One of the Goodwill tasks specific to me was creating displays for end-caps, toppers, and windows and I usually ended up using the older items, to give them a new life. I decided to collect these vintage items and make still lifes of them and paint them. Another one of my jobs was to paint the outside of the windows for holidays and special sales, the more I did them the more elaborate they became. It was then I felt this was where my path as an artist was truly starting."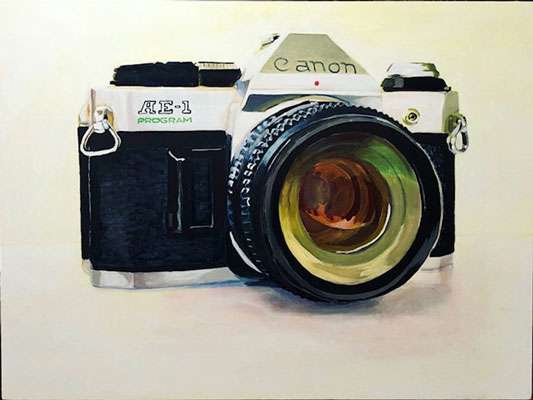 Lauren took a mural painting class at UT Tyler with Professor Alexis Serio Hughes: "We planned out and painted one of the exterior walls of the Discovery Science Place in Tyler over the span of one semester. After that semester I was hooked. I spent a later semester working on a mural there at UT Tyler in the Biology building. I was able to come up with a design, color palette, and work schedule, as well as assigning tasks to the three of us working on the mural," she states. 
After graduating, Lauren was able to start her first large commissioned mural downtown in her own hometown of Mineola. Soon after she completed the mural in Mineola, she was commissioned for multiple murals in towns around East Texas. "As an introverted person, I never really saw myself branching out and doing large projects like city murals, but art has given me the confidence to do things like that. Although art has given me the confidence to branch out and do large projects around our region, it brings problems along with it, like talking to people, in particular groups of people. I can say the path to get my degree in art helped me tremendously in preparing to speak in front of people but I have noticed, as an introvert, it takes a while to get over. However, after speaking in front of crowds a few times I have come to see it gets a little easier each time," describes Lauren.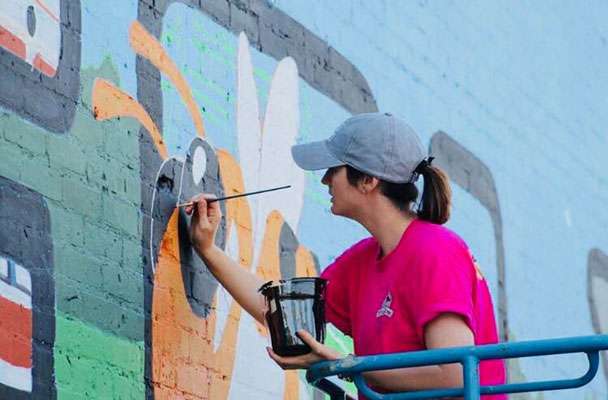 Lauren finds inspiration in the work of other artists like Christopher Stott (contemporary still life painter). She states, "He uses a lot of vintage objects in his work and highlights all the formal qualities of the objects I find most interesting, like contrasts in surface texture in vintage cameras and the shadows they produce. He adds non-vintage objects like wooden chairs and pencils in his pieces, which add another element of contrast." Lauren concludes, "I also have a favorite muralist, Anat Ronen, who does a lot of work throughout the Texas area and surrounding states. She is a massive inspiration to my mural work; keeping up with her and her work pushes me to keep expanding my work throughout East Texas." 
For more information and to see examples of her work on Instagram, check out: @artbylaurenpitre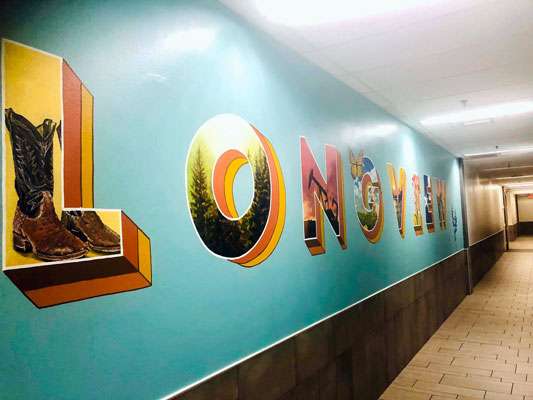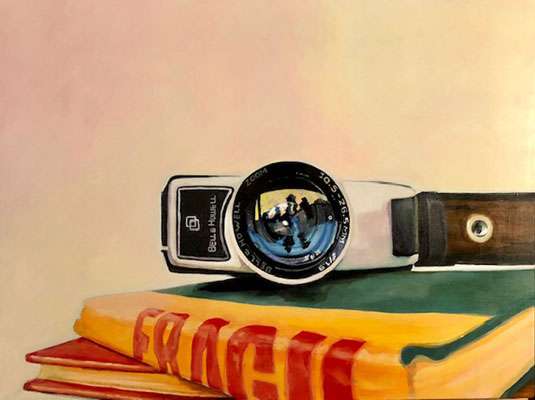 Enter the "Every Body Counts" Art Contest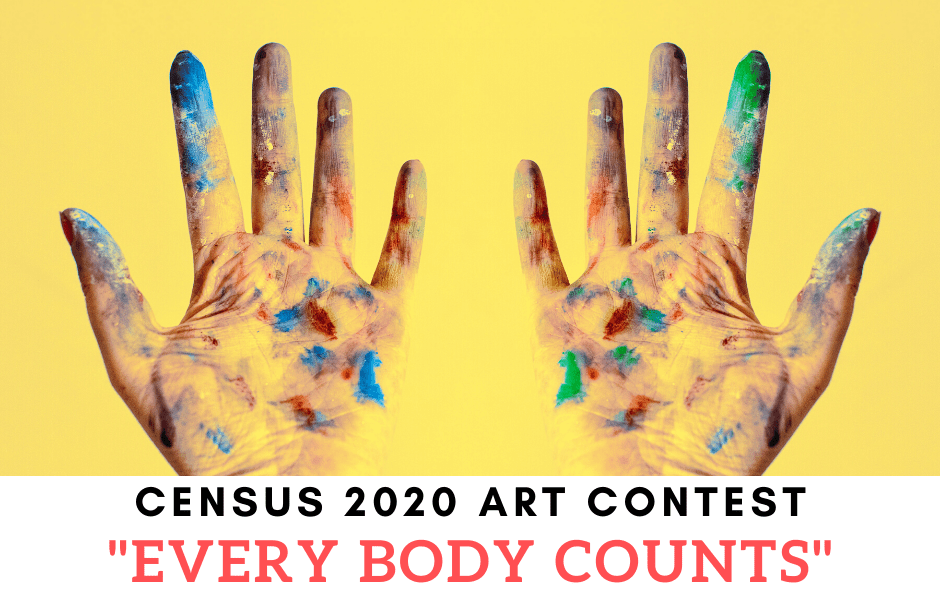 Bored? How about creating some art and entering the 2020 Art Contest "Every Body Counts," sponsored by the Tyler Public Library.
The due date for all entries are now due to the Library by April 1st. Mailed entries can be sent to 201 S. College St., Downtown Tyler, TX 75702. Digital entries may be emailed to ataylor@tylertexas.com.
More info can be found at tylerlibrary.com. The library will be closed until April 1st.

Call for Artists for the Gallery Main Street Spring Exhibit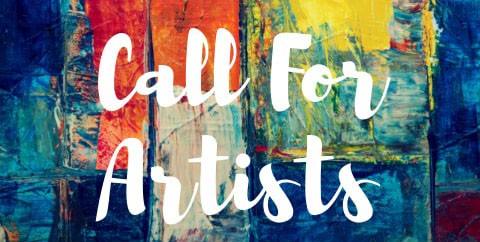 The Details: "Open Theme Exhibit" | Submit by March 29 | Opening on April 11 | Ending on June 1
Artists are invited to submit their work for the jurying phase of Gallery Main Street's spring fine art exhibit.
The deadline for entry is Sunday, March 29th at 12 midnight.
Artists interested in participating should visit DowntownTylerArts.com, where they can find all the information needed, as well as links to the entry service site. The entry process is digital and allows artists to submit up to three pieces, with an entry fee of $20.
The spring exhibit is an open theme to go along with our new open style gallery! This will be the first juried exhibit in the new gallery space inside the Plaza Tower.
Gallery Plaza features a rotating exhibit of original local art. There are two juried exhibits, which means pieces are submitted for review by a jury panel of professional artists. Top-scoring pieces are selected for the exhibit, and the piece with the highest score receives a Best in Show award.
The space provides the artwork to be visible beyond the hours of the Main Street office and by patrons visiting the new first floor retail bays. The Gallery is a valued centerpiece to the beautifully furnished atrium that serves as an inviting gathering spot.
The spring exhibit will host a Reception on April 11th free and open to the public. The exhibit will run through June 1.
Gallery Main Street is a project of the City of Tyler Main Street Department in cooperation with the volunteers of the Downtown Tyler Arts Coalition. Information on Gallery Main Street hours and rules for entering the exhibit jury process can be found at DowntownTylerArts.com or by calling (903)593-6905.

Ray Sikes: Inside the Artist's Studio
The Dreamcatcher
By Derrick White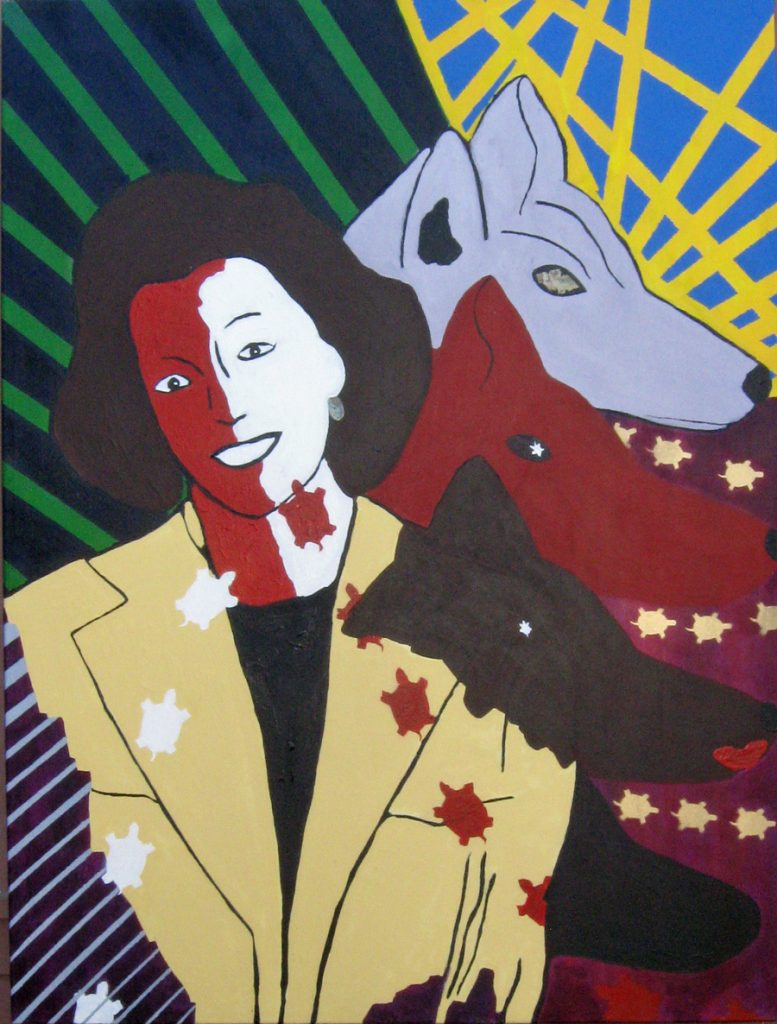 "My experience with art started with Ms. Bobbin. I lived in a small, poor mining town. The school did not have an art program, but in the fifth grade, a roving art teacher was employed to conduct an art class for one hour a week for each grade. I remember being quite excited by this experience. We did soap carvings from large bars of soap. I carved a rabbit. It was great," remembers local artist Ray Sikes. 
While attending college, Ray Sikes became interested in theatre and scene design. At community college, Sikes took art classes because the teacher was a famous native artist. He later transferred to a university and continued to major in theatre. Afterward, Ray enrolled at Baylor University for a Master's degree in Theatre in Scene and Lighting Design. After graduating from Baylor, Sikes started teaching set design and lighting at a community college in St. Louis, then moved to Washington D.C. and worked as an assistant to a noted sculptor. Afterward, he ended up in West Virginia where he became Managing Director for an art complex, but resigned and moved to Tyler so he and his wife, Linda, could care for her aging mother.
Ray recalls, "In Tyler, I played golf almost every day for two years. I became very bored. I told Linda I wanted to start taking some art classes. I had always wanted to just draw and paint full time, though I had been painting and drawing some during all my teaching years. I signed up for a life drawing class at the University of Texas at Tyler. Then I took a sculpture class. Karen Powell, the department chair at the time, told me if I were going to keep taking classes I should just earn a degree in painting. I told her I already had two degrees why would I need another, but she convinced me. Since I already had a Bachelors' degree, it only took me about two years to complete a Bachelor of Fine Arts in painting and drawing."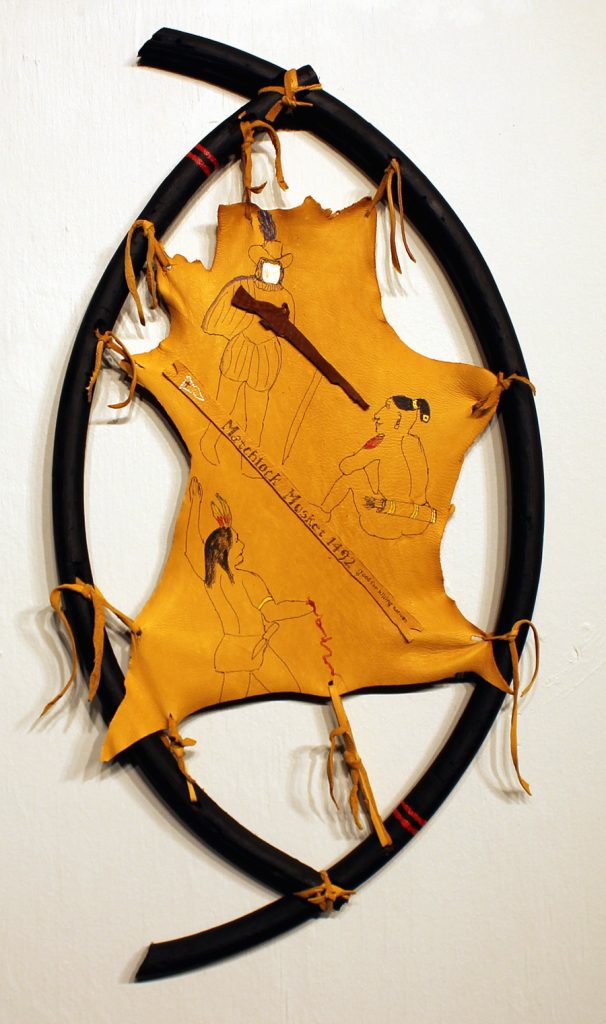 During the time Ray was taking classes at UT Tyler, he was asked to start working for the department. Ray was the gallery director for the university's Meadows Gallery. The Meadows Gallery is located within the R. Don Cowan Fine and Performing Arts Center on the campus of The University of Texas at Tyler and features rotating exhibitions throughout the year. The exhibition schedule includes nationally known guest artists, the Annual International Exhibition, faculty curated shows, Master of Fine Arts degree thesis exhibitions, and an annual student juried exhibition. The Annual International Exhibition is juried by an invited guest artist, historian or critic. The current 35th Annual International Exhibition is on view through March 6th, and was juried by independent curator Leslie Moody Castro. The Meadows Gallery will feature Jessica Sanders' M.F.A. Thesis Exhibition March 16th-20th with a reception on March 17th. Nora Schreiber's MFA Thesis Exhibition in the Meadows Gallery will run March 30th-April 3rd with a reception on March 31st.
"After my first few painting and drawing classes at UT Tyler, I realized I wanted to explore my native heritage through art. This started me on a research exploration about native aboriginals. This research led me to see most native arts had a spiritual/social conscience content. It just was not art for art's sake; it had a societal purpose. I ask myself how this could be portrayed through my art. I came to use native forms like shields, deer skins, beads, and feathers. Plus, after visiting the Denver Art Museum and seeing original ledger paintings, I realized that the native style of painting was very flat and did not follow the western strictures of perspective. I have tried to paint in this way; although, there are times when I forget and revert to the Western canon. It is hard to forget how one was trained."
"One of my first shields was made from rose bush stalks tied with leather and stretched over with tanned deerskin. I painted the pictures on the shield with red clay from my yard. I then realized I did not want to take the time to find and process natural dyes, so now I paint with acrylic paint on tanned leather. I tried oil paint first, but it tends to bleed into the leather surrounding the object leaving an oil stain."
"I think calmness is a gift from my art. When I am in my studio and working on some piece, I am in the 'flow' much of the time. There was one noted artist who said, 'When I go into my studio all my friends are there in my mind, then after a while, it is just me, then I leave and my work of making an art piece begins.' I start to work on a certain piece and when I look up four hours have passed on the clock and I am calm."
"Waiting so long to do what I really wanted to do – just paint! I think this happened because I listened to a very significant person in my life long ago that pushed their agenda on me and I believed them. I learned much later one needs to 'follow your bliss' and to hell with what other people say about what you want to do." 
"The first one is Henri de Toulouse-Lautrec, a 19th-century post-impressionism painter, who recorded many details of the late-19th-century bohemian lifestyle in Paris. Lautrec mastered many visual art forms: printmaking, drawing, painting, caricaturist, and illustrator. Because of his title and disability, he was accepted into many levels of society, but he chose mostly to paint from the lower classes. He especially liked the people of dance halls and brothels. I find his work honest and clearly stated."
"Fritz Scholder is a native 20th-century artist, who mostly paints natives. His 'most influential works were post-modern insensibility and somewhat pop art in execution as he sought to deconstruct the mythos of the American native.' Fritz was a Luiseno native, part of the California Mission culture. I like his work because it pushes the edge of work by natives about natives. Since a lot of my work is about natives on this continent, he gives me inspiration and insight into what I think about what I want to paint."