Painting the Town: Lauren Pitre
Derrick White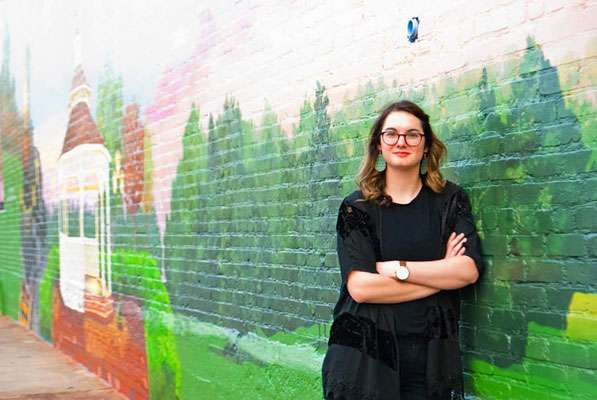 "I can say without a doubt art has brought me confidence. I always struggled with confidence growing up but it seems after each milestone I pass within my art career I gain more confidence, in particular with my murals," affirms local artist Lauren Pitre. You may have experienced Lauren's work even if you were not aware of it at the time. If you've been to the Longview Mall, downtown Mineola, The Discovery Science Place in Tyler, or the Lindale Candy Company, you probably noticed her dynamic and engaging murals. Lauren received her Associate's degree in Art from Tyler Junior College and received a Bachelor's degree in Fine Art from the University of Texas at Tyler, focusing on painting. She prolifically creates beautiful and enchanting still lifes of antiquated objects but during her time at UT Tyler she gained experience in painting murals. Now murals and commissioned portraits are Lauren's full-time job.
"The Importance of Community Murals" is an online article from the website productcare.org stating, "From the 30,000-year-old animal murals in France's Chauvet-Pont-d'Arc Cave to Banksy's Balloon Girl, murals have been part of our cultural landscape for thousands of years. Community murals are a mode of expression for artists in every graphic style imaginable: abstract, photorealistic, surrealist, expressionist and graffiti, to name just a few. Most recently, murals have become community centerpieces bringing people together to celebrate the heritage and history of their home. They create vibrant neighborhoods people want to visit and live. Murals attract new local businesses, help bring customers to pre-existing locations, and boost the economy of an area. Murals encourage people to slow down and admire your surroundings. Part of slow living involves appreciating our surroundings and their beauty. Murals create important conversations and expand thought. They also act as collective thought spaces. A great example of a dialogue-provoking mural project is American artist Wyland's Whaling Walls. Over a 30 year period, Wyland painted 100 life-sized whale murals across the globe to help people appreciate our oceans through art."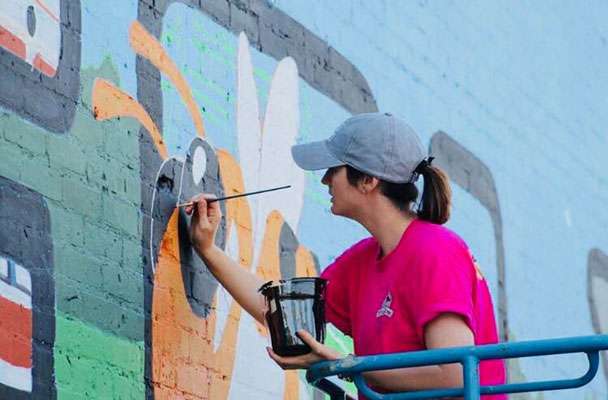 Lauren has an excellent painting skill set, creating works quite capable of attracting and holding the viewer's attention while provoking conversation and thought in her murals as well as her fine art. "My vintage still lifes are mostly painted on wood panels with acrylic paint. I use wood panels so I can get more layers and am able to lightly sand between coats to get a smooth surface I like. Acrylic paint works best with the wood. It dries quick enough to get more layers of detail," Lauren describes. She adds, "The style of my pieces is realistic with an exaggerated use of color as well as the background behind the objects. Typical objects I choose to depict are old cameras, clocks, books, and radios. As far as commissioned portraits and murals I tend to stick to realism as well, depending on what the subject matter is, along with the look and design of the surrounding area I will use a specific color palette directed towards a particular style." 
Lauren grew up always drawing people and facial portraits. After she graduated high school she began working at a local Goodwill store. It is there her fascination with distinctive items began to take hold. Lauren explains, "I enjoyed seeing different objects from different decades, mostly old cameras and clocks. One of the Goodwill tasks specific to me was creating displays for end-caps, toppers, and windows and I usually ended up using the older items, to give them a new life. I decided to collect these vintage items and make still lifes of them and paint them. Another one of my jobs was to paint the outside of the windows for holidays and special sales, the more I did them the more elaborate they became. It was then I felt this was where my path as an artist was truly starting."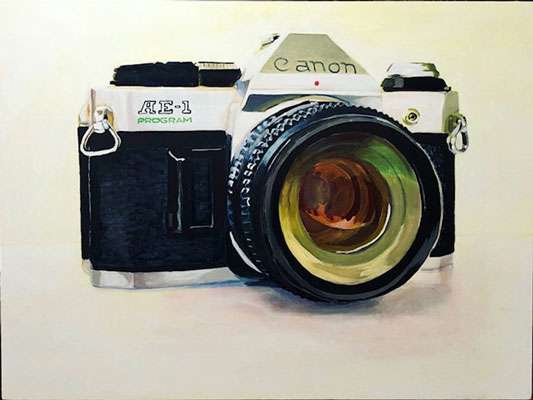 Lauren took a mural painting class at UT Tyler with Professor Alexis Serio Hughes: "We planned out and painted one of the exterior walls of the Discovery Science Place in Tyler over the span of one semester. After that semester I was hooked. I spent a later semester working on a mural there at UT Tyler in the Biology building. I was able to come up with a design, color palette, and work schedule, as well as assigning tasks to the three of us working on the mural," she states. 
After graduating, Lauren was able to start her first large commissioned mural downtown in her own hometown of Mineola. Soon after she completed the mural in Mineola, she was commissioned for multiple murals in towns around East Texas. "As an introverted person, I never really saw myself branching out and doing large projects like city murals, but art has given me the confidence to do things like that. Although art has given me the confidence to branch out and do large projects around our region, it brings problems along with it, like talking to people, in particular groups of people. I can say the path to get my degree in art helped me tremendously in preparing to speak in front of people but I have noticed, as an introvert, it takes a while to get over. However, after speaking in front of crowds a few times I have come to see it gets a little easier each time," describes Lauren.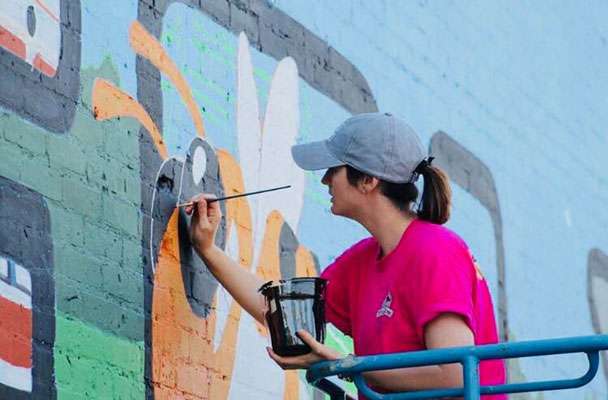 Lauren finds inspiration in the work of other artists like Christopher Stott (contemporary still life painter). She states, "He uses a lot of vintage objects in his work and highlights all the formal qualities of the objects I find most interesting, like contrasts in surface texture in vintage cameras and the shadows they produce. He adds non-vintage objects like wooden chairs and pencils in his pieces, which add another element of contrast." Lauren concludes, "I also have a favorite muralist, Anat Ronen, who does a lot of work throughout the Texas area and surrounding states. She is a massive inspiration to my mural work; keeping up with her and her work pushes me to keep expanding my work throughout East Texas." 
For more information and to see examples of her work on Instagram, check out: @artbylaurenpitre