By Johnny Griffith
If you ask ten different people on the street what comes to mind when they hear the word "beer," odds are you'll get ten distinctly different answers. Ask the same question of Brian and Matt Gilstrap and you'll get one answer: family.
Brian and Matt, along with Brian's wife Annie, are the founders and operators of ETX Brewing Company, Tyler's second brewery to open and the newest addition to the growing downtown rebirth here in the Rose City.
Originally born in Arlington, both the brothers Gilstrap moved around Texas over the years after attending Texas State University in San Marcos. Brian and Annie met in college where he majored in Business Finance, and Matt majored in Computer Science. Following a move by Brian and Annie to Tyler in 2005 due to a promotion and now living in different parts of the state, Matt and Brian would come together to hang out for the weekend and began brewing beer as a hobby. Twelve years later, they realized their longtime vision of transforming the hobby into a business and now genuinely live their motto for ETX Brewing, "Do What You Love, Love What You Do."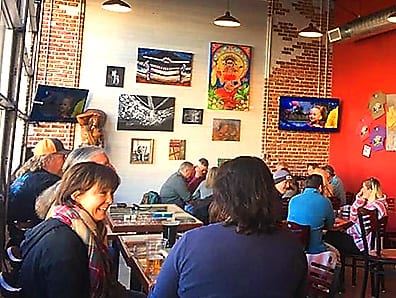 When the vision became a reality, Matt sold his house in Austin, left his job, and moved to Tyler to help with the task of taking the brewery from the garage to the masses. After considering several different locations, the Gilstrap's finally settled on a former tire service center just off downtown on S. Broadway. After several months of hard work, the vast majority of which was done themselves, the crew at ETX Brewing Company opened their brewery and taproom in January of this year to rave reviews and thirsty crowds.
With art from local artists hanging on the walls and beer brewed on site in the facility visible from the bar, flowing through the taps, ETX Brewing Company has the feel of something you'd find on either South Congress in Austin or downtown Ft. Worth. There is a decidedly modern feel, but not so much that the character of the owners doesn't show through. Brian and Matt kept the roll-up doors of the former service center in place, which allows the bar area to have a more open feel and beckons passersby on South Broadway to stop in and take a break from their hectic schedules.
I recently sat down with Matt and Brian to talk with them about the Brewery and sample some of their libations.
Johnny: Of all the things you could be doing in life, why a brewery?
ETX Brewery: Brewing quality beer has been a hobby and a passion for the brothers for many years now. Four and a half years ago Brian and Annie had twins born prematurely at 25 weeks gestation weighing in at 11 oz. and 9 oz. They were immediately care-flighted to a higher level NICU in Dallas, where they spent the next 4.5 months. Matt made the drive every other weekend to spend time with them in the hospital. At that point, perspective on life, in general, changed forever. Life is far too precious and short to not be spending it doing what you love.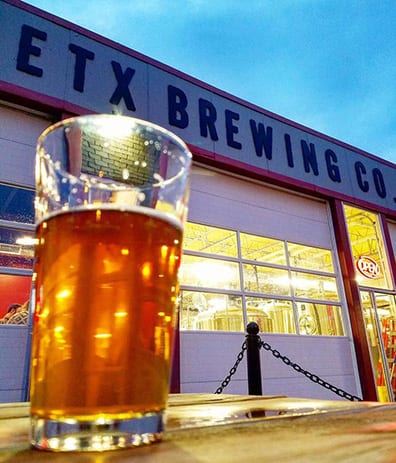 Johnny: What was THE beer that hooked you into the craft scene?
ETX Brewery: Unanimously, Dogfish Head 60min IPA was the beer we all shared together and loved.
Johnny: How did you get from your first batch of homebrew to a full blown brewery?
ETX Brewery: A lot of reading and educating ourselves on new techniques. We were constantly striving to make better beer each time. Practice! Practice! Practice! And of course, sampling the product and asking others for feedback.
Johnny: What have been some of the biggest challenges to get to this point?
ETX Brewery: With any new business, there are challenges of finances and construction, but the nature of opening a brewery brings additional legal hurdles, deciding on the size of equipment, and what beers to commit to brewing. Add to that the fact that we pretty much did all of the work on the brewery ourselves, it gives us a deep appreciation of where we are now.
Johnny: How much of a foothold does craft beer have in east Texas at this point?
ETX Brewery: Craft beer is just on the cusp of becoming big here in east Texas. For a large majority of east Texans, they are new to experiencing craft beer and especially to visiting a brewery. Our goal is really to provide an education to help people understand more about craft beer and what to look for when choosing a brew.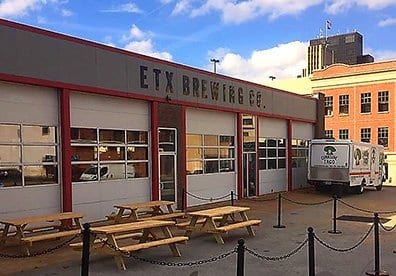 Johnny: How important was the location in the downtown area?
ETX Brewery: We were thrilled to have found a location in the downtown area. We love being a part of the revitalization that is happening Downtown! With all of the amazing businesses going in on and around the square, Downtown Tyler is turning into a "must see" for locals and visitors alike.
Johnny: What will customers be able to do at the brick and mortar location? Buy beer? Drink beer? Fill growlers? Hear live music?
ETX Brewery: Our tap room will have a variety of beers available at all times, which will be changing on a regular basis. Customers will be able to come in and sample or purchase these varieties by the pint. We will have live music on a regular basis, too. Our goal is to be a fun, laid back atmosphere to relax and enjoy a good brew with good company. We are also currently in the works to plan monthly events where a majority of the proceeds will go back to local charities here in east Texas.

Johnny: What is the beer lineup currently?
ETX Brewery: We currently have 6 beers on tap:
Test Batch 1 – An American Pale Ale, a bright filtered Golden Ale
Red House Wheat – An American Wheat unfiltered with slight notes of orange
1846 IPA – Easy drinking and flavorful from the heavy dry hopping with El Dorado hops
Test Batch 2 – Blonde Ale, unfiltered and dry-hopped after fermentation to add a floral aroma
Coffee City Stout – A Stout made with coffee, chocolate, and oatmeal (made with Belgian chocolate and locally roasted coffee from Coffee City USA)
Hitching Post – Amber Ale, a perfect balance of malt and hops producing caramel notes and a malty sweetness
Coming soon: Black IPA – A Mexican Lager, American pale ale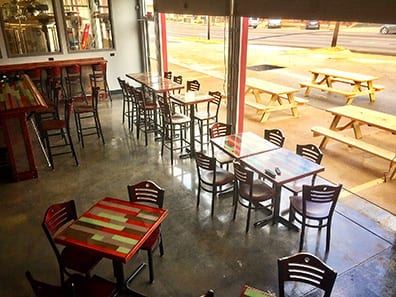 We also have a non-alcoholic Root Beer which we make in house.
Johnny: I know you just opened, but what's next on your agenda for ETX Brewing?
ETX Brewery: We'd like to improve the site and make a friendly space for food trucks, so we have something in the works for that as well as an area out back for live music and more seating. The response has been fantastic so far, and the atmosphere downtown is bringing more traffic back to the area, so we want to make sure we're in a position to take care of the people who decide to spend their time hanging out with us.
Johnny: What kind of experience are you hoping new customers will take away from ETX Brewing?
ETX Brewery: We hope they will walk away with a better understanding of craft beer. A lot of people are afraid to try a craft beer when they see it on a menu at a restaurant. We want to take that fear away and empower the customer to know what they are looking for in craft beers.
ETX Brewing Company is located at 221 S. Broadway in Downtown Tyler. For more info call (903)630-7720, find them on www.facebook.com/ETXBrew or go to etxbrew.com.