Lost In Space: Gorgeous Jetson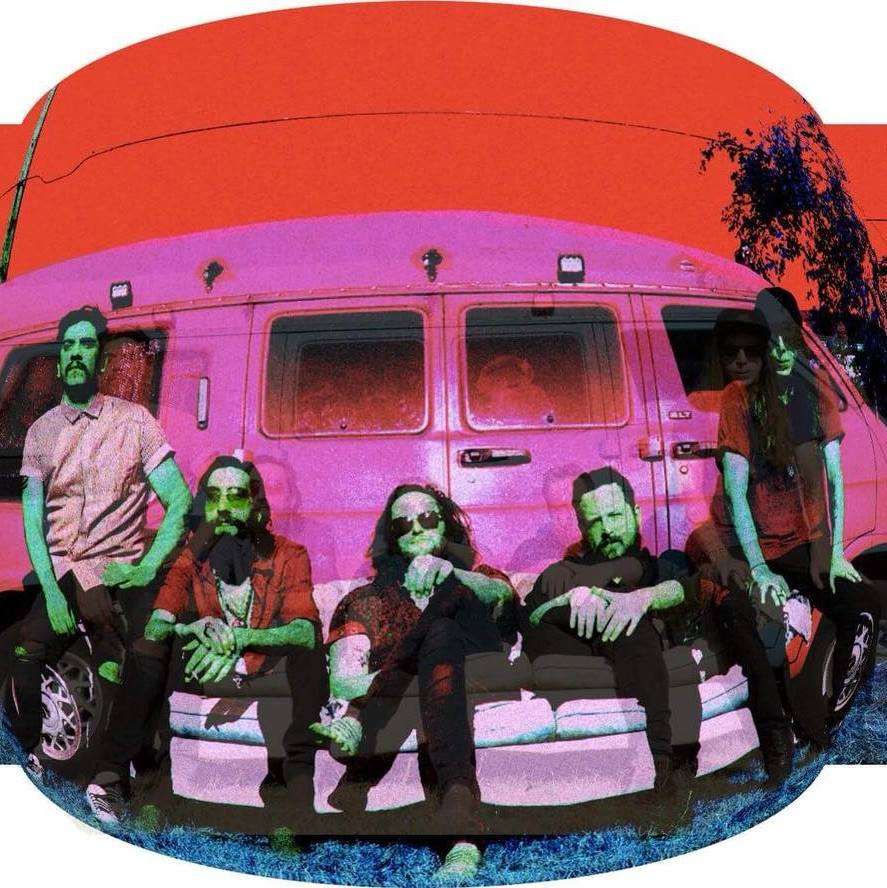 By Johnny Griffith
There is a band from Tyler that you can absolutely get lost in. I mean the "sit back and just ride the soundwave across the infinite universe" kind of lost in. I mean the sort of lost where you start peeling back the layers, and find more layers, and then realize there are more layers underneath that. Whether it be diverse and ever changing guitar riffs, strangely soothing vocals that take you on fantastic voyages, foundational drums and bass that are precise and on point, or the keyboards filling in the gaps with expansive and ethereal sounds…Gorgeous Jetson opens the door to a new sonic reality for the duration of their show.
Helmed by Marc Beevers on lead guitars and vocals, Gorgeous Jetson is rounded out by Ian Power on bass, Logan Strong on guitars and backing vocals, Jed McNeil on keys/synth/backing vocals, and Gamaliel Quezada on drums. I was able to catch up with Marc this past month to find out more about the band and how they click.
Johnny: Let's start out with the basics. How did the members of Gorgeous Jetson come together?
Marc: So I've known Jed since high school. Our schools were rivals and we were both on the drum line. We also looked a lot alike in high school and everyone made a big deal about how we looked alike, so we ended up meeting several times at ball games. I graduated high school early and got an apartment of my own, and there were always tons of people there so that's how I met Ian. He was another young kid just trying to figure stuff out like me and we hit it off immediately. We've been pretty close for about 11 years now. Later on, Jed and myself formed a band called Babe, and I met Logan at one of the last shows that I played with Babe. He actually played in Babe after I left the band. Finally, I met Gammy back in early 2017 at an art show. After talking over a cigarette, I got his number because he said he played drums. 
Johnny: So knowing a bunch of musicians and coming up with the idea of a band like Gorgeous Jetson are two different things. When did the idea first take shape?
Marc: The idea of the band came up in 2015. I went to rehab for a little over a month that year for alcohol and substance abuse. I was still in Babe at the time, but while I was in rehab I decided I wanted to start a project that I had creative control over so when I got out, I told the guys I would be leaving Babe. It wasn't anything personal, I just wanted more control when it came to the style of the band. 
I asked if they would still play with me under my direction, so Babe became Gorgeous Jetson for two shows. After those first couple of shows, circumstances for me changed and I ended up moving to Midland and those guys went back to Babe.
Johnny: So the name is fun and, honestly, is one of the reasons I first listened to you guys. How did that idea come to be?
Marc: I thought up the name while I was still in rehab. There was a wrestler in the '40's and '50's called Gorgeous George who, essentially, was the first Hulk Hogan…the first flamboyant hero. I like playing with words and making odd phrases like Gorgeous George Jetson. That eventually just turned into Gorgeous Jetson. 
It's super catchy, I think, and I think that's important. I think a catchy name can be click bait for sure. For example, our most popular song on the internet right now is my least favorite I've written. I know it gets clicks just because the song's title is "Buddha on Quaaludes." When you see that, you just have to see what it is simply because of the song's title. It's almost an involuntary reaction, so putting some thought into something catchy like that is an important part of the overall equation as well.
Johnny: When and where did Gorgeous Jetson first strut their stuff?
Marc: Technically the first gig was in 2015 at the DIY Spot with the old Babe lineup. With this lineup of guys it was in March of 2018 at Stanley's Famous Pit BBQ. Some folks at Stanley's heard I had got this group of guys together and asked us to play a gig the following month. We only had like three songs at that point, so they really lit a fire under my tail to get to writing before that show.
Johnny: Your sound is a complete departure from what gets the most real estate in this area, which tends to be some variation of country or hard rock with the occasional blues band thrown in the mix. How have local crowds responded when you break out with your music?
Marc: We've had nothing but good responses from our local venues and audiences. I think people like a break from the Texas blues and Texas country. As far as having a different sound than what people are used to, it makes me laugh as to who people compare us to. I'm talking about the people who only listen to top 20 hits. I'm so glad that they like us; I just really don't like the bands they "think we sound like."
Johnny: Speaking of that sound, how did that evolve? Was it something you had wanted to play for a while or was it a definite choice in a definite moment?
Marc: The style is evolving for certain. I don't wanna play the same kinda music forever. We really have a variety of mellow, spacy, and ambient songs. At the same time we have several chaotic, aggressive, almost unnerving at times kind of songs. I like so many different styles of music. I think it's important that my guys and myself continue to push our limits of playing and what we feel comfortable playing. It only makes us better. 
Johnny: How often are you guys getting to play at the moment?
Marc: We're currently playing 2 or 3 gigs a month. We are trying to focus on mostly out of town shows at the moment. We just don't want to oversaturate our home town and have people get tired of us. It helps make it more special when we do play a local show.
Johnny: There are some pretty decent recordings out there of Gorgeous Jetson. Where did you guys do that work and is there anything new coming up?
Marc: We recorded 4 songs with Christian Diebert at GoodShed studio in Canton in 2018. That was our first demo and it's on all major streaming platforms. 
We recorded our last single with Yacht Country records, Aka John Hetherington. 
We are currently in the process of recording a new song now that should be up by the end of the year. The new song is called "Pet Detective" and it's a little more mellow than our previous songs. 
Johnny: What can a first-timer expect at a Gorgeous Jetson show?
Marc: It's really kind of hard to explain our sound. I get bored easily so I enjoy putting in key changes and changes in time signatures frequently. Abrupt changes like this make me very happy. My favorite description of our music was from Meredith Crawford: She said, "Gorgeous Jetson songs are like a washing machine full of colors."
Check out Gorgeous Jetson on the World Wide Web: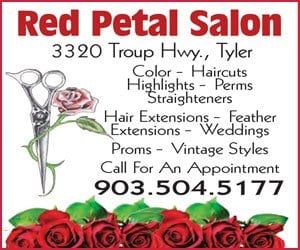 July 18th: Little Universe at True Vine Brewing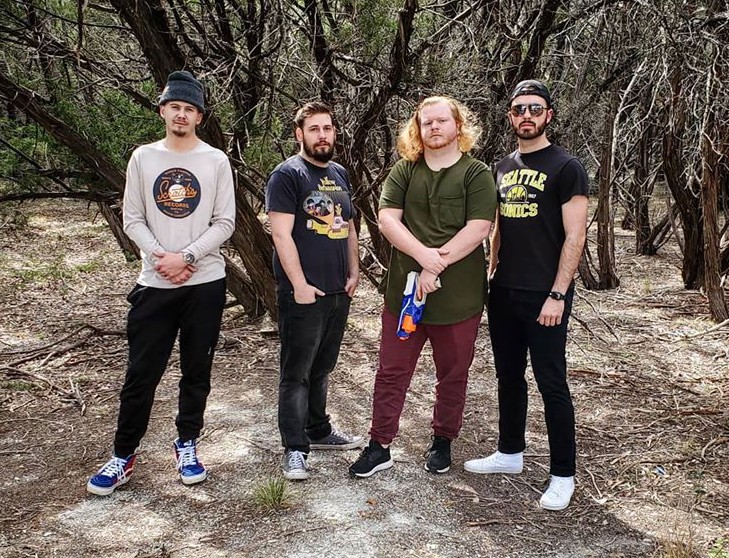 Little Universe returns to True Vine Brewing Company in Tyler Saturday, July 18, 2020, hosting the fourth edition of their "Party of Unison" concert series.
Party of Unison #4 will feature headliners Meredith Crawford Band as well as Meat Sandal, a liquid light show. Music is from 7-10pm; Christian Deibert, of Good Shed recording studio in Canton, will be running stage lights and sound. Little Universe opens with a regular set, Meredith Crawford follows, and Little Universe returns with a second set of longer jams and other surprises to close the night. "Never miss a second set!"
Included in Little Universe's second set will be the first live performance of their just-released four-song EP, "The Riot Part1: Looking Outward."
"The Party of Unison" will be at True Vine's expansive outdoor concert stage; physical distancing will be observed, but True Vine is open at full capacity so best to arrive early!
True Vine Brewing Company is at 2453 Earl Campbell Pkwy., in Tyler.
About Little Universe from Facebook:
In early 2017, on the heels of the split-up of his band, Fabian and The Breaks, singer/songwriter Fabian Michael Moran began the search to start a new project. By summer, bassist Preston Light and drummer Darrell Monk had joined forces to start crafting new material. Later that year, the three began working on an ambitious double album titled "Everything Is Nothing", a call back album to early rock and roll and 70's fuzz rock. They enlisted the help of seasoned studio owner/producer/engineer and close friend, Christian Deibert of GoodShed Studio in Canton, TX, and began tracking in the fall. But before the album's completion, the band was forced to take an 8-month hiatus for personal reasons. They never gave up on the album and reconvened the tracking after the break.
It was during the second birth of the band that lead guitarist Cameron O'Reilly was asked to sit in on one of the songs for a studio session. The band and he immediately found chemistry and Cameron was asked to join the band full time. Much of the previous guitar work Fabian had laid down was cut, and Cameron and he re-tracked guitar parts for more than half of the record. The album was released digitally on Halloween 2018 and physically in November 2018, almost exactly a year after its conception.
Quickly after the release, the band enjoyed radio play from TCU radio in Fort Worth and were featured on 97.1's Loud and Local, even before playing their first show. With roots in DFW and East TX, they began their multi-region show schedule and continue to stay busy life, as well as working on writing the second album. They plan on every record is a double album showcasing a wide variety of music genres and styles. They also plan to release singles and one of a kind merch for their most loyal fans.
They are quickly becoming known as one of the more solid outfits in the Texas rock scene, sharing stages with notable artists at iconic venues and gathering a fierce group of fans sending out the signal and spreading the message!
The name Little Universe came from Fabian's intense love of astrophysics and a Neil Degrasse Tyson reference. We are all our own little universe, comprised of the same ingredients that form the stars. The band slogan is "Stella Carmina", Latin for "Star Songs". Simply put, Little Universe means creation and inclusion. The band hopes to foster a culture of free-thinking, kindness, compassion, and art, as well as continue to make rock and roll on their own terms, with no rules!
Little Universe (4 of 5 are Canton residents) is:
Fabian Michael Moran (songwriter, lead vocals, guitars, and piano)
Cameron O'Reilly (lead guitar, backing vocals)
Chris Goodson (drums, backing vocals)
Jake Wilburn (bass, backing vocals)
Nick Schaefer (guitar, organ, sax, backing vocals)
Amongst Little Universe's past local shows was a memorable performance at the 2019 East Texas Music Awards at The Texan, in Athens.
More Info
LITTLE UNIVERSE: Website: www.littleuniverseband.com
FB: @Littleuniverseband
Insta: @Littl3Univers3
Spotify: https://open.spotify.com/artist/5v8o5CpfwY2o0Vd86ULK3S?si=oiJGNLgDQO2nSnk66EsBuw
Itunes: https://music.apple.com/us/artist/little-universe/806186975

Rose City Strong: Buy Cool Swag & #supportlocal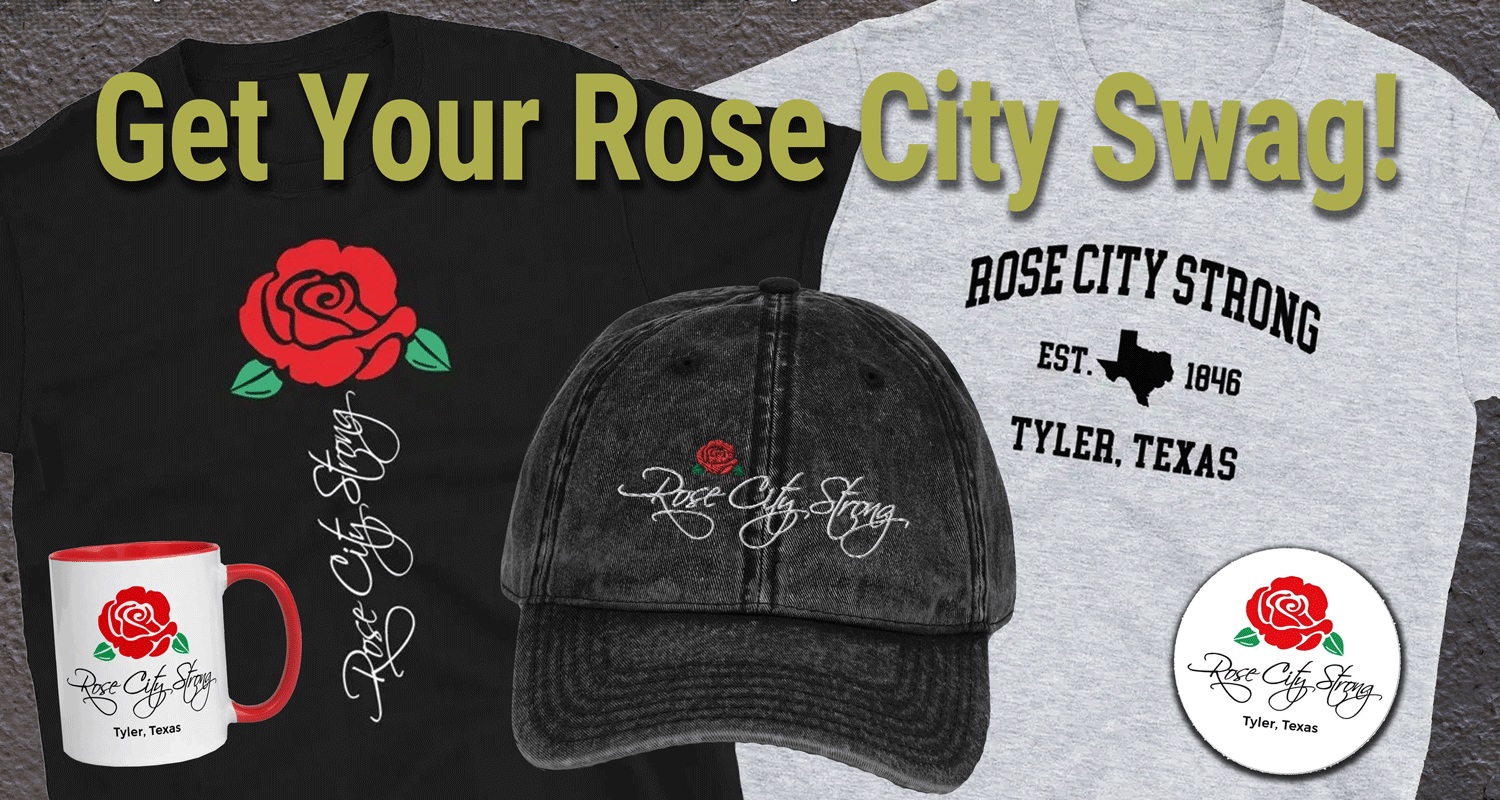 In these trying times, everyone wants to help and do their part. One way is to support local businesses. You can do so and get a cool t-shirt in the process!
VisitTyler and EGuideMagazine.com have teamed up and created a cool line of t-shirts, mugs, stickers, caps, and more!
Check out this cool swag and #supportlocal by being #rosecitystrong!

Live Music Guide, Tyler TX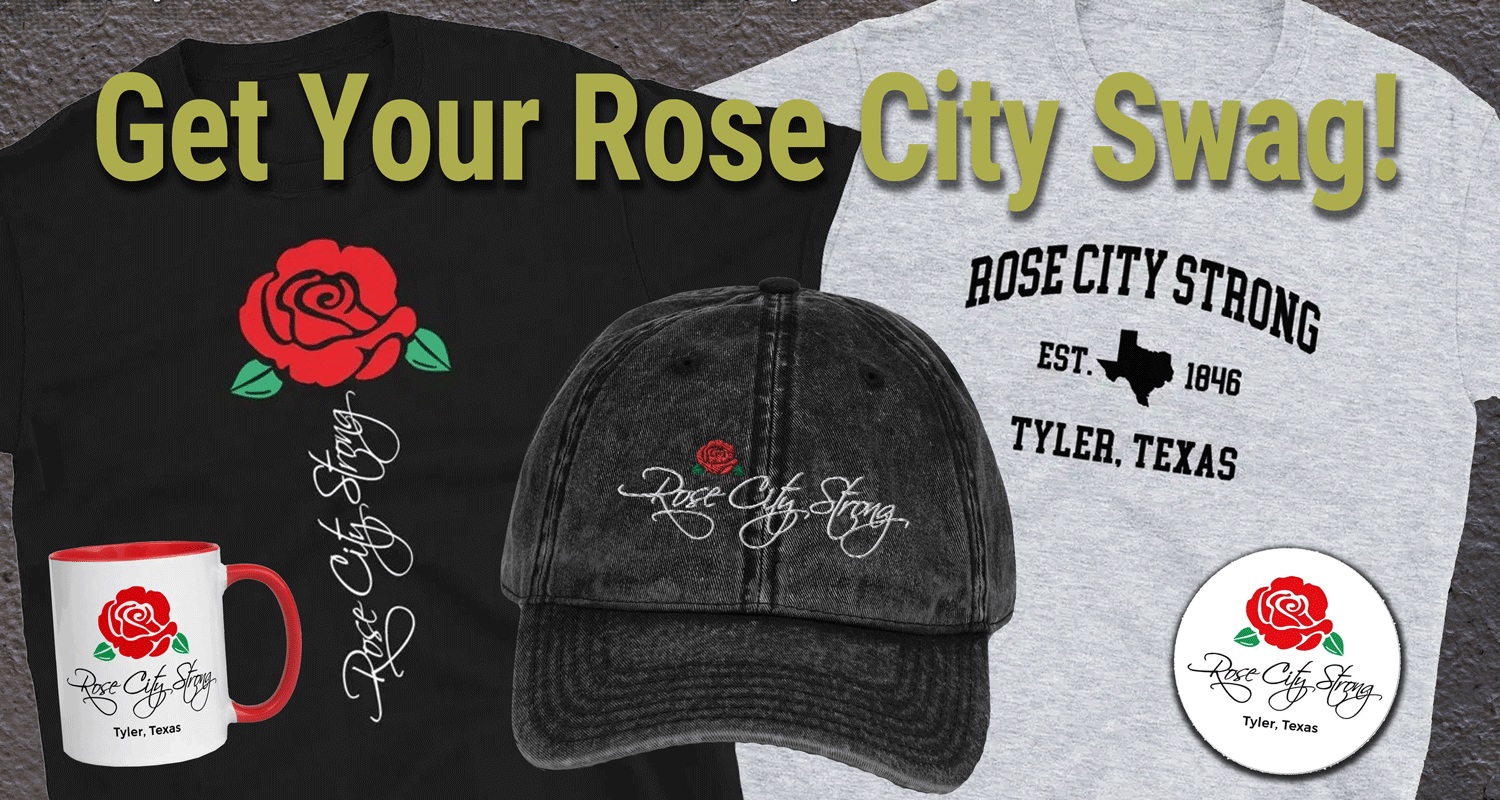 In the constantly changing world of Covid-19 pandemic, we at EGuideMagazine.com are making every attempt to keep our Big Calendar updated. However, we suggest that you still double-check with the businesses to confirm that the events are still happening.
To list or make any changes to this Live Music Gig Guide for #tylertx, please e-mail to eguidemagazine@gmail.com or text 903-530-2041.



---