Charting His Own Course:  Levi Kitchen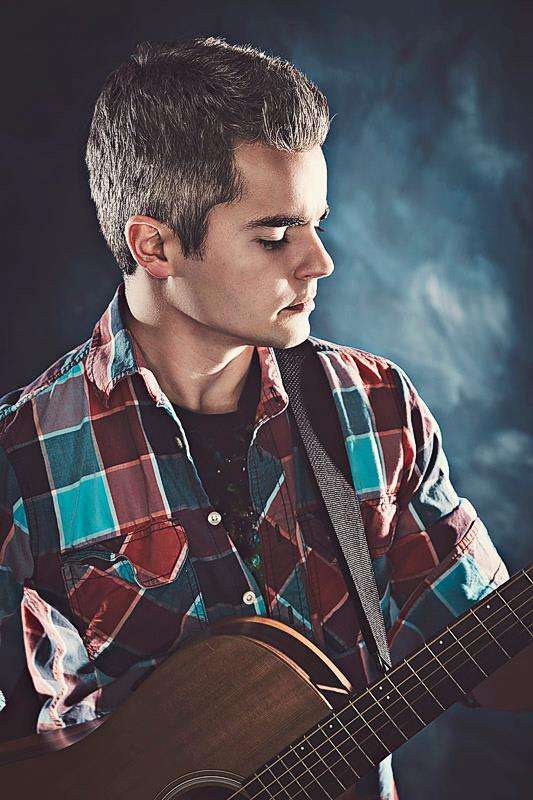 By Johnny Griffith
It's always fun to check back in with people we've interviewed in the past and see what they are up to a couple of years later. This month I got to sit back down with Levi Kitchen and check back in with him about 3 years after our last interview. If you're not familiar, Levi is a veritable one-man band. A multi-instrumentalist who utilizes looping technology to lay down his own background music on the fly, Kitchen has been bringing his unique brand of entertainment to stages around East Texas for almost 20 years now. A man of many talents and constantly creating, Levi took some time out to catch us up on what's been going on lately:
Johnny: It's hard to believe, but it's been 3 years since we last did an interview. What are some of the more significant events for you during that period?
Levi: Being hired to perform for political fundraisers for district judges, state representatives, and even the Longview Fire Marshal's retirement party were a few proud moments. That last one resulted from the Fire Marshal being called to my house because a neighbor thought my studio was on fire, but then he obtained my business card and later hired me to play his party. I was shocked to be hired by several different Chambers of Commerce, including Lindale, where I performed for Miranda Lambert's friends and family. I had the opportunity to do several radio interviews and had original compositions placed in different video and film productions. Seeing your name in movie credits is a cool feeling and my music was the background in some national television commercials.
Johnny: I've been able to catch a couple of your shows this past year and they're still as impressive as ever. Has the technology improved or evolved that makes the process a little easier?
Levi: It's not getting easier. The technology is advancing, of course, but it gets more complicated as it advances and that's not always a step in an easier direction. I have a newer, "better" loop station that I'm still currently not using at shows because it's taking me quite a while to learn the new one as well as I know the old loop station. The familiarity with the equipment during the performance is crucial to the success of a looping performance. When performing, I still use the old faithful BOSS RC-300, which has been top of the looping heap for a decade. The next step up from this pedal has traditionally been looping programs that require you to use a computer. But now I practice with a newer, more advanced loopstation regularly to achieve the kind of familiarity necessary to perform with it. It's called a "Headrush" and it's going to be a big leap in technology for me when I finally decide to bring it into my live performance. Practicing a new loop station is like learning a new instrument, to a certain extent. It might take me over a year to implement the new loop station to a satisfactory level of smooth operation.
Johnny: About how many shows a month are you playing these days?
Levi: Within the past few years I reached a point where I was getting hired to perform so often that I had to cut back. The grueling pace I set for myself was beginning to wear me out. I was holding down 5 or 6 shows per week for several years, which left very little room for other things in life. I have intentionally cut it back to doing about 3 performances per week these days, but I pick and choose now which venues or events I actually want to do where previously I used to just play anything I could get my hands on.
Johnny: Last time we spoke, you were looking forward to playing more shows over in the Dallas area. Have you made any progress playing more shows out of the greater Tyler area?
Levi: As far as Dallas, I have been invited to play all kinds of things over there that I have avoided on purpose. In the past few years, I have traveled to Dallas at least several times to perform for weddings, mostly. I will just be honest here and say, ironically, I'm very introverted and prefer quiet, peaceful environments. When I go to Dallas, all I can think about is getting back to a comfortable setting like East Texas. I have played nearly everywhere there is to play in Tyler at some point over the years, as well as the Longview area, and just about every small town within an hour or two of Longview. I prefer it out here in East Texas over the chaotic frenzy of large, busy cities. Staying here is intentional at this point. I'm not looking for more attention or trying to expand my range or anything. People just keep hiring me to jam all around East Texas so I keep on jamming. I'm happy playing my little shows around here and I never saw much happiness down the path of the nationally touring artist, but that's just a personal preference. 
Johnny: You were also about to put out a new album at that time as well. How did that turn out?
Levi: Well, I post my original songs for free download on my website, levikitchen.com. I'm still fiddling around with hundreds of recordings in my home studio. I have been working for almost ten years now on a musical, spoken word audiobook in the epic sci-fi fantasy genre as well. I have created hours of this wild, unprecedented thing, but it still needs years of work before completion. This illustrates what is likely one of my biggest problems as an artist. I get distracted by interesting projects that never see the light of day because I don't care much about what people are expecting of me. If I get caught up in the joy of creation, I don't waste much time worrying about what is trendy or in-demand. I just dive into it and bask in the joy of disappearing completely into the alternate universe I've created with this music and story. So I've been somewhat distracted from making a new album. Aside from this, the need to combine songs into an "album" isn't quite as applicable as it once was. Digital distribution has allowed artists the ability to cheaply publish singles as often as they want or, like me, they can choose their own method of distribution. Personally, I make very little money off of original works, but I make almost my entire living off of performing shows which consist mostly of covers. People are using music streaming services now more often than making purchases, so musicians these days are living in a rapidly changing landscape. 
Johnny: So in addition to your music performance, you have been producing music for several years as well. What are some of your more memorable projects in that area?
Levi: I've been producing music for twenty years now. Those early years, my brothers and I were just kids with a garage studio, but we still had customers paying to have us record and produce them, so it still counts. It was probably about 1998 when my brothers and I spent one summer painting these massive banners for the Rangerettes to use at their Cotton Bowl half-time show. By painting these banners, and also painting some fireworks stand signs in Kilgore, we earned enough money to buy the best recording studio gear we could get our teenage claws on at the time. The first time I ever earned money as a studio engineer was in 1999. I was 14 years old. Some notable mentions and really good times were had by all over many years when I had the opportunities to produce and record Ally Venable, Lulu and the Black Sheep, Darby Warren, Andrew Beason, 3WeeksPlay, Daniel Foster, Jasmine Nyvall, Lane Rogers, David Smith, Biff Rushton, Allen Wayne Nichols, King Richard, and the Bayou Boys, Gypsy Rebel – lots of great artists and too many others to mention have recorded in my humble shack!
Johnny: As 2020 rolls in, what is on your radar this year that has you excited?
Levi: I intend to buy land this year and build my next studio by some water where I can create an aesthetically pleasing environment for musicians to create and record in. My little south Longview shack has lived its life as a studio and it's time to take these creative energies to a pleasing new environment soon. Aside from this big dream, it'll be business as usual in 2020 I suspect. I'll play a lot of shows and spend the rest of my time hiding from everyone, tinkering with robots and strange invention ideas. I'm also getting married on Leap Day, Feb 29th. My fiance and I suspect we're about the weirdest people we know, so we picked the weirdest day we could think of to get married on. We'll only have an anniversary every four years and there's no possible way I could forget the date. 
Johnny: What do you feel is your best memory of your musical career so far?
Levi: I remember a moment ten years ago when I jumped up in joy and danced around my studio because I had booked 3-5 shows per week for four months in advance. Up until this point in my career, I had always worked another job. The realization suddenly dawned on me that I could do this full time. I guess you could metaphorically call it the day that I "quit my day job." I felt at that moment that I had finally achieved a lifelong obsession that started when I was ten years old, dreaming of earning my living with music someday. I danced like I knew nobody was watching, and thankfully, nobody was watching. Strangely, and to my ongoing surprise, things continue to proceed in much the same way ever since.
Johnny: Where can someone find you playing over the next couple of months?
Levi: I'll be performing at Holly Lake Ranch Resort in Hawkins, and The Villages Resort in Flint throughout the year, as well as Copeland's of New Orleans in Longview regularly. I will also be performing at Nuna's Cajun in Palestine, Steve-O's Pizza in Mt. Vernon, Los Pinos Ranch in Pittsburg, Enoch's Stomp in Harleton, Yamato in Tyler, Serenity Church in Longview and many more. I'll be playing several new venues as well in 2020, so keep checking in with me. If you want to find the specific dates for any of these venues, I suggest finding/liking my facebook page or researching the venues directly to check their schedules. 
Follow Levi Kitchen and all his projects on the World Wide Web at levikitchen.com as well as event updates on Facebook.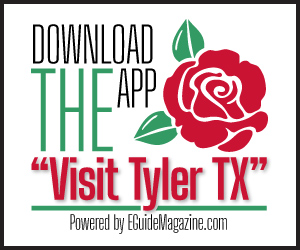 Rescheduled: Oct. 20th, 2020 Red Dirt BBQ & Music Festival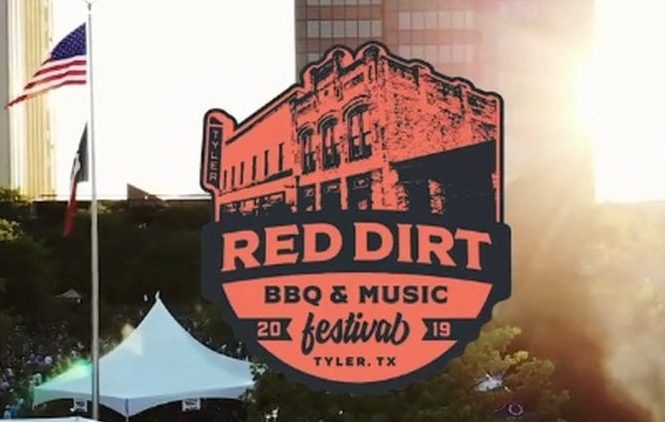 The 2020 Red Dirt BBQ & Music Festival Returns to Downtown Tyler
The new date has been set for Sunday, October 11th. It will be the same setup as normal, just on a Sunday:  https://facebook.com/events/s/2020-red-dirt-bbq-music-festiv/1332463773558598/?ti=icl
May 2nd October 11th, the 7th annual Red Dirt BBQ & Music Festival presented by Hyundai of Longview will be held in Downtown Tyler, and with it comes the best of barbecue in Texas and top of the line music all day. 
The Red Dirt BBQ & Music Festival has proven to be one of the most premier and unique music and food experiences in Texas. The festival takes place on the brick streets of the Downtown Square in Tyler every May, with the 2020 edition featuring at least 30 of the most celebrated barbecue restaurants in Texas. Music happens for nearly 12 hours on two stages, with the main stage highlighting the biggest names in Texas and Red Dirt Music. 
This year's festival will also feature the state's most celebrated barbecue restaurants providing samples of their smoked meats to attendees. Barbecue joints from as close as Tyler and as far as Amarillo converge on the Rose City to showcase their smoked meats to thousands of barbecue enthusiasts, while thousands more pour onto the brick streets for the concert. 
Performances this year feature Parker McCollum (10pm), Josh Abbott Band (8:15pm), Jason Boland & The Stragglers (6:45pm), Charley Crockett (5:15pm), and Chris Colston (3:45pm).
"Top to bottom, I don't think there's ever been a Red Dirt lineup we've been more excited about. Having these names join our incredible barbecue joints was a huge honor for our sixth festival," Red Dirt promoter Chase Colston said. "We're expecting an even faster sellout this year and can't wait to get back on the brick streets for another great Red Dirt BBQ & Music Festival." 
The festival is sold out. Watch reddirtbbqfest.com in case any more tickets are released.
The Red Dirt BBQ & Music Festival is presented by 101.5 KNUE, East Texas' No. 1 country music station, "Radio Texas, LIVE! With Buddy Logan," and Hyundai of Longview.
Guitar On Fire: Reece Malone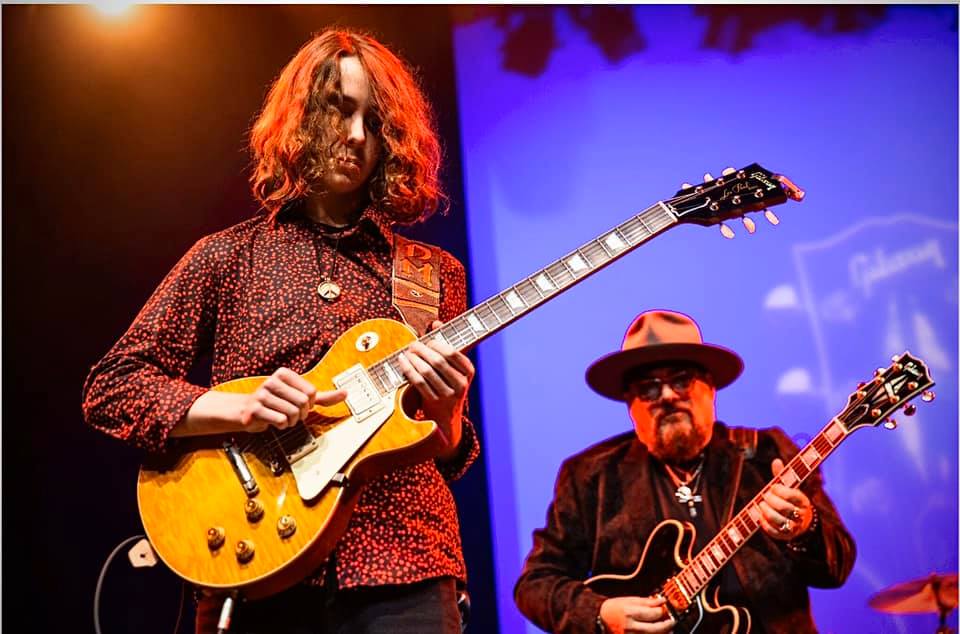 By Johnny Griffith
Hendrix, Stevie Ray, B.B., Eddie, Slash, T-Bone Walker, David Gilmour, Duane Allman, Derek Trucks.
Their names, along with countless others, are etched into our brains and into the history of music along the way.  The guitarist. That captivating centerpiece of modern music that constantly amazes us with their creativity and a certain amount of swagger.  There are millions of people that day-dream about being a guitarist on stage. Even amongst the tens of thousands of garage guitarists and local legends who play every weekend there are few who possess the chops and that "it" factor who will ever get the opportunity to perform at the next level.  But then you have musicians like local guitar prodigy Reece Malone who has packed a lifetime of experience into 16 phenomenal years.
The Longview native and Spring Hill ISD sophomore has been burning up stages since his debut 8 years ago with a resume of performances and endorsements under his belt that would make some of the most seasoned guitarists get excited. A working musician since 10, he's been part of several projects and is currently chief shredder for Salvation From Sundown. I caught up to him this past month and was able to have a conversation to get to know him a little better.
Johnny: What is your earliest memory of music?
Reece: I remember growing up listening to Van Halen, Deep Purple ,Jimi Hendrix,Ozzy and people like that. I also remember one of my first concerts was seeing ZZ top and Aerosmith and getting to meet the guys from ZZ Top in person! 
Johnny: Was guitar the first instrument you picked up?  When did you start learning? 
Reece: Guitar was the first instrument I picked up and started playing but I started learning by ear at about 6 or 7 years old. The first things I would pick up was stuff like smoke on the water and simple songs like that. 
Johnny: Do you play any other instruments currently or is your primary focus guitar? 
Reece: My primary focus currently is guitar but I do like to try to play other stuff like drums,bass, and piano.
Johnny: When did you realize you had a true gift for music?
Reece: After playing for the first time in Dallas, realizing how much everyone liked it and thought I was good. As a result, about 8 years old I started taking it more seriously. 
Johnny: When and where was your first public performance?
Reece: I remember playing in Lewisville at a place called Coach Joe Avezzano's Hat Tricks with Lance Lopez when I was around 8 years old. 
Johnny: Who have been some of your most significant personal, and musical, influences thus far?
Reece: Lance Lopez has been a huge guide for me in my musical career but people like Jimi Hendrix, Philip Sayce, Eric gales, Derek Trucks & Marcus King are some of my biggest influences.
Johnny: So the first time I saw you perform live was probably the 2016 T Bone Walker Blues Festival in Longview and you were on stage with Lance Lopez and Salvation From Sundown.  How did that relationship with Lance and those early years with SFS help shape you into the musician you are now?
Reece: Lance helped with music genre, songs and has even been in the band at one point so he has been a huge influence on me. The band name Salvation From Sundown originates from one of Lance's albums as well. Lance has introduced me to several people in the industry and given me many opportunities through the years. 
Johnny: For someone your age, you've got more experience on stage than some people get in a lifetime, what have some of the challenges been along the way with managing the things a teenager has to navigate and chasing the dream most musicians have?
Reece: I haven't had many things to hold me back. I've been super blessed with my school working with me and my parents helping me along the way and all of my friends are understanding when I can't do stuff with them. My parents are understanding with me doing stuff with my friends also so I've had great opportunities to do stuff musically and socially!
Johnny: You've had some pretty cool opportunities the last year or so with the Crossroads Festival and I've heard about this private event hosted by Gibson where you got to open for a couple of okay guitar players, want to talk about your experience with that? 
Reece: I was very excited to be chosen to open up a private event with some really good friends playing all Gibson guitars opening for people like Slash, Don felder, Billy Gibbons , Rick Neilson, Celisse Henderson, Lizzy hale, Jimmy Vivino and several others. Eric Clapton's Crossroads was also an amazing opportunity to be one of the only local guitarists invited to play the festival. I also performed on the Gibson stage at Winter NAMM in January and while in California I was invited to participate in a charity event Dark Side of the NAMM and played with Steven Perkins(drummer Jane's Addiction), Stu Hamm (Bass player for Joe Satriani, Steve Vai) Gilby Clarke (Guns N Roses), and Vernon Reid (Living Colour). 
Johnny: What are some other highlights of your young, but productive, career?
Reece: At the age of 13 I was invited to play at a halftime show at a Knicks game at Madison Square Garden. I was asked to represent Texas so I played a ZZ Top song. I've also had the opportunity to sit in with Marcus King in Dallas at The House of Blues. I'm the youngest guitarist to ever be featured on the cover of Buddy Magazine,which is the oldest music magazine in the state of Texas. I've also been professionally endorsed by Gibson Guitars, Ernie Ball Strings & Homestead Amplifiers. I truly have been fortunate so far in my music journey to be surrounded by amazing people and experiences. 
Johnny: What is on your radar for 2020 that we should keep our eyes open for? 
Reece: I will be playing at the Dallas international guitar festival, Bedford Blues festival, Gibson sponsored events and also many other shows throughout the year. You can look on our band page for more dates!
For more information about Reece and what he's got going on, follow him on Instagram and Facebook at Reece Malone Music.

Dagnabbit: Get Your Good Times On!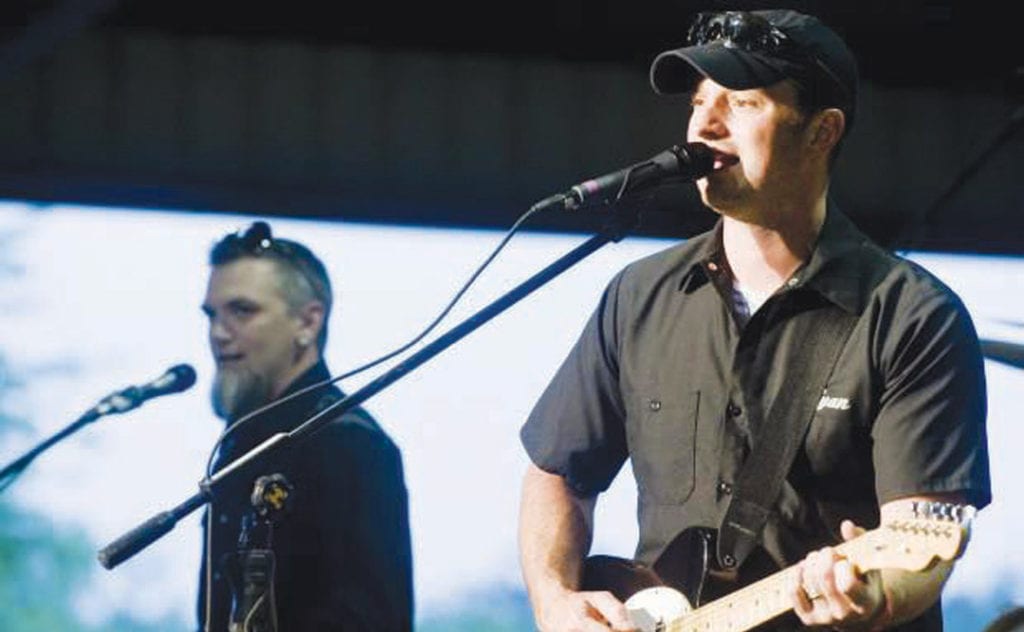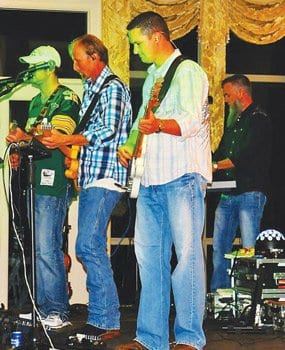 By Reid Kerr
"He played, Fire on the mountain, run boys run"
The fiddle jumps in the musician's hands as he wades into the crowd while playing the familiar strains of arguably Charlie Daniels' best known hit.
"The Devil's in the house of the rising sun!"
To the delight of onlookers, the fiddle player climbs up on the nearest table as he keeps playing while the rest of the band sings.
"Chicken in a bread pan pickin' out dough!"
The crowd cheers him on as he balances precariously on the less-than-sturdy-table.
"Granny will your dog bite? No, child, no!"
As the band finishes the song, fiddle player still perched atop the wobbly table, the crowd erupts in applause, simultaneously appreciative of the performance and the fact that the fiddle player didn't crash into their dinner. That fiddle player is Ryan Pierce, the band is Dagnabbit, and the crowd this time is the Pilots & Sponsors Party at the Great Texas Balloon Race.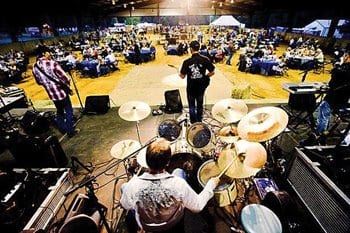 Dagnabbit has been helping people satisfy their fix for live music since 2006. Originally started by Pierce, Ricochet bassist Greg Cook, and local drumming mainstay Terry Salyer, the musically-diverse collective has had various members since it's inception, but the core line-up for the past few years has been Ryan Pierce on vocals/fiddle/guitar, Chuck Dowden on guitar/vocals, Tim Smith on bass guitars, Johnny Griffith on keyboards/vocals, and Joe Rodriguez on sound. The drummer on this particular night was Marcus Jones, a newcomer to the group with only a couple of shows with the band under his belt.
To describe the Dagnabbit band musically would be a challenge, as they will tackle just about anything, across any genre, in order to entertain at the particular event they're playing. They play weddings, fundraisers, private parties, as well as local venues like Leon's Steakhouse and Saloon in Longview or the Back Porch in Kilgore. If you had to pin them down to a summary description, they'd be a party band that specializes in good times wherever they go. Just as comfortable tackling Charlie Daniels as they are taking on Jason Aldean. Equally as proficient with such funk classics "Play That Funky Music" as they are with R&B hits "Purple Rain" and "Easy Like Sunday Morning." As likely to play Garth Brooks as they are the Rolling Stones or Elton John, Dagnabbit setlists are designed to move with the mood of the crowd and play toward how they respond. Sound engineer Joe Rodriguez says, "The vibe that the guys have on stage is a feeling that anything is possible at any time, so you don't know what might happen next. It certainly keeps me on my toes at the sound board."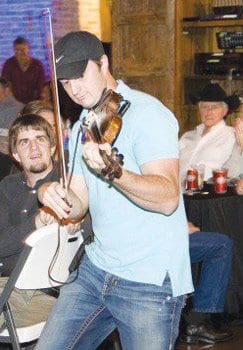 The ability to be such chameleons on stage is a byproduct of a talented lineup of musicians, each one accomplished and seasoned on their respective instruments from years of playing in local, regional, or national acts. Pierce, 40, who pulls the majority of the typical "front man" duties has played with such National Acts as Neal McCoy and The Oak Ridge Boys. In addition, he was the house band leader for the Reo Palm Isle, at one point performing with Miranda Lambert early in her career. Ryan started playing music seriously around the age of 18 and studied music in college before starting to play in bands. Bassist Tim Smith started playing at age 11 in church and has played with regional acts such as Mark Cooke, Waylon Pierce, and various other bands. Joe Rodriguez, 47, started playing guitar around 14, mixing audio around the age of 25, and has gigged with several bands and churches in the area. Johnny Griffith, 42, began studying classical piano at the age of 5 and continued into college, performing in churches and by 13 was playing in local restaurants and open jam nights. Chuck Dowden, 54, began guitar at 8 and started playing in bands in his 20's and has recently taken up steel guitar. Marcus Jones started drumming around the age of 10, having played in churches and bands in the Austin area before moving to East Texas in 2012.
Despite their cumulative experience, or perhaps in large part due to their time in other bands, Dagnabbit has a decidedly casual feel on stage. It's obvious as one watches the band interact with each other and the crowd, they're having as much fun, if not more, than the people watching them. While they are one of the more polished bands you'll find in the area, they embrace the inevitable curve ball and mistake, laughing them off and many times working it into the bit in a way that makes you wonder if it was even planned that way. "It's pretty obvious if a band isn't having fun with what they're doing when on stage, and the crowd responds accordingly," Pierce says. "If a band has tension, or just views it as another gig, then it's hard to draw the crowd into what you're doing. We look at it as getting to hang out with five of your good friends and make music while joking around and making a hundred or so new friends over the course of the night."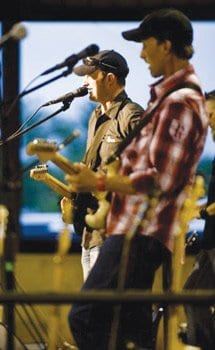 An evening with Dagnabbit also comes with a few audience perks along the way, other than just getting to hear a quality band with a diverse catalog. It's common for Pierce to prompt the audience for requests, and equally as likely a person gets invited on stage to help sing or play an instrument. Speaking of instruments, one of the regular bits the band does include is getting a volunteer from the audience to become "the newest member of the Dagnabbit band" while playing a cowbell during the funk portion of the set. There routinely are wigs, dance competitions, crowd sing-a-longs, and a long list of guest artists pulled on stage to showcase their own talents with Dagnabbit acting as a backup band.
Despite the band playing between 30 to 40 shows a year, they insist this is just a side hobby as they each have careers outside of music. "We're not that type of band, trying to be something bigger than what we are right now," band patriarch Chuck Dowden explains. "We don't need to play somewhere every weekend to make a living, and I think that reduces the stress level quite a bit that comes along with trying to gain exposure for a larger platform. It allows us to relax and just play the gig in front of us at the moment." Dowden, originally from Henderson, moved to Longview in 1981 and started Dowden Supply Company in 1983, opening a Tyler location in the mid-1990's. Pierce started Alpha Construction in Longview in 2001 and Blackwater Oilfield Services in 2014, while Tim Smith owns TS Construction out of Liberty City. Rodriguez has worked for Mundt Music for several years and has done sound engineering for several churches and private events, while Johnny Griffith is Operations/Sales Manager for Tejas Hydraulics in Longview, and newcomer Marcus Jones works for Aramark Services, also out of Longview.
Dagnabbit has been steadily gaining fans and gigs for the past several years as new opportunities present themselves, but according to keyboardist, Johnny Griffith, their biggest fans, as well as toughest critics, continue to be their families. "Everyone in the band has a family, and we wouldn't be on stage without their support. Family is the most important thing to each of us, but we have been blessed with spouses who understand how important the music is to us also. Somehow they still continue to come out to our shows, even after hearing the same material hundreds of times." Each member of Dagnabbit is a father and will routinely bring the kids out to family-friendly events, adding to the intimate atmosphere the band has fostered to this point. Griffith says they are perfectly content to play gigs within an hour or so of Longview so that "everyone can sleep in their own bed at night."
Indeed, a night with the Dagnabbit band is more like a night out with a bunch of your buddies, watching them joke, antagonize, and marvel at each other on stage over the course of the evening. As the night progressed at the Great Texas Balloon Race, at one point Pierce steps up and sings the phrase, "Come on, come on, get your good times on!" while motioning the typically subdued Smith toward a mic. Smith simply grins and declines the invitation, yet once the mic is safely away from him smiles, yelling out, "All I'm saying is a 20 is a 20, player!" – the band laughing as if some inside joke has just been shared between them, and they know the best time to be had that night, was happening on stage.
(In case you are wondering, "20 is a 20" vaguely references a saying that implies "there isn't much I won't do for a 20 bill" referring to you'd have to pay for Tim to talk on the mic.)
Dagnabbit can be found at www.facebook.com/dagnabbit.yall. Upcoming Shows:
September 9th @ Leon's Steakhouse, Longview, 8:30pm
September 10th @ Leon's Steakhouse, Longview, 8:30pm
September 17th @ The Back Porch, Kilgore, 8pm
October 8th @ Get Rowdy Get Loud, Hallsville ISD Education Foundation Fundraiser, Hallsville
October 15th @ Dawg Fest Motorcycle Rally, C.A.S.A. benefit, Mt. Pleasant
October 21st @ Leon's Steakhouse, Longview, 8:30pm