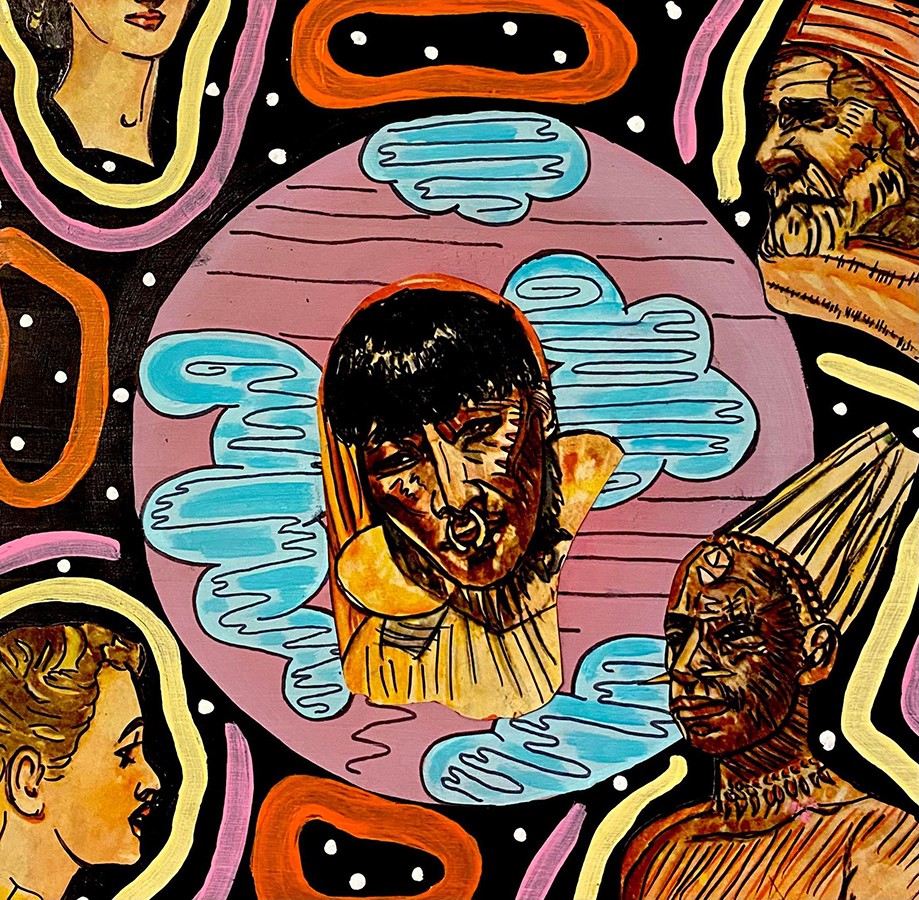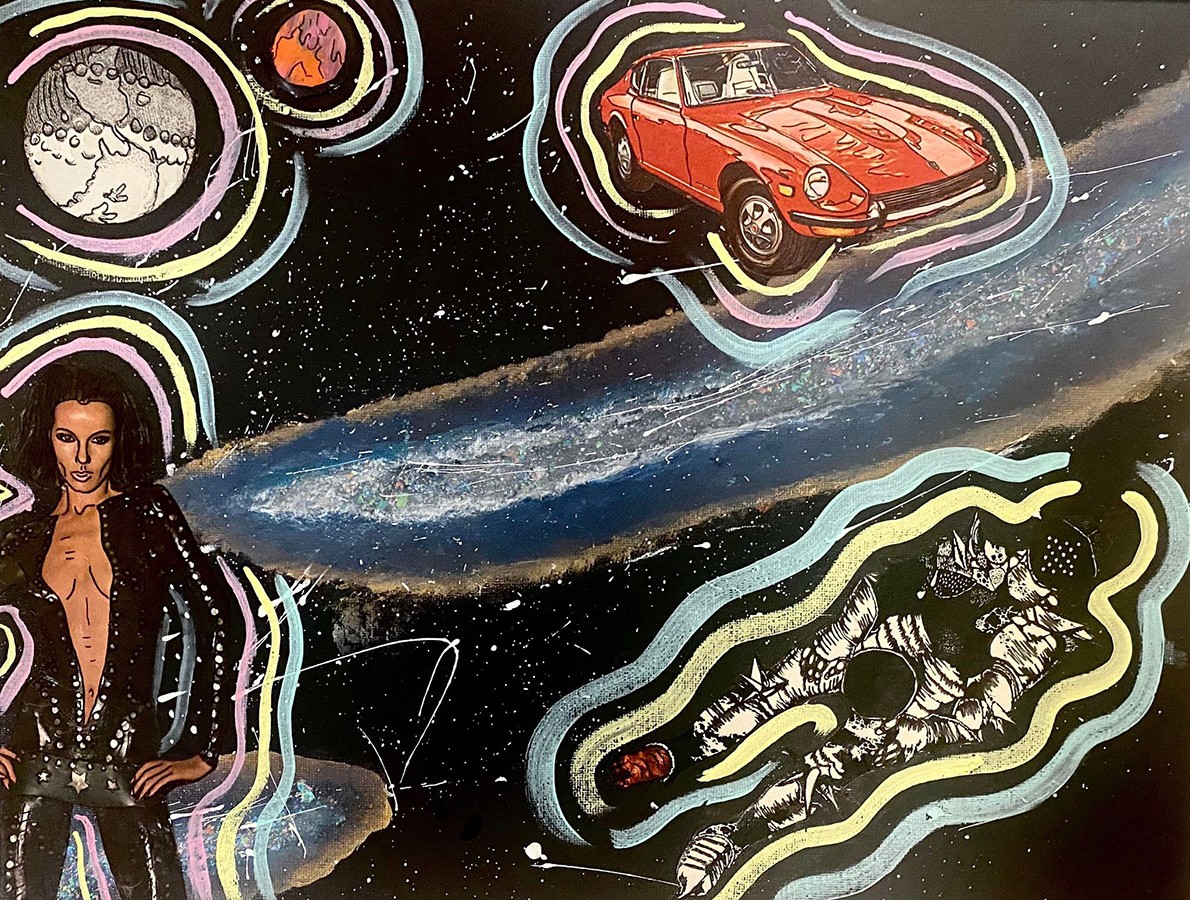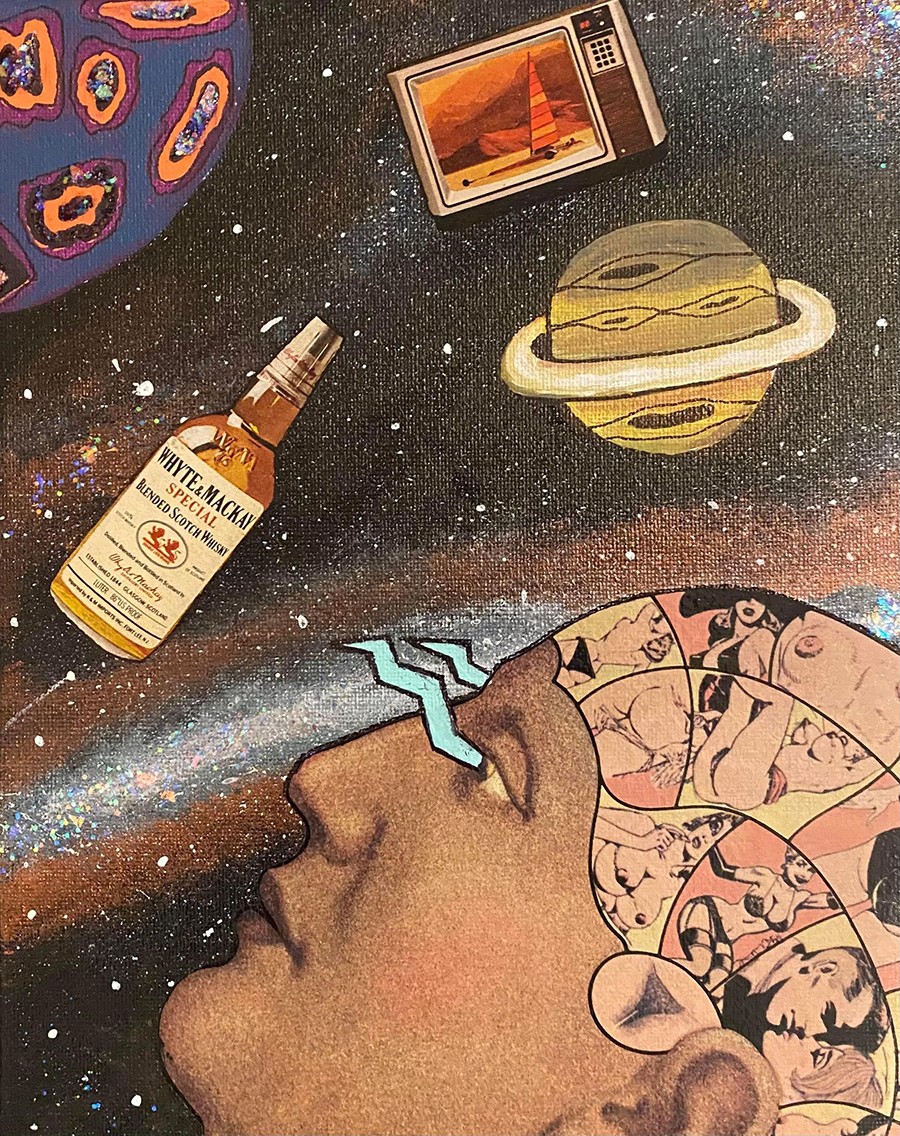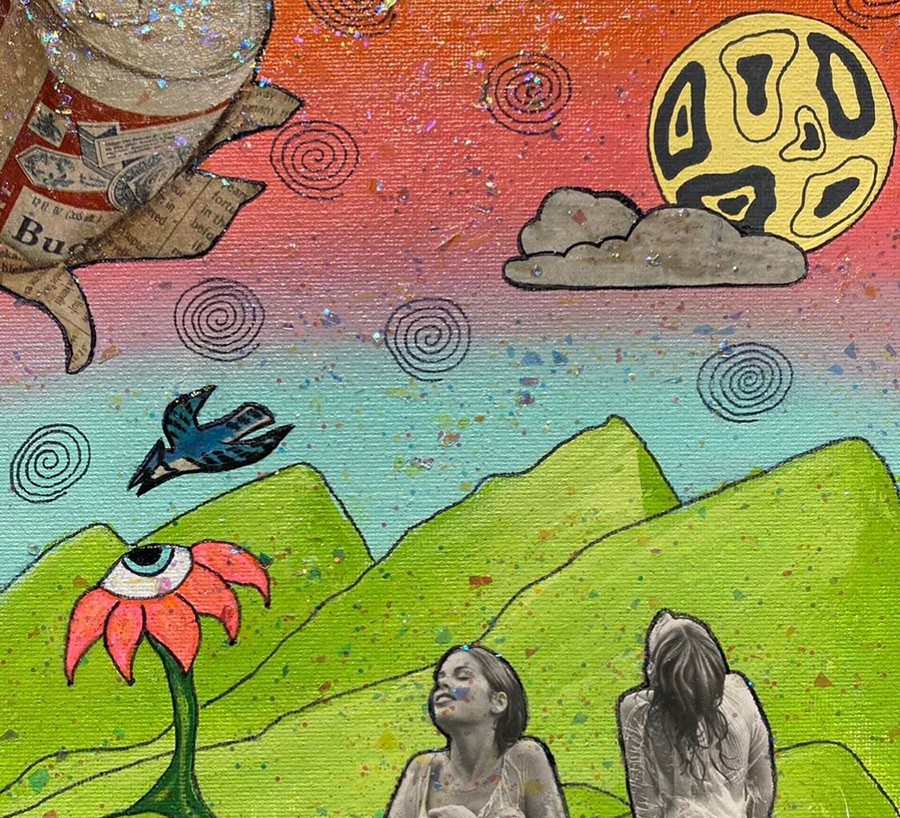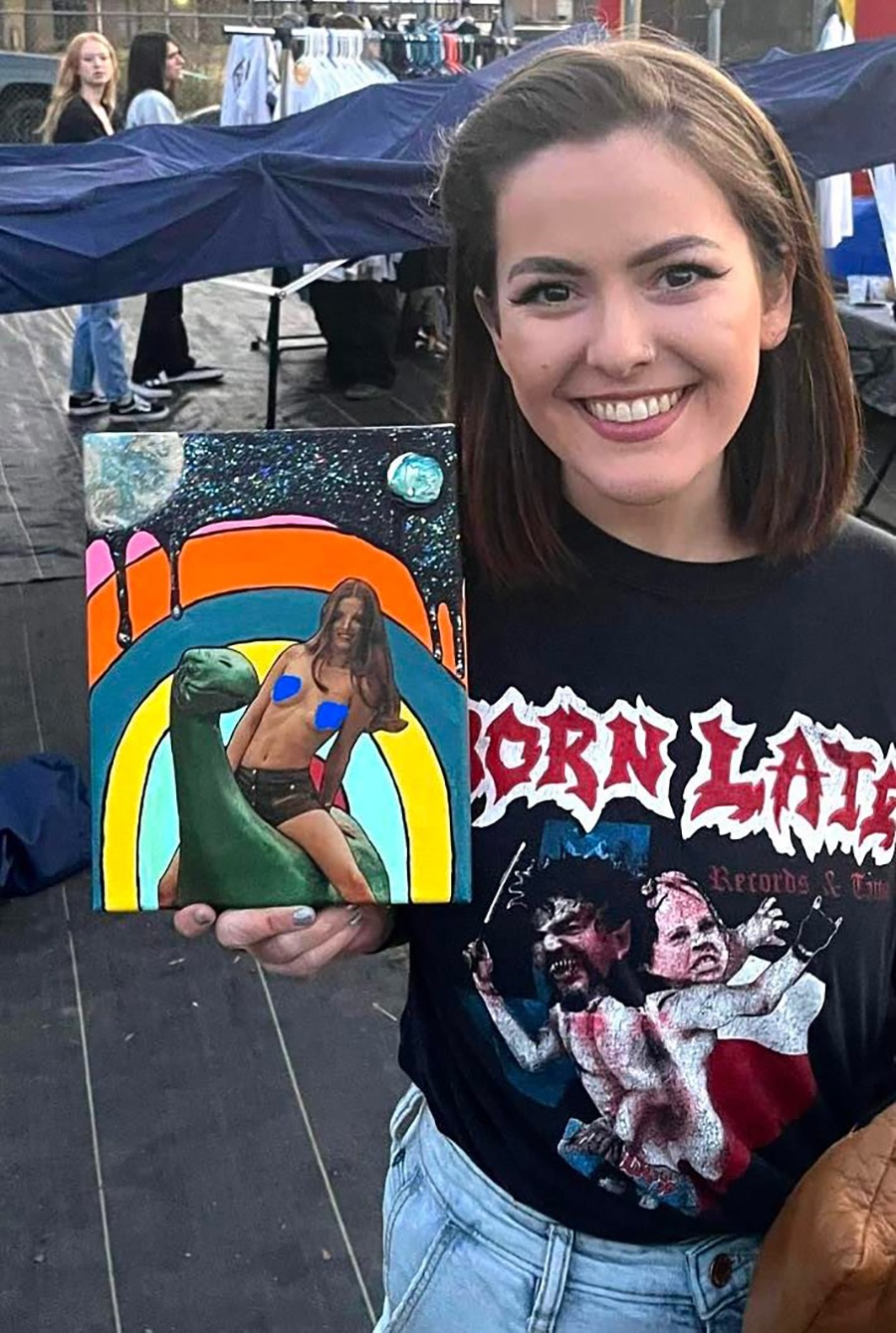 It's the time of the season for loving: Madison Wigington
By Derrick White 
From art history legends like Pablo Picasso, Henri Matisse, and Hannah Höch to present-day artists like Barbara Kruger, Kara Walker, Lance Letscher, and Victoria Topping, collage art has been common in modern and contemporary art since the beginning of the twentieth century. The term collage is derivative of the French word coller which represents the act of gluing or pasting. This method of adhering went beyond the limitations of paper on paper in the early nineteen hundreds, as artists combined media of all varieties. Collage art is eye-catching. Often using commercial, photographic, or illustrative images contrasted into interesting and unlikely compositions, collages can be whimsical, poignant, political, surreal, and powerful. Collage art is often also very accessible. It is the dynamic, visual attention of collage works that has me reaching out to get to know local artist, Madison Wigington. There are so many fresh, talented artistic voices in East Texas, and they are making a difference by hosting pop up art shows, graffiti events, music shows, open studios, and other happenings where they turn out and positively support and encourage each other and the visual arts of our area. 
"The style of my pieces has varied throughout my journey. At first, my pieces began as abstract acrylics on canvas. After having my two daughters and graduating from Tyler Junior College, my art has shifted into mixed media collage with acrylic, primarily on canvas. The theme for my recent pieces focuses on womanhood, sexuality, as well as the unknown which has fascinated me since childhood. I use art as an emotional outlet and what I am experiencing in a moment comes through in my art. When people view my finished pieces, I like to hear how it resonates with them. I never intentionally create a design with a specific goal for the viewers in my original works but for commissions, I do work to get to know the client. Then I incorporate aspects of their aesthetic as well as my artistic style and vision," states the artist. 
 Like many artists, Madison explored her childhood wonderment and creativity as a kid and continues to marvel and be enthralled by the world and the universe around us all. She explains, "As early as I can remember, I always had an artistic side. I used to create abstract creatures and I was fascinated with the world, the galaxy, and all the unknown captured my interest and sparked my creativity. I remember being in fourth grade and participating in U.I.L. art competitions (The University Interscholastic League provides educational extracurricular and academic contests). I stuck with it up until high school and when studying the different periods of art, I was mesmerized by the range of styles. It led to me wanting to indulge in art myself. After graduating high school, I moved in with a friend, Sean Smith, who was pursuing a degree in art at Tyler Junior College. Through this friendship, I learned how to paint with acrylics and expand my stylistic choices with a canvas. This was the beginning of my art career with painting and mixed media pieces. I later took an art class which expanded my knowledge about how art plays a crucial role in culture and society and has throughout history. Since then, I have worked as a local artist selling original mixed media works as well as commissioned pieces."
Madison uses a variety of art techniques including mixed media, collage, and acrylic on canvas. Her collaged imagery comes from vintage Playboy magazines. "I find the images captivating me randomly before I begin piecing them together. I then add acrylic paint and line work. After being gifted stacks of vintage Playboys I was struck with the idea of wanting to create art with them. I received encouragement from a family member to put my art out for the world to see. To me, the images in these old magazines capture the powerful sexuality of women. Being able to incorporate different concepts from Playboy without vulgarity was a beautiful concept to me," describes Madison.
When discussing the benefits art has brought into her life, Madison answers, "For me, art has created friendships, it has brought me a sense of community and power. Meeting these amazing people who also enjoy my work as I do theirs has been such a valuable enhancement for my art and personal life. I never envisioned myself becoming a part of an art scene. I am honored with the people art has led me to meet and how they have helped to push and expand the boundaries of my creativity." As for any frustrations the art world brings, she states, "The most frustrating part of being an artist, for me, is not finishing a piece. Artists can relate to this, but the feeling of starting something and not finding the finish line is disappointing. It can lead to doubt, but thankfully, I use art to express my emotions, so I am always able to start a new piece or even pick back up on an unfinished piece after time has passed."
Madison draws inspiration from artists like Nick Baccari, or as he is known, Mr. Babies. She clarifies, "He is a collage artist based out of Sedona, Arizona. His work has inspired me to branch out with my pieces and technical choices. Baccari is a visionary for collage artists due to his use of bright colors, surreal and vivid imagery as well as how his placements draw the eye to the various details included." She concludes, "If anyone is interested in keeping up with my work or purchasing a piece, they can contact me via Facebook at Madison Nicole Wigington or through Instagram @honeybutterchickenbb."
Bring back the spirit of love. Show support for these and all the artists of East Texas. Like, follow, comment on, and share their social media accounts. Attend all diverse types of art events. Buy something from them. Buy something from them so they do not move away to somewhere that will. Let us love and support our own right here, right now.