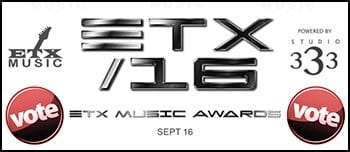 By Johnny Griffith
If you've been walking or driving around downtown Tyler on a Tuesday evening lately, chances are you've heard some music filling the air. Don't adjust the volume on your radio, what you've been hearing is one of the newer, up and coming bands in Tyler, Pocket Tangerine.
Started in 2014, Pocket Tangerine began as a collaboration between Shiloh McGraw on guitar and Jordan Wilbanks on drums. Using a loop station to fill out the sound a bit, they worked as a duo for several months before putting together a line-up consisting of other local musicians from Tyler Junior College's Jazz Band ensemble who were looking for a creative outlet and an opportunity to play something out of the ordinary for this area.
We tracked down Shiloh McGraw to get the scoop on just exactly what is going down with the band:
Johnny: First of all, where does the name "Pocket Tangerine" come from?
Shiloh: Before the band got started, Jordan and I would check out different house jam sessions around town in hopes of finding guys to play with. I had recently bought a large bag of clementines and had a few stored in my jacket for a mid-jam snack. When I pulled them out I got a laugh and one of the guys at the jam freestyled a song about getting your daily dose of Pocket Tangerine, and it just stuck.
Johnny: Whose idea was it to start the band?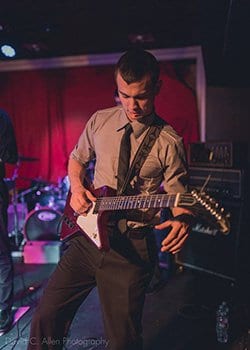 Shiloh: I began recruiting the guys as soon as I joined the TJC jazz band. I guess it was my idea in that sense. I didn't really think about it at the time, though, it just seemed like the right move to make.
Johnny: Who was the original line-up?
Shiloh: The original group consisted of Billy Trey Groom on keys, Michael Heatley on bass, Forrest Morgan on Tenor Sax, Joseph Schmidt on Alto Sax, Jordan Wilbanks on drums, and  Shiloh McGraw on guitar.
Johnny: What's the current line-up of the band?
Shiloh: All those same cats with the addition of Montreal Sanders, who we couldn't be happier to have on board with us. He came in and filled our drummer position while Jordan went to Denton to study at UNT for a year. When Jordan moved back it became an opportunity to expand even further. At full capacity, we now have an aux percussion player. This can add a lot to the rhythmic makeup, especially when dealing with world and Latin styles of music.
Johnny: How would you describe your sound?
Shiloh: Some of our original songs could be described as fusion, funk with flavors of jazz and soul. Everyone in the band brings different stylistic elements to the sound. We cover varying styles of tunes, which helps us develop our diversity. I hope to never have just one or two words to describe the sound.
Johnny: What are your influences musically?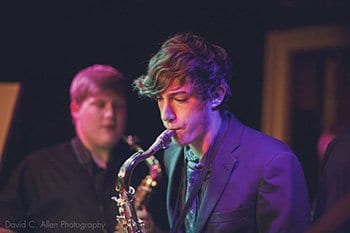 Shiloh: Our first big influence collectively as a band would be Snarky Puppy. We discovered them when the band first got together and have modeled our approach after them. They interact and actively play with many different artists, which is a very cool effort that I respect because it does good things for a music community. As we grow, we are finding our own route but their music definitely inspired us to get going. Other influences include Stevie Wonder, Mark Lettiere, D'Angelo, The Main Squeeze, Roy Hargrove, Charlie Parker, The Beatles, Wes Montgomery, George Duke, and Michael Jackson. This list could go on… That's my favorite thing; we don't just work for ourselves in music but also for those who we can inspire. One person's good performance could be the reason that some kid decides to pick up a guitar, and that kid could go on to be one of the baddest players in the land.
Johnny: I read somewhere that a couple of the band members were accepted into Berklee. What was that process like, and how did that affect PT as a band?
Shiloh: Jordan and I were both accepted into the program but then ran into the problem of funding. Berklee's program isn't exactly widely affordable. It was a frustrating experience, as well as motivating. Having something that you think you really want fall just out of reach can definitely drive a person to take steps to ensure that won't be the case again. I'm glad it went that way, though. I've grown so much in my time playing with these guys and have learned much about how to lead. Looking back, I wouldn't trade it for a Berklee ride.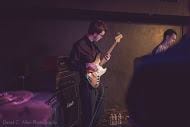 Johnny: When and where was your first gig?
Shiloh: Our first performance was at an open mic night out at Lago Del Pino before they shut those events down. It used to be the "place to be" for young local musicians on Wednesdays. I believe Juls has picked that practice up, so I would encourage people to support that. Our first official gig was on the roof at Jake's on the Square. They had a good view up there!
Johnny: How often do you guys perform publicly?
Shiloh: Currently, we play publicly about three times a month. Between our public shows, we play some private events such as dinners, scholarship luncheons, and weddings.
Johnny: What's been your favorite memory so far as a band?
Shiloh: Our very first open mic performance at Lago would stand pretty high on the list for me. There was a ton of energy that night with our excitement as a band to do something brand new, as well as with the room's curiosity to see what was up with this six-man group complete with horns (not often seen in that scene). Another moment that stands very high for the current line-up was our recent show at Stanley's Famous Pit Bar-B-Q. They bring in some of the best live music in town from all over, and they have many patrons who come for that reason. The people were great, and the band was on their game that night. It was a good time.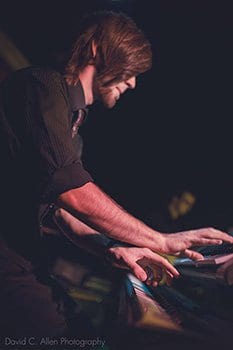 Johnny: What is the biggest challenge, if any, in this area being a band that is a bit different musically than what typically you find here?
Shiloh: Winning the general crowd over with instrumental music is definitely the one big challenge. Everyone can identify with a singer because they perform using language that people understand. Music is its own language that many people just aren't as familiar with, aside from being nice backing noise behind the singer. Like with many things such as sushi and wine, it seems to be an acquired taste. A good first step that we have taken is adapting many popular tunes to the jazz format. We play the melody and chords to the tune and then improvise from there. We have learned a lot through the challenge and have made many improvements we would not have made otherwise. Therefore, I'm glad for it.
Johnny: Who is your favorite musician/band?
Shiloh: Again, Snarky Puppy would be up there. A lot of the cats in that group have their own solo projects that are all very good too, so it's hard to get away from that circle. My personal favorite guitarist is Guthrie Govan. The man is a Virtuoso, yet is so reserved and humble. That's my favorite thing about those who are truly "great." It takes a humble heart and hard work in my opinion.
Johnny: What are some of the highlights of the upcoming summer for PT?
Shiloh: We are playing at Juls in August, on the 26th and we have another performance scheduled at FRESH. I'm also excited to track some of our original music and hopefully have some full-fledged recordings by the end of the summer. Aside from a few private events, that is all that's on the calendar as of right now, but more than likely, we will grab a few more dates as the summer continues. Any new dates that we pick up will be posted on the Pocket Tangerine Facebook page.
Johnny: How about the next year, what are the goals for the group?
Shiloh: To expand to new territories! We have always loved the idea of going out to Denton or Dallas to play shows regularly and eventually even across the seas to Europe and beyond.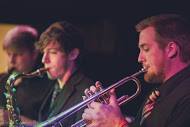 Johnny: What has been your biggest success so far as a band?
Shiloh: Those times where our original music was better received or generated more energy than the covers. One of the biggest reasons I love music so much is the opportunity to express your unique self fully, and when people find real enjoyment in that, it's one of the best feelings there is. Žemės ūkio technika – kombainai, traktoriai, sėjamosios, ruloniniai presai, šienapjovės, frontaliniai krautuvai ivabalte.lt
Johnny: What do you hope that people hearing you for the first time take away from the show?
Shiloh: I hope people will leave inspired to pave their own way in whatever they do. We aren't the type/style of band you would usually find around East Texas, but because we love doing this we've remained steadfast in working to improve and opportunities have followed. I want people to see that something "different" can work and hopefully people will feel less afraid to break the mold of normal. I also like introducing people to different styles of music and showing them how vast the world of music really is!
Pocket Tangerine On The Web:
Upcoming Shows:
August 26th – FRESH in Tyler @ 6pm