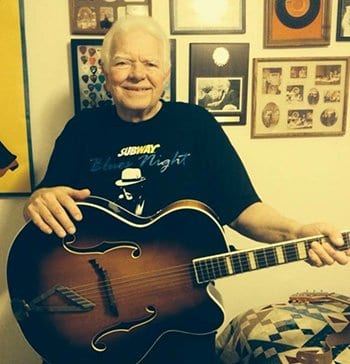 By Barbara King
A quick coffee with one of the most charming, charismatic storytellers, and music legends of East Texas was two hours worth of wit, banter, and amazing music reminiscences.
Hoss Huggins is a name that is very well known in Texas music circles. Well, of course, he's been around the music scene since his early days in Paris singing and swinging with his brothers Gary and Mickey. The Huggins Brothers, born and bred in Paris, practiced a lot at home and had their very own radio show on station KTFV in that town. They played rock and roll as well as country and pop, playing proms, parties and tons of local dances. They also played at the Paris Red River Jamboree every Saturday night, eventually landing on the Louisiana Hayride. Through all the adventures, their parents supported their dreams – buying them better instruments, all along while their mom making all of their stage clothes.
"It's been a long, beautiful ride from my boyhood in Paris," admits Huggins. Inducted into the Texas Radio Hall of Fame in 2011, he has "retired" from a long career in TV and radio, but he's very much a "tried and true" musician who still plays gigs with his band "Hoss Huggins and the Ponderosa Band." Huggins brothers also still perform as "The Quintet of Paris."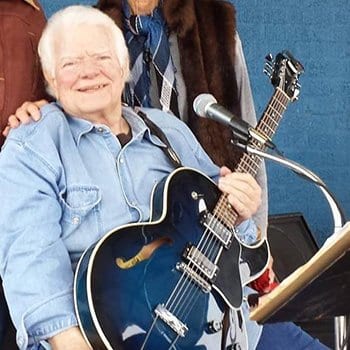 The self-taught Huggins will readily admit, "I almost got kicked out of Paris Junior College where I attended on a full music scholarship because I couldn't read music. When the Dean realized I performed in about four different bands and musical groups on campus, I guess he realized they couldn't afford to let me go." Huggins became a valued alumni and was inducted into the college's prestigious Hall of Fame.
A stellar career with over 28 years in radio and 30 years in TV, Huggins made his on-air debut in 1967 on KZAK, the first country music station in Tyler. "I really didn't know what I was doing," he recalls with an infectious grin. "The real on-air disc jockey would go down the hall to call his girlfriend and not come back when the record ended, so I found myself talking and carrying on and introducing songs, and I really liked it."
Huggins connections and friends in the industry are a "who's who" of music. He introduced Johnny Cash at Caldwell Auditorium on his 25th-anniversary tour. He also remembers performing one night in Lynden, Texas when a young kid asked to sit in and play the drums. "We were all very reluctant to have someone take the stage with us that we didn't know, but he was really good, and years later he was performing as Don Henley." He met many other top stars as they made their way through Tyler, including Dolly Parton, Porter Wagoner, and the Oakridge Boys.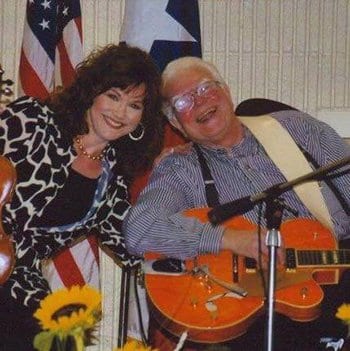 Jonna Fitzgerald, another well-known Texas personality, musician, and fiddler extraordinaire says, "Hoss has been my cherished friend since the mid-1980's, although I've been a fan of his for much longer. He was providing entertainment and inspiration to my family since my childhood when he was a television personality on KLTV. Hoss has always exhibited the most positive outlook on life, and has a never-ending stream of Hoss-isms that always makes me smile. He is one of those rare talents who can play any style of music and has an endless playlist. In the event that he may not know a requested song, although I don't believe it's possible, he can pick and grin until you're convinced he must have written the original, or toss out one of his own that is so powerful that you'll forget what you requested in the first place." Huggins has a soft spot in his heart for Jonna, and he says, "I call her often to sit in with us and sometimes she will just drop in. She's like family and is welcome anytime we play. She's a great lady and musician."
Huggins plays the guitar, harmonica, and bass, and says that the Ponderosa Band on any given night plays anything from Elvis, George Strait, to ZZ Top, with sometimes even a little disco beat thrown in. "Tom Perryman of 'The Ranch' 104.1 KKUS in Tyler has said that we know over 4,000 songs," he grins. "I'm not sure if that's so, but we will give it our best shot and make it a fun evening for everyone."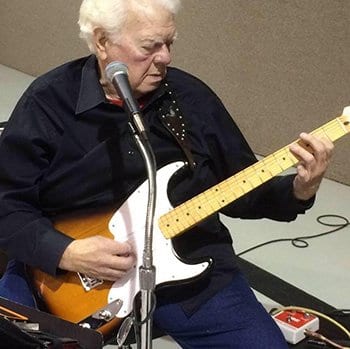 Huggins is a family man, and says, "that is the reason I didn't really chase that fame or star." He chose to stay in East Texas and with his wife, raise his two sons who also have music in their veins. "You'll see on our CD, 'I Just Don't Look Nekked Anymore,' my son Bret plays telecaster guitar," he mentions proudly. "All my kids and grandkids are into music in one way or another either playing or in the entertainment business." He toured with his two boys "Hoss and Sons" from 1977-1987.
Huggins still performs at TASCA (Tyler Area Senior Citizens Association) and has been doing it for 25 years, every third Saturday of the month. The day we met, he was doing his regular spot at the Garden Valley Senior Center.
Talk to Hoss about retirement and he will tell you that it hasn't slowed him down much. "I have people tell me I should write a book," he says. "I just know that I learned to perform so I wouldn't embarrass my parents. Do what you love and love what you do is something I learned straightaway and my love happened to be music."
Interested in booking Hoss and The Ponderosa Band, contact Hoss at (903)561-4797 or HossHuggins@aol.com.