Sweet Pain: Bringing Rock To The People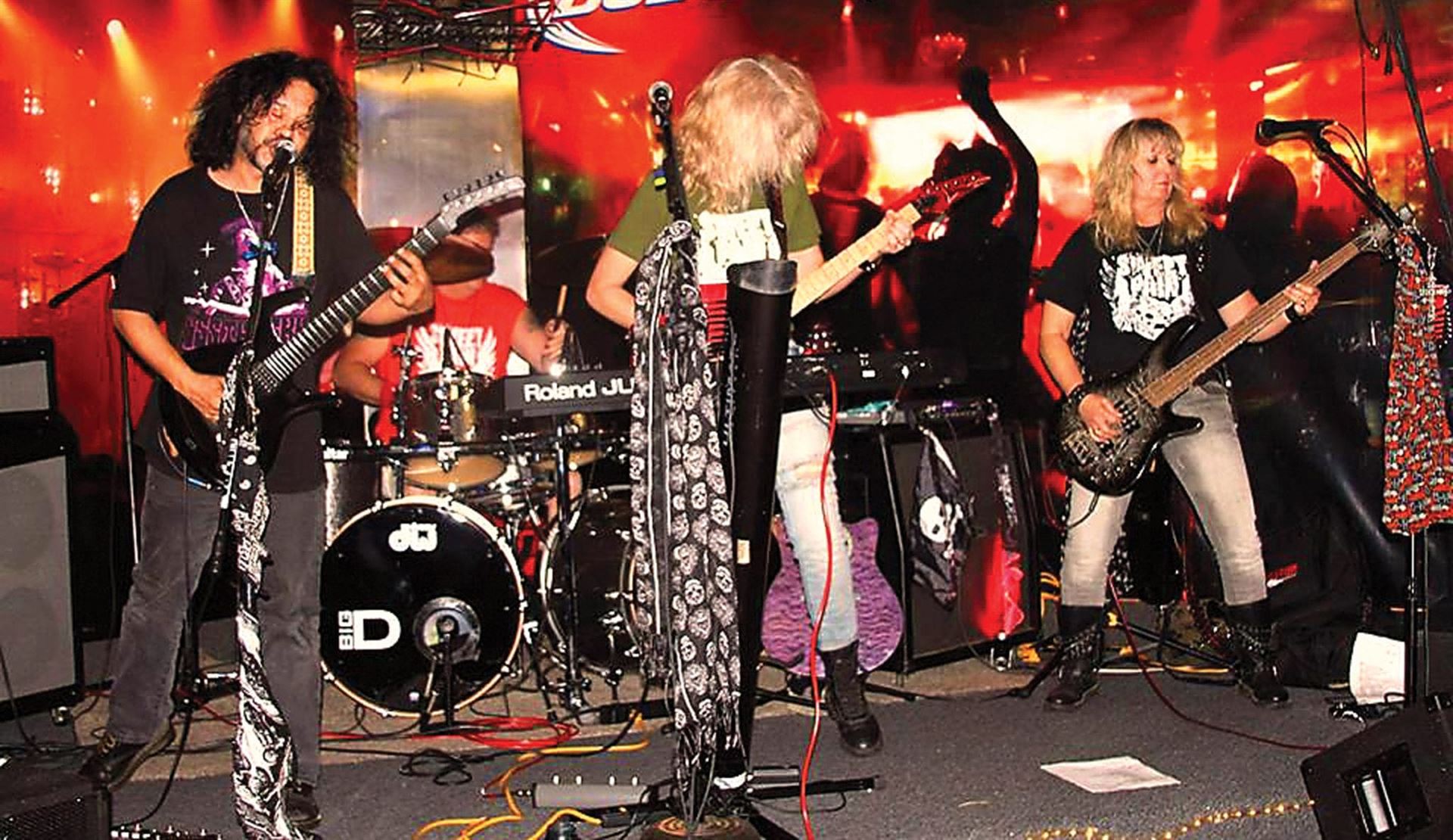 By Johnny Griffith
Growing up in the 80's for me was a great time. There are much worse things than having no responsibilities other than school, hanging out with my friends, and of course, listening to 80's metal. My days and nights during middle and high school replay in my mind to a soundtrack of Motley Crue, Bon Jovi, Van Halen, Def Leppard, and many others. These songs always take me back to specific memories of events and people that usually always make me smile. One of the few local bands that have embraced this genre and consistently encourage audiences to bang their heads is Sweet Pain.
Based in the Tyler area, Sweet Pain has been rocking the stage with the sweet sounds of slick guitar solos and power ballads for several years now. A regular at local clubs and festivals, SP has been helmed by Sonia and Kindra Tiner for over a decade and after many changes in the roster of the band over the years, the lineup has solidified in recent years and is poised for bigger and better things.

I recently sat down with Sonia to get to know Sweet Pain better:
Johnny: Give me the current rundown of who is in the band and a little of their background.
Sonia: I was born in St. Charles, MO and moved to Tyler with my mother in 1981. I went to high school at Chapel Hill and graduated from TJC with a degree in Radiology Technology. I took piano lessons at age 11, and I'm a self-taught guitarist. I currently work in the I.T. Department for Gregg County, and in my spare time, I like riding my 2004 Harley Fat Boy, playing Playstation 4, and shooting guns.
Kindra Tiner was born in Athens, Texas graduated from Trinidad High School, and currently, lives in Tyler. Kindra lost her mother to brain cancer in 1989. She is a self-taught musician and has played lead guitar in several country bands since the age of 14. She decided to learn how to play bass guitar for Sweet Pain in 2007. She works at Skeeter Bass Boats in Kilgore and enjoys riding her 2005 Harley Deuce in her spare time and fishing.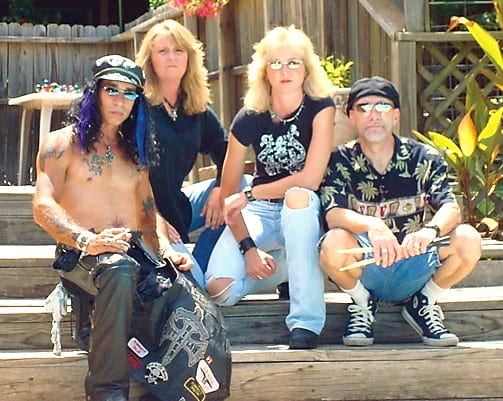 Richard Callahan is originally from Houston and studied computer systems and technology at MTI College of Business and Technology in San Jacinto, Texas. He has taught and performed music in Tyler for more than 15 years. His other projects include guitarist for Church in the Barn and Senor Gringo. Richard teaches at Guitar Center in Tyler while writing and recording his own music in his spare time.
Last, but not least, Derold Miller, originally from Redwood City, CA, learned how to play drums at age 11, on his uncle's set. He also served in the U.S. Navy for 4 ½ yrs. Derold has played in several rock and metal bands in the California and Seattle areas. Although his days of playing in multiple bands are over, he enjoys playing a round of golf and Playstation 4. He is currently the I.T. director for Gregg County.
Johnny: So what is the significance of the name of the band "Sweet Pain?"
Sonia: Well, pain can be bittersweet in many cases. We were sitting around talking about how you do something you love, even if it hurts you physically or mentally. So "Sweet Pain" came to life.
Johnny: SP has been doing this for over a decade now, so what do you attribute your continued success?
Sonia: Our genre of music is something people from all ages and backgrounds can relate to. We try to play songs that take you back in time and songs people can rock out to.
Johnny: Speaking of those songs, what guided you towards that specific genre?
Sonia: When we started building our set list we wanted to bring back the 80's hair band songs that just weren't being played anymore. Especially, bands like Heart, Journey, and Guns n Roses just to name a few. We also wanted to play songs that younger and older generations both would recognize and go, "Oh yeah, I love that song!" or "I remember jamming to that song back in high school!" It is definitely a by-product of the music we grew up listening to.
Johnny: Does Sweet Pain stick to covers, or do you work some originals in?
Sonia: Between Richard and myself, we have several originals. We just finished recording "Queen of Misery," which is about domestic violence that I wrote back in 2007 based on my personal experience. We are now working on "Dark Side," "Reflections", "Madness," "My Heart Bleeds," and "Rag Doll." Our goal is to incorporate two or three originals in each set. This gets our stuff out there while we still rock out the popular cover tunes.
Johnny: How many shows on average do you guys play?
Sonia: We typically average three shows a month although we tried to cut back to two a month because we played every weekend for eight years, and I was worn out! Many people have reached out to us for benefits and other venues, so we have a busy schedule in September. Very Busy!

Johnny: What has the summer been like for Sweet Pain?
Sonia: We have been off since July 4th. This summer I had to have surgery on my right foot so we haven't played any shows since July 3rd. We will be back to a full schedule starting August 18th.
Johnny: How far do you typically travel to gig? Is it primarily local, or do you get regional/statewide coverage?
Sonia: We have played at The Horseshoe Casino in Bossier several times, along with many Motorcycle Rallies like Thunder in the Pines, Rally in the Crater, Hot Fun Summer Run, 3-Day Thaw, Bugs-n-Blues, Hawg Wild Rally, Porchfest, and Tomato Fest. Other areas include Nacogdoches, Palestine, Dallas, Mt. Pleasant, Mt. Selman, Tyler, Longview, etc. We typically play close to home but are looking to branch out of the area in the future. It would be great to play something like Rocklahoma or Ozzfest!
Johnny: What have been some of the challenges you've had maintaining the band for more than 10 years?
Sonia: Wow! Finding the right mix of talent and personalities has probably been our biggest challenge. We've been through a handful of lead guitar players until Richard Callahan said he wanted to play with us permanently. He's been with this band a little over a year now. Derold "Big D" Miller has been our drummer for a little over three years. Kindra and I are the only two original members. Now that we have the right people in place, everything is going right for us!
Johnny: On the thought of things going right for you guys, Sweet Pain has been nominated for some awards recently, haven't you?
Sonia: This year we are nominated in several categories at the Ark-La-TX music awards on November 4th. "Queen of Misery" is up for song of the year, while the band is nominated for Entertainer of the year. Kindra is nominated for Bassist of the year, Derold is nominated for Drummer of the year, Richard is nominated for Guitarist of the Year, and I've been nominated for Songwriter, Guitarist, and Female Vocalist of the Year. We are very thankful to all of the fans, friends, and family members who nominated and voted for us.
Johnny: What does the rest of 2017 look like for Sweet Pain?
Sonia: The rest of this year we are focusing on completing our cd and adding more cover songs to our set list. We are going to keep raising the bar higher and higher, and we will keep live music alive!
Be sure to check out Sweet Pain on stage this month:
September 1st – The Back Porch, Kilgore

September 9th – XLN, Tyler

September 16th – Fundraiser for Judson Road Volunteer Fire Department, Longview

September 17th – Benefit For Krystina, City Park in Kilgore

September 23rd – Hawg Wild Rally, Chireno, Texas

September 29th – Lonestar Icehouse, Longview
Also be sure to check out Sweet Pain on the web: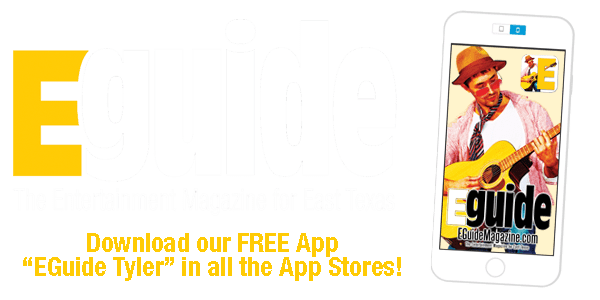 October 13th, Award-Winning Band MercyMe in Concert
MercyMe Tenth "Avenue North" Concert Comes to The Oil Palace
Saturday, October 13th at 7:30pm, MercyMe will be in concert at The Oil Palace, located at 10408 Hwy. 64E, Tyler. Tickets range from $19-$89. Event parking is $10.
Since their debut in 2001, Grammy®-nominated, multiple American Music Award and Dove Award winners MercyMe have sold more than 8.5 million units in CD, single and DVD sales, garnered 27 No. 1 multi-format Christian radio singles and four consecutive mainstream radio hits with "I Can Only Imagine," (No. 4 AC/Top 25 on Top 40/Hot AC), "Here With Me" (No. 4 AC), "Homesick" (Top 10 AC), and "So Long Self." Their radio success has continued with recent singles "Flawless" (No. 1 for 15 weeks) and "Greater" (No. 1 for 16 weeks)​, landing them the Top Christian Airplay Artist spot on Billboard's 2015 Year End charts.
MercyMe made history in 2014 as "I Can Only Imagine" surpassed 2 million digital downloads, making it the first song in Christian music to go platinum and double-platinum in the digital domain.
In 2009, Billboard named MercyMe's "Word Of God Speak" the No. 1 Song of The Decade and the group the No. 1 Artist of the Decade in both the Christian Songs and Christian AC Songs categories, recognizing them as one of the industry's most notable talents.
They have sold out venues throughout the US and Canada, including Radio City Music Hall, and have appeared on The Today Show, CBS This Morning, The Tonight Show with Jay Leno, Fox New Channel's Fox & Friends, CNN, ABC News, and in the pages of Entertainment Weekly, The New York Times, USA Today and more.
Their most recent project "MercyMe, It's Christmas!" debuted atop the Billboard Top Holiday Albums chart and became an instant classic.
Their eighth studio release, "Welcome To The New," garnered Billboard Music Award nominations in all three Christian categories and two Grammy® nods; the album is available in stores now.
This concert is a near sell-out. Get your tickets today!
Mark your Calendars, True Vine Brewing Celebrates Fall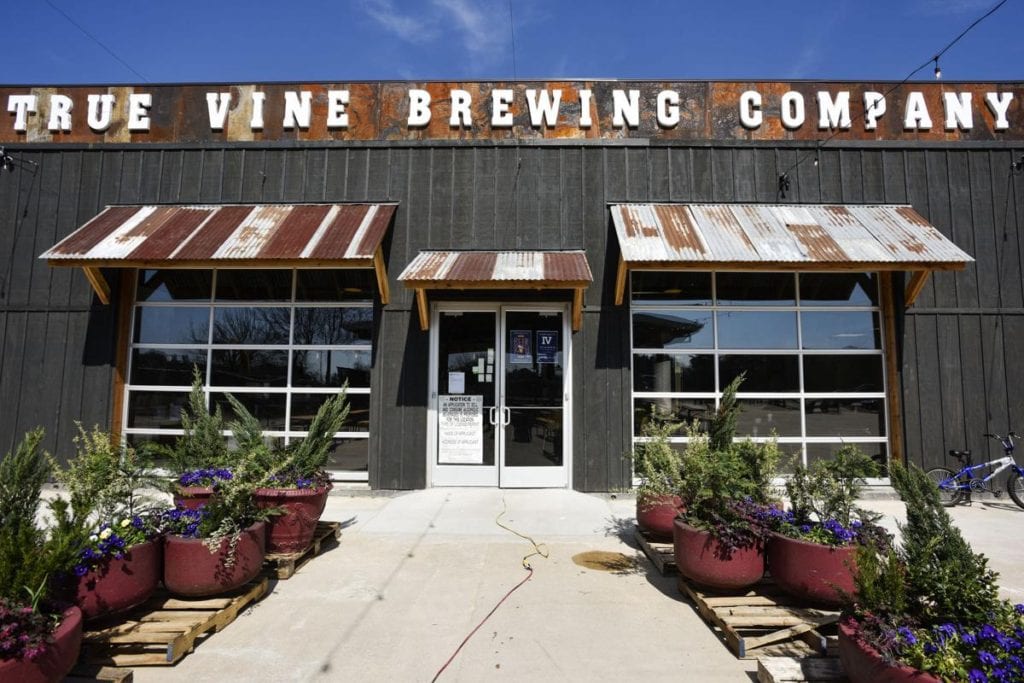 This Month at True Vine Brewing Company
True Vine Brewing Company is located at 2453 Earl Campbell Parkway, Tyler, truevinebrewing.com, facebook.com/truevinebrewing. True Vine Brewing has a lot going on this month!
September 8th, October 13th, November 10th and December 8th (10-11am): Yoga and Beer at True Vine –
Every second Saturday of the month, a beautiful yoga practice is held under the pavilion. Afterwards, you can enjoy a beer. Class and one beer is included in price of admission. Sola Bread pizza will be serving up breakfast pastries and lunch. This is a super fun way to spend a Saturday morning. Tickets are available at the door for $10.
September 15th, October 20th, November 17th and December 15th (10:30-11:30am): Barre & Brew with Studio B –
Held the third Saturday of the month is this Barre + Brew class with Studio B Pilates+Barre! For just $10 at the door, you can enjoy this amazing class inside the brewery and enjoy a cold beer after. Barre classes mix elements of ballet at the barre and functional movements set to motivating music. You'll use the barre, small balls, bands, and hand weights to work your entire body. Isometric training and small range of motion exercises along with planks, push-ups, and core-focused training will round out these energizing classes.
September 15th (7-10pm): 2018 Pine Curtain Gala –
The Cancer Foundation for Life
®
will host the first annual Pine Curtain Gala and will include beer, food, fun, and live music by Edwin Holt's Red Clay Roadhouse Band with special guest Henri Herbert, all to benefit the FitSteps for Life
®
program. FitSteps for Life
®
is designed to help strengthen cancer patients both physically and emotionally by providing support and empowerment in their cancer experience. As cancer treatment can be quite costly, FitSteps is provided free of charge to the patient eliminating cost as a barrier to exercise and the benefits of the program. Providing this free program takes resources that are utilized every year, and their commitment to cancer patients never ceases. Tickets are $35-$100 and available at cancerfoundationforlife.org.
October 13th (5-11pm): Hoptober Fest '18 –
Details to come!
October 27th (8:30am): Mindfulness Triathlon – This is not your typical triathlon! The race begins with a 2-mile walk/run, transitions into a 45-minute yoga session by BeFree Yoga and finishes with a 20-minute meditation. After the race, enjoy a True Vine Beer and check out the amazing local vendors promoting health and wellness in Tyler. Register at getmeregistered.com/MindfulnessTriathlon. The Mindfulness Triathlon is designed to promote health, wellness, and healing by exploring alternative holistic treatments for anxiety and depression disorders. Running, yoga, and meditation are among the most popular natural treatments for depression and anxiety. Healing of the mind, body, and soul can be experienced through these practices.
Dubb And The Luv Machines: I'm a Musician Because It's What I Love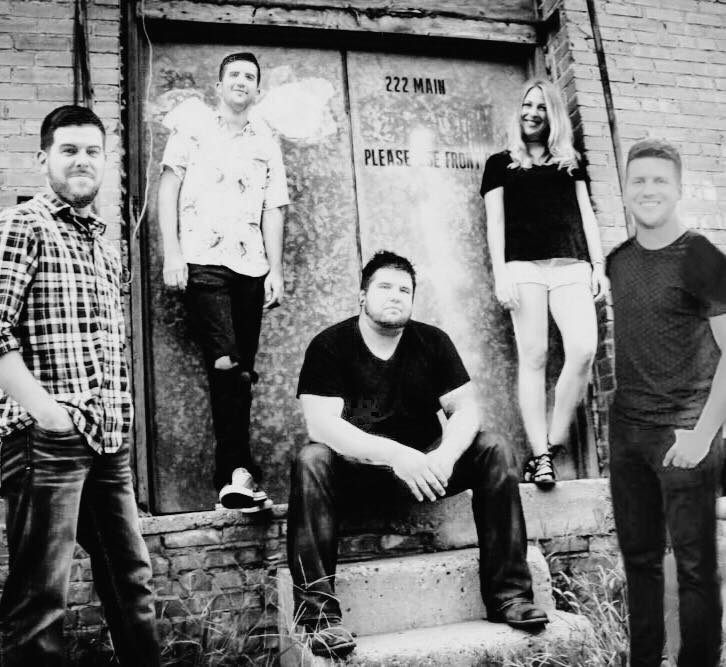 By Johnny Griffith
When I'm searching for local musicians to interview every month I'll browse through to see who's playing where or if it's someone I've heard before or I've had friends mention as someone worth hearing. Occasionally I'll come across a band with a name that jumps off the screen and demands some attention.
Ladies and gentlemen, I give you Dubb And The Luv Machines.
This is one of those bands I couldn't help but smile over when I saw the name and decided they needed to be in this month's issue. Then I listened to them and while the name might be catchy and silly, there is nothing silly about the talent The Luv Machines have on stage. Led by Dubb Williams, this band is built for the party bringing a great catalog of favorites, old and new alike, with the musical chops to leave any crowd wanting more.
I recently sat down with Mr. Luv Machine himself to get the story behind the band:
Johnny: Let's start with a little background on yourself. Who is Dubb Williams?
Dubb: I'm originally from Sulphur Springs, Texas and I graduated from Saltillo High School in Saltillo, Texas. I completed my bachelor's degree at Texas A&M – Commerce. I've moved all over Texas, and out of Texas, but I always found home to be Sulphur Springs. I'm married with four-legged fur kids and I work as a professional audio and video manufacturer's representative to pay the bills. I'm a musician because it's what I love to do but I've done everything from food service to repo man to Child Protective Services to owning my own production company. I'm a Jack of all trades, I guess.
Johnny: What was your first exposure to music that you can remember?
Dubb: That would have been riding in the car with my mom listening to her classic country tapes. It was all country from the 70s, 80s, and 90s. The good stuff!
Johnny: When do you remember thinking that this was something you wanted to do more than just a side hustle or a hobby?
Dubb: Some friends and I put together a band for a youth group we all attended and the fire spread from there. We were just goofing around and then it kinda sounded ok, not great or even good, just ok. Then we started playing real shows outside of the youth group and it really took hold. I knew music was something I never wanted to give up. We played in other bands and spread our musical wings and it kept growing, there's no end to the possibilities nor are there limits. I am just along for the ride no matter the destination.
Johnny: Who is in the current lineup to Dubb And The Luv Machines?
Dubb: Currently there are six Luv Machines, including myself. Jordan Owens on drums, Jacob Mazoch on lead guitar, Colton Smith on bass, Cody McDowell on keys, Kristen Richmond on vox and a mean tambourine, and myself on vox and pretend guitar. I don't play all that great but I surround myself with incredible guys and a gal, to make me look good.
Johnny: How did you all meet?
Dubb: We have all been friends for years through other parts of life, and when I moved back to Sulphur Springs from OKC, I decided I wanted to put a band together. It just worked out that the current members Jacob, Jordan, and Colton were either on a break from other projects or in between projects. After that, the pieces just locked into place. The chemistry is great and being friends prior makes it easy to bust each others chops or provide constructive criticism, but honestly, we prefer busting chops!
About a year after we started the Luv Machines, Kristen approached me while I was visiting her family's business and told me she was going to sing in our band. I welcomed her without an audition, shoot what band can't use a good looking singer up front! It prompted some raised eyebrows from the guys, but then at her first practice with us, she opened the heavens by belting out a ballad and the rest is history. She fit right in, jumped on the bus with us, and never looked back.
Johnny: So what's the story behind the name?
Dubb: It was actually a joke from my buddy Ryan W. He called me Big Dubb Luv and I would joke back about being a luv machine. When we started playing around town and East Texas, we figured we needed a name. It needed to be a name that was memorable and one that said we are here for a good time. So Dubb Luv became Dubb And The Luv Machines. We like to have a good time and we make it our business to help everyone else around us joins in.
Johnny: You play a pretty diverse selection of music. Is there any genre or style you consider your wheelhouse? How would you describe your sound?
Dubb: We want to entertain everyone when we play and we all like different styles and genres so that was a perfect combination which led to our diverse catalogue of songs. Everything from classic rock to hip-hop to country to pop and whatever's in between. My guys are very talented, so with the different tastes, and one common goal, I'd say music is our wheelhouse.
Johnny: How many originals do you have and how many find their way into a typical show?
Dubb: We don't typically do originals at a Luv Machines show but on rare occasion, and it's usually requested by friends that know about them, we'll pull out one. Every now and then someone will yell out a request though.
Johnny: About how many shows a month is the band playing and are the gigs mainly in the East Texas region or are you travelling a decent amount for shows?
Dubb: Shows per month vary, we all have day jobs and/or daily grinds that come with having to "adult" so sometimes our schedule is thin and sometimes we are playing Thursday through Saturday. I'd book Sunday's but some of us are in worship bands. We travel from Texarkana to College Station, up into Oklahoma and we can't leave out Arkansas or Louisiana. If the road is big enough for the bus, we'll go!
Johnny: What has been your most memorable show to this point?
Dubb: Man, they are all so much fun it's hard to single one out, but playing our hometown at local establishments or private parties are always great times. Then we go out on the road and find hidden gems that rock. We love seeing new places and meeting new people.
Johnny: What can a first timer expect at a Dubb And The Luv Machines' show?
Dubb: High energy, crazy antics from a rogue drummer, blazing guitar solos, fat bass lines, soulful vocals, songs they know and can sing along to, and occasionally a 'request challenge.' That's when someone asks us to play a song not in our repertoire, and we go at it on the fly. Could be musical genius or could be a trainwreck, but we are gonna have fun with it and probably drag the requestor in on it.
Johnny: What is on the radar for the rest of 2018 for you and the band?
Dubb: We have a pretty full schedule to finish out the year and there may be an original EP on the loose soon. Who knows! We are playing Texifed Jam Fest this October which is going to be a 2-day festival in Sulphur Springs. We are very pumped about that. We have a couple of charity events to do as well, and those are always something we love to be involved in. We are looking toward 2019 with hopes of doing it bigger and better.
Catch Dubb & The Love Machine online at facebook.com/dubbandtheluvmachines.